Find out which coastal cities in the United States are best to call home.

Take a moment to picture yourself walking along a soft sandy beach just as the sun is setting. You stroll along, looking out at the horizon as the sun's rays ever so subtly kiss the precipice where the water meets the sky and then gently ripple outward toward your direction. You watch as the waves carry the rays to the shore, and then as the water reaches out up towards you, its foam tickling your feet. You stand there for a while, just taking in the natural splendor that is strewn before you. And then you retreat back home to sit on your deck, indulge in a glass of wine, and soak up the reality of living in such a coastal paradise. If this sounds like a dream you'd be right, however, it doesn't have to be. Lucky for you, living right on the water with the beach right outside your doorstep can truly become your reality. We here at Tell Me Best explored cities from sea to shining sea and came up with a list of the very best coastal cities to call home. So without further ado, and in no particular order, these are our picks for the top beach havens that the United States has to offer.
NAPLES, FLORIDA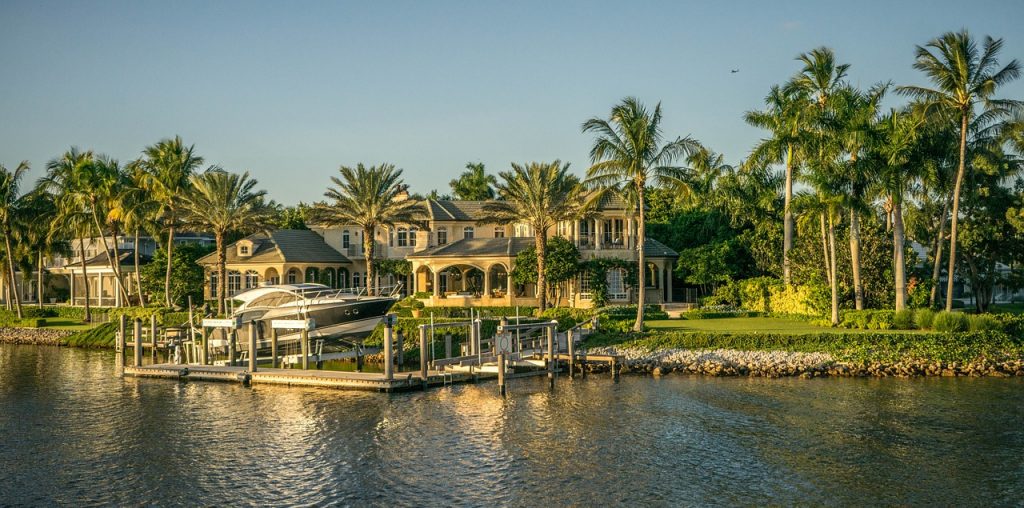 Naples is a lovely beach town situated in southwestern Florida right off the gorgeous shores of the gulf coast. It is a popular tourist spot, as it is known for having a plethora of high-end retail and dining options. However, it is also a wonderful retreat for those looking to get more in touch with nature. It is the perfect blend of recreation and relaxation.
Population & Demographic – According to the United States' 2020 census, Naples has a population total of 19,115. A demographic breakdown of the total population concluded that 94.1% are White, 4.5% are Black, 0.33% are Asian, and 4.5% are Hispanic/Latino. The median income for the area is $71,553. However, what's interesting is that when looking at the median income for males in the area versus females there is a wide disparity. The male median income in Naples is $86,092 whereas the female median income is a concerning $30,948. That statistic is something you should take into consideration prior to making a move.
Cost of Living – You might assume that Naples' ideal location and ambiance doesn't come cheap. You would be correct in that assumption. The cost of living is 72% higher than the national average and 73% higher than the average cost of living in Florida. To break it down further, prices of goods and serves will run you 7% higher than the national average, however, housing will cost you 229% more. The average 1-bedroom apartment in Naples is currently sitting at a monthly cost of $2,063. If you are looking to purchase, the median home cost comes in just under the $400,000 mark.
Crime – Naples' cost of living may be higher, but its stellar crime statistics provide more of a reason as to why. Area Vibes reported via the FBI's National Crime Database that Naples had a total of 297 crimes reported, which falls 43% lower than the national average. Of those 297 crimes, 21 were classified as violent crimes. Its violent crime rate comes in at 76% below the national average. The remaining 276 reported crimes were property crimes, which amounts to 37% below the national average. These numbers alone are enough to give someone peace of mind when considering a move to Naples.
Climate – Naples is in the Sunshine State, so you can expect this coastal city to be sunny and warm all year round. Naples will see a wonderful 264 beautiful sunny days a year, which is considerably higher than the national average of 205. Its average winter, if you could call it that, low is typically seen in January when the temp will frequently drop to a frigid 56 degrees. Naples' average summertime highs fall right around 91 degrees.
Entertainment – As it is a coastal city, you can expect Naples' 10 miles of white sand beaches to be a big draw. And that they are. However, it also has a lot of other fun and exciting things to do. For the nature lovers, there is the Corkscrew Swamp Sanctuary, Everglades National Park, Big Cypress National Preserve, Florida Panther National Wildlife Refuge, Ten Thousand Islands National Wildlife Refuge, and Picayune Strand State Forest.
Downtown Naples is home is a whole host of shopping and dining options. The shopping districts on 5th Avenue South and 3rd Avenue South are the most prominent. There is also Gallery Row which houses a slew of art galleries for your perusing pleasure.
PAIA, HAWAII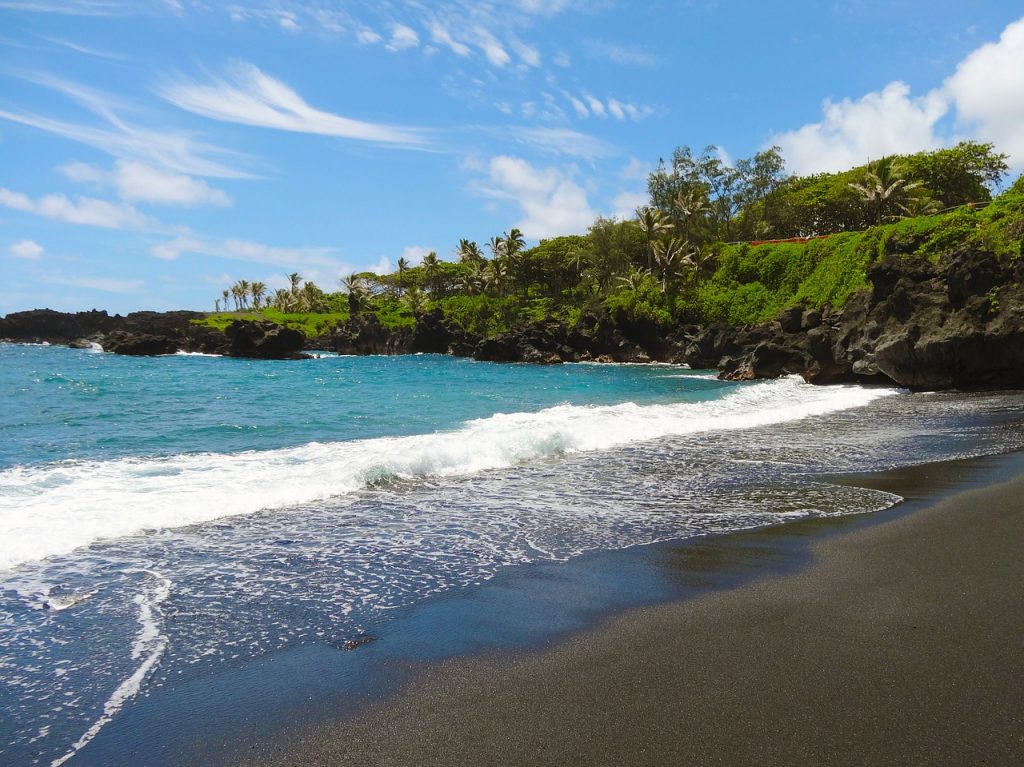 The small coastal city of Paia is situated on the northern coast of Maui. In its early years of development, it was a sugarcane plantation and remained as such until 2000. Today, however, it exists as a coastal paradise. It is chock full of culture. From its eclectic storefronts to its world-renowned Ho'okipa Beach Park, it is brimming with an ambiance that is hard to rival.
Population & Demographic – The coastal city of Paia boasts a tiny but vibrant population of 2,470 people. The racial makeup of the area is characterized by 33.45% White, 0.32% Black, 0.60% Native American, 27.13% Asian, 8.8% Pacific Islander and 10.92% Hispanic or Latino. The median income for the area sits at $51,696.
Cost of Living -Hawaii is known for being a little pricey, largely due to the fact that it is situated in the middle of the Pacific Ocean which automatically jacks up costs due to the added difficulty in delivering things out there. Paia's cost of living definitely mirrors Hawaii's overall trend of being expensive to live in. When compared with the national average, Hawaii is 89% more expensive. Goods and services cost 28% more and housing will run you 184% higher.
Crime – Paia really is a coastal paradise where you don't have to be afraid to let your guard down. Its crime numbers prove that. In Paia, according to data from Area Vibes, there were a total of 1,051 reported crimes, which falls 55% below the national average. Of those, approximately 100 were violent crimes, which is 74% below the national average. And 951 were property crimes which sit 51% below the average. Crime rates can really put the cost of living into perspective. Are you willing to pay extra for the added reassurance that you and your family will be kept safe?
Climate – You don't know what ideal weather is until you have experienced Hawaii. And Paia is a perfect representation of its wonderful tropical climate. In Paia, you will see a robust 275 days of sun per year. That means that 75% of the time in any given year you'll be able to lay out and catch some rays. Those are nice odds. In terms of temperature, even in January, you'll rarely see temps dip below 64 degrees and in July, at the very height of summer, they'll frequently however around 87 degrees. Paia truly exudes the epitome of comfort in terms of temperature, you'll never be too hot or too cold. In terms of precipitation, Paia gets an average of 24 inches of rain per year, which also isn't too bad.
Entertainment – For locals and tourists alike, there are loads of things to do and see in and around Paia. In addition to laying out along the shores of Ho'okipa Beach, they have a vibrant downtown area filled with unique shops that offer many unique artisanal items. Paia is also home to the popular art gallery Art Project Paia. And if you are looking to feast on some fine cuisine, Paia is also known for its vast array of restaurants, many of which serve authentic Hawaiian cuisine. Paia is also known as the windsurfing capital of the world.
SANTA BARBARA, CALIFORNIA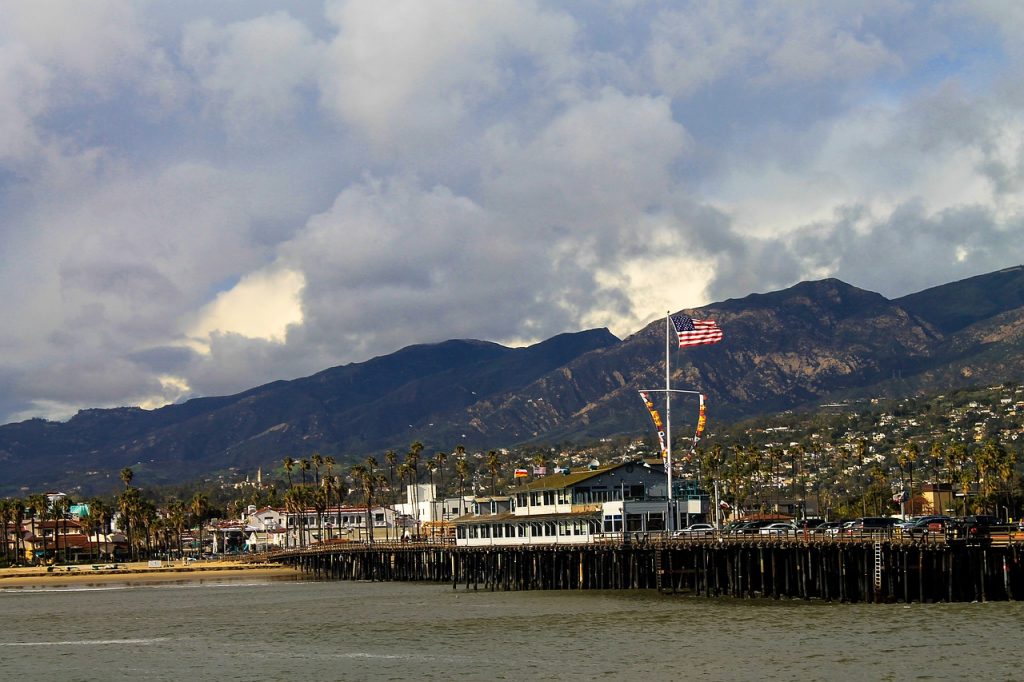 Santa Barbara is a gorgeous coastal city. It is located on the longest stretch of coastline on the pacific and sits right in front of the Santa Ynez Mountains. Santa Barbara is well known for its harmonious blend of natural beauty, diverse industry, and vibrant entertainment options.
Population & Demographic – The United States' 2020 census recorded a total of 88,665 people living in the coastal city of Santa Barbara. The latest statistics on the racial makeup of the city reveal that its population is 52.2% Non-Hispanic/Latino Whites, 1.6% Black, 1% NativeAmerican, 3.5% Asian, and 38% Hispanic/Latino of any race. The median income for the area is hovering at $65,916 per year.
Cost of Living – California is another state who has a reputation for having an overall higher cost of living than many others. And given that it is also a state, like Florida and Hawaii, known for its stellar weather, a higher cost of living is just something that almost always just seems to go with that territory. Keeping that in mind, here's how Santa Barbara stacks up. Overall, living in Santa Barbara will cost you 97% more than the national average. Prices for goods and serves aren't too bad, they only run 3% higher than the national average. However, what you pay to house yourself in Santa Barbara is where your wallet is really going to feel it as it is a whopping 286% above the nation's average.
Crime – As beautiful and charming as Santa Barbara is, it is one of the larger coastal cities on our list, and usually, the larger the city is the more crime there will be. For Santa Barbara, that is indeed the case. That being said, for as many people as there are, its numbers do hold up quite well when compared to the entire countries average. In Santa Barbara, there were 2,577 crimes reported this year. Of those crimes, 389 were violent crimes and 2,188 were classified as property crimes. What this comes down to in terms of percentages is a total crime rate that is 20% higher than the national average, violent crime sits 9% higher, and property crime is 22% above the nation's average. Taking all of that into consideration, what it comes down to is the need to do your due diligence before committing to moving to a neighborhood within Santa Barbara's city limits.
Climate – Santa Barbara is the ideal coastal city for someone longing to live overseas on the beautiful shores of the Mediterranean because it is known as "America's Riviera." In fact, in 2108 the U.S. News & World Report ranked Santa Barbara as having the #1 weather in the United States. Santa Barbara sees an impressive 283 sunny days per year and receives only 19 inches of rain. Its average January low hovers around 46.5 degrees. So while you might not need to break out your winter galoshes, you will need to equip yourself with a decent coat for going out on chilly nights. Its average July high sits an exceedingly comfortable, 77.7 degrees.
Entertainment – Santa Barbara's bigger size lends itself well to the entertainment sector. IN fact, the city offers so much that it would need a whole article itself just to detail everything that it offers, and even then there would still likely be more to cover. That being said, some notable points of interest, apart from the stunning beaches, include the Steams Wharf, the annual Santa Barbara Film Festival, the ever-iconic Rose Bowl, Moreton Bay Fig Tree, Santa Barbra Zoo, Santa Barbara Museums of Art and Natural History, and the Naval Reserve Center.
CORPUS CHRISTI, TEXAS

Corpus Christi is a stunning coastal city that sits on Texas' southern gulf coast. It is also a robust metropolitan area. It is characterized as much by its coastal vibes as it is by its bustling education sector and readily abundant industry. And its rich historical roots are apparent nearly everywhere you go.
Population & Demographic – A total of 327,248 people call Corpus Christi home. Its population is made up of 33.3% non-Hispanic Whites, 4.3% Black, 1.8% Asian, and a solid 62.23% Hispanic/Latino of any race. The median income for this bustling coastal city is $41,672.
Cost of Living – The best part about Corpus Christi, other than its pristine beaches, is that it is a truly affordable place to live. Living in Corpus Christi will run you a pleasant 8% lower than the national average, goods and services cost 3% less, and housing is an attractive 26% less. An average 1-bedroom apartment in this coastal oasis will fall around $900/month. The median price for a home is just as nice of a number, clocking in at only $188,500.
Crime – Crime rates in this big city of almost 400,000 people, however, are less than desirable, but at the same time, to be expected. A total of 13,519 crimes were reported, 2,772 were filed as violent crimes and 10,747 were classified as property crimes. These numbers amount to a total crime rate of 75% above the nation's average. Violent crime by itself is 117% higher, and property crime is a slightly more digestible 67% higher. It is important to take these higher numbers into consideration before deciding to settle on Corpus Christi's stunning shores.
Climate – There are no two ways around it, Texas is hot. And much of the state stays that way for a good portion of the year. Corpus Christi is no exception. So if you like your beaches ultra-warm and you love the feeling of baking in the sun, then this coastal city is your prime spot. The average January low will dip to 48 degrees, but the average mid-summer high will frequently reach 95 degrees. So, if you're headed out to wade in waves of the gulf coast during the summertime, make sure not to forget your sunscreen.
Entertainment – Big city equals even bigger entertainment. And you know what they say, "everything is bigger in Texas." That rings tried-and-true for Corpus Christi in terms of what they offer in entertainment. There are countless options to fish, skate, birdwatch, and windsurf to name a few. They are also known for their Botanical Gardens and Nature Center, the Texas State Aquarium, and the USS Lexington. And those options are just scratching the surface. If entertainment is what you seek, Corpus Christi is ready and able to deliver.
CHARLESTON, SOUTH CAROLINA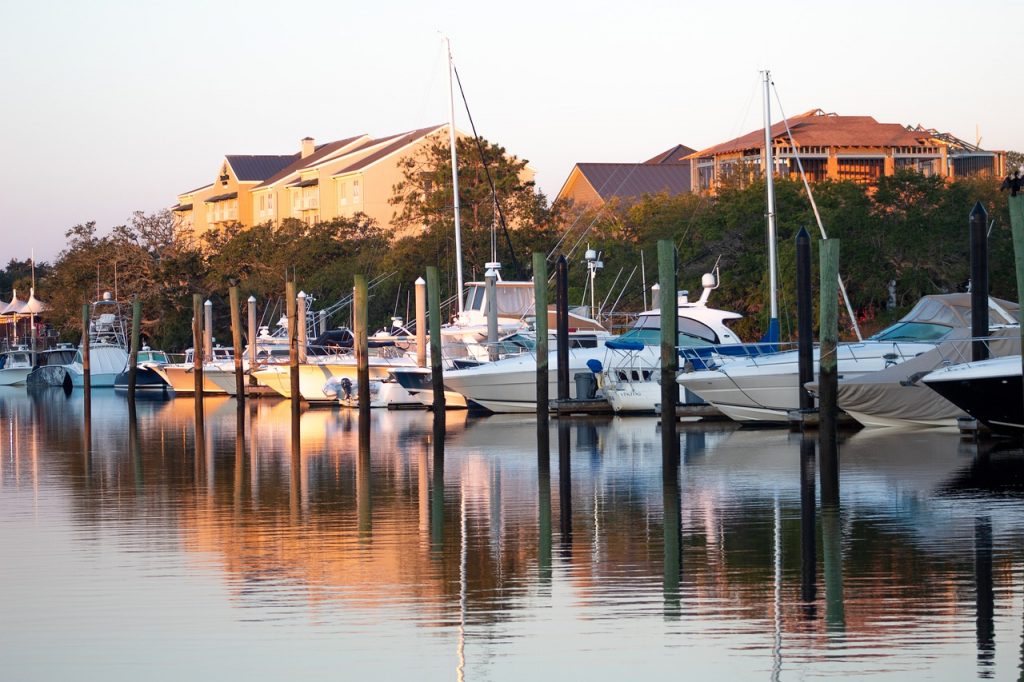 Our last pick brings us back to the east coast where you'll find Charleston, South Carolina situated on the awe-inspiring shores of the Atlantic Ocean. It is positioned within an inlet protecting it from the more tumultuous waters of the Atlantic, making its calm beaches some of the most notable on the coast.
Population & Demographic – As of the 2020 Census, there are 150,227 residing in Charleston. Making it the second largest coastal city on our list. It is comprised of 72.4% non-Hispanic White, 16.86% Black, 2.16% Asian, and 4.54% Hispanic/Latino. The median income in Charleston is currently $52,971.
Cost of Living – Despite Charleston being attractively nestled in a highly desirable spot on the shores of the Atlantic, Charleston boasts only a moderately high cost of living when compared to the national average. Overall, it will run you 11% more to live in Charleston. However, goods and services are actually 4% less when comparing that to the stats of the rest of the nation. Rents average around $1700 per month and the median home price is currently $386,600.
Crime – Considering the fact that Charleston is a metro area that is on the fairly larger side, its crime rates do reflect that. That being said, taking into account their size, this coastal city's numbers are really not staggering. Total crime reported equaled 3,868 which is 18% above the United States average. There were 650 violent crimes committed and 3,218 property crimes occurred. This means that its violent crime rates is hovering 20% above the average and its property crime is sitting at 18% above.
Climate – Like the coastal cities we mentioned in other states, Charleston, South Carolina is known for having a desirable climate. They get around 209 sunny days a year, which is close to the national average of 205. They typically do not see any snow, but they do get their fair share of rain at 48 inches a year. However, Charleston can get quite nippy in the winter, with January lows frequently falling to 39 degrees. July is the hot month with temperatures usually topping out at around 90. Still, those temperatures make for a very livable climate year-round.
Entertainment – Like all the other coastal cities we mentioned, Charleston is not lacking in the way of entertainment options. They are a city deeply rooted in the United States' history, so if you are a historical buff then you will be thrilled with all the attractions it has to offer. Some notable places include the Avery Research Center For African American History & Culture, Market Hall & Sheds, and the Exchange and Provost. The city is also outlined by a whole host of other museums. It also boasts a vibrant music and performing arts scene.
THE CONCLUSION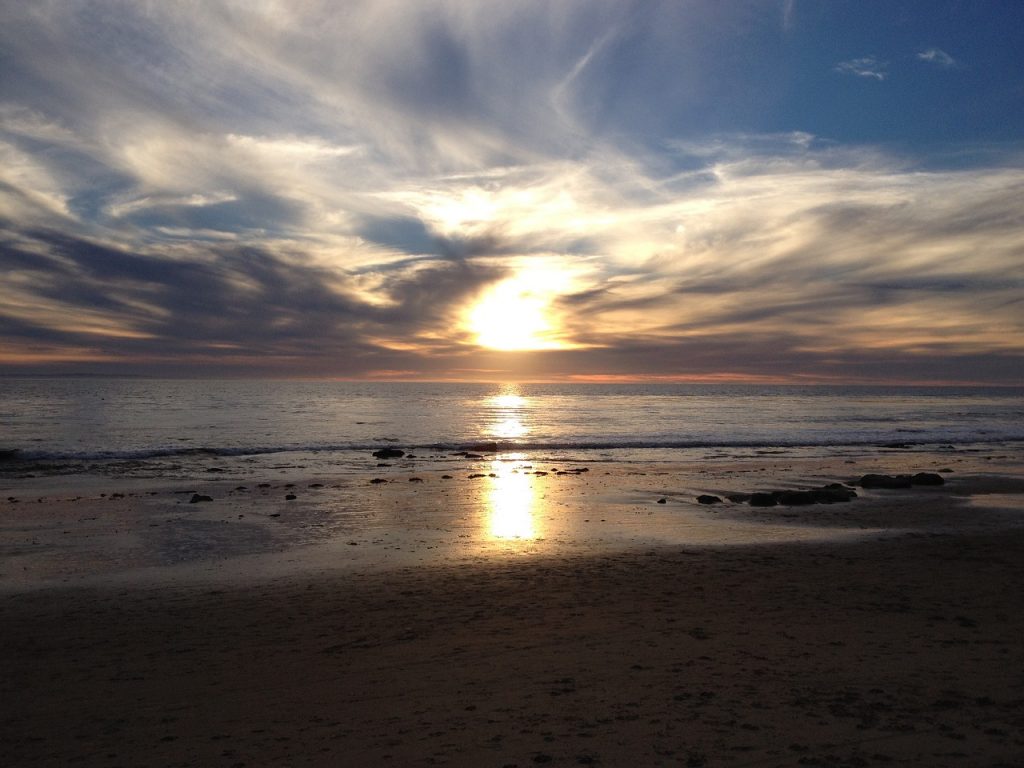 If you are one who is longing to spend your days and nights soaking in the oasis-like atmosphere of living in a coastal city then any of the cities above will more than fill that void. From amazing weather to awesome entertainment and unparalleled vistas all of our chosen coastal cities have so much going for them. Now, the only thing left for you to do is take the plunge and start living out your coastal abiding dream.