Yum Brands exceeded Wall Street's fourth-quarter expectations because of how well Taco Bell performed.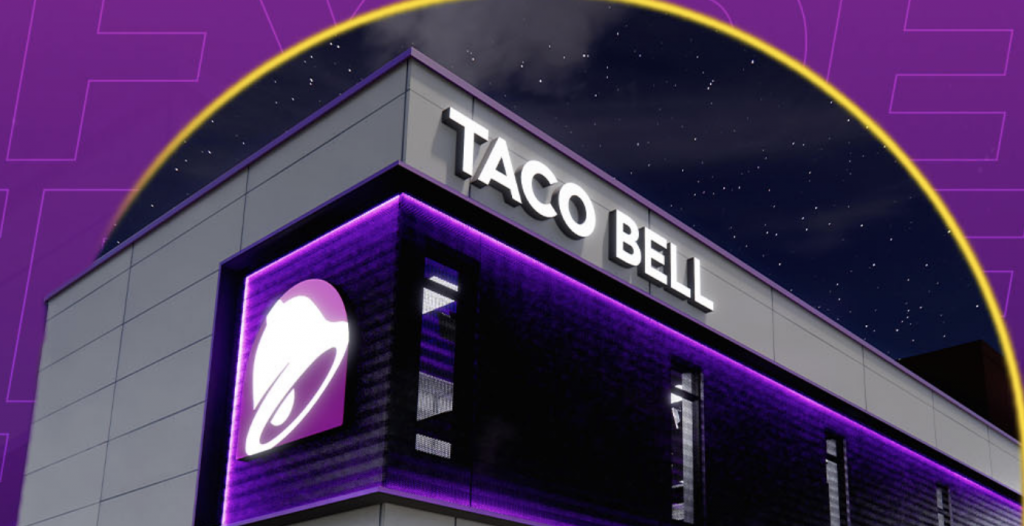 Taco Bell has a long reputation as the place to go for cheap eats, particularly in trying economic times. Now its value menu is being touted as the reason why parent company Yum Brands so successfully closed out the fourth quarter of 2022. Wednesday's earnings and revenue report exceeded Wall Street analysts' expectations for the fast food giant.
Yum Brands reported earnings per share of $1.31 adjusted vs. the expected $1.26. The company reported fourth-quarter revenue of $2.02 billion vs. the $1.92 billion expected by Wall Street. Taco Bell is typically the company's strongest performer and it beat StreetAccount's estimates with same-store sales growth of 11% vs. the 6.7% estimated.
Taco Bell saw increased demand during the last three months of 2022 as lower-income diners turned to its value menu. "We're connecting and we're winning because of value," said Yum CEO David Gibbs in a company conference call. Higher-priced burritos and other items also drove more traffic into Taco Bell stores, especially the hype over the return of the Mexican Pizza.
The Mexican-inspired fast-food chain sold 45 million Mexican Pizzas in 2022. This is a particularly impressive figure given that it was only on the menu four months of the year. The entrée was so popular that the chain sold out of the ingredients to make it last May.
Most Taco Bell locations are in the United States, but Yum Brands has been expanding the chain internationally in recent years. Its current international footprint surpassed 1,000 locations in the fourth quarter of 2022. More impressive, the company has built 40% of these stores in just the past two years.
It wasn't all rosy for Yum Brands, however. Their other top restaurants, KFC and Pizza Hut, both fell short of Wall Street's expectations. The company is attributing those restaurants' overall weak sales to a new wave of Covid outbreaks after the country relaxed its zero-Covid policy.
KFC reported same-store sales growth of 5%, falling slightly short of estimates of 5.4% growth. If you exclude China—KFC's largest market—same-sale stores increased by 9%. Yum Brands also decided to transfer ownership of its Russian KFC restaurants to another company where they will be rebranded to a non-Yum-Brands concept.
Weak sales also negatively impacted Pizza Hut's performance in 2022's fourth quarter. Overall, the chain's same-store sales inched up 1%, but the international locations fell 1%. In the United States, Pizza Hut saw a 4% increase in same-store sales, perhaps proof that customers are rebounding from "pizza fatigue" after ordering too many pies during Covid lockdowns.
The company followed Taco Bell's lead in 2022 by adding more value offerings to the Pizza Hut menu. Company executives credit the rise in 2022 sales to the advertising for lower-priced items that drew lower-income pizza lovers back to the brand. Pizza Hut opened 1,584 gross new restaurants in 73 countries last year.
Yum Brands' latest addition, the Habit Burger Grill, said that locations open at least a year saw a 1% dip during the quarter. But, its system sales for all stores (not only those open for at least 12 months) rose 12%. Taco Bell's parent company rapidly expanded the burger chain last year.
---