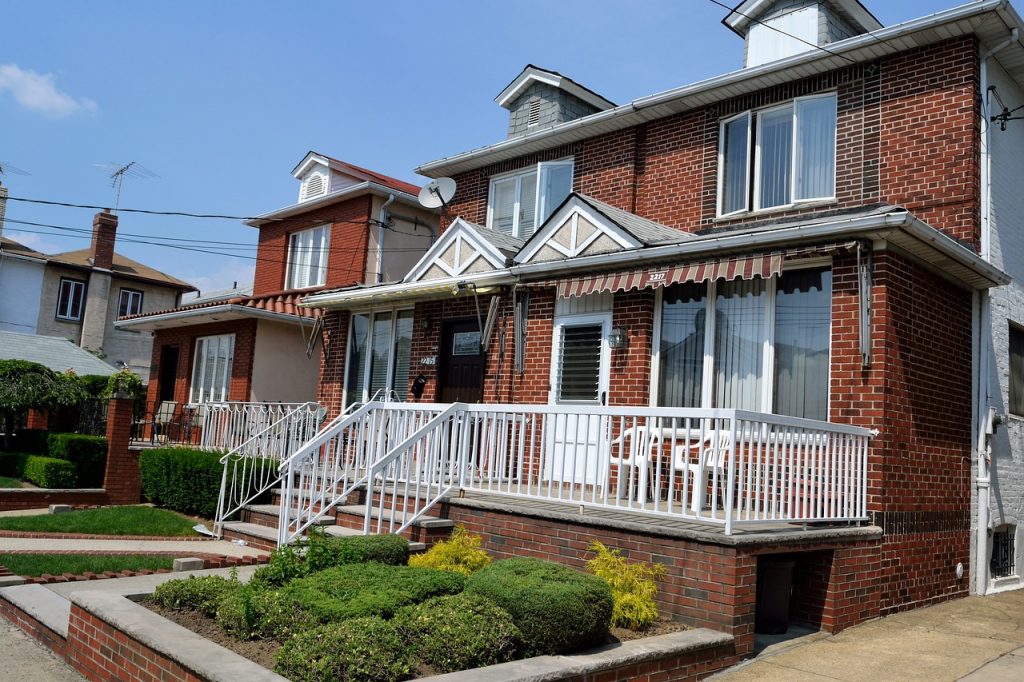 Feeling safe is an important part of our well-being. A quick look at Maslow's Hierarchy of Needs reveals that safety sits just above physiological in terms of how important it is in our ability to adequately function. Safety is measurable across numerous categories. For instance, you can feel financially safe but worry about walking outside your front door because you live in an area of high crime. Conversely, you can feel perfectly safe in your city but not have two extra dimes to rub together in case of an emergency. It's important to think of safety as a spectrum rather than a singularity, and we as humans make concessions all the time in order to get by.
However, it is still imperative to understand that if we don't feel safe it hinders our ability to fully live life. That being said, a major factor that contributes to your personal sense of safety is the city in which you live. Thus, we looked at big cities across the United States to determine which are the safest in terms of crime but still have the propensity to facilitate a high quality of life in other areas of importance, too. Essentially, a city should be safe while also offering vast opportunities in the way of lifestyle, industry, and entertainment so that you can satisfy your safety needs across the entire spectrum. Thus, without further ado, these are our picks for the safest cities that the United States has to offer.
EL PASO, TEXAS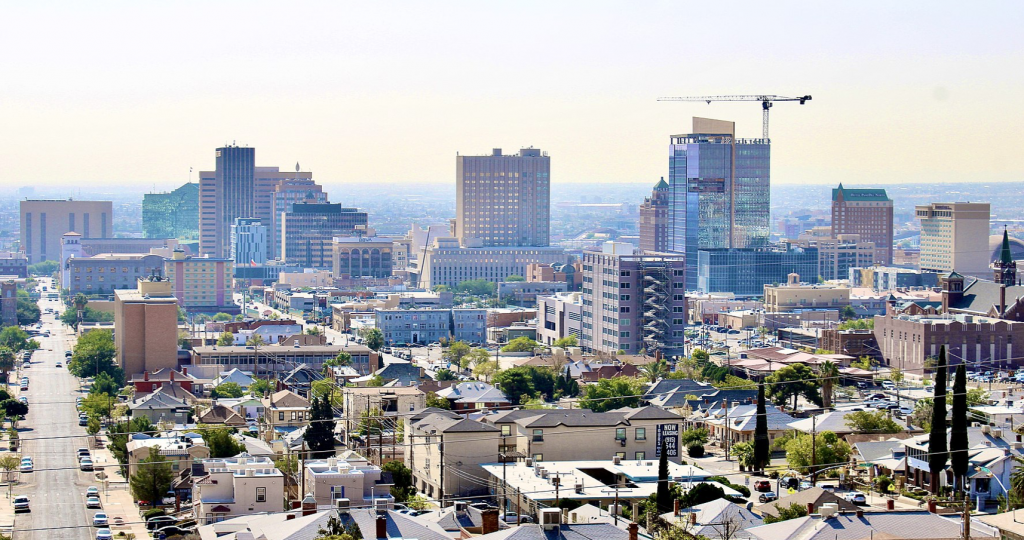 TOTAL CRIME – 34% below the national average.
El Paso is positioned in the far west portion of Texas right on the Rio Grande and straddles the Mexican-United States border as well as New Mexico. Perhaps, its name "El Paso" or "The Pass" is derivative of its close proximity to our neighbor to the south. It is comprised of 678,058 people and is characterized by districts that are rich with history, a bustling industry, abundant culture, and diverse landscapes.
Cost of Living – El Paso is a super safe big city with a cost of living that you would expect to find in a much less populated area. El Paso's cost of living sits an impressive 10% below the nation's average. Goods and services will run you 2% cheaper. However, housing is where El Paso really shines. Housing in El Paso runs an impressive 30% less than the national average. Purchasing a decently-sized home in El Paso will cost you approximately $145,000. Rental prices are just as attractive in El Paso. A decently appointed 2-bedroom dwelling is typically is priced around $850 per month.
Industry – Housing is cheap and industry is abundant in this safe city, it's hard to find a better combination than that. In recent years, the state of Texas has attracted numerous companies because of its immense affordability and El Paso has certainly been a part of the surge of newly settling industries. They are home to the Fortune 500 company Western Refining, however, over 70 big businesses have offices based in El Paso. Including major players like AT&T, Verizon, Boeing, and Charles Schwab. Because of their proximity to Mexico, there are many employment opportunities based in International Trade, as well.
For those looking to embark on a career in the military, particularly in the Air Force, El Paso is a great place to be, and it certainly adds to El Paso being one of the safest cities to live. Both Fort Bliss and the Biggs Army Airfield are based in El Paso. Fort Bliss is a designated U.S. Air Force Security Forces Regional Training Center and adds 8,000 to 10,000 new Air Force recruits each year.
Climate – El Paso is the perfect safe city for those who like their weather to be full of sun and heat throughout a good portion of the year. El Paso resides within the Chihuahua Desert near the beginning of the Franklin Mountains. Its climate is characterized by hot dry summers and generally mild winters. The sun shines brilliantly 297 days of the year. That is not only well above the national average, but it means that 81% of the time you are likely to have sun in El Paso. El Paso would be a match made in heaven for any sun lover. This safe and sunny city's July high rests around 95 degrees. However, El Paso can get a bit nippy in the winter months, especially at night. The nighttime January lows typically hover near 30 degrees. Since El Paso is smack dab in the middle of the desert they don't see a lot of rain, and will usually only accumulate about 10 inches throughout the year. However, because they are positioned right next to the Franklin Mountains they are blessed with 3 inches of snow during the winter.
Entertainment – There is little chance that you will ever be bored in the safe city of El Paso. From its soaring mountain vistas and sprawling desert landscape to its rich history El Paso truly has something for everyone. For those who thrive in the great outdoors, there is Franklin Mountains State Park, Hueco Tanks State Park and Historic Site, Centennial Museum and Chihuahuan Desert Gardens, and the Scenic Drive Overlook. El Paso's thousands-of-years-old history shines fervently at Fort Bliss and Old Ironsides Museum, Chamizal National Memorial, El Paso Holocaust Museum and Study Center, and the Magoffin Home State Historic Site.
BOISE, IDAHO

TOTAL CRIME – 18% below the national average.
The safe city of Boise is a sprawling cultural mecca that is outlined by a breathtaking mountain backdrop. Its 218,677 residents actively propel Boise's dense and thriving collection of small businesses as well as its impressive portfolio of big industry. It being one of the safest cities only further compliments this city's vibrant cultural and commercial pulse.
Article continues below headlines
---
Cost of Living – Boise is a safe city that won't necessarily break the bank, especially when compared to other big and bustling cities across the United States. Overall, it costs 1% less to live in Boise in relation to the national average. Goods and services clock in 3% higher, however, the cost of housing mirrors the overall number at 1% lower than the national mean. A generously sized two-bedroom apartment in Boise will cost you about $1000 per month. However, a decent-sized house could easily crop up near $400,000 in price.
Industry – Boise's commercial makeup is largely comprised of manufacturing companies. However, those looking to work in government will also find a vast array of employment opportunities in Boise. The tech industry is also up and coming in Boise. Tech jobs are abundant, but competition for them is much less fierce than in other areas of the country, making Boise an ideal safe city for those looking to break into the technology industry. A current top tech employer is Micron Technology. However, Boise is also home to Hewlett Packard, some Microsoft offices, MetaGeek, and MobileDataForce.
Climate – The safe city of Boise is privy to all four seasons. Its summers are hot and dry, spring and fall in Boise are both quite pleasant, and their winters can get rather nippy. In total, Boise is likely to see 206 sunny days a year. Its mid-summer highs usually creep up to 92 degrees, and dead of winter lows usually dip to 24 degrees. Boise doesn't see a ton of precipitation and typically only gets 13 inches of rain and 18 inches of snow in a single year.
Entertainment – Believe it or not, Boise is a music lover's paradise. They are regionally known and praised for their jazz and indie music scenes. Every spring Boise hosts the Gene Harris Jazz Festival which attracts jazz enthusiasts from across the nation. Boise also has a thriving theatrical culture. The city hosts the Idaho Shakespeare Festival and is home to the Boise Little Theater as well as the Boise Contemporary Theater.
Apart from its rich music and theater scenes, Boise is ideal for the person who can't get enough of the great outdoors. Notably, there is the Boise River Greenbelt for hiking enthusiasts and the Bogus Basin Ski Area for those who are looking to sail down the side of a mountain. Other attractions in this safe city worth mentioning include Zoo Boise, Idaho Aquarium, and the World Center for Birds of Prey.
IRVINE, CALIFORNIA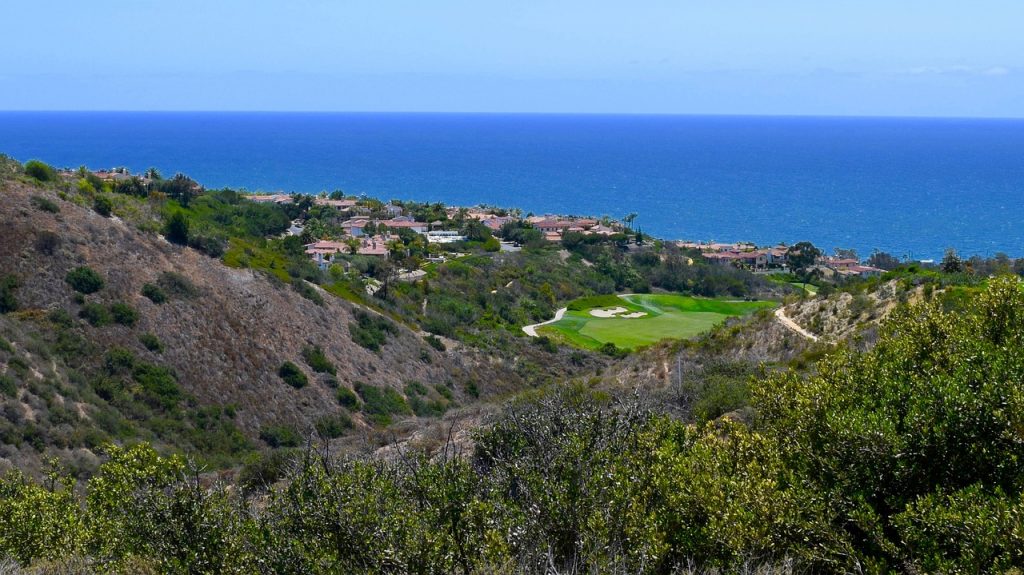 TOTAL CRIME – 34% below the national average.
Irvine is the pinnacle example of successful urban planning. It was smartly developed beginning in the 1960s and officially became a city just after Christmas in 1971. A total of 246,992 people now proudly call it home. It's not only home to a wealth of prominent technology and semi-conductor companies but it is a prime hub for higher education. Irvine was built to thrive, and its careful planning has not only made it one of the safest cities to live in but a community full of both opportunity and entertainment.
Cost of Living – The safe city of Irvine is located in sunny Southern California, thus it almost goes without saying that its cost of living might prompt a few gasps. California and a high cost of living almost always go hand in hand. That being said, if you want to reside in Irvine it will run you 80% higher than the national average. The costs of goods and services aren't too bad, they only tally up to be 13% higher than the United States average. However, housing is the real kicker. Paying for your domicile in Irvine is 236% more expensive in comparison to the national average.
Industry – Since Irvine was the product of being so strategically mapped out, it benefits from having a slew of industries, which only adds to the attraction of it being such a safe city to live in. We could be here for hours detailing all the employment opportunities to be had in Irvine, but a few that really stand out include Broadcom Corperation, Western Digital, Blizzard Entertainment, Master North America, and the University of California Irvine.
Climate – Irvine's climate is akin to the typical climate of Southern California. This safe city lays claim to getting 281 blissfully sunny days a year. July highs come in at a comfortable 82 degrees and the January lows stay well above freezing and usually don't dip south of 46 degrees. Climate doesn't get much more comfortable than what Irvine offers.
Entertainment – Again, because Irvine is a city that was strategically planned out from inception to completion, it is a community that is littered with things to do, especially if you are looking to spend some time at the park. It is home to a whopping 66 parks. Besides its parks, other top spots in Irvine to check out include Irvine Spectrum Center, Northwood Gratitude and Honor Memorial, Pao Fa Temple, and The Market Place.
VIRGINIA BEACH, VIRGINIA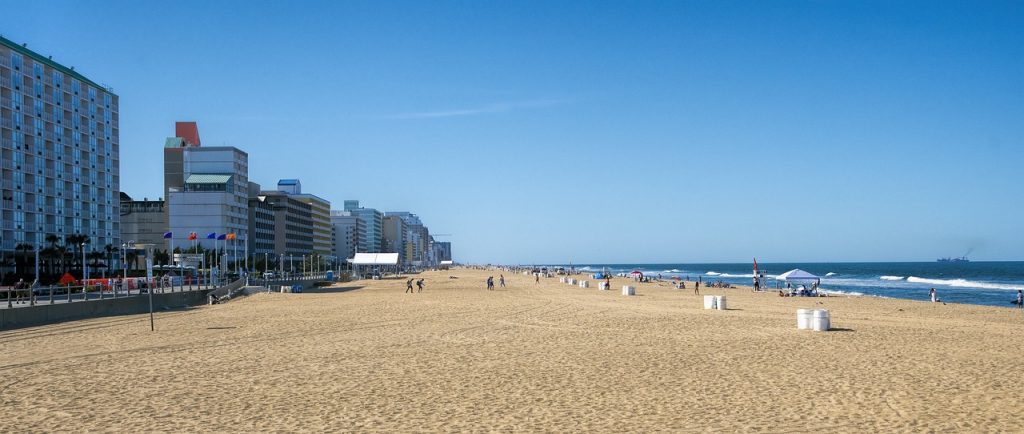 TOTAL CRIME – 31% below the national average.
A total of 459,470 people call the safe city of Virginia Beach home. This east coast city is situated right on the Atlantic Ocean tucked within the Chesapeake Bay. Because of its coastal location, Virginia Beach is known for its rich maritime culture. However, it also boasts many prosperous industries and a vast array of historical landmarks.
Cost of Living – Since Virginia Beach is idyllically located right on the enticing waters of the Atlantic combined with the fact that it is such a safe city to live in, makes it an extremely desirable place to live. Its immense desirability is reflected in its cost of living. And although Virginia Beach's cost of living numbers are not quite as staggering as Irvine's they are important to take note of if you are considering a move. All in all, it will cost you 16% more to live in Virginia Beach compared to the national average. Goods and services run 8% higher, and housing sits 39% above the United States' mean. A nice two-bedroom apartment will cost you around $1,450 in Virginia Beach, and an average home is usually priced at around $350,000.
Industry – Virginia Beach being so safe is made more attractive by the fact that it is also full of an immense amount of employment opportunities. Its coastal location has made it an international commerce hotspot, as almost 200 overseas firms have planted roots on the shores of Virginia Beach. A slew of national firms also claim Virginia Beach as their home base, including both Amerigroup and Geico. Additionally, since one of this safe cities biggest draws are its sprawling beaches tourism also has a large part in fueling the city's economy making jobs in hospitality plentiful.
Climate – Virginia Beach sits in the southern portion of the east coast's Mid-Atlantic region, therefore it does experience all four seasons. Its Mid-Atlantic location also makes it very susceptible to storms that tend to drop drenching bouts of rain. Virginia Beach seas a soaking 47 inches of rain in a typical year. However, they are privy to 213 beautiful days of sunshine which is still above the national average of 205. Highs in the thick of summer usually top out around 88 degrees. January lows frequently hit the 32-degree freezing mark, and Virginia Beach can accrue up to 6 inches of snow annually.
Entertainment – In terms of culture and recreation, Virginia Beach has really got it all. It boasts places of historical interest such as the Adam Thoroughgood House, Cape Henry Lights, and DeWitt Cottage. It's chock full of art galleries and museums such as the Virginia Museum of Contemporary Art and the Virginia Aquarium and Marine Science Center. There is also the Back Bay National Wildlife Refuge, First Landing State Park, and False Cape State Park. Not to mention the beaches, there are so many worth visiting but Sandbridge Beach and Chic's Beach are both among the absolutely awe-inspiring.
CARMEL, INDIANA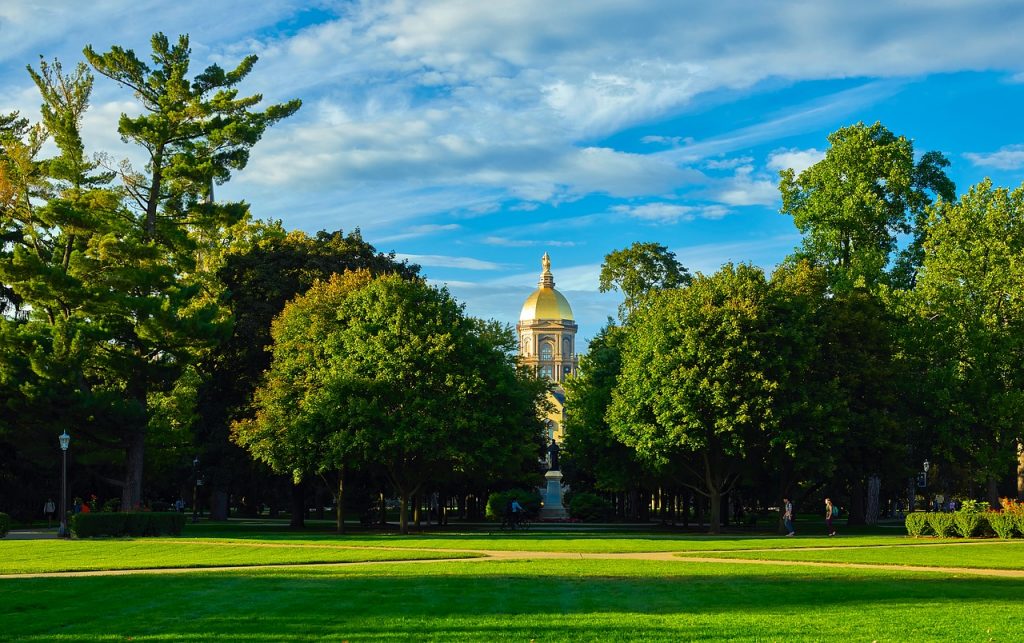 TOTAL CRIME – 73% below the national average.
The impressive city of Carmel, Indiana is situated right the White River and has not only been touted as one of the safest cities in America but also one that has been awarded for being an ideal place to start a career and raise your family. A total of 86,940 people call this mid-size city home and relish in Carmel's rich culture, ample employment opportunities, and serene river setting.
Cost of Living – Carmel's cost of living sits measurably higher than the national average, as people are drawn to the city not only because of how safe it is but because it offers so much in the way of being able to cultivate a quality lifestyle. Overall, it will run you 13% above the nation's average to reside in Carmel. Goods and services roll in at 3% below, however, the price you'll pay for housing sits 52% above the nation's average costs. Still, for offering such a stellar combination of safety and opportunity, Carmel's numbers are still pretty tame.
Industry – More than 40 corporations call Carmel home. Some of the larger companies based out of Carmel include Allegation, CNO Financial Group, MISO, and Delta Faucet. Both Liberty Mutual and Geico also have offices in Carmel. This safe city truly is ideal for someone looking to break into the corporate sector.
Climate – Carmel, Indiana's midwest location affords it the ability to experience the four seasons in all of their glory. Summer highs in Carmel average about 84 degrees and winter lows can frequently dip to a considerably nippy 19 degrees. Carmel sees 185 days of sun, 42 inches of rain, and 23 inches of snow in a typical year. Carmel's climate really does provide a happy medium for someone looking to live in a place where they can appreciate all the seasons without being overwhelmed by scorching heat or absolutely unbearable cold.
Entertainment – Carmel features a slew of entertainment options throughout the city. It is home to the Carmel Farmers Market as well as the Monon Greenway for those looking to appreciate nature. Carmel's Arts and Design District is also jammed-packed with art galleries and museums to explore. Kawachinagano Japanese Garden is also one of the city's must-see attractions.
THE CONCLUSION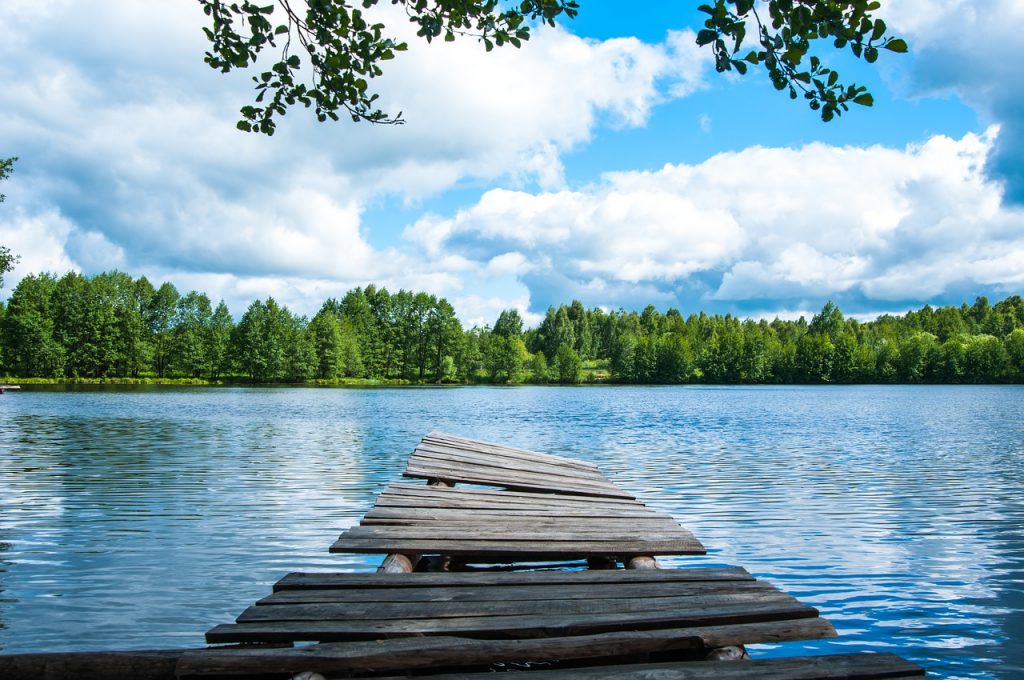 Feeling safe and secure in the city that you reside in is absolutely paramount in achieving an optimal quality of life. However, gaining a complete sense of safety involves much more than just experiencing a sense of ease as you walk out your front door. Thus, all of the safest cities above are characterized not only by stellar crime statistics but also feature other qualities that can put you on the right track to attaining a sense of security across the entire safety spectrum. So whether you are a beach bum, a sun soaker or much prefer to live in a place with all four seasons you can take solace in the fact that any of the choices above seamlessly combine safety with lifestyle.