In light of the holiday season, Kellogg's is hosting a gingerbread house-building contest for Pop-Tarts fans and the grand prize winner will receive $15,000.
Building a gingerbread house is part of many families' holiday traditions, but this year your creation could earn you a whopping $15,000 prize. The only caveat is that your cookie casa has to be built with Kellogg's Pop-Tarts breakfast pastries instead of actual gingerbread. Luckily, a Pop-Tarts gingerbread house can still include a wide variety of colors and textures since the popular pop-up pastries come in so many flavors.
"Rather than building the same quaint, cookie-cutter gingerbread houses this year, we hope families will consider a crazy good renovation instead," said Heidi Ray, Kellogg's Senior Director of Marketing. "We are reintroducing Gingerbread Pop-Tarts to inspire a new era of gingerbread house building that's modern, memorable, and most importantly, delicious. We hope the added incentive of the $15K prize will get fans into the spirit, the Pop-Tarts way."
Interested parties can find the full list of contest rules on Kellogg's Pop-Tarts Drury Lane Contest webpage. Entries must be submitted by 11:59:59 PM EST on Dec. 16, 2022, via Instagram or Twitter. Because no purchase is necessary to enter the contest, creators can also enter by mailing a digitally drawn or hand-drawn Pop-Tarts gingerbread house image instead of photos of a three-dimensional build.
To provide creative inspiration, Kellogg's partnered with Zillow to create a Pop-Tarts gingerbread house "off-market" listing and it's worth a visit even if you have no plans to enter the contest. The two-story Pop-Tarts Gingerbread Lodge sports four bedrooms, two bathrooms and 35 square feet of living space on an impressive .0006-acre lot. The listing agent's photo box features "G.B. Mann," a sunshade and beanie-wearing gingerbread dude.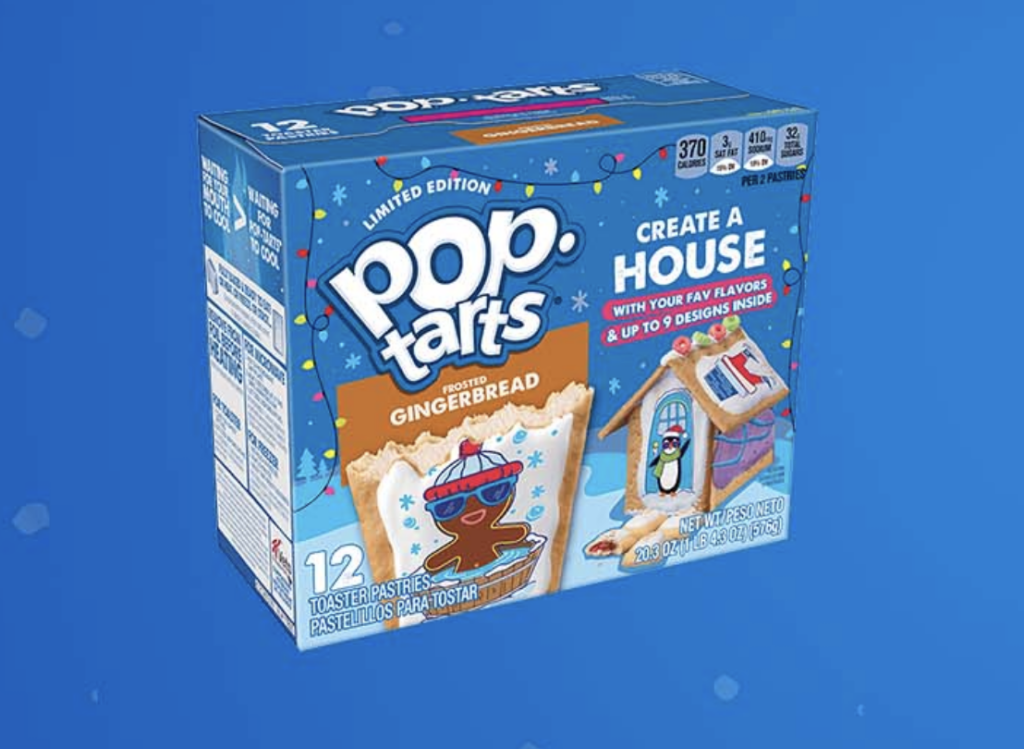 Creative copywriting describes the property like it's a real home for sale, with plenty of humorous details. "Just north of the Wild Berry Woods in the foothills of the Applefritterlachians, this pantry-style farmhouse features immaculately frosted finishings, a toasty interior, and ample acreage," the listing begins. A map is included in case you're unfamiliar with where the Brown Sugar Cinnamon Bridge crosses over the Foil Freeway.
Interior details on the Zillow Pop-Tarts Gingerbread House include a living room with Frosted Raspberry wallpaper and a (blessedly) non-working fireplace. The kitchen is described as having "original to home" tile flooring and custom Cookies & Crème countertops. The bedroom has a vintage unfrosted headboard while the bathroom's main feature is a "reclaimed" Frosted Blueberry bathtub.
Pop-Tarts mini bites are great snacks on the go, but they're also the perfect size for shingling a Pop-Tarts Gingerbread House roof. Go for a traditional roof style by using Brown Sugar Cinnamon or Frosted Chocolatey Fudge Bites for classic brown shingles. Or create a full-on festive gingerbread house roof by attaching rows of colorful Frosted Confetti Cake Bites or pink-frosted Strawberry Banana Bites.
Pop-Tarts Gingerbread House builders must be at least 13 years old to enter the contest and must live within the 50 United States or the District of Columbia. Instagram and Twitter entries must submit their photos with the #GingerbreadPopTartEntry hashtag and tag @poptartsus, the Kellogg's Pop-Tarts account. Gingerbread house photos must be uploaded to the entrant's own non-private Instagram or Twitter account.
Crafty folks who don't have the time to invest in a full-sized Pop-Tarts Gingerbread House contest entry can still enjoy the spicy goodness of creating a smaller gingerbread breakfast pastry chalet. Simply follow the instructions at the bottom of the contest rules webpage and cut six gingerbread—or any other flavor—Pop-Tarts into the shapes needed to build a single structure. Connect them with frosting, then decorate them with your favorite candies, frosting drizzles and sprinkles.
---