An old quilt found online offers a historical link to Detroit's Black Bottom neighborhood.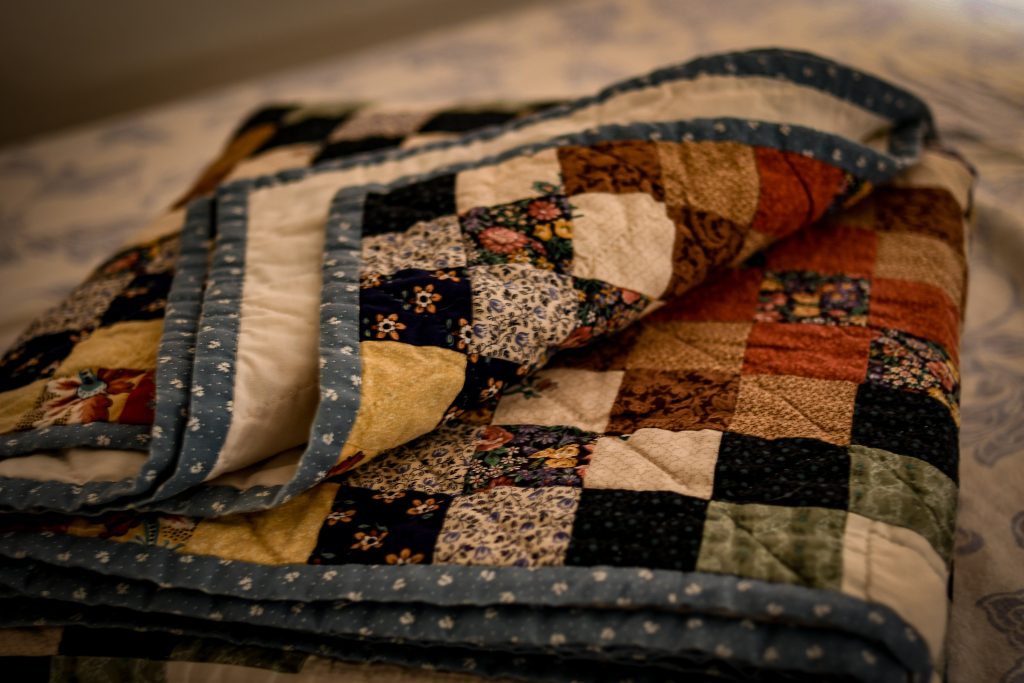 In 2018, Marsha MacDowell, the Curator of Folk Arts and Quilt Studies at the Michigan State University Museum, found a quilt for sale online that she just had to have. The nearly 70-year-old quilt is blue with white X-shapes, each embroidered with a name, an address, and a telephone number. MacDowell recognized some of the addresses as a part of what would have been Detroit's Black Bottom neighborhood, then a thriving community of Black Americans—now, nothing but vacant lots.
Before the 1960s, Detroit's Black Bottom neighborhood was home to a successful and connected community of Black Americans, many of whom had migrated from further South to escape the horrors of Jim Crow. Black Bottom included dozens of Black-owned businesses, popular music venues, and even a thriving nightclub scene. It was known as a place where Black culture was not only embraced, but truly celebrated; but all that changed in the 1960s when highway construction and government-mandated redevelopment forced community members to relocate.
According to NPR, experts and community members alike believe the quilt to be a product of the sewing circle at the Zion Congregational Church of God in Christ on Mack Avenue, one of the only remnants of Black Bottom that remains today. When MacDowell posted photos of the quilt to a church Facebook page in 2021, she got flooded with responses from community members that recognized names and addresses as beloved parents, grandparents, and friends. One of the responders—a 90-year-old woman named Reather Quinn—found her mother's name on the quilt.
Quinn herself had been a part of the church sewing circle, following in her mother's footsteps. A huge help with provenance, Quinn said with almost 100 percent certainty that the quilt had been made by members of the church sewing circle as a fundraiser in the 1940s. Women in the sewing circle would work on quilts together, each sewing a square or two, then "sign" their name on one of the X-shapes. Almost a year after Quinn shed so much light on the history of the quilt, MacDowell worked with Quinn and the leadership at the Zion Congregational Church of God in Christ to bring together church members both past and present for a reunion.
The gathered community members, previously residents of Black Bottom, reflected on the culture of the neighborhood and the church, reminiscing on Sundays past. Whether they were listening to a sermon, gossiping in the sewing circle, or skipping church service to run to the candy store, the women of the church remembered their lives in Black Bottom fondly. The quilt, according to those who gathered to reminisce around it, is more than just a piece of art—it's a piece of history.
Art serves as a way to freeze times and places that no longer exist, and preserve them so that future generations can observe and appreciate those who came before them. Black Bottom lives on in the minds of those who lived there, in the hymns sung by church members today, and in the quilt, so lovingly stitched by members of the sewing circle nearly a century ago. MacDowell is carefully preserving the quilt, and is continuing to dig deeper and deeper into its history.
---