The MyFitnessPal barcode scanner is no longer free and users must now get a premium subscription to the service in order to use it.
In a world filled with fitness apps, some stand out a little more than others. There are plenty to go around on both an Android or iOS device from the simple basic app to ones that really get down to the nitty-gritty. One such fitness app is called MyFitnessPal, whose popularity recently took a hit when its makers decided to put one of its most popular features – the free MyFitnessPal barcode scanner – behind a paywall.
THE MYFITNESSPAL BARCODE SCANNER IS NO LONGER FREE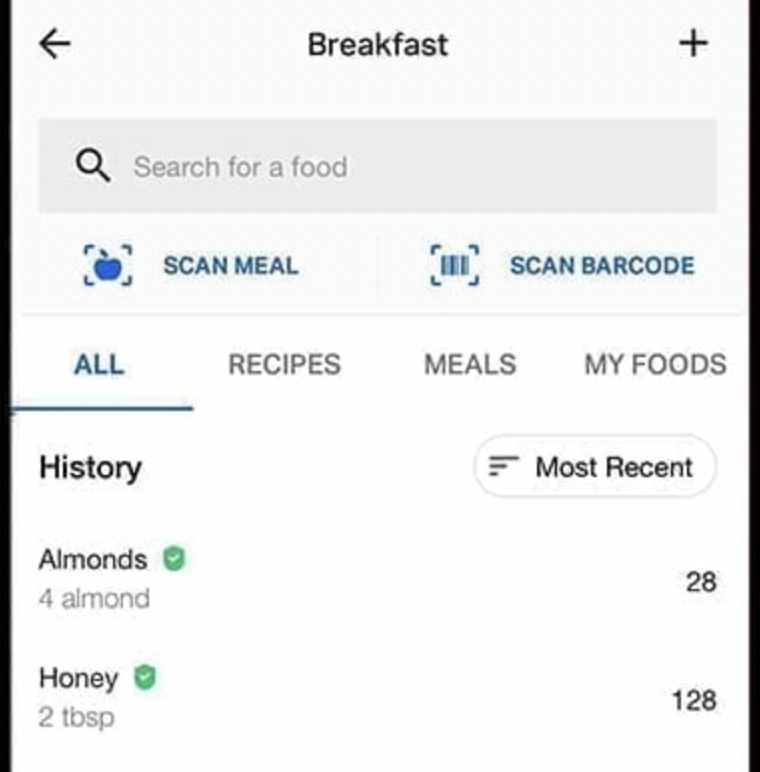 For some who may not use a fitness app and are wondering what's the big deal behind the MyFitnessPal barcode scanner going behind a paywall, well, it had been one of the main features of the app that made it so popular. The barcode scanner made checking and counting calories much easier and the fact that it was free was sugar-free icing on the keto cake. But, as one unhappy MyFitnessPal user stated on Twitter: "Unfortunate but #myfitnesspal just killed their app. #barcode."
Now, if fitness folks want to use the handy dandy MyFitnessPal barcode scanner, they are going to have to pay up. They will need to join the ranks of MyFitnessPal's premium payers and shell out $19.99 a month. To "save" some money, though, MyFitnessPal offers the same service for one price of $79.99 a year, all paid upfront.
If users are curious to know the difference between MyFitnessPal's free and premium plans, we won't sugarcoat it, instead, we'll use an artificial sweetener; the difference is vast. With the MyFitnessPal barcode scanner free plan, one will get a food diary along with one of the world's largest food databases with over 300,000,000 items. That's nothing to sneeze at, but the premium plan will get you just a little bit more.
On top of the popular MyFitnessPal barcode scanner, the premium plan also gives carbs, protein, and fat goals that can be customized. Plus, there are guided nutrition and fitness plans, your very own custom home screen dashboard, food analysis and insights, no ads, the ability to log your meals easily, and a large number of meals and recipes. Money not only buys happiness, but it also can buy a solid fitness app.
MYFITNESSPAL IS AMONG THE BEST FITNESS APPS ON THE MARKET
Just because MyFitnessPal has most of its great features set snugly behind a paywall does not mean it is an inferior product. In fact, the fitness app is quite often considered to be one of the top fitness apps on the market. The complaint that many seem to be lodging is the fact that the app owners decided to put one of the most attractive features, the MyFitnessPal barcode scanner, behind said paywall.
Users may not be thrilled about the move, but as a business, it makes sense. If most are heading to the app for that one particular reason, why not try to cash in on it? Sadly, there was a time that the entire app was free, the MyFitnessPal barcode scanner and all.
MyFitnessPal was first conceived in 2005 by brothers Mike Lee, who developed the app, and Albert Lee, who later joined Mike to help launch the app. For ten years the app enjoyed steady growth to the point where sports apparel Under Armour decided to offer the Lee brothers a hefty sum to take MyFitnessPal off their hands. So, in 2015, the Lee's gave it up for $475 million.
When Under Armour made the purchase, MyFitnessPal had over 80 million registered users. When the two companies combined, that number rose to 120 million registered users. It was after this purchase by Under Armour that MyFitnessPal began with its premium subscription and eventually added the MyFitnessPal barcode scanner to that plan.
The Lee brothers last another two years with the company before heading off to greener pastures and other business adventures in 2017. Under Armour held on to the fitness app for five years when, in 2020, they sold the fitness app to Francisco Partners for $345 million, which was much less than what they first paid for the app. In 2021, MyFitnessPal grabbed its first retail partner with Sprouts, offering their app users new and healthy recipes, and food ideas to go along with health and food articles.
MYFITNESSPAL IS CONVENIENT AND GIVES INSTANT FEEDBACK
Without a doubt, the MyFitnessPal barcode scanner is well-received among users. But what the app ultimately is set up for is people who wish to lose weight. One study has shown that diabetics and obese people who use electronic tracking programs such as MyFitnessPal find it to be an effective way to lose weight.
Users of the app, including the MyFitnessPal barcode scanner, love the instant feedback they receive. It was found that users felt the digital calorie diary was a more effective way to list their foods than the traditional self-reporting because of the quick feedback. Users love the fact that they can get information quickly about what is healthy and what is not.
The convenience of the app is also something that makes it special. Users can access their information while they are on the go. This means they can also log in their food intake while on the road or at home. Users can also add custom recipes on the go as well.
MyFitnessPal users also love the flexibility the app provides; it is not a one-size-fits-all type of app. In fact, users personal diet profiles can be easily changed to fit specific needs, especially if one is on a strict diet or if given specific recommendations from their dietitian or doctor. Another plus is that the app can calculate users' calorie needs based on their weight, height, gender, and lifestyle.
THE MYFITNESSPAL BARCODE SCANNER BEHIND A PAYWALL IS A MAJOR DRAWBACK
The simple fact that their most popular feature, the barcode scanner, now sits behind a paywall is probably the biggest drawback to the app. One thing of note, though, that could be considered a drawback is that sometimes the popular barcode scanner cannot find the item one is scanning. The updating of items appears to be inconsistent.
One more issue users could run into is the fact that although MyFitnessPal is good on the go, if one finds themselves in an area where there is no wireless signal, they will not be able to log into the app. But this is common sense and goes with any smartphone app. Just beware.
---
How important, for those who use MyFitnessPal, is the barcode scanner? Is it a deal breaker that it now sits behind a paywall? It seems like it would be a very nice feature for those looking to count calories and watch their diet, but is it worth the monthly payment? Tell us.
---