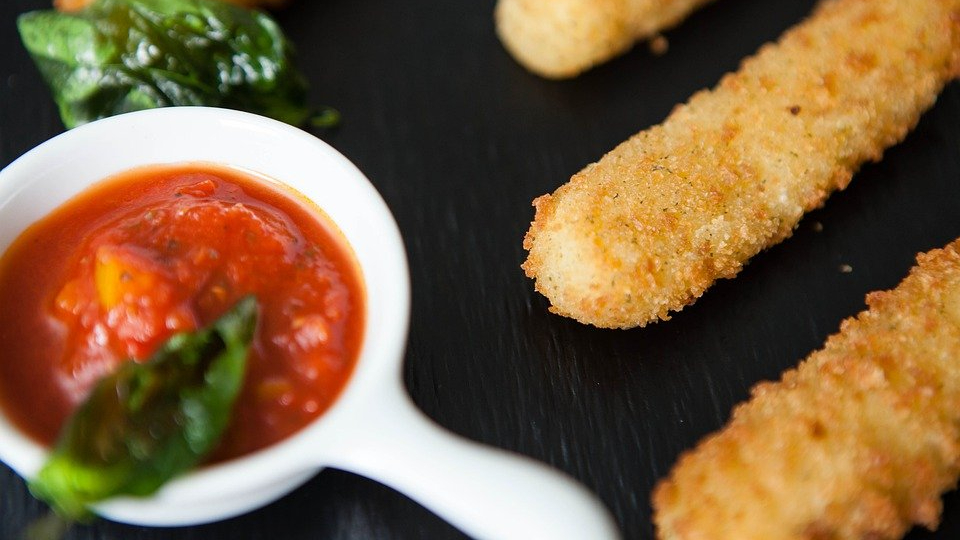 Word on the street is that the world's best appetizer is making a comeback, which brings about one important question – did it actually go away? The world's best appetizer is not the chicken wing, nor it is the onion ring, but it is that golden, fried, gooey string of heaven, mozzarella sticks.
Believe it or not, the advent of the mozzarella sticks dates back to, most likely, the '70s, when fried foods were becoming a thing in fast food joints and restaurants. In reality, the very first iteration of a mozzarella stick takes us back to 15th century France. Wait, France? Aren't mozzarella sticks Italian?
Yeah, but no. They aren't. According to Le Ménagier de Paris, writing akin to a woman's guide covering everything from maintaining a woman's youthful glow to making some delicious 15th-century appetizers, the "guide" included something called the pipefarce. It was a recipe that spoke about combining bread and cheese and frying it in an oil-ladened iron skillet.
The original text read: "Take egg yolks and flour and salt, and a little wine, and beat together strongly, and cheese chopped in thin slices, and then roll the slices of cheese in the batter, and then fry in an iron skillet with oil in it. This can also be made using beef marrow." While folks were beginning to get their jones for those fried bits of joy, it took another four-and-a-half centuries to perfect the recipe. Still, the American version of the mozzarella stick is still up for debate.
Dr. John Gennari is a professor of cultural studies at the University of Vermont, and he has an extensive background in writing about Italian-American food. He spoke first about pizza, which led him to the sticks of cheesy pleasure. "The first time the word 'pizza' was used on broad-scale was a NY Times article in 1944, and it wasn't really fully popularized until well into the second half of the 20th century. By then, it had really moved on from its Italian influence to become its own American thing," Gennari said via Thrillist. But he was also keen to point out that although mozzarella sticks do use Italian cheese, they are not an Italian recipe.
"Mozzarella sticks will always be considered 'Italian' because it uses an Italian cheese, and the word itself — mozzarella — will always bring up that Italian connotation. But they're not Italian," Gennari noted. Thankfully for many of us, they have made the "cheese pull" an art form. This art form is both mesmerizing and mouth-watering when seen on TV or in a video. In fact, it has been scientifically proven that the cheese pull releases chemicals in your brain that are similar to the ones involved in addiction. This is why when you see an ad for pizza, the cheese pull is always involved.
Taking a page from the pizza advertising playbook, restaurants that sell mozzarella sticks use this same approach. Now, not only are certain fast-food chains offering the mozzarella stick but so are a number of high-end restaurants. Of course, they remain a staple of bowling alleys across the country.
Tim Szuta, the owner of the popular West Ellis, Wisconsin pizzeria Alphonso's the Original, introduced his version of a mozzarella stick to the public. His version, though, is a baton-sized stick. A November 2020 Facebook video of his Szuta's mozzarella sticks then appeared and it got 24 million views and brought him a major uptick of customers.
"People love fried foods, people love cheese, and when you take a big fried cheese stick that is from Wisconsin, that draws the people in," Szuta said to The New York Times. "If it wasn't for the mozzarella stick, I'd be out of business," he then added. Mozzarella sticks are now so popular that DoorDash, the popular food delivery company reported that the cheesy sticks were the most popular and ordered game-day food during the entire 2020-21 NFL season, even besting chicken wings.
Big Stick Willy's is a mozzarella stick wholesale business that calls New York home and their backorder is equivalent to an amazing 18 million pounds of mozzarella sticks. Dan Kluger, a James Beard award-nominated chef, recently opened Penny Bridge, a Long Island City restaurant, and he is serving those crispy, melted cheese sticks with smoked tomato sauce. Yum. So, have mozzarella sticks truly ever gone away, or are they just getting an upgrade? Either way, it's time to satisfy that craving.