Mcdonald's is reviving three of its iconic Halloween pails just in time for the holiday, the McBoo, McPunk'n, and McGoblin.
McDonald's has turned up the nostalgia dial to the max in recent weeks. Following the limited-time release of its "Adult Happy Meals," the fast-food giant is reviving an item that is sure to strum the chords of yesteryear with a great zest for many 80s and 90s kids. Just in time for Halloween, Mcdonald's is bringing back its iconic Halloween pails. 
The classic Halloween pails first made their appearance in 1986 and have been beloved by fans ever since, with many paying homages to the pails in clever and creative ways. In a corporate news release, McDonald's acknowledged the fan-derived uses and even attributed the Halloween Pails resurgence to the endearing passion of its fans. Some of these improvisations include using the pail as a pot for plants or as seasonal decor in the home. 
Alongside the well-deserved fan recognition, McDonald's announced that the Halloween Pails would officially make their return for a limited time beginning on October 18th through the 31st. There are three pails to collect -McBoo, McPunk'n, and McGoblin- which McDonald's has touted as "the most iconic" of the pails to ever be released. To snag one ( or all three) of your own you must order a McDonald's Happy Meal.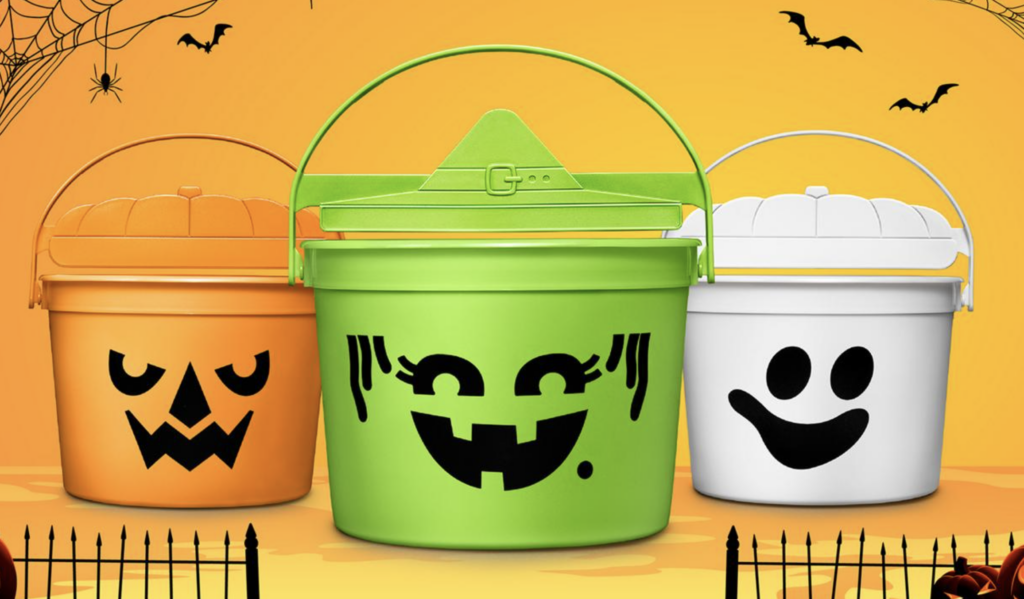 McDonald's is encouraging all fans of the Halloween pails to continue posting about them on social media. The company even highlighted that "We can't wait to see the creative ways you reuse yours!" 
McDonald's is no stranger to using the power of social media or capitalizing on cultural trends to draw customers to its restaurants and drive product sales. Nor do they shy away from collaborating with public icons. For instance, for its most recent Adult Happy Meal promotion, the company partnered with Cactus Flea Market, adopting its trendy double-vision style and superimposing it on the collectible toys they included with the adult Happy Meals. 
What resulted from the collab were figures of legendary McDonald's characters like Grimace and Hamburger with two sets of eyes. Odd? Yes. Super popular? Double yes. All of which resulted in a major win for McDonald's. 
Another great example of how McDonald's uses the power of social media and public figures to generate profits is the limited-time celebrity-concocted meals they offer. A recent example, which was given a glowing review by Insider, was Travis Scott's Quarter Pounder with bacon and fries with BBQ sauce offering. In another instance, McDonald's brought its marketing prowess next-level by aligning with an artist, made famous by social media, to create handcrafted artisan rugs that featured its popular chicken sandwich varieties. 
Thus, it is no surprise that McDonald's wouldn't hesitate to leverage public appeal as best as they could should they see an opportunity. And that they did with the latest revival of the much-beloved Halloween pails.
All in all, regardless of McDonald's clever money-making motives and astute gauge of public attitudes toward its merchandise, it will certainly be nice to see trick-or-treaters young and old carrying those pails this Halloween. And that being said, if you really think about it, It seems all too fitting that as a populace we would embrace simpler times following years of pandemic-induced fear and uncertainty. 
---