Kraft partnered with the National School Lunch Program (NSLP) and revised two of its Lunchables to meet school nutritional standards to make Lunchables available in school cafeterias nationwide.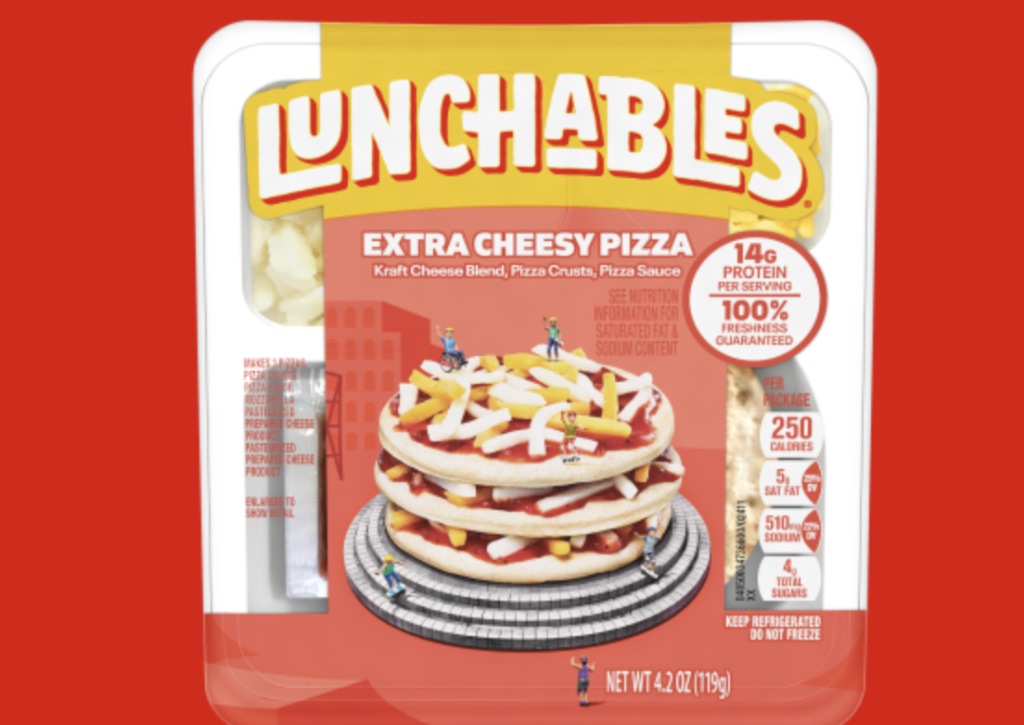 Lunchables have been a favorite lunch option for virtually every kid (and kid at heart) since they were released across America in 1989. Although they have a reputation for being devoid of any real nutritional value, two new versions meet national school lunch standards. Kraft Heinz recently announced that they have partnered with the National School Lunch Program (NSLP) to deliver the new portable lunches directly into the hands of K12 students across America.
The company's webpage, Kraft Heinz Away From Home, advertises the new Lunchables as "Now built for schools" and says they will be released during the 2023-2024 school year. The new nutritious Lunchables come in two popular varieties: Turkey and Cheddar Cracker Stacker and Extra Cheesy Pizza. The website says they are designed to minimize schools' labor needs and costs as they are easy meals for field trips, summer school, and dinner programs.
While the new Lunchables may meet certain NSLP guidelines, they will not be very filling for older students. The turkey and cheddar option weighs 3.5 ounces and provides a two-ounce serving of meat/meat alternative and a one-ounce equivalent of grain that meets the NSLP's whole grain-rich criteria. The extra cheesy pizza option weighs 5.05 ounces and includes two ounces of meat/meat alternative, two ounces of whole grain, and a 1/8 cup serving of red/orange vegetables.
CNNBusiness asked Kraft Heinz to provide additional nutritional information, including the Lunchables' sodium and saturated fat levels, but the company declined. The US Department of Agriculture (USDA) oversees the National School Lunch Program and recently announced proposed changes to school meal guidelines. The new standards aim to cut back on the amount of sodium and added sugars in school lunches, reducing levels gradually over several years.
Lauren Au, an assistant professor at UC Davis' Department of Nutrition who studies school nutrition programs, says she would need additional information about sugar, salt, and fat content before giving approval to the new Lunchables. "Research shows that high intakes of sodium will, over time, increase the risk of developing high blood pressure and other diseases," Au said. "The concern also is that young kids who are exposed to high sodium in packaged foods early in life could develop a preference for high sodium foods throughout their lives."
Au added that the Lunchables may be more expensive for school cafeterias than other, more nutritious foods. However, the familiarity of the Lunchables brand could entice some picky eaters to choose school lunches when they might not otherwise. Moreover, the convenience factor could be inviting for school districts struggling with labor shortages and higher food costs.
"As school nutrition guidelines get increasingly complex, we've seen companies leaving the K-12 segment," said Diane Pratt-Heavner, a spokesperson for the trade group School Nutrition Association. "It's good to see a company interested in selling to this segment. But I would see Lunchables as one of a couple of meal options, and not that schools are getting away from offering a daily hot meal option."
School cafeterias must offer students five meal components at lunch each day, including fruit, vegetable, protein, grain, and milk. Students are required to take at least three of the five components, and one must be a fruit or vegetable. Therefore, the new Lunchables will have to be served with other items to fully meet NSLP meal guidelines.
The NSLP was established in 1946 by President Harry Truman, and just over seven million children participated in its first year. Today, it provides lunch daily to nearly 30 million students attending public and nonprofit private schools and residential childcare facilities. The program focuses on providing nutritionally balanced, low- or no-cost meals to children each school day.
---