McDonald's will begin serving Krispy Kreme doughnuts at nine locations throughout the Lousiville, Kentucky area.
Mcdonald's is one of America's most beloved and iconic fast food chains and is known for its ever-so-popular breakfast menu. Krispy Kreme is equally as beloved and iconic for its doughnuts. So it seems to just make sense that a consumer would be able to enjoy delicious items from both of these menus at one location and that is exactly what is taking place later this month at certain Mcdonald's locations in Kentucky.
This exciting news coming directly from CNBC. Those at CNBC have announced that McDonald's will sell Krispy Kreme doughnuts in select store locations beginning on October 26th at nine locations located in the Louisville, Kentucky area. McDonald's said this would be the first part of a test phase to determine if partnering up with Krispy Kreme will have any impact on the operations side of the house. These participating Mcdonald's will sell the Krispy Kreme doughnuts all day but these tasty treats will not be available for the delivery program. 
McDonald's customers will now be able to add to their favorite McDonald's menu items ordered with options of Krispy Kreme doughnuts in amazing flavors such as the original glazed, raspberry filled, or chocolate frosting with colorful sprinkles. These Krispy Kreme doughnuts can be purchased at select test McDonald's locations individually or in packages of six. These hot-out-of-the-oven Krispy Kreme doughnuts will be delivered directly to select McDonald's restaurants first thing every morning. 
Krispy Kreme has built a system that ulitizes a "hub and spoke" method that allows for a process that makes distributing fresh doughnuts efficient. These production hubs can be located within stores, restaurants, or factories and send these products to retail locations such as grocery stores, gas stations, and now McDonald's.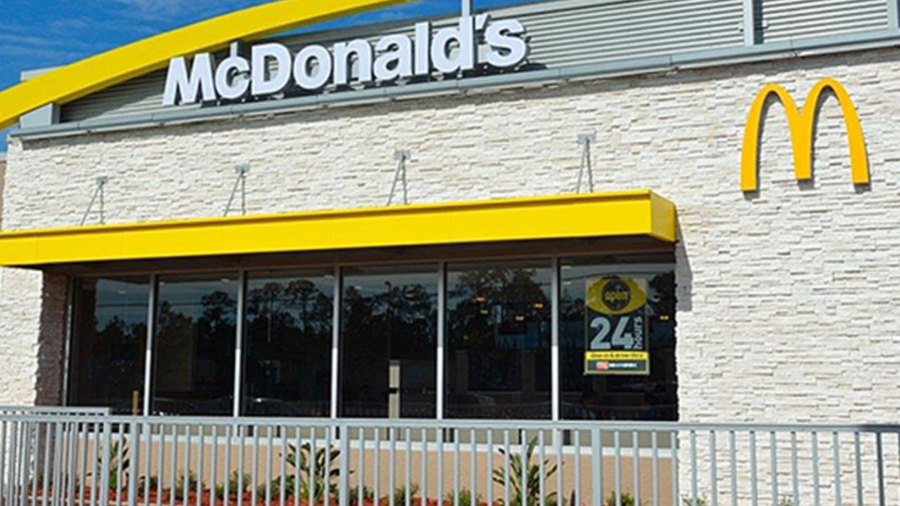 The testing of the popularity of the Krispy Kreme doughnuts being sold at participating McDonald's locations is coming at a challenging time as consumers have been cutting back on restaurant visits due to recent high rising costs of goods and household expenses due to inflation. Getting consumers interested in purchasing nonessential products with their strict financial budgets is requiring major restaurants to get creative. Combing Krispy Kreme and McDonald's into a one-stop shop for both consumers just may be a stretch or a brilliant marketing campaign.
This is not the first time fast-food chains have combined menu items or attempted to draw in more customer attention with the ever-so-irresistible doughnuts. Back in 2020, Kentucky Fried Chicken launched a "Fried Chicken and Donut" sandwich after an ad on social media blew up causing consumer demand for this oddly creative sandwich.
For the first half of this year, McDonald's stated most of the lower-income consumers in the United States were spending less at its locations. Krispy Kreme said its company was experiencing the exact opposite as consumers were more likely to splurge on affordable items like doughnuts. Hence why McDonald's was excited to test out having Krispy Kreme doughnuts for sale at participating locations in Kentucky. So if the combo of these two mega fast-food chains has appeal for you maybe a road trip to Kentucky is in order!
---