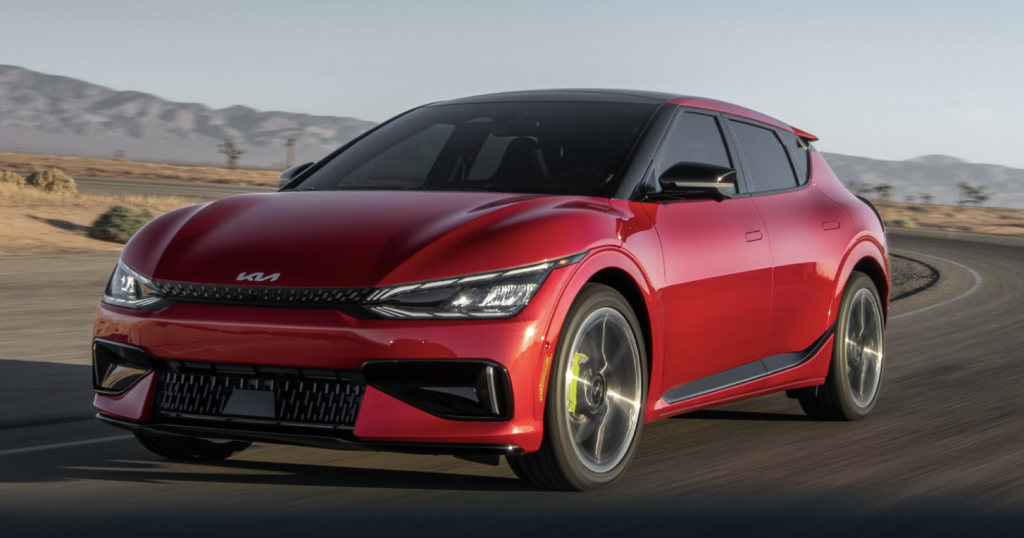 Electric vehicles are the future of the automotive industry, and they are increasing in popularity thanks to various government incentives and tax credits. So if you are in the market for a new EV, which one would give the best value for money? Enter the Kia EV6.
Kia EV6 is Kia's new electric vehicle release. It is one of the best EVs on the market because it is value for money, economical, and fun to drive. The Kia EV6 is a hybrid between a saloon and a 4×4. It contains a bold look and sleek design.
It can come with a singular electric motor that will give the car rear-wheel drive or a dual motor that offers all-wheel drive. The dual motor has a larger 77.4-kWh battery pack for a maximum range of 310 miles. It can also have a smaller 58.0-kWh battery with a driving range of 232 miles. Kia states that the battery can be charged from ten-eighty percent in under eighteen minutes if charged using a 350-kW EV charger. Something that sounds great to customers.
It has excellent handling, acceleration, and a superb braking system, which makes it a fun and light-hearted drive, especially on country roads. It has a spacious interior design that will seat five people comfortably, a feature that will rival its 4×4 competitors, such as the market leader Ford Mustang Mach E. It is designed to look more futuristic than any other Kia model. It mixes high-tech features such as a digital dashboard with practical additions like its many storage facilities. It has over 28 cubic feet of space in its boot that could be extended to 54 cubic feet when the seats are folded down.
Within its digital dashboard is a twelve-inch touchscreen where passengers can access Apple CarPlay, Android Auto, smartphone charging facilities, and a Wi-Fi hotspot. For customers with families, it may be good to note the numerous safety features that the Kia EV6 boasts, including automated emergency braking, blind-spot monitoring, and a range of other features to keep passengers safe.
For customers that want more bite, this model is also available in a GT version that contains 576 horsepower and an adaptive suspension, which can challenge any electric vehicle on the market. To unlock the Kia EV6 GT's power, there is a green button on the steering wheel. This will propel the EV from 0-6mph in under 3.2 seconds.
To add to its racier engineering, Kia have added sportier element to the exterior and interior of the vehicle. Unfortunately, this extra power will reduce this Kia's driving range to 206 miles.
Overall, most drivers want maximum driving range over performance, so the recommended model of the Kia EV6 contains a dual-motor and an all-wheel-drive Wind trim level to get the car's maximum output. As the electric vehicle market expands, customers have a greater selection of family, luxury, and 4×4 SUVs to choose from. The KIA EV6 is a modest, hard-working, reliable electric car with a bit of flair if you choose the GT version.
---