JetBlue is cutting flights to and from New York City due to a shortage of air traffic controllers.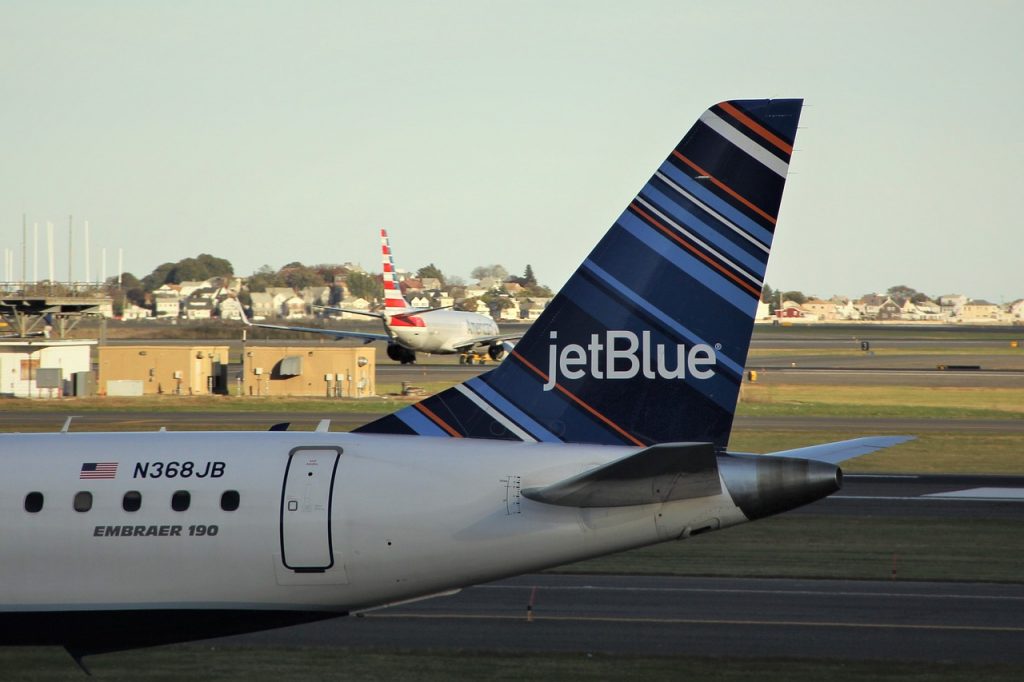 JetBlue, a budget airline based in New York, is being forced to cut scores of flights in the New York City area this spring and summer. The cutbacks are in response to an ongoing shortage of air traffic controllers and a desire to not repeat the flight disruptions that occurred in 2022. The lost flights will create a negative financial impact but are deemed necessary to avoid leaving passengers stranded.
"We don't want to pull down flights. I'm sure no airline wants to pull down flights," JetBlue CEO Robin Hayes told CNBC during an interview before an event at the Economic Club of New York. "But if we don't cut them the system is not going to be workable this summer."
Last week, the Federal Aviation Administration (FAA) announced a new plan to keep flights running smoothly in the New York City and Washington, D.C. areas during peak flying times. The plan includes a waiver that "will reduce flight requirements for airlines' takeoff and landing rights to avoid congestion." JetBlue and other airlines will have until April 30 to file requests for the waivers that will last from May 15 through September 15.
Air traffic control staffing has been strained for years, according to Hayes, but the shortage of qualified controllers has been more evident since travel rebounded after the pandemic-induced lull. Hayes said JetBlue has not yet applied for their slot or operating time waivers, but will soon. Customers affected by the flight cuts will be notified as soon as possible.
JetBlue is affected more than other airlines because it is based at JFK in New York City. That means the majority of its flights take off from NYC, land there, or transit its airspace. "We're staffed, we've already trained pilots, we're paying for pilots, we've bought airplanes, we're paying for gates and slots," said Hayes, noting that the flight cuts will have an unfortunate financial impact on both the airline and its customers.
The airline industry as a whole has been struggling to keep up with the increased demand for travel. Multiple headline-making flight cancellations and delays occurred during peak travel times in 2022. Airlines, including JetBlue, had to scale back their schedules to create more space in the system.
Weather also has a huge impact on airlines. When storms or other challenges occur, flight disruptions tend to have a ripple effect that worsens when airline schedules are packed with too many flights. The FAA said that it is meeting with airline executives to discuss easing airport congestion.
Last year, the FAA held similar meetings in Florida and agreed to boost staffing to handle peak time traffic there. "Operators requested collaboration and communication with the FAA early and often to plan for circumstances that could result in delays, including weather events, space launches and military operations," read a statement by the FAA. "They discussed how closer collaboration and frequent air traffic updates would help them more effectively schedule crews."
Other parts of the FAA's plan to alleviate scheduling struggles for JetBlue include the possibility of creating alternate flight paths, including over-water routes. United Airlines sent a letter to the FAA saying they would use aircraft with more seats to make up for the cut in flight numbers. It appears that the FAA and airline executives are working together to alleviate fears of a repeat of last year's cancellations.
The FAA expects increased delays in the New York City area this summer which will directly affect JetBlue's operations. They predict a 45 percent rise in delays as operations grow seven percent over last year's rate. The airports listed in the FAA's announcement include John F. Kennedy International Airport (JFK), New York LaGuardia Airport (LGA), and Ronald Reagan Washington National Airport (DCA).
---