Instacart is launching Connected Stores that integrate with its app to provide a seamless cashier-less shopping experience.
Many people became familiar with Instacart's services during the early pandemic months. When minimized in-person contact was particularly crucial, families relied on grocery shopping services to help receive their food without endangering those most compromised. Instacart's popularity grew over the past couple of years, which has propelled the company to create its own branch of grocery stores utilizing its technology.
Instacart will introduce a Connected Store, attempting to beat competitors like Amazon for the most efficient, high-tech grocery experience. The store will operate completely cashless, and you can scan your items with your smartphone. This procedure eliminates clunky self-check-out machines that have taken over grocery stores, markets, and pharmacies nationwide.
Instacart's physical stores will also have upgraded shopping equipment. Shopping carts at the Connected Store will be 65% larger than their average ones, with a slimmer and more agile redesign. You can also sync your grocery shopping list to the Instacart app, checking off needed items as you put them in your shopping cart. The in-person shopping experience will also be quicker, with Carrot Tags lighting up specific shelves to direct you to the products on your virtual list.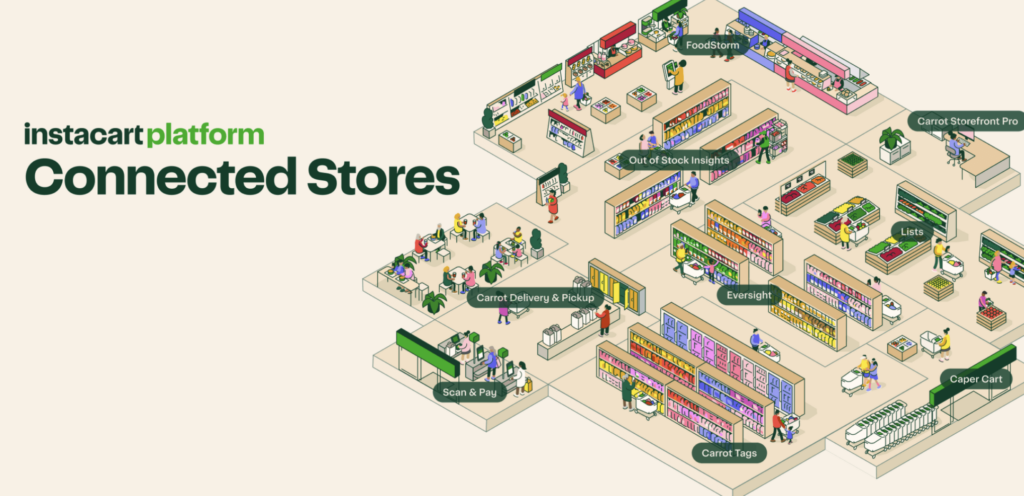 Instacart uses its state-of-the-art tech to make Connected Stores reliable and well-stocked. Workers at the physical stores will be notified when certain items are running low, signaling them to restock products as they deplete. This will help shelves look full and abundant, even as the day passes. Instacart wants to ensure that technology is used for both customers and employees for optimal shopping experiences.
For the past year, Instacart has tested its Connected Store technology. Finally, the tech will be available for retailers in Canada and the United States. Some grocery stores are already working with Instacart's integrative shopping experience, including Joseph's Classic Market, Schnuck's, and Wakefern Food Corp.
Instart will work with Bristol Farms to build the first Instacart market in Irvine, California. It's unclear exactly when this store will debut, but customers should expect to see it open in the next couple of months.
As Amazon began to dominate the grocery industry, other tech companies stepped up to combat their success. Instacart wants to provide technology for markets that don't want to work with Amazon. With elevated services, Instacart could beat out its competitors by delivering these futuristic, Connected Stores to consumers nationwide.
Some executives are already turned off by Amazon's monopolization of many retail industries, leaving a gap for companies like Instacart to take over. As more Connected Stores debut, large markets could opt to work with Instacart over Amazon.
Some companies have already taken issue with Amazon's expensive cameras that must be installed for retailers wanting to work with their tech. Others are disinterested in the possibility of Amazon revamping a whole grocery location to fit the company's interests. Regardless, Amazon's industry domination has made companies skeptical of collaborating with them, leaving room for smaller companies to emerge with better tech.
It's no secret in today's world that Amazon dominates industries from healthcare to hardware to food. With Instacart's upcoming Connected Store, its quick and innovative tech could make the company more efficient than Amazon's previous practices.
---