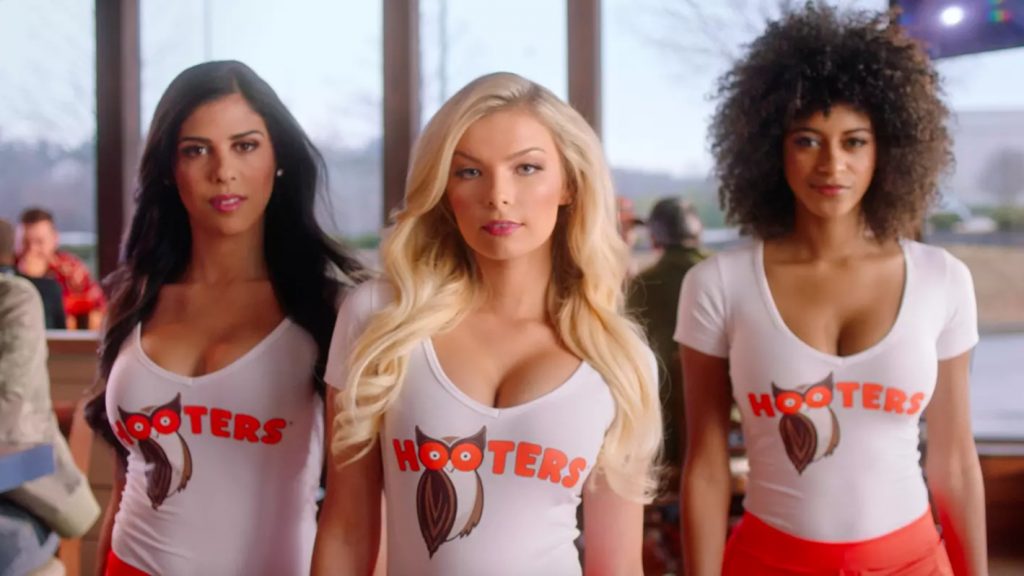 For nearly 40 years, Hooters has been fondly known in many circles as the "Breastaurant" for the hiring of busty women to wear low-cut tops while they serve the chicken wings that have made them a household name. Now, the famed restaurant has decided that their female staff need to also show off their other "assets" as they walk away from patrons.
At the beginning of the month, Hooters came out with their new uniform policy that included the newly designed shorts. Waitresses still wear the same orange color shorts while bartenders wear black shorts. But the difference, as you will soon see, is that the new style of shorts is more underwear than shorts and they show a lot more than the previous version of the uniform's shorts.
When Hooters first announced their new uniform policy, they did give their employees a choice – you either wear them or if you're uncomfortable with the new look, you can hand in your resignation.
"Starting Oct. 4, all Hooters girls should wear the new shorts when working once they arrive to stores," read the new policy. "The old shorts should not be worn."
Although Hooters claims to have collaborated with numerous Hooters Girls in coming up with the final design and that the new shorts have been worn for months in Texas markets to overwhelmingly positive feedback, the outcry has been loud with the new shorts. The company offered a solution to those opposing the new shorts – resignation.
"[We] hope this change would create excitement with all of our current Hooters Girls. We understand that this may be a change that may not suit your personal preference," said the policy via The New York Post. "We would ask that you try them out and if, after two weeks, you are still hesitant to wear the new shorts you may transfer to a non-image-based position or resign your position as a Hooters Girl. If you choose to resign you will be eligible for rehire."
One Hooters Girl, Kirsten, who goes by the TikTok handle theflathootersgirl, decided to pose in the old Hooters shorts as well as the new to give viewers a sense of what waitresses and bartenders would have to deal with. You can see it below.
She was not the only Hooters Girl that had issues with the new policy and shorts. Many took to social media with their complaints prompting the showy restaurant to take another peek at their updated policy. The backlash was received and Hooters made some changes. The shorts will stay the same but now, instead of mandating the new shorts, they have been given a choice in what shorts to wear. The new, adjusted policy, will allow for Hooters Girls to determine which style of Hooter Girl shorts they wish to wear based on "body style and personal image."
"As we continue to listen and update the image of the Hooters Girls, we are clarifying that they have the option to choose from traditional uniforms or the new ones," a Hooters spokesperson said via the Independent. "They can determine which style of shorts best fits their body style and personal image." Not only that, but the company spokesperson also noted that along with the shorts, they have received feedback (positive and negative) "regarding a more accommodating and inclusive image policy on tattoos, jewelry, nails, hairstyles as well as new uniform options – to include new top styles, shorts, and the addition of socks."
As it stands right now, the Hooters job application details the Hooters uniform as a white tank top, short orange shorts, pantyhose, sneakers, white socks, and makeup. It also states that Hooters Girls are not allowed piercings unless earrings and if they have any tattoos, they must be covered up.
The Hooters spokesperson also said in their statement that they will continue to work with the Hooters Girls on "future clothing items and accessories." The spokesperson concluded that they would work "continuously with our Hooters Girls to refresh and update the image of our brand ambassadors and to empower them to feel their best while at work."
Article continues below headlines
---
However, some Hooters patrons weren't on the Hooters Girls' side. "This complaint is a bit ridiculous. How are you gonna work at hooters then complain that your uniform is revealing? That's what makes it Hooters, it's the entire gimmick of the restaurant. It's understandable to not want that as a job, but then… what are they doing there?" tweeted one patron.
While there is no mandate as of now, the employees do have a choice. It will be interesting to see if Hooters sticks with this new uniform if more employees decline to wear it.