There are tons of free ways to score free food when visiting a Chick-Fil-A like visiting on your Birthday, downloading the app, or filling out a survey when a link comes printed on your receipt.
Chick-fil-a is well-known for its legendary customer service, delicious chicken, and out-of-this-world sauce. The beloved chain regularly manages lines down the block, with customers patiently waiting for their chicken fix. And while you may be more than happy to pay for your tasty food, you may not have to.
It is possible to snag free Chick-fil-a, and doing so is easier than you may think. We have gathered up some of the primary ways you can eat your favorite nuggets or chicken sandwich for free. So keep reading as we help you save a few pennies.
Don't Be Shy About Your Birthday
We don't always like turning a year older. But take a deep breath, and fess up. It's worth it since you get free Chick-fil-a as a reward.
You will need the app and create a membership account. The reward will vary based on membership level. It will range from a free cookie or ice cream up to free nuggets or a chicken sandwich.
Get Your Kids a Free Treat
Chick-fila-a kids' meals typically come with a toy. But if you request an ice cream cone instead, they will make the swap for free! Just be sure and do so when you order, as the company won't exchange toys that have already left the counter.
Work for Chick-fil-a
The easiest way to snag free Chick-fil-a is to become an employee. Each shift you work comes with a free meal. Beyond that, the pay is competitive and the company offers attractive benefits.
Take Your Receipt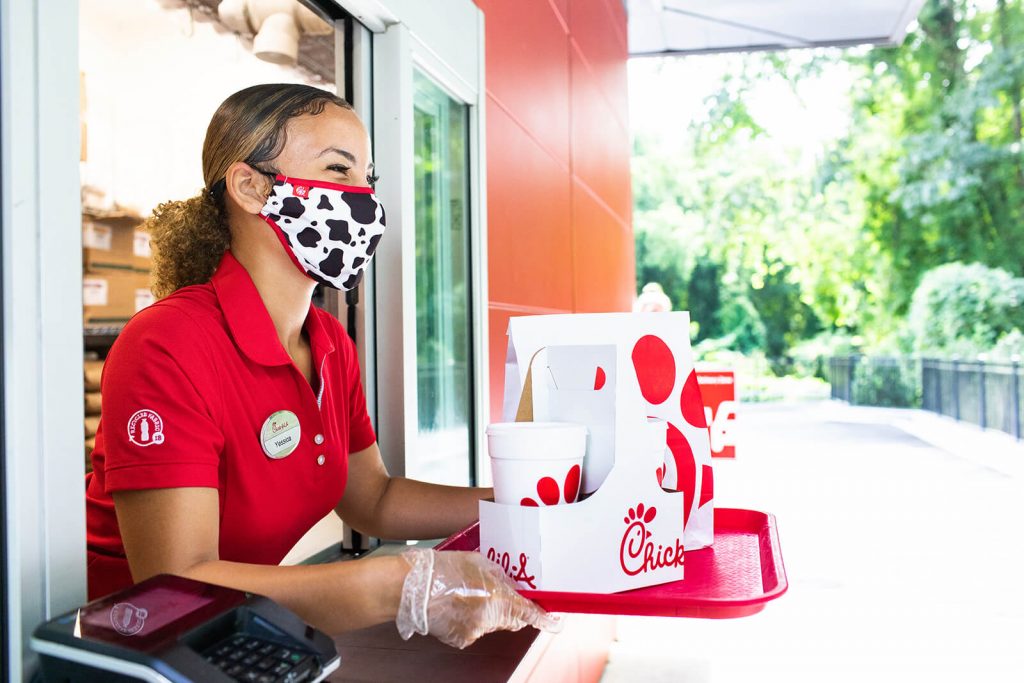 Wait..how does taking another piece of paper help you get free chicken? It's easy. Roughly 20% of receipts have a survey link attached to the bottom. And if you fill that out within 48 hours of your visit, you get a coupon code for a free sandwich.
Granted, it is not whatever your heart desires on the menu. But a free Original Chicken Sandwich is a tasty trade-off for a few minutes of your time.
Download the Chick-fil-A app
We know what you're thinking. You already have a million apps, so why add another one? We'll give you one great reason – so you can get free Chick-fil-a.
When you sign up for the rewards program, you will collect 10 points for every dollar spent (pre-tax). And those points add up to free goodies. You can spend your accumulated points whenever you save up enough.
However, this is a time when patience pays off. For example, 150 points will land you a free Chocolate Chunk Cookie. But if you hang in there, 950 points will earn you a free Grilled Chicken Club.
Keep Using the App
That sounds easy enough to do. But the reality is, we all get busy and forget the important things (like free Chick-fil-a). However, this is one time when you want to stay diligent.
Once you earn 1,000 points in your Chick-fil-a app, you essentially level up. There are three possible membership levels: Silver, Red, and Signature. And at each level, you earn more points per dollar spent (11, 12, and 13, respectively), so you get free Chick-fil-a even faster!
Free Chicken for Our Military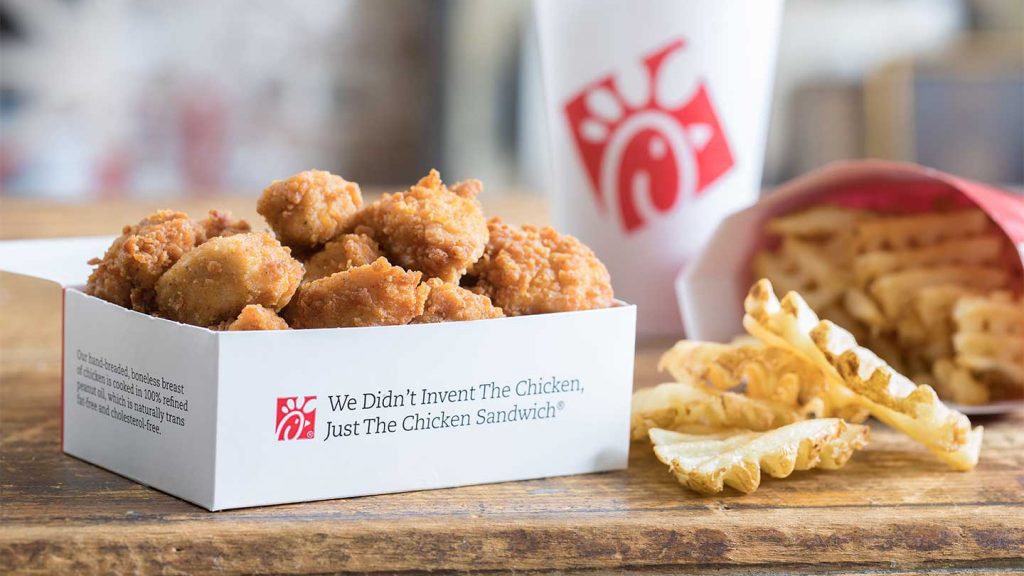 Some locations have a "Military Monday." This option will vary by location, so call your closest Chick-fil-a and ask before heading over. If yours does offer this benefit, it's even better than a traditional military discount.
After showing your military ID, you can snag free food. Typically, you will get a choice of a nugget, sandwich, or wrap. Enjoy the complimentary food as a small token of gratitude for your service.
Haunt Coupon Sites
Yes, this avenue is a little more time-consuming. But your diligence will be rewarded with great discounts and possibly free Chick-fil-a. At the time of this publication, coupons include a free 8-pack of nuggets for straight A's, a free senior drink, and free soda with a student ID.
These great coupons and discounts will change over time. Read the fine print and pay attention to expiration dates. Not all offers will be valid at all locations.
Ask About Senior Discounts
While Chick-fil-a does not offer a senior discount nationally, all locations have something to offer customers aged 50 and up. It may be a free, refillable drink or 10% off your purchase. Check with your location store for details.
Hop on Facebook
Follow your local Chick-fil-a location on their Facebook page. Remember that each is independently owned and operated, so you want to follow specific stores rather than the main company page. Or, you could keep tabs on both if you're inclined!
Your local stores will post any unique offers and discounts on that page. Examples of previous deals include buying one 30-nugget meal and getting one free, and free peppermint milkshake with a meal purchase. You never know what you'll find, so make sure to hit that notification bell!
Watch for Promotions
The company runs regular promotions through its app. They are short-lived and switch often. So, if you blink, you may miss them.
But, if you use your app regularly to score extra points, you stand a good chance of catching the deals. Take advantage of each one that points up. That way, you get even more free Chick-fil-a.
---