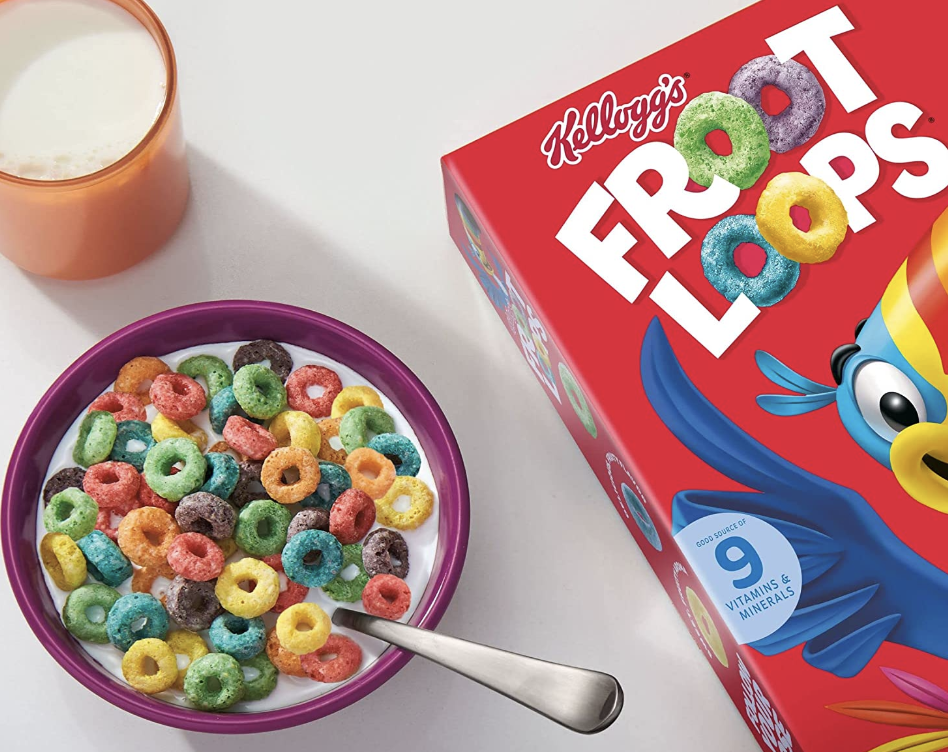 If you just can't get enough of your favorite childhood cereal, a New York art collective is inviting you to go big and go home with a single giant Froot Loop. The half-pound circle of crunch will fill your biggest cereal bowl and load you with 930 calories. In comparison, regular Kellogg's Froot Loops cereal provides 150 calories in each one and a one-third-cup serving.
Created by the Brooklyn-based art collective MSCHF (pronounced "mischief") for no stated reason aside from the fact that they could, the mega Froot Loops aren't authorized by Kellogg's. Even so, the collective's co-founder, Daniel Greenberg, promises that the flavor closely matches the original cereal. Greenberg said that a secret "reverse engineering" process resulted in a taste that's "almost identical" to the Froot Loops everyone loves.
"With MSCHF, we are always looking at cultural ready-mades we can play with," Greenberg told Food & Wine in an email. "Cereal is, of course, one of those things. When looking at the object and thinking about what we could do with it, enlarging it to fit the size of the box seemed too perfect to pass up."
If you're dying to get your hands on an Instagram-worthy Big Froot Loop, you can buy one via the Big Froot Loop website starting Monday, December 19. The giant loop is packaged in a creatively designed red box that features MSCHF's version of the iconic Froot Loops toucan. One colorfully red-eyed bird squawks in amazement while a much mellower toucan dunks the solitary oversized piece of cereal into a bowl of milk.
Unfortunately, you don't get to choose your favorite flavor, although for its $19.99 price tag, it would've been a nice option. The MSCHF team will randomly choose the color you receive. The website doesn't specify if all the colors from the original Froot Loops are available, showing only red, blue, and green ones.  
Since its founding in 2016, MSCHF has released a wide range of unusual projects, ranging from sneakers to browser plugins, and photographs to oversized Froot Loops. In November 2019, it released Puff the Squeaky Chicken. Puff looked like an ordinary rubber chicken but came equipped with a fully functional bong.
Another humorous product came out in 2020 when MSCHF released the Cuss Collar for dogs. It turned a dog's ordinary barks into spoken swear words. March 2021 gave the world a chance to buy a totally unique fragrance, Axe No 5, a mashup of Axe body spray and Chanel No. 5 perfume.
MSCHF will no doubt generate conversation over its huge Froot Loops, but it perhaps received the most publicity over a 2021 shoe collaboration with rapper/singer/songwriter Lil Nas X. The modified $1,018 Nike Air Max 97 sneakers were called Satan Shoes and garnered a huge amount of controversy. They featured an inverted cross, a reversed bronze pentagram, and a drop of real human blood inside the sole.
Nike sued MSCHF and Lil Nas X for trademark infringement after the brand was accused of endorsing satanism. The parties came to a settlement in April 2021 after a district court gave Nike a temporary restraining order against MSCHF. As part of the resolution, MSCHF agreed to accept returns of the Satan Shoes.
The Big Froot Loops are MSCHF's 87th drop, and their website calls them, "Part of an extremely unbalanced breakfast." The art collective releases a new limited-edition drop twice each month and seems to enjoy pushing the boundaries of the food and retail spaces. "I don't think there is a major takeaway [from this drop]," Greenberg said. "But as always with any MSCHF release, it is up to you to decide."
---