The Dyson V10 Absolute Cordless Vacuum is currently on sale at Walmart for $399.99 which equates to a savings of 33% or $200.
Social media is filled with cleaning hacks, with influencers and celebrities sharing their favorite tidy-up tips. So if you're on the lookout for some new cleaning gear to join the fray, Black Friday is the best time to upgrade. The Dyson V10 Absolute Cordless Vacuum is currently on sale for $399.99 at Walmart. The 33% (or $200) saving makes it easy to snag the high-end machine for a lot less than usual.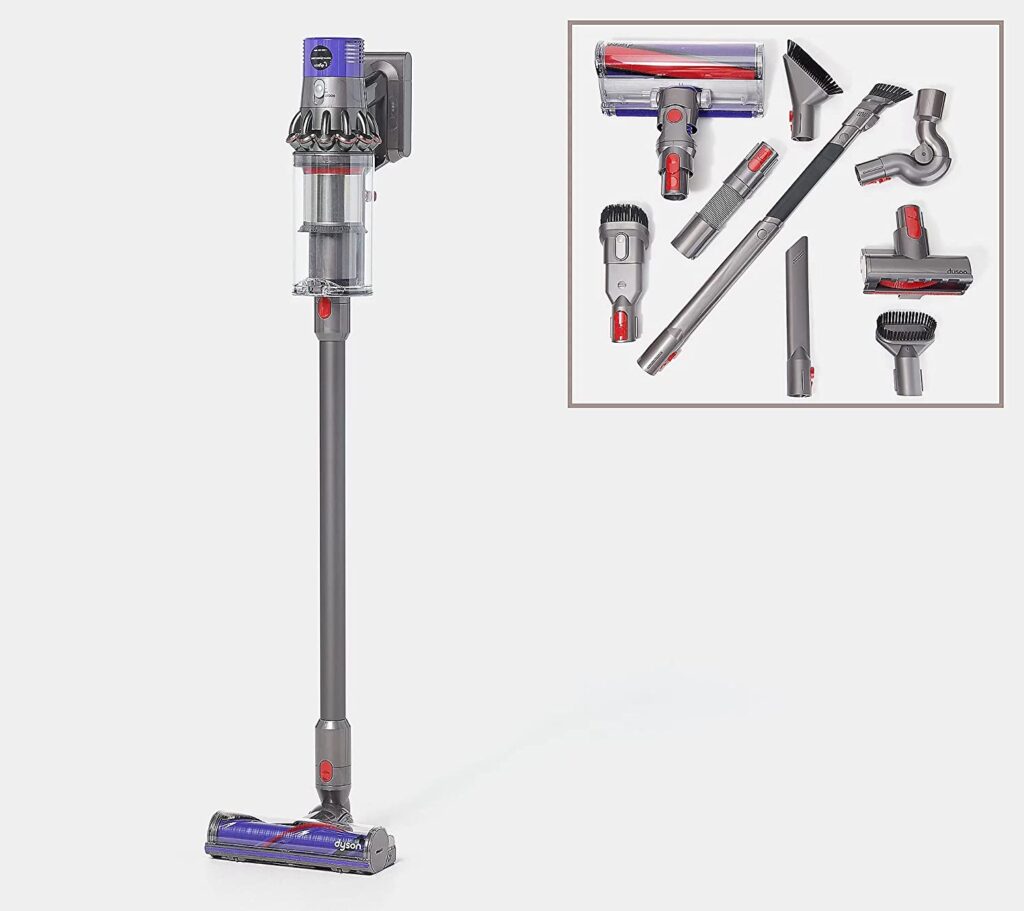 Thanks to Walmart offering early Black Friday deals, folks can beat the rush while still getting the highly coveted cleaner. Always a popular name in the cordless vacuum business, Dyson is definitely a noteworthy brand. The Dyson V10 Absolute Cordless Vacuum offers users the most powerful suction of any cord-free vacuum. It can clean anything from long hair to pet hair, while automatically detangling it.
It also boasts three power modes to give users plenty of flexibility. That means the unit is cleverly designed to pick up large debris and fine house dust. The torque drive cleaner head on the Dyson V10 Absolute Cordless Vacuum is super powerful and is able to drive the stiff nylon bristles into the carpet. That way the machine can suck up dirt that's deeply embedded in the floor. It can also be used to clean most walls and ceilings.
The Dyson V10 Absolute Cordless Vacuum features a battery life of up to 60 minutes when using the basic mode, which is enough time to clean your entire home. When cleaning with the suction mode, folks can expect 40 minutes of run time. And users will get 20 minutes when using the vacuum cleaner on the highest setting to tackle stubborn areas.
The Dyson V10 Absolute Cordless Vacuum can also be transformed into a handheld device, making awkward areas (like the inside of your car) easy to clean. It also has a useful point-and-shoot bin emptying mechanism to make every part of the process convenient. The vacuum's fully-sealed filtrations system also traps 99.97% of particles as small as 0.3 microns so it's great for allergies.
Along with a docking station, the device also includes a host of accessories for cleaning up all kinds of dirt. This includes a motorbar cleaner head, soft roller cleaner head, hair screw tool, crevice tool, combination tool, and mini soft dusting brush. The Dyson V10 Absolute Cordless Vacuum is also super lightweight at just 5.9 pounds once fully assembled.
According to Mashable, there a several other options with great Black Friday savings. However, it is worth noting that some are refurbished models. Still, the list is as follows:
Dyson TP09 HEPA Air Purifier Cool Tower Fan is $499.99
Dyson V7 Motorhead Cordless Vacuum Cleaner is $365.00
Dyson TP02 Pure Cool Link Smart Tower Air Purifier and Fan is $299.99
Dyson Ball Animal 2 Upright Vacuum Cleaner is $399.99
Dyson V10 Absolute Cordless Vacuum is $399.99
Dyson V15 Detect Vacuum is $649.99
Dyson V10 Animal Cordless Vacuum is $399.99
Dyson V8 Absolute Cordless Vacuum is $349.99
Dyson TP7A HEPA Purifier Cool Autoreact Fan is $349.99
Dyson BP01 Pure Cool Me Air Purifier Fan is $199.99