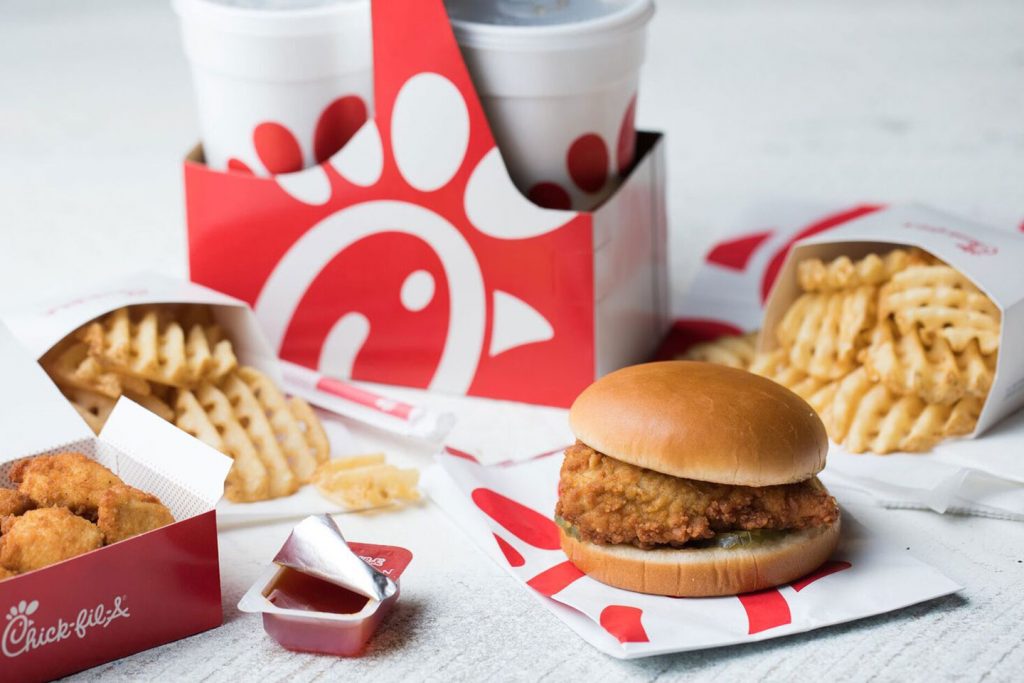 Just in time for last-minute holiday shopping, fast food favorite Chick-Fil-A has opened its first-ever merchandise store. The online shop is full of quirky merch that lets fans wear gear representing their favorite Chick-Fil-A menu items. The Atlanta-based chain joins other restaurants including Red Lobster, Chipotle and rival McDonald's in creating branded gear to excite their fans.
Items in the Chick-Fil-A store are priced from $15 to $75 and are expected to sell out quickly. It marks the first time that the restaurant has sold a variety of branded clothing and gifts online. In the spring of 2020, Chick-Fil-A made its first foray into grocery stores when it began selling 16-oz. bottles of its Polynesian sauce and its signature honey-mustard-barbecue Chick-Fil-A sauce.
Andrew Charles, a restaurant sector analyst, told CNN Business that merch stores are "another avenue for companies like McDonald's to do this outside of TV [ads]." He also said that it's a good way for aging brands to stay relevant and attract younger customers. It's estimated that around one-third of customers in the 18-44 age range are drawn to buy branded merchandise representing their favorite restaurants and retailers.
Apparel in the new merchandise shop includes a $25 classic white Chick-Fil-A t-shirt with the company's red logo wrapping from front to back. A $60 I Heart Waffle Fries hoodie is black with a small heart-shaped waffle fry screen printed on the upper left side. Shirt sizes range from XS to XXXL.
A simple grey sweatshirt with the word "Original" across the chest sells for $50. One of the quirkiest shirt offerings is a $28 green tee with "pickle pickle" written on the front. Only those who love the original Chick-Fil-A sandwich will get the reference to the sandwich's iconic two pickle slices.
Fun socks are a big hit and Chick-Fil-A is selling its own personalized set featuring fan favorites. The $30 three-pack includes red-toed, logo-emblazoned socks bearing tribute to the restaurant's chicken sandwich, waffle fries and lemonade. Fans of trucker hats will want the $25 Chicken for Breakfast hat with its signature red bill.
Two bags are available in the shop: a small Classic Chick-Fil-A clutch purse ($20) and a large bucket tote bag ($30). The shareable bag of small "Eat Mor Chikin" cows has already sold out, but you can still score a larger standing plush cow for $35. Other non-wearable Chick-Fil-A merch includes a Chicken for Breakfast camper mug ($22), a Today is Good wall pennant ($25) and a 10-count original notecard set ($15).
Unfortunately, one of the best items—and the most expensive—has already sold out. For $75, fans could literally wrap themselves in Chick-Fil-A with a plush, sweatshirt-fleece blanket designed to look like the lid on a Chick-Fil-A Sauce packet. The set also included a fluffy 16-inch pillow shaped exactly like an oversized Chick-Fil-A nugget.
The website includes a link to download the Chick-Fil-A app and another to purchase restaurant gift cards—a welcome accompaniment to their branded merchandise. However, the website failed to clarify whether out-of-stock merchandise would be restocked, or when. Diehard Chick-Fil-A fans can sign up on the website to receive notifications about upcoming merch collection releases.
---