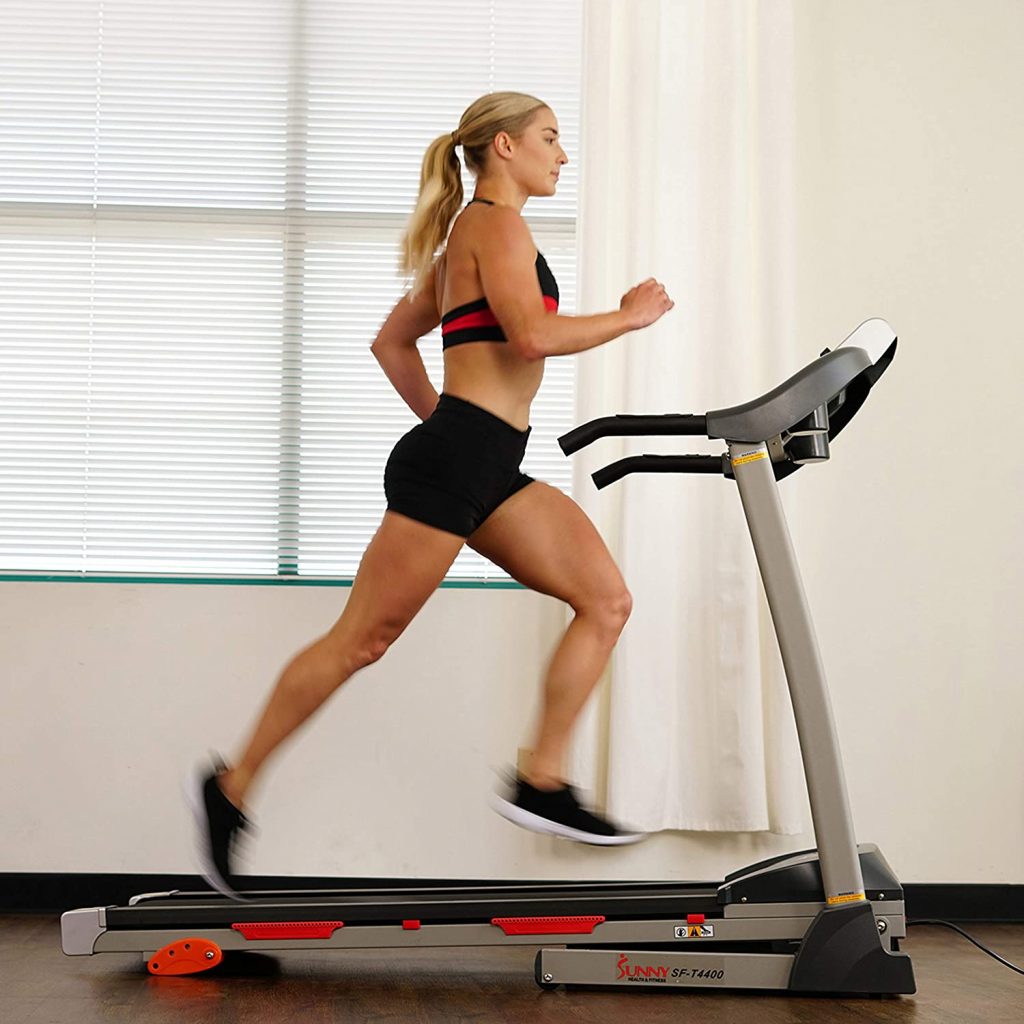 When it comes to home workouts, nothing beats a good treadmill. When gyms closed down due to the COVID pandemic, the demand for home treadmills shot through the roof. People realized that for a nominal fee, they could get just as good a workout at home as they would in a gym with a lot less preening and strutting going on.
Thankfully, the home fitness industry was up to the task. More advanced models were released. Now, many of the top home treadmills have great smart features such as preset workouts and total integration with streaming services with the ability to access live workout programs. They have incline and decline features, they have music, cup, and towel holders.
Some of the new treadmills remain big and bulky but have the ability to fold up for easy storage and take up less room. Some just get right to the task at hand and don't offer much more than a great workout that favors advanced cushioning to better help your knees. They also have biomechanically correct belts that make it feel as though you are running outdoors.
Whatever your running or walking needs, you can find it with a new treadmill. A word of warning to you home workout fiends, some of these models can get fairly pricey. You will, though, get what you pay for. If you want all the bells and whistles that can come with a great treadmill, the price will reflect that. What you will also find is that even if you opt for a lower-priced model, you're going to get a solid product.
How do you choose a good treadmill? Well, it all comes down to needs and your budget and this is where we step in. We are going to attempt to steer you in the right direction in finding the treadmill that works best for you and your pocketbook. A few things we considered for you: price point, walking or running treadmill, one that has an incline, and size. Here is what we came up with.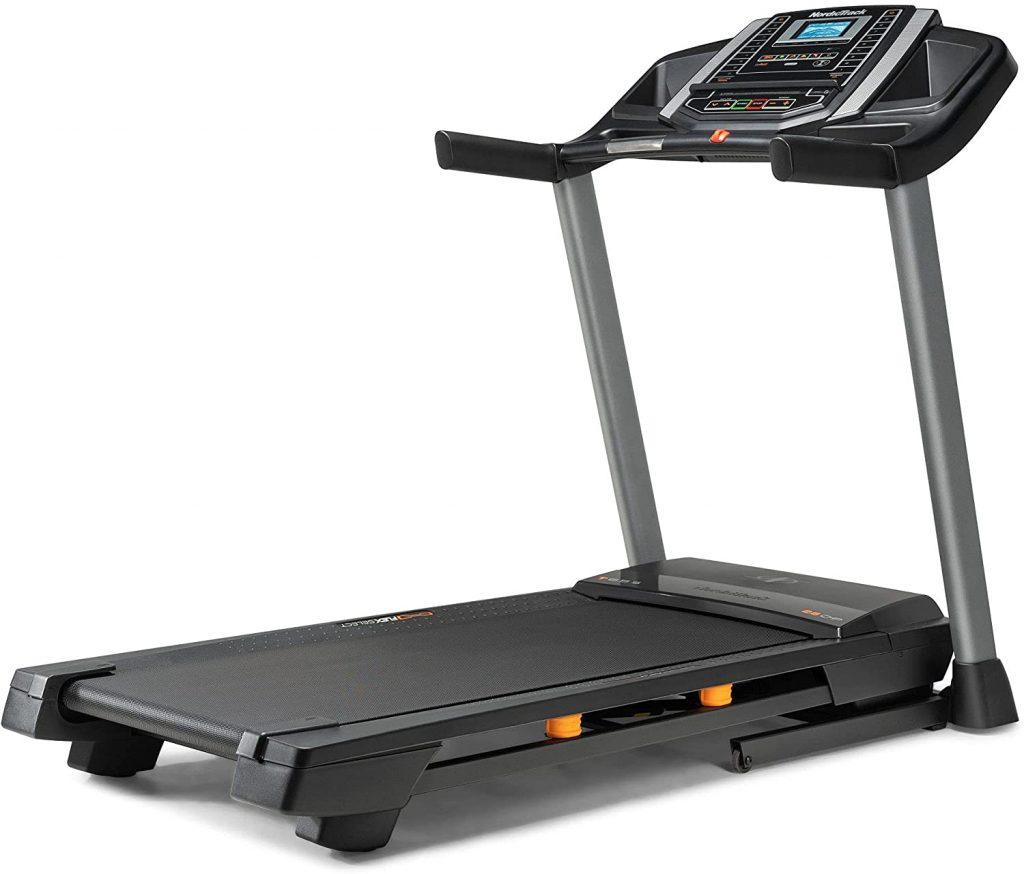 WHY WE LIKE IT – The name alone tells you this treadmill is top of the line. The first thing to know about this NordicTrack is that it comes with a 30-day iFit membership. They want you to try out their workout trainer program hoping that you'll love it enough to keep going with the membership. Chances are you will.
The NordicTrack has a OneTouch 10% incline control to go along with its OneTouch 10 mph Smart speed control. If you wish to have these increases done for you automatically, the iFit trainer will do this for you with a Bluetooth connection. The unit also provides an auxiliary music port and a two-inch speaker for your workout entertainment.
It's hard to go wrong with this great piece of equipment. If you are space-limited as many of us are, the NordicTrack has a space saver folding design so you can fold it up and set it out of the way until your next workout.
PRICE – $649.00 on Amazon for a 5" display screen. $999 on Amazon for a 10" screen and more features.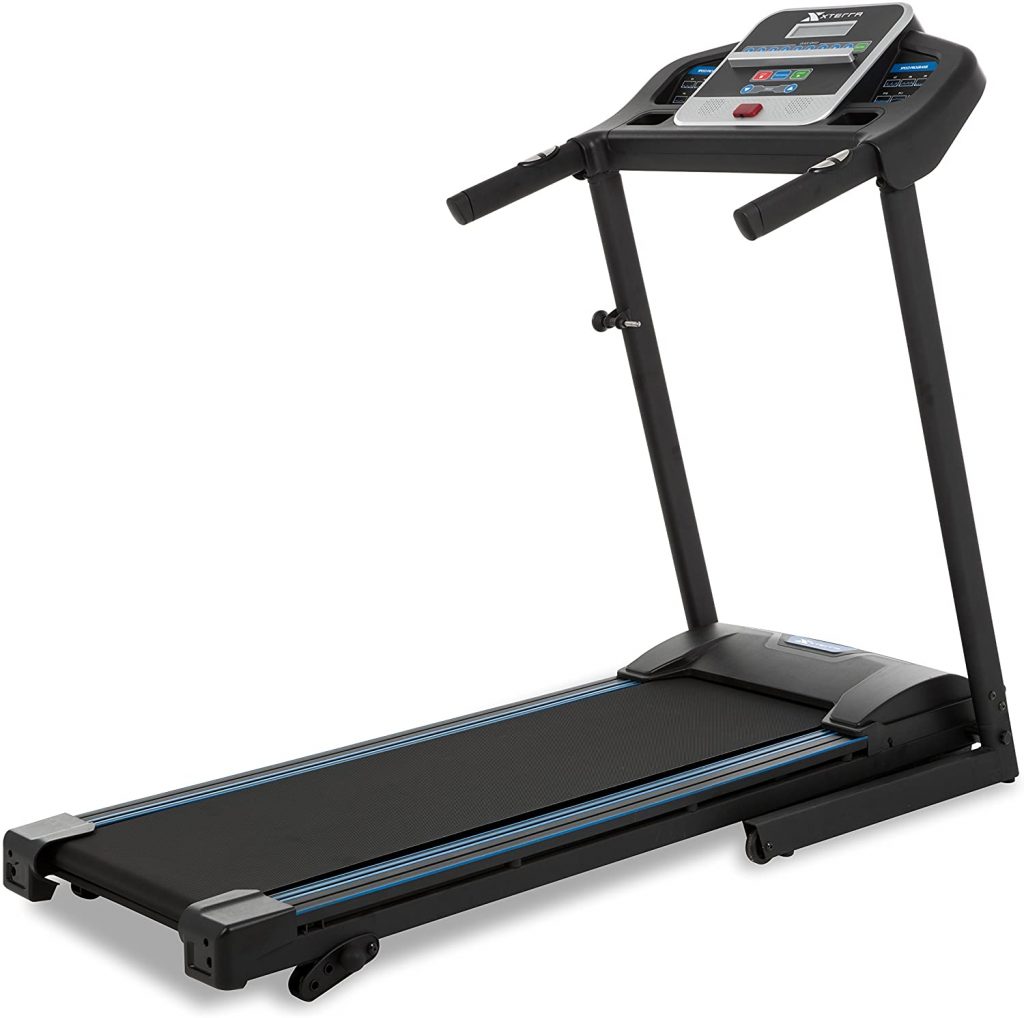 WHY WE LIKE IT – One thing you will notice immediately is the large walking/running space the Xterra provides its users. The 16" x 50" is large enough to accommodate runners of every shape and size.
The Xterra comes with a 5" LCD display that is easy to read and keeps you updated on your speed, time, distance, incline, calories, and pulse. You will have the option of 12 preset programs along with 3 manual incline settings.
Article continues below headlines
---
The device also has accessory holders and an integrated bookrack for those who wish to read while working out. For those who are space-challenged, the Xterra has an easy pull knob to fold up the unit to make storage much easier.
PRICE – $364.28 on Amazon.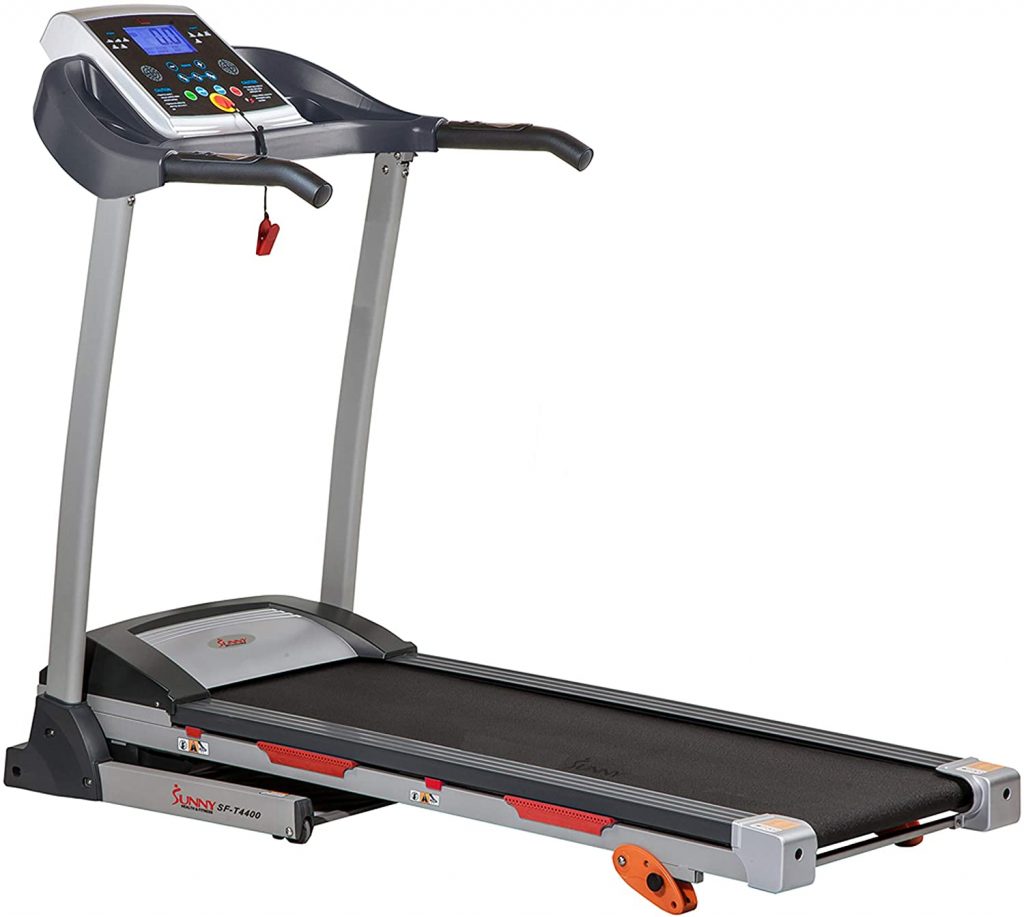 WHY WE LIKE IT – Not only will you love the price of this treadmill, but you will absolutely love the ease with which Sunny Health has designed its treadmill.
Taking a look at their display panel, the digital monitor offers 9 preset programs. You will be able to monitor your time, distance, speed, calories burned, and pulse. The panel also has a place for your smartphone or tablet, it has a cup holder, a pulse sensor on the bar handle as well as a quick speed button to increase or decrease your speed.
The treadmill folds up easily for compact storage and the only drawback to this unit that we can see is that it's designed for a weight max of 220 pounds.
PRICE – $385.97 on Amazon.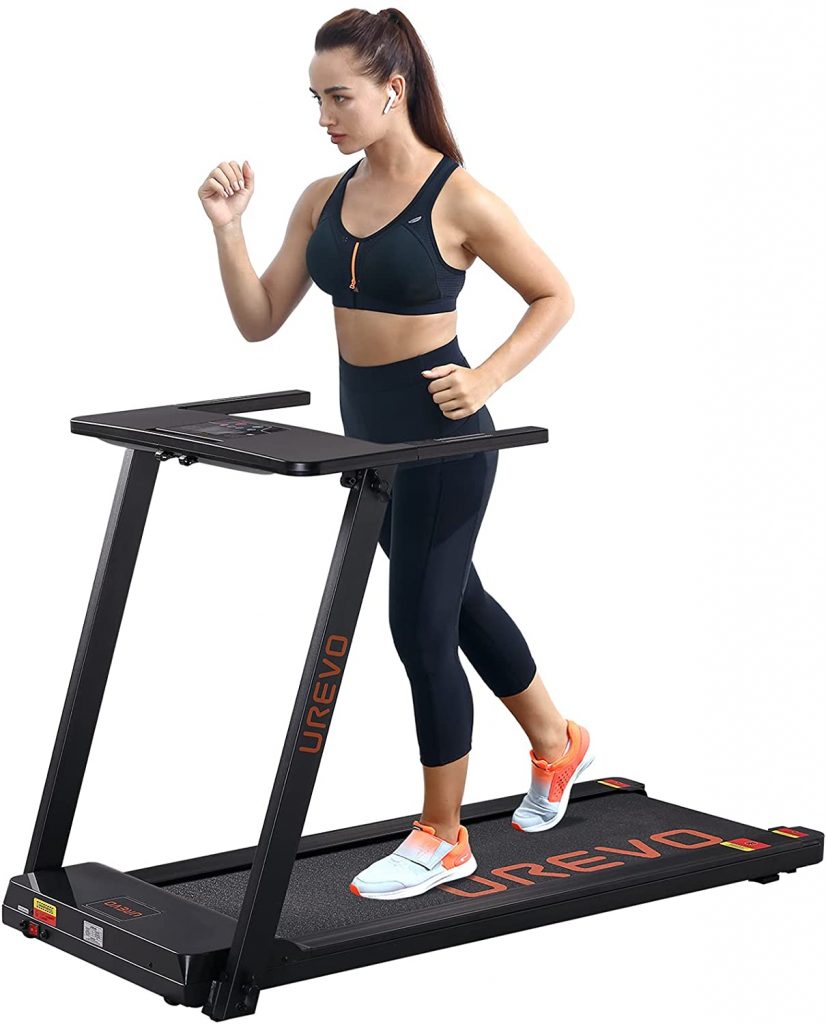 WHY WE LIKE IT – Simple in design, simple to use. Urevo comes without all the bells and whistles as it has placed its display panel down by your waist instead of up high. It has a phone holder and safety key in case things get out of control for you.
The LCD monitor allows for 12 preset programs that also display time, distance, speed, and calories burned. It comes with an easy folding mechanism to make storage a snap.
PRICE – $359.87 on Amazon.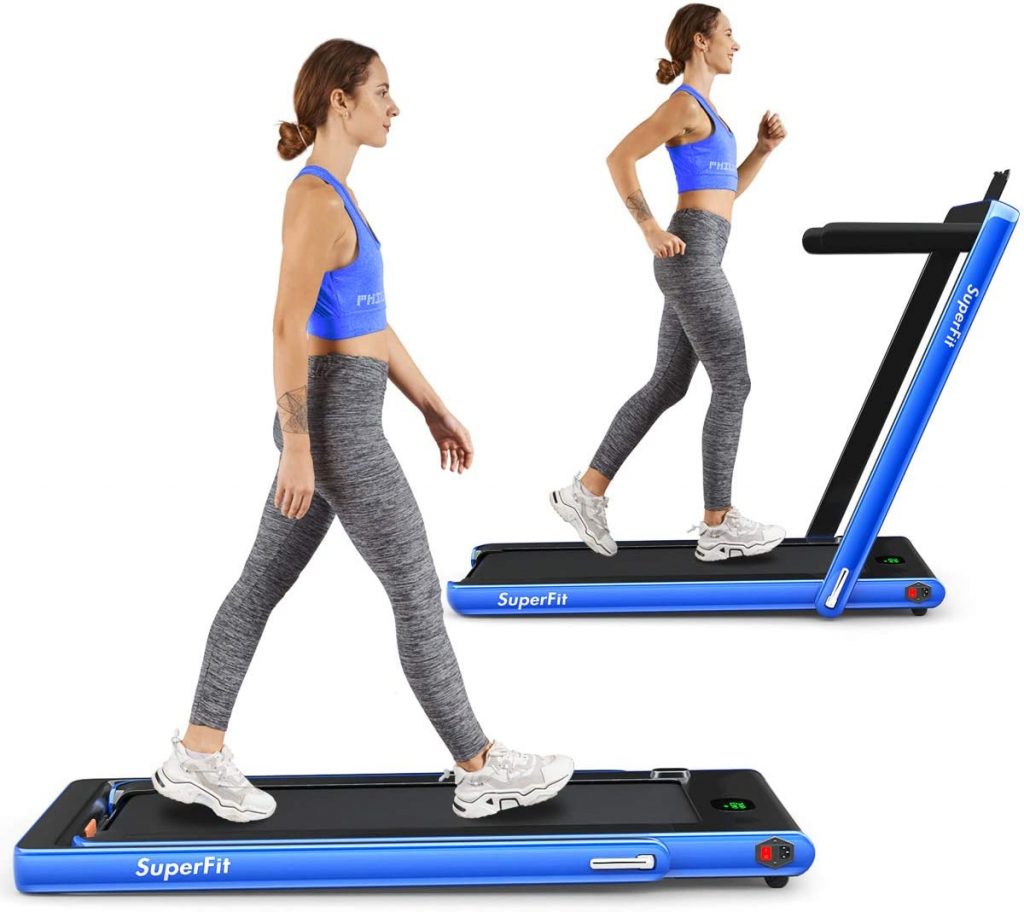 WHY WE LIKE IT – The Goplus is a wonderful, innovative 2-in-1 treadmill that offers something for whatever your workout needs require. This unit comes with a riser, so when it is folded, you can do other things while walking/jogging. When the handrail is in the up position, you will be able to reach running speeds of up to 12km/h to really push yourself.
You can connect your phone through Bluetooth on this unit so you can listen to music if you wish. It also has a phone holder if you instead want to watch videos or chat with friends while working out. With its foldable design, it makes storage simple.
PRICE – $399.99 on Amazon.
FINALLY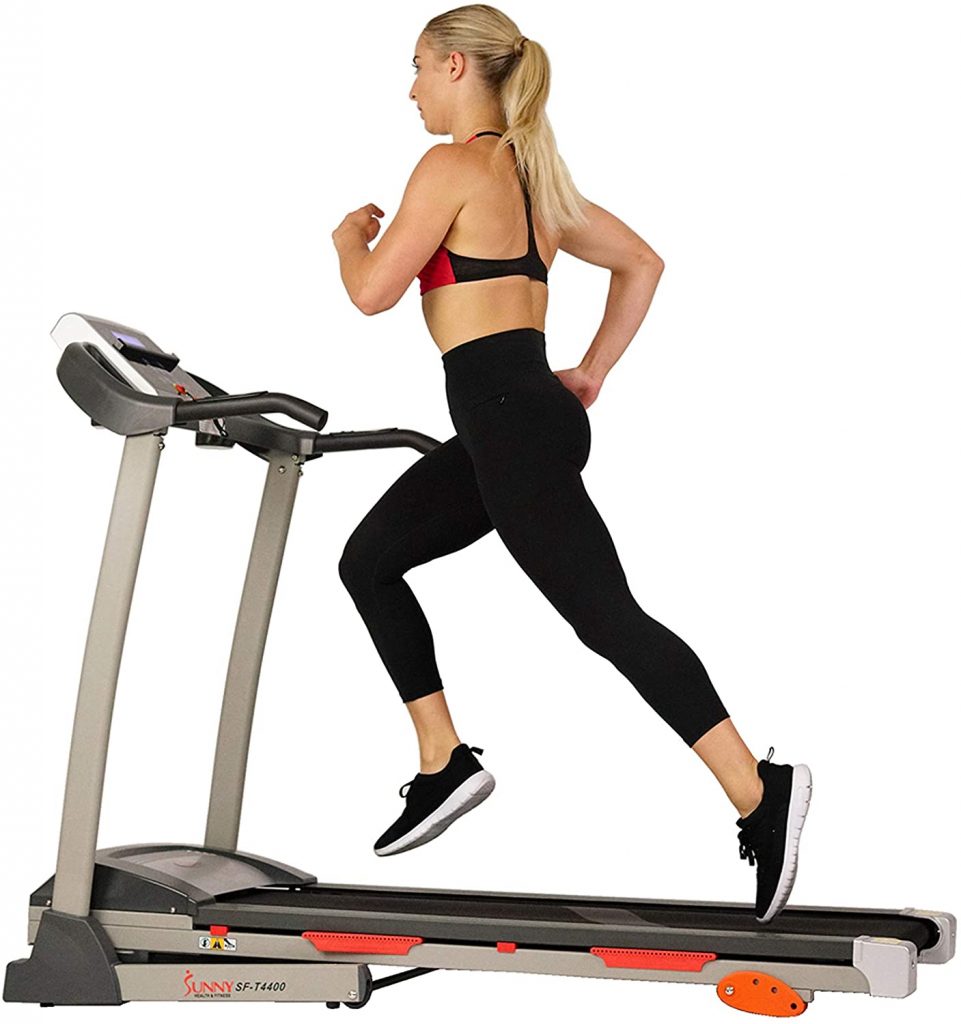 Treadmill makers understand their customers and if the pandemic has shown anything, it's that they know how to upgrade their product to make customers happy. What many have keyed on is the amount of space a personal home treadmill can take. This is why most treadmills are foldable in design. It's a great selling point, no doubt.
Basically, it is all going to come down to what features you wish to have with your treadmill. Do you need all the bells and whistles or is simple more your style? We've given you great choices on both ends.