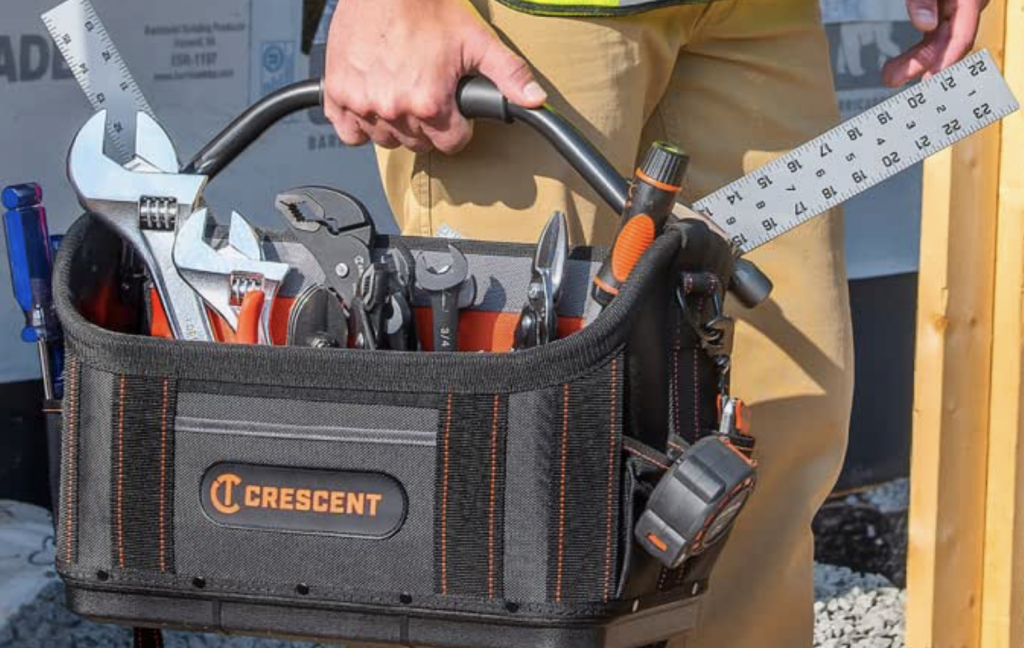 The inevitability that goes along with living in your own home is that occasions will arise that will necessitate that you make the required repairs to fix the issue that has arisen. Sometimes what breaks will need professional attention. However, more often than not it will likely be something minor that you can easily take care of yourself. Whether you need to patch up a hole, screw in a board, or spackle a spot on your wall, having a tool kit on hand to get the job done makes owning one an invaluable asset.
What's more, is that tool kits come in all shapes and sizes and can be tailored to a variety of different DIY projects. There are tool kits for typical household repairs, tool kits for your outdoor endeavors, and even ones specifically geared towards basic vehicle repair (ever heard of a torque screwdriver?). The point is, is that whether you are in your home or out in the garden you should always keep a tool kit at the ready for those just-in-case moments that have a keen way of cropping up. Thus, we sniffed out the very best tool kits ready to save the day whenever the occasion presents itself.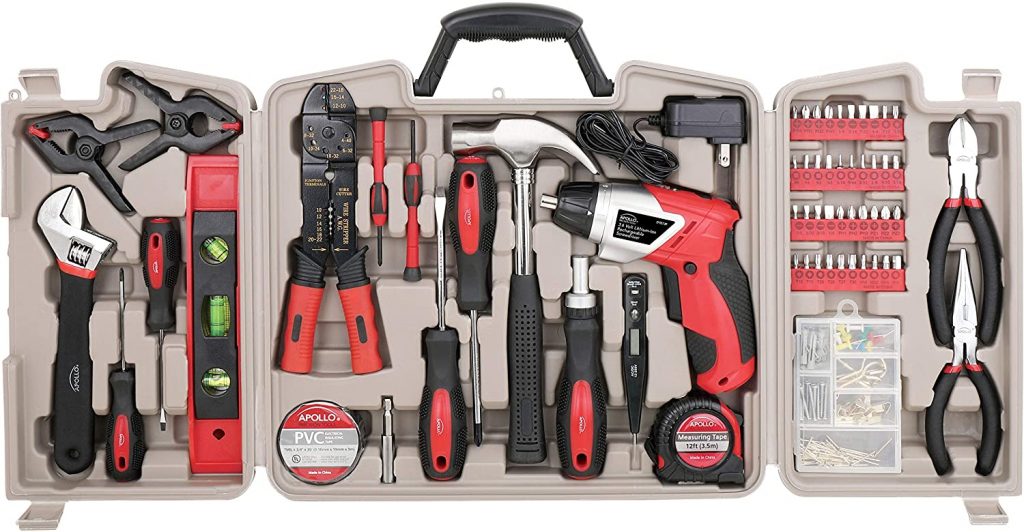 WHY IT'S THE BEST – It's all in the name, this tool kit is the complete package and one that you would want to equip yourself with when you want to make sure you have all your bases covered. The Apollo tool kit is particularly ideal for first-time homeowners newly stepping into the world of household repairs. Arguably, the most useful tool of all those included in the kit is the 3.6V lithium-ion battery-powered screwdriver with interchangeable heads. Owning that tool not only means that you'll have the versatility needed to tackle any project where a screwdriver is required (and there are many), but you won't have to kill your hands doing it because the battery-power feature does most of the work for you.
Other exceedingly worthwhile inclusions in this set are the wall-hanging tools. The wall hanging tools are not only great for when you first move in and are wanting to decorate your walls with pictures and other do-dads but they are just great to have on hand when you want to add artwork or make adjustments to your existing wall decor. Conveniently, the set also comes with a magnetic level, clamps, a wire stripper, and electrical tape. All of your usual suspects, like drills and wrenches, are also included. All in all, this Apollo tool kit will certainly make you feel as though you have gotten your money's worth.
PRICE – $82.08 on Amazon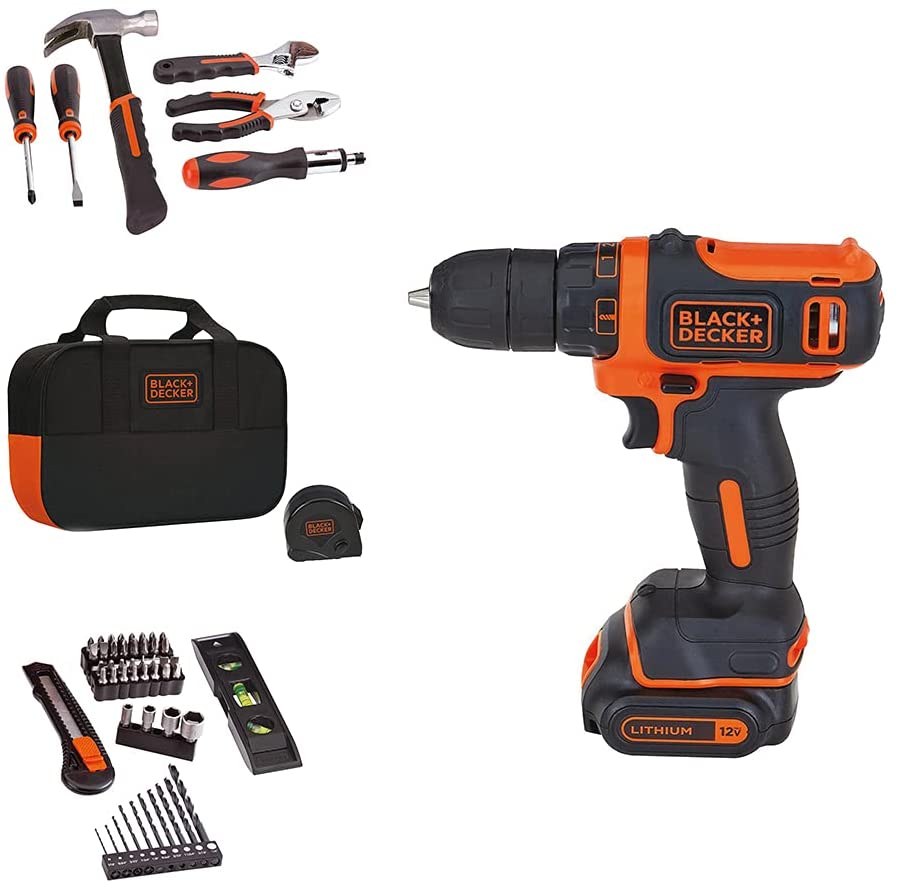 WHY IT'S THE BEST – The Black + Decker tool kit is another all-around solid tool kit to have if you're looking to be prepared for any general household repairs that might creep up on you. The 12V Drill with interchangeable heads is also ideal for taking multiple DIY projects at once. For instance, perhaps you are putting together a collection of shelving for your home office, instead of spending hours upon hours screwing in each component by hand, you can quickly and efficiently assemble the pieces in a fraction of the time and without running the risk of your hands cramping up along the way.
This tool kit is almost worth it just for the drill alone, however, you'll find that the other included tools are just as handy to have around for numerous household fixes. The kit also comes with a claw hammer, an adjustable wrench, slip joint pliers, ratcheting screwdrivers, a utility knife, nut drivers, a level, and a magnetic bit holder. Additionally, all those pieces fit nicely and neatly into the included tool bag. Overall, when looking to invest in a tool kit the Black + Decker is a great place to start.
PRICE – $52.68 on Amazon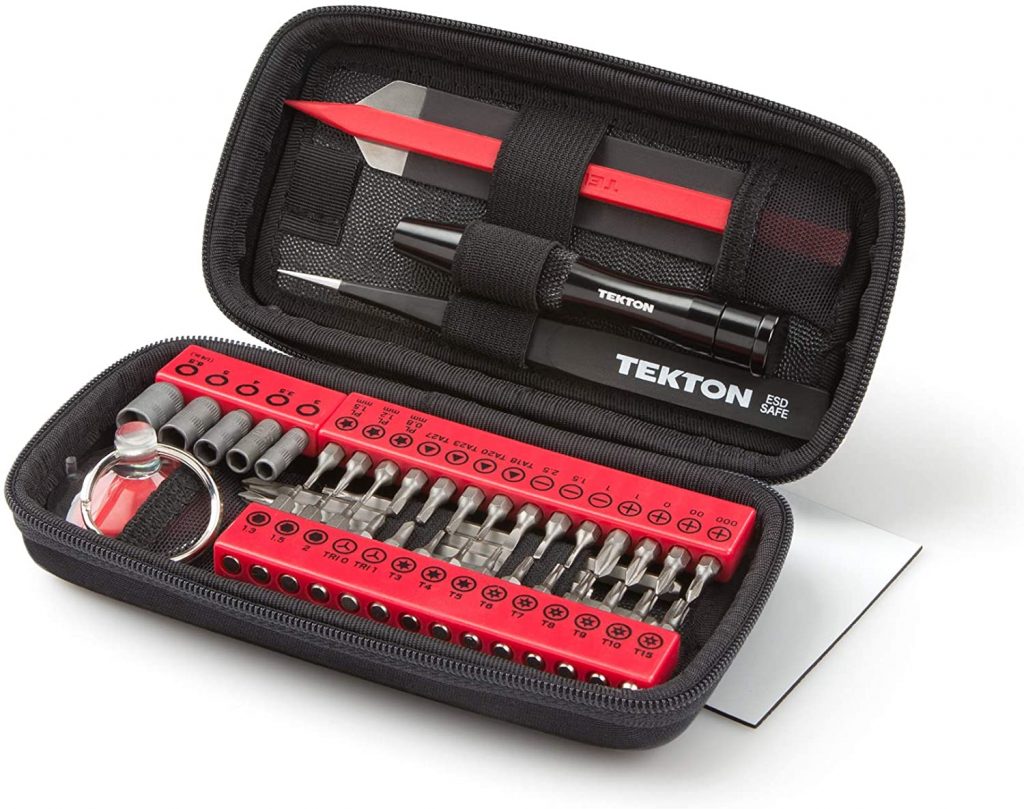 WHY IT'S THE BEST – Overtime technology has woven itself into every facet of daily life. From household appliances to everyday gadgets and smart home devices, technology fills every room of our homes. The thing with tech, however, is that is it prone to breaking and malfunctioning. When it does break, having a technician come in to repair what went awry can get very costly. However, having the Tekton rescue kit on hand can save you money on those costly repairs that you could potentially take care of yourself.
Depending on the device and the manufacturer who makes it often times there are very specific screws used in the construction of the said device. These specific screws can not be removed with your typical flathead or Philips head screwdriver. That's where the Tekton tool kit comes in, as it includes 46 different interchangeable specialized heads. For instance, if you want to change the battery in your MacBook with the Tekton you would have the pentalobe head needed to open the computer up to swap out the component. Other tech-specific heads included are the tri-wing, hex, Torx, and triangle. The Tekton tool kit is truly a modern DIY necessity for the digital age.
PRICE – $29 on Amazon
Article continues below headlines
---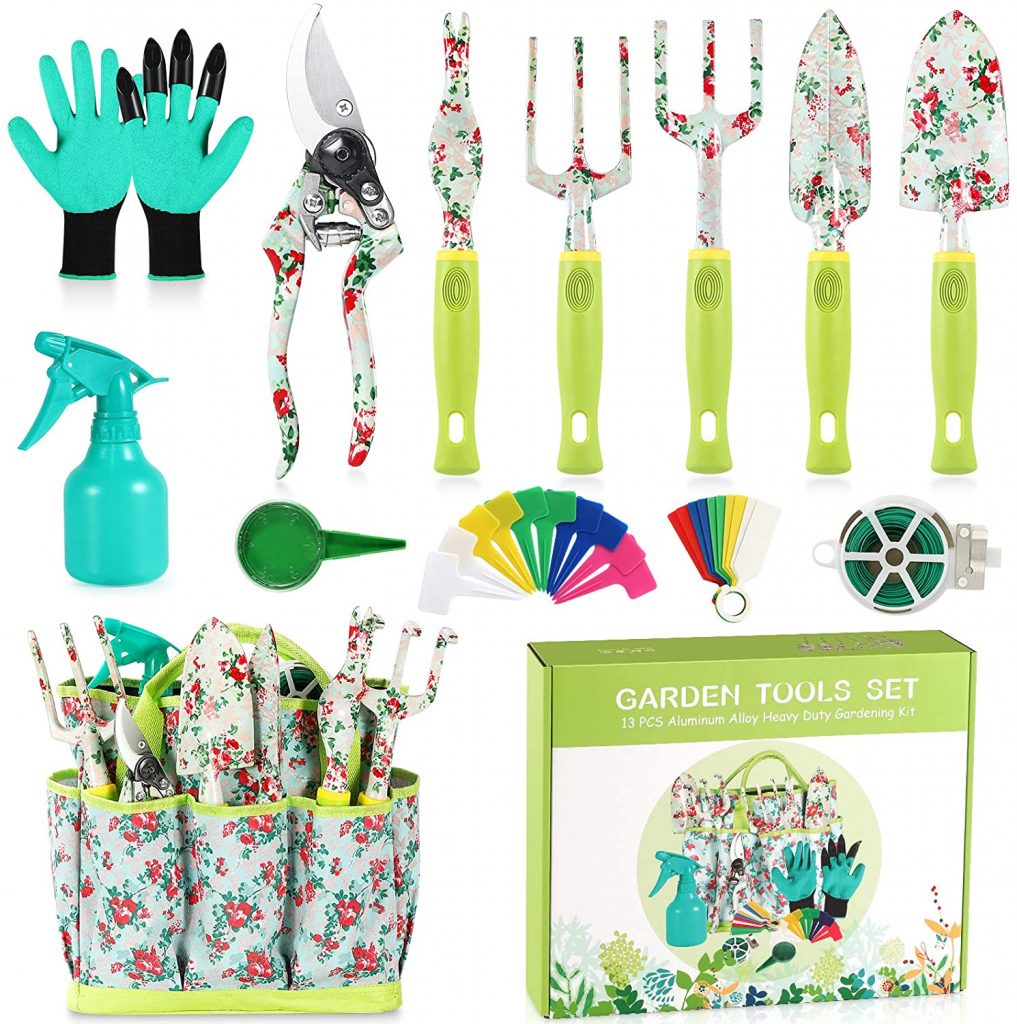 WHY IT'S THE BEST – If you happen to live in a home with some outdoor space, then one of the best ways to utilize a portion of that space is by starting your own garden. Gardening is not only a cathartic way in which to spend your free time, but it is beneficial for both you and your immediate surrounding environment. You get the benefit of breathing in the oxygenating properties of your lush greens, as well as having the advantage to know exactly where the crops you are eating came from. That being said, in order to start and maintain a garden, you have to be equipped with the right tools. And the Sukki gardening tool kit is a great option to go with.
The Sukki gardening tool kit comes with everything you need to get your garden started off on the right foot. The gardening essentials included are a trowel, transplanter, hand rake, hand fork, weeder, pruner, sprayer, garden seeder, garden thread, garden gloves, a carrying tote, and two types of plant tags. What's also great about this tool kit is that it can be used both on indoor and outdoor plants. The versatility is especially welcome in climates that call for moving plants indoors during the colder months. Also, considering everything including, this is an exceedingly cost-effective set.
PRICE – $30.99 on Amazon
HUSKY MECHANICS 149-PIECE TOOLSET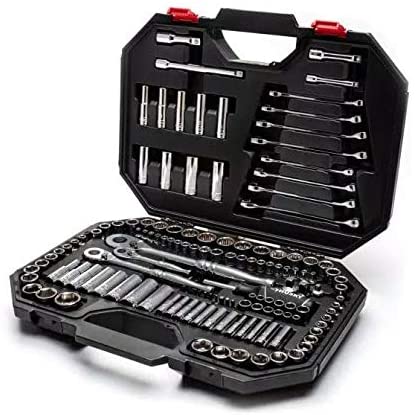 WHY IT'S THE BEST – If you are planning to work on your car regularly, then the Husky Mechanics tool kit is an absolute must-have. Vehicles, like tech, call for many specialized tools that differ from those you would typically use for small home repair projects. In particular, cars require special wrenches and drive sockets in varying sizes if you want to successfully complete specific repairs. With the Husky Mechanics tool kit, you'll be equipped with well over 100 different sockets, and over a dozen combination wrenches as well as virtually every drive socket you might need. Essentially, this tool kit is ideal If you want to adequately prepare yourself for any car crises that might arise.
PRICE – $153.90 on Amazon
THE CONCLUSION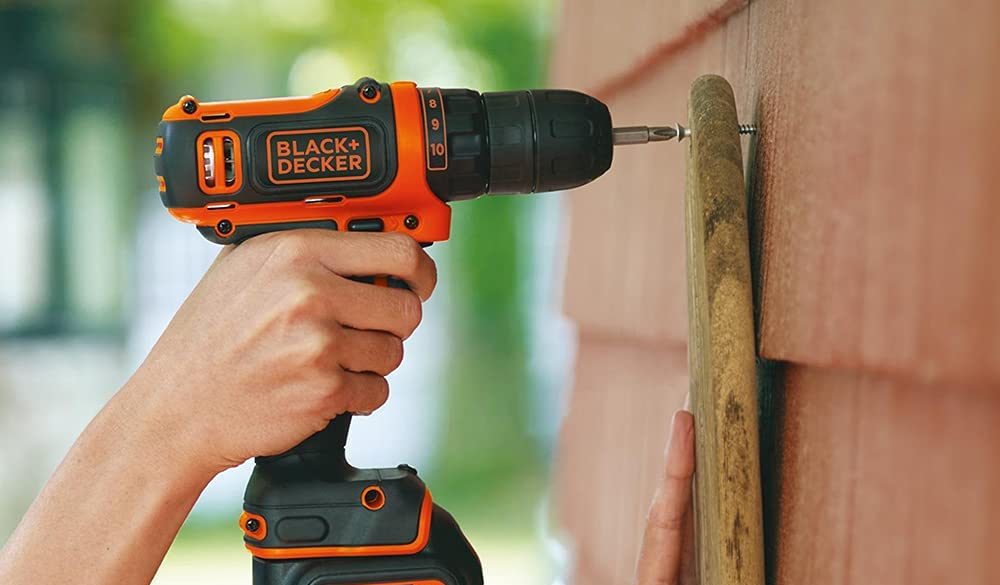 Any of the tool kits above will prepare you for more than one of life's little emergencies as well as support you in cultivating your own home repair skills. Take confidence in your home DIY abilities with the Apollo or Black + Decker kits or jump into learning to garden or self-maintaining your vehicle with our other recommendations. All in all, when you have a tool kit at the ready, you'll be empowered to tackle any home-related task whenever one might come your way.