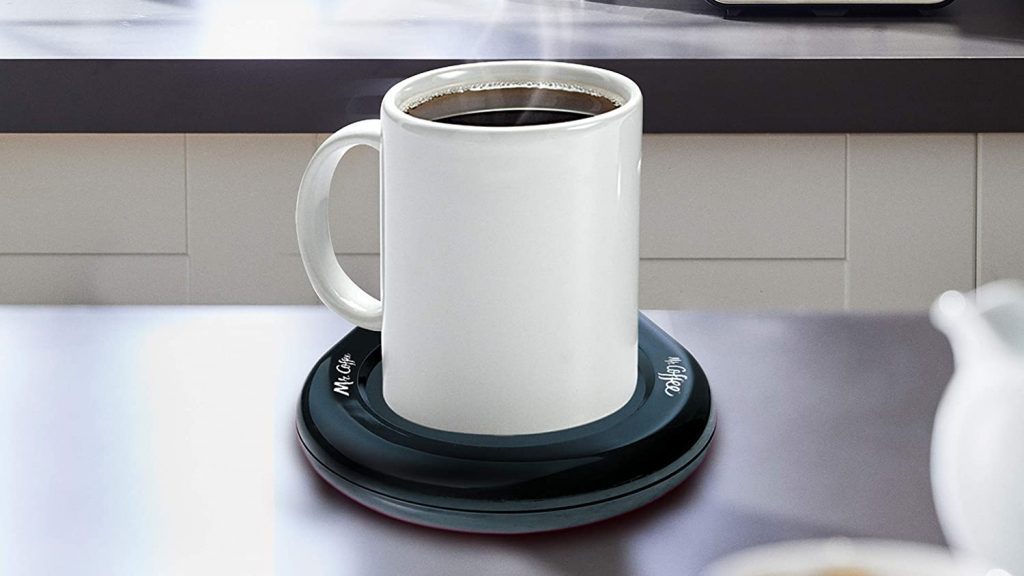 Let's see if we can paint the picture for you. It's a scenario we are sure you've involved yourself in a time or two. You get into work early in the morning. Maybe your office is away from home, or perhaps you're one of the lucky ones who get to work in their pajamas. Either way, you're not quite ready for the day because you haven't had that first cup of joe. You brew that perfect mix and head to your desk. You sit down, ready to tackle the day. You fire up your computer and get busy while you let your steaming cup of liquid magic cool to a respectable drinking temperature. The next thing you know, you're two hours into your morning and you haven't taken one sip. Now, it stares back at you with lukewarm eyes because you don't have a smart coffee warmer to keep it toasty.
Does this scenario taste familiar? Even at your home office, you dread getting up to toss your mug into the microwave to warm up your coolish brew. How easy would it be if you only had a smart coffee warmer right at your desk? Never again would your liquid breakfast go lukewarm.
To help prevent this same scenario from happening again and again (because you know it will), we have put together a few of the finest smart coffee warmers we could find. These will all do the job and make you happy with each sip as they keep your coffee (or tea) at the perfect temperature.
---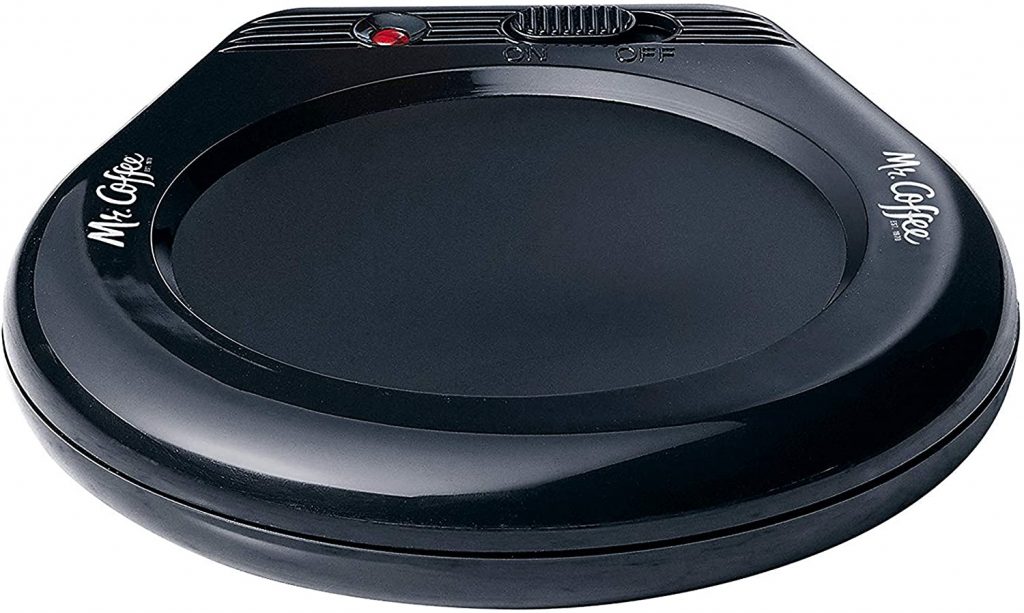 WHAT'S TO LIKE – The name alone should get this smart coffee warmer in the door. Mr. Coffee is a well-known and respected brand name that carries some clout amongst coffee lovers. This smart coffee warmer is simple in design but very effective in action. It has an off/on switch to make warming a breeze. Although the unit does not possess an automatic shut-off, the unit does come with a light that tells you it is powered on and also so you won't forget to turn it off.
The smart coffee warmer is compact so taking up space on your desk shouldn't be a concern. It has a long power cord so if you do need to move the coffee warmer, you'll have enough cord, so you won't have to plug and unplug. The base will fit most coffee mugs and most importantly, the Mr. Coffee Mug Warmer does its job quickly, warming up your lukewarm coffee in a few minutes.
WHAT THEY SAY – The consensus is that this smart coffee warmer is top-notch. The only drawback as we can see is the fact that it doesn't have an auto shut-off.
PRICE – $10.99 on Amazon
---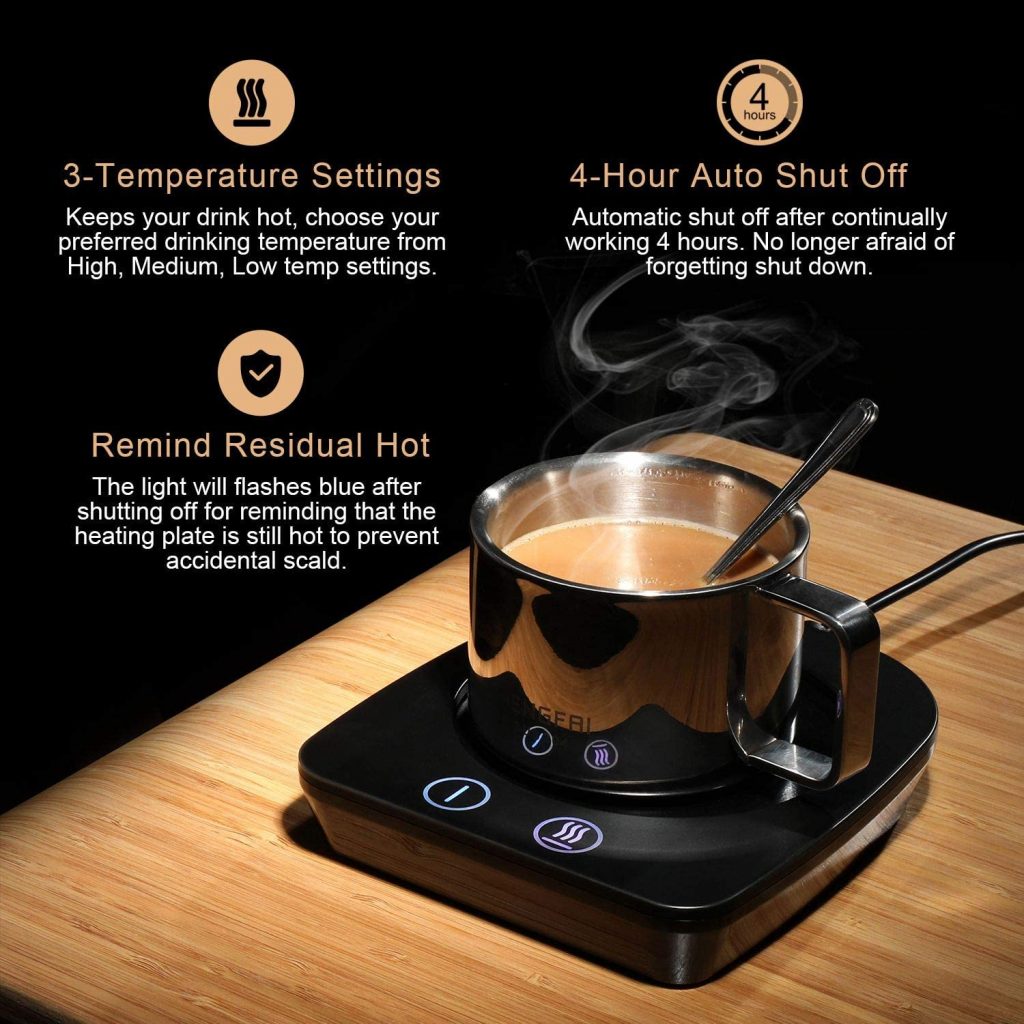 WHAT'S TO LIKE – The entire setup with this VOBAGA smart coffee warmer is with safety in mind. The coffee warmer has three temperature settings to allow you to either slow down or speed up the warming. You can set the temps at 104°, 131°, or 149°.
This smart coffee warmer also comes equipped with an auto shut-off. It will turn completely off after four hours of use, and it also comes with a flashing blue light indicator warning you that the heating plate is still hot. The long power cord also makes it easy to move around if need be.
THEY SAY – The VOBAGA is well-liked for a reason. Simple to use, though some found the touch-enabled buttons a little "touchy" in that it can be easy to turn the unit on or off or change the temperature without knowing.
PRICE – $20.39 on Amazon
Article continues below headlines
---
---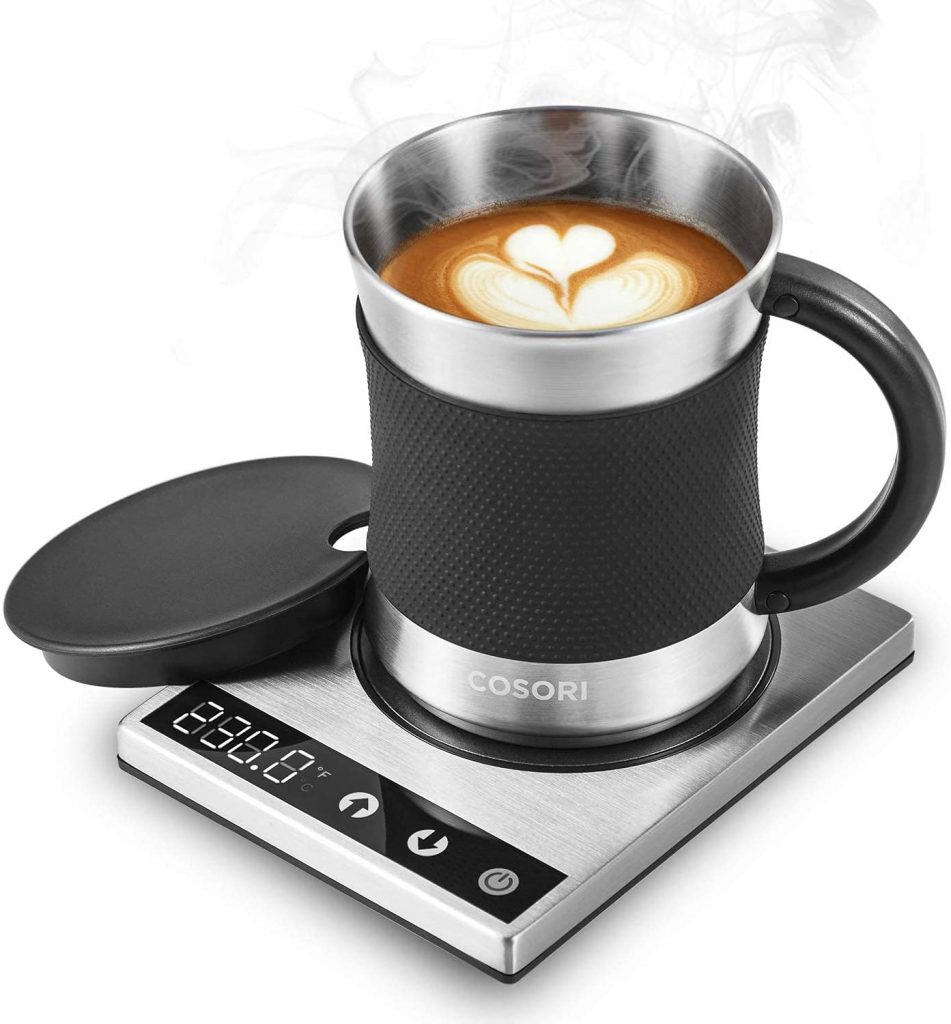 WHAT'S TO LIKE – There are so many things about this COSORI product to admire. A little more high-tech than any of the others we've recommended. This smart coffee warmer definitely looks the part, from its design to its touch-tech controls.
The COSORI comes equipped with an LCD display and a water-resistant warming plate. You can switch temps from °F to °C easily and the temperature controls allow you to set the plate up to 230°. This will warm your coffee anywhere between 77° to 158°. COSORI also includes their own 17 oz. cup.
THEY SAY – Pricey. No auto-shut-off can be bothersome, but all in all, this is one high-end, high-tech smart coffee warmer.
PRICE – $39.99 on Amazon.
---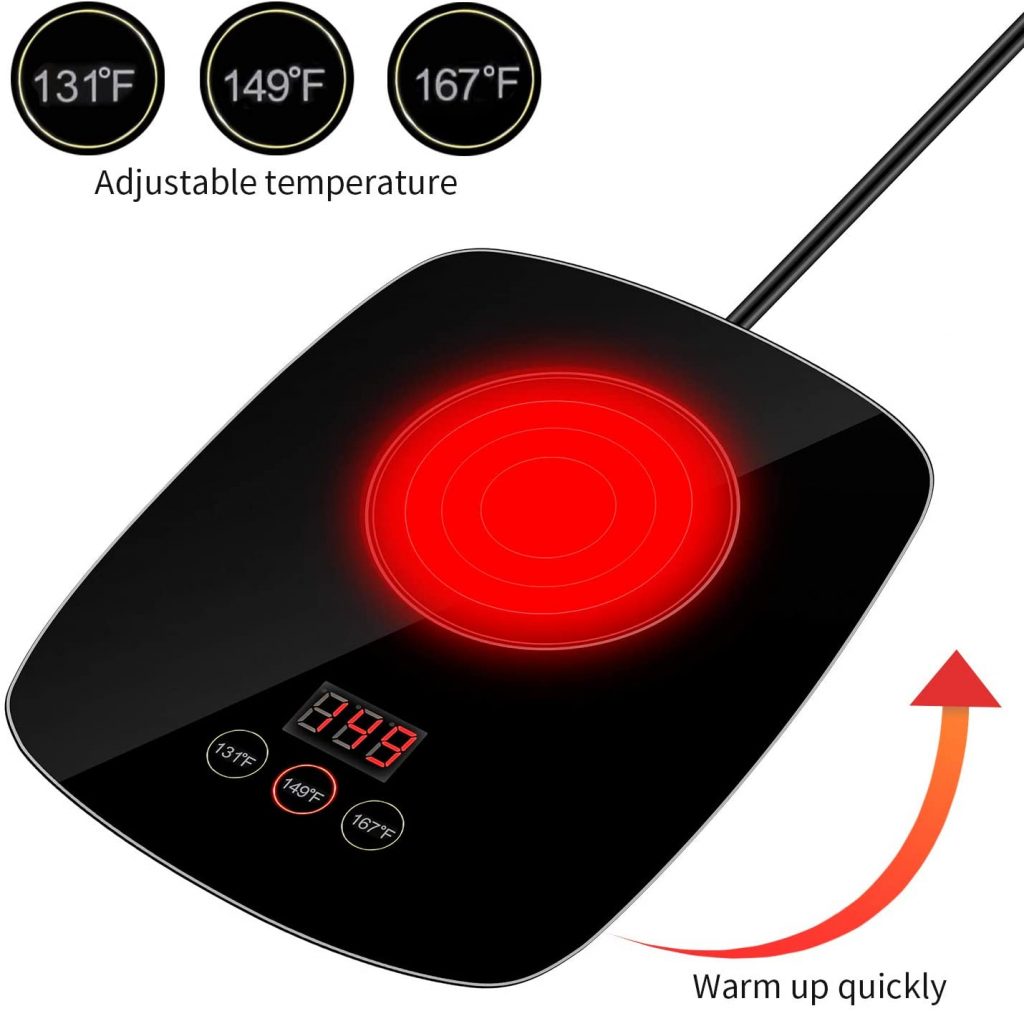 WHAT'S TO LIKE – The Nicelucky smart coffee warmer is an attractive unit. You can keep your coffee warm or even heat it up with three separate temperature settings, 131°, 149° with the warmest reaching 167°. The warming plate is big enough to warm any size coffee mug up to 21 oz.
Another nice feature of this smart coffee warmer is the auto shut-off. After four hours of use, the Nicelucky will shut down, though you'll still need to be cautious while the plate cools.
THEY SAY – Perfect. It does what it says it does but even more, as one reviewer noted they used the Nicelucky to keep their coffee warm in a 32 oz. mug.
PRICE – $22.39 on Amazon
---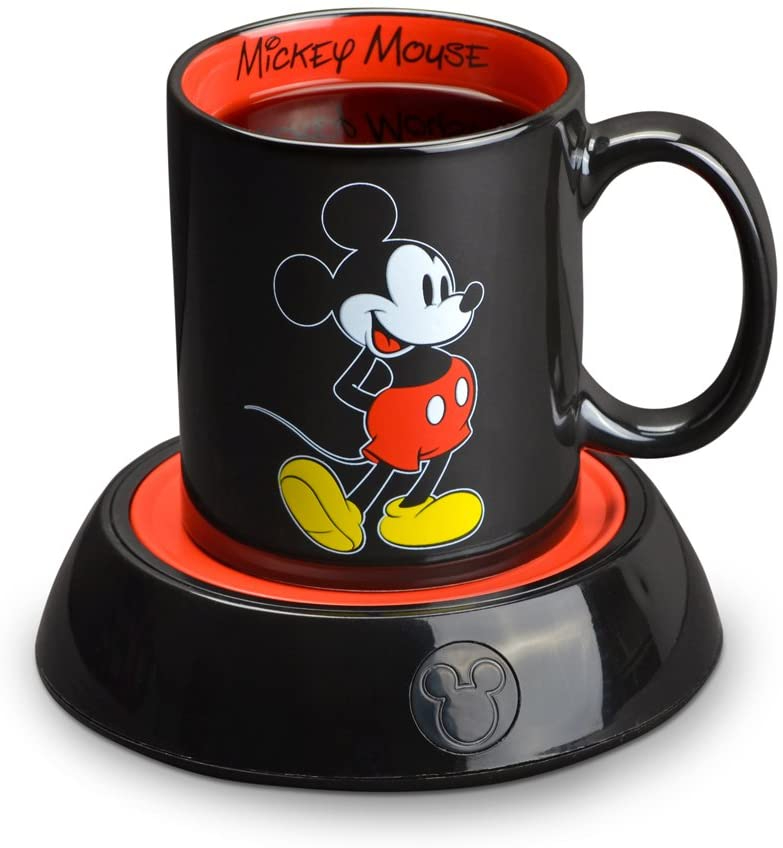 WHAT'S TO LIKE – Come on, sing it with us. M-I-C K-E-Y M-O-U-S-E. How can you not like a smart coffee warmer whose base warming pad is shaped liked Mickey Mouse? Not only is this fun to look at and will probably always put you in a smiling mood when using it, but it comes with its own 12 oz. Mickey Mouse coffee mug.
Okay, so maybe we included this more for nostalgia purposes, but it does what it's supposed to and it does it well. Your coffee will stay warm for a long time with this simple-to-use item. Just plug it in and let Mickey do the rest.
THEY SAY – Forewarned is forearmed. The warming plate gets hot so if you are working from home and have little ones scurrying about, be careful.
PRICE – $15.99 on Amazon
---
GRAB A CUP AND GET WARM
None of the above recommended smart coffee warmers are particularly complicated to get up and running or use. The COSORI is the most high-tech unit of the bunch, but even it is quite simple in design. Also, only the COSORI is one which you may consider a "wallet denter" so most of the coffee warmers are quite affordable.
For our money, probably the most attractive feature a smart coffee warmer should have would be the auto-shut-off. It seems to be the safer bet for those of us who find work distracting. As always, though, do your research to see what brand of smart coffee warmer suits you best. Happy warming.