The best markers for adult coloring books include sets from Copic, Prismacolor, and Crayola.
Finding time to relax and unwind gets increasingly difficult the older you get. Some of the best ways to cope with an overwhelming day are off the table as adults (naptime anyone). Thankfully, one childhood joy has come back into style among adults. That joy is coloring books. Just with an adult twist. And these offerings are growing in popularity every year meaning we need to know the best markers for adult coloring books.
Now that you are a sophisticated adult, you can't just wander around with a box of crayons. You need something a little more grown-up to use on your coloring books. That's where markers come in.
Unfortunately, when choosing the best markers for adult coloring books, not all options are created equal. You can opt for the same brand you used as a kid, especially if you want that nostalgic feeling. But if you want to take your art up a notch and work on developing stunning pictures, you will need to step up your marker game. The best markers for adult coloring books will primarily be professional-grade, high-quality brands. That means a financial investment, but it is worth it.
They are not the only option, though. You can get by with decent, budget-friendly markers. Don't expect the same range of colors or blending ability when you go this route.
We pulled together a list of top buys and pertinent information you should know before you hand over your hard-earned cash. Here are our five picks for the best markets for adult coloring books.
Copic Markers Are Some Of The Best Markers For Adult Coloring Books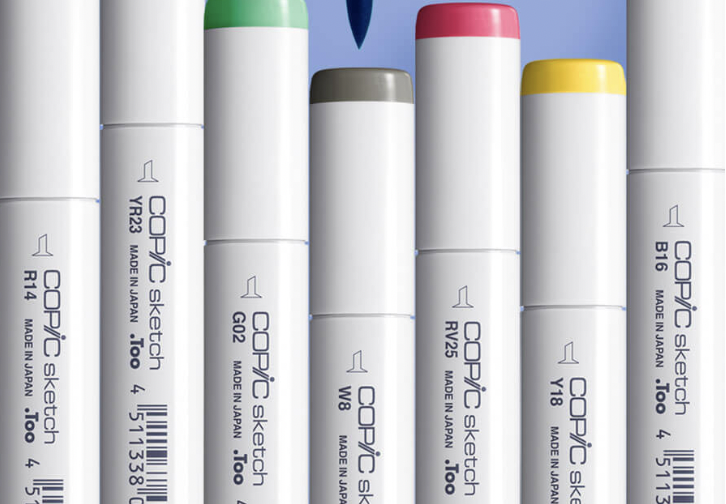 If you have ever wandered the art aisles at a craft store or braved a visit to an art supply store, you have likely seen these popular markers. The global brand launched in Japan in 1987. Its original line was designed with design professionals in mind.
All Copic markers are refillable, aligning with the company's sustainability goals. And the original line (now known aptly as the Copic Classic line) first showcased 71 unique colors. Since then, the company has expanded in its range of offerings and color palettes. 
It is immensely popular not only among design professionals but hobbyists and budding artists as well. While you cannot go wrong with any Copic markers, there are two lines we wanted to highlight. Both are excellent options when choosing between the best markers for adult coloring books.
Copic Sketch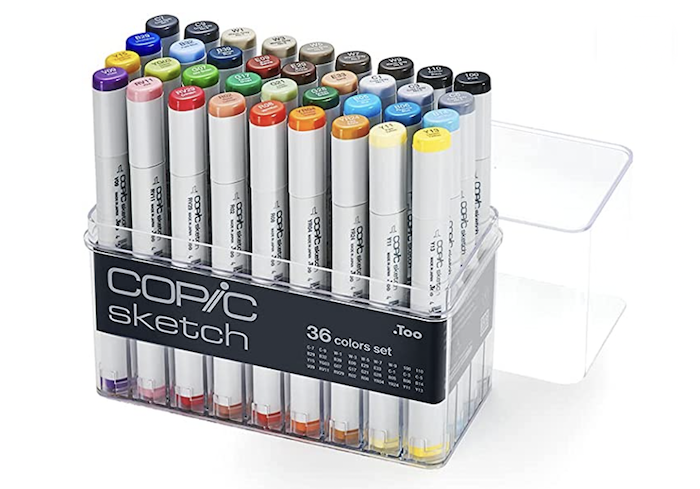 The Copic Sketch markers are the best-selling line for the company. And for good reason. You can choose from among 358 different color options (don't worry. Copic offers a handy color palette reference tool).
Additionally, the markers have an ergonomic design, which makes it easy to color for hours on end! Like all Copic markers, Sketch markers are refillable. So you can trust in the longevity of your investment.
Copic Ciao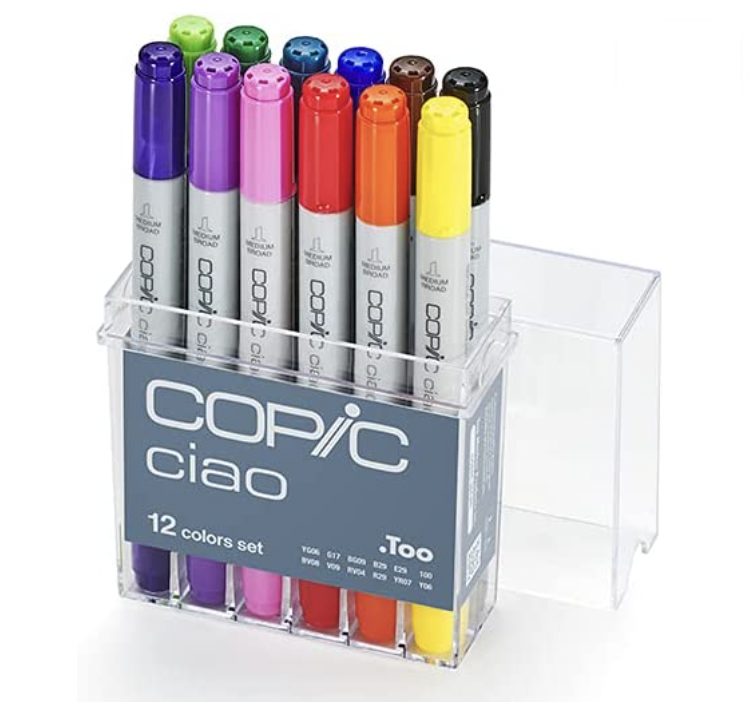 This introductory and more economical line offers all the benefits of Copic Sketch markers. Ciao markers are of the same excellent quality but have less ink and are a more streamlined design. Additionally, this line has fewer color options.
There are 180 colors instead of the whopping 358 in the Sketch line. However, Copic chose shades that are easier to blend and shade, so beginners don't feel as intimidated. Plus, when your Ciao markers run out, you can refill them with any color you want. 
Whether you choose Copic Sketch or Copic Ciao, there are a few things you need to know. All Copic markers are alcohol-based, which is both a positive and a negative. Alcohol-based markers dry faster and tend to blend better.
However, they also bleed more easily. And when you are choosing the best markers for adult coloring books, the bleed factor matters. The Copic markers are not suited for double-sided coloring pages, and you may want to place something under your coloring page to be safe.
Additionally, you can purchase either line as singles. Going this route makes the cost a little more palatable and gives you ultimate control over your color selection. There are sets available (such as this one) if you prefer.
Prismacolor® Are Included In The Best Markers For Adult Coloring Books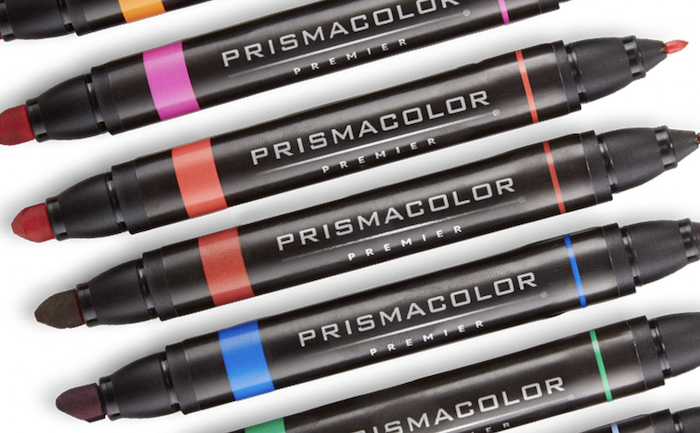 Why not choose a familiar name if you are looking for the best markers for adult coloring books? Prismacolor® is popular among artists of all ages and professionals. So they are relatively easy to find.
But the best part is they offer a wide variety of choices when it comes to tips, colors, and styles. When you purchase sets, you can choose your preferred size from 12-count to 156-count. Additionally, the markers were designed to pair with Prismacolor® colored pencils, giving you a full range of artistic expression at your fingertips.
Prismacolor® markers are alcohol-based, providing a professional-level finish. However, because of that, they are also prone to bleeding. So use caution when selecting your coloring books, as these will not work on double-sided pages.
Many Prismacolor® options come with dual edges, so you can switch effortlessly between fine and chisel points. And since both ends have a single ink source, the color will remain consistent. The company also claims they are lightfast, meaning the colors will last longer without fading.
Crayola Super Tips Markers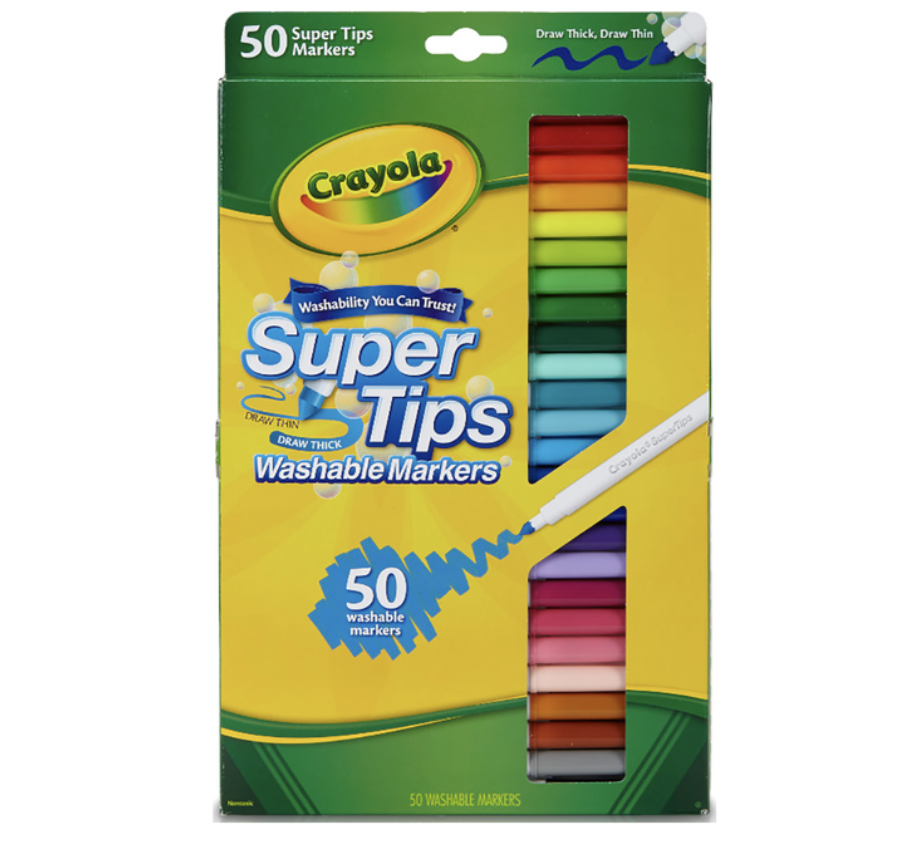 Who says Crayola is just for kids? Tap into your inner child when you opt for Crayola Super Tips Markers. These make the cut for best markers for adult coloring books for a couple of reasons.
They are iconic. After all, what is more comforting than settling in with a coloring book and a set of Crayola markers? But that's not all they have to offer.
Crayola Super Tips Markers come in a variety of pack sizes. So you can get as few (or as many) colors as your heart desires. Additionally, they are the most economical option if you want (or need) to color on a budget.
These markers are washable. So don't worry if your hands start to show your love of art. It'll come off before you have to cook dinner.
The water-based pigment won't bleed through the pages of your coloring book. However, if you add too much color, the paper may warp. A downside of water-based markers is that they take longer to dry.
Chameleon Color Tones Pens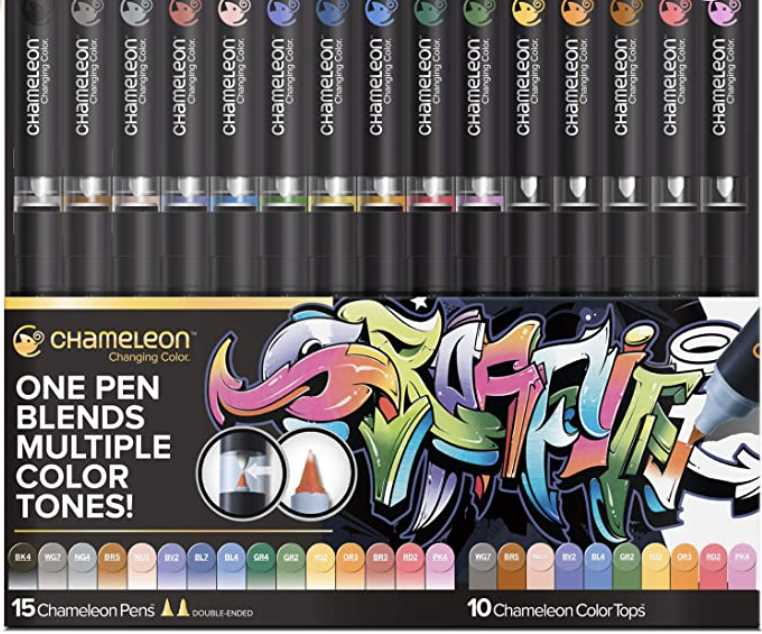 Don't let the name fool you. The amazing Chameleon Color Tones Pens are not technically pens. Instead, they are a whole new, innovative type of marker.
Each pen has the unique ability to transform its color tone. That's right. When you purchase one pen, you end up getting multiple color gradations.
That saves you time (you don't have to switch colors) and money (you only have to buy one pen). So you should strongly consider this line in your hunt for the best markers for adult coloring books. They might be just what you are looking for.
The most important thing you need to know is that the colors are permanent. At least on most surfaces. So use caution when choosing a coloring surface.
Additionally, like some of our other choices of best markers for adult coloring books, the Chameleon Color Tones Pens are alcohol-based. That means they may bleed through your pages. Opt for single-sided coloring pages.
But perhaps most importantly, the refillable ink wells are compatible with all other brands. Well, provided those other brands offer alcohol-based ink refills. So you are not limited by Chameleon's color palette – you can expand as much as you would like.
---
In all, the best markers for adult coloring books will make a big difference when it comes to this hobby. They offer high quality and excellent color selection, two important things when beginning that new coloring book.
---