Relish in natural luxury at one of the best glamping spots in the United States.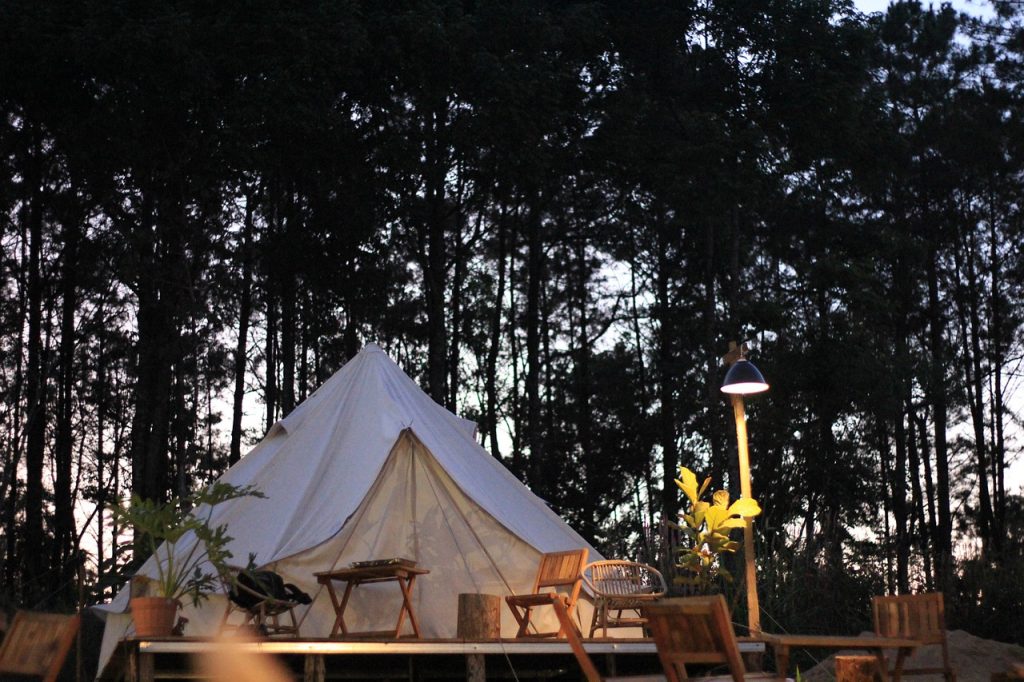 Have you ever wanted to get closer to nature but were never too keen on the idea of sleeping out in the woods with all of the insects and elements? Have you ever been taken in by the allure of sweeping vistas that dot the vast landscapes of the United States but could never stomach the thought of pitching a tent? Lucky for you, becoming one with the great outdoors no longer means you'll be forced to sacrifice the creature comforts of the modern world, all thanks to glamping. 
Glamping seamlessly combines the wonders of nature with the modern amenities of daily life. It's the ideal representation of fusing modern luxury with a setting that will take your breath away. When Glamping, there is no compromising, only memories to be made. Vacations don't get much better than that. This is why we rounded up the very best glamping experiences that the United States has to offer.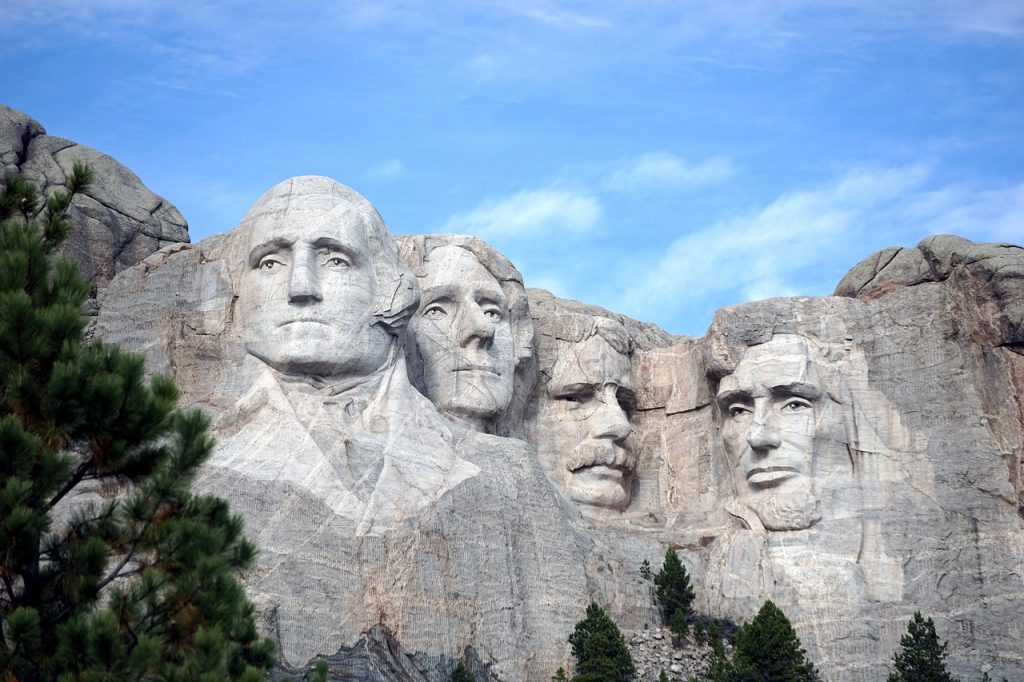 If you've never had the opportunity to be humbled by the imposing and awe-inspiring views of Mount Rushmore then glamping at Under Canvas should absolutely be on your bucket list. Besides its sweeping backdrop, Under Canvas is nestled amongst the Ponderosa pines and juniper of its natural setting. You'll wake up each morning infused with those intoxicating aromas. Custer State Park and South Dakota's Black Hills are just a hop skip and jump away, too. And after a day of exploring you can come back to your cozy cabin tent and be soothed to sleep by the soft sounds of nightfall in nature. 
Accommodations – Under Canvas offers various high-end tent options to accommodate a range of families. Different tents include the Suite, Stargazer, Deluxe, Safari, and Kids Tent models. The Suite option is the perfect choice for families as it can comfortably sleep up to four and it comes with its own private bathroom. The Kids Tent makes for a great experience for the little ones, it fits up to two kiddos. The Safari option is for those who want to rough it a little more as it does not come with a private bath. Safari glampers must use the communal bathhouse. Tent prices vary depending on the time of year you visit. However, typically you can expect to pay around $230/night for the Safari and upwards of $500/night for a Stargazer and Kids Tent bundle. 
Amenities – The glamping experience at Under Canvas Mount Rushmore is chock full of modern amenities. So much so that If living in complete tandem with nature was this easy then more people would do it. Some top amenities include organic bath products, on-site dining, fire pit w/ complimentary s'mores, live music, morning yoga, complimentary battery packs, and West Elm furnishings. What's really nice about Under Canvas, too is that they make every effort to ensure that the amenities they offer are sustainable and leave little environmental impact. For instance, all food is locally sourced and seasonal. This is a glamping vacation that you can really feel good about taking. 
Things To Do – While glamping with Under Canvas you'll be privy to a whole host of things to do. On the adventure side of things, there are guided hikes to take, kayaking tours, bike tours, and combination tours that take the best parts of other adventures and fuse them into one grand experience. Additionally, there are also plenty of things to do while you're at the camp, too. You can expect to partake in trivia games, movie nights, scavenger hunts, and fireside chats, to touch on a few.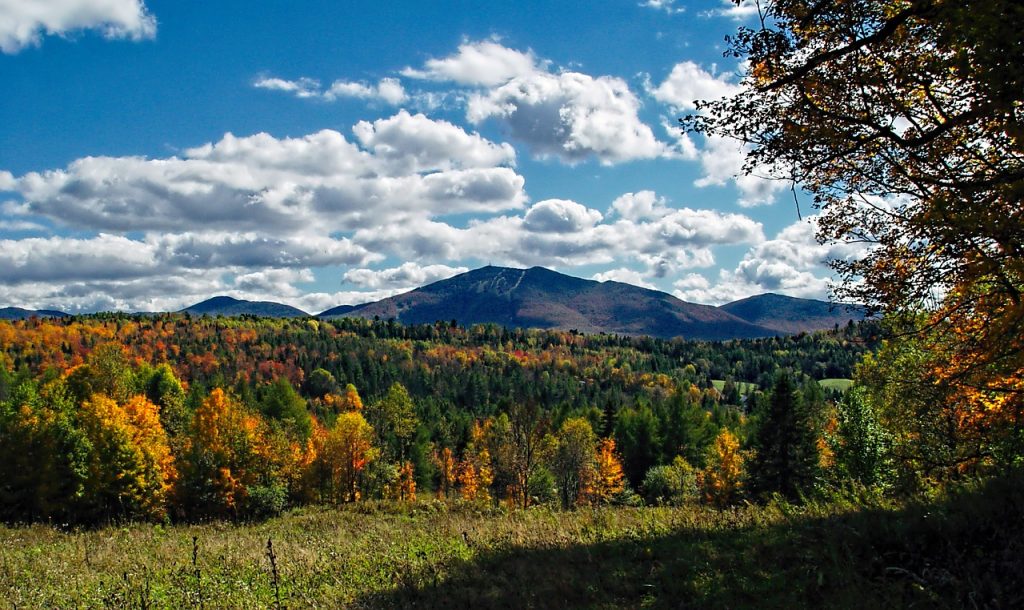 When you were little did you ever have a dream of living in a treehouse? Did you ever want to sleep high up in the branches, so high that you could almost feel the sky kiss your cheek as you marveled at each and every star above? Then you need to go glamping at Moose Meadow Lodge. Set in beautiful New England overlooking a tranquil pond, it is an absolute picturesque fusion of childhood fantasy and breathtaking natural wonder supported by the Green Mountains that embrace it.  
Accommodations – The treehouse itself is a two-story structure held up sturdily by two pine trees. It was constructed using four different types of wood – cedar, pine, maple, and hemlock. The combination of woods used for the interior and exterior serve to perfectly complement the natural ambiance that the Treehouse exudes. There are also 31 windows, so looking out at your serene surroundings is never more than a single glance away. Additionally, there are two wrap-around decks on which to sit out and appreciate the tranquility that envelops you. The Treehouse is open for booking between May and October. Rates start at $650 per night. 
In addition to the treehouse, there is also a main log cabin lodge at this glamping location where you can book a single room. Each room in the lodge is unique and features its own fine attention to detail and finishing touches. You can choose from the Creel Room, Sled Room, Duck Room, and Mountain View Room. Prices start at $325 per night.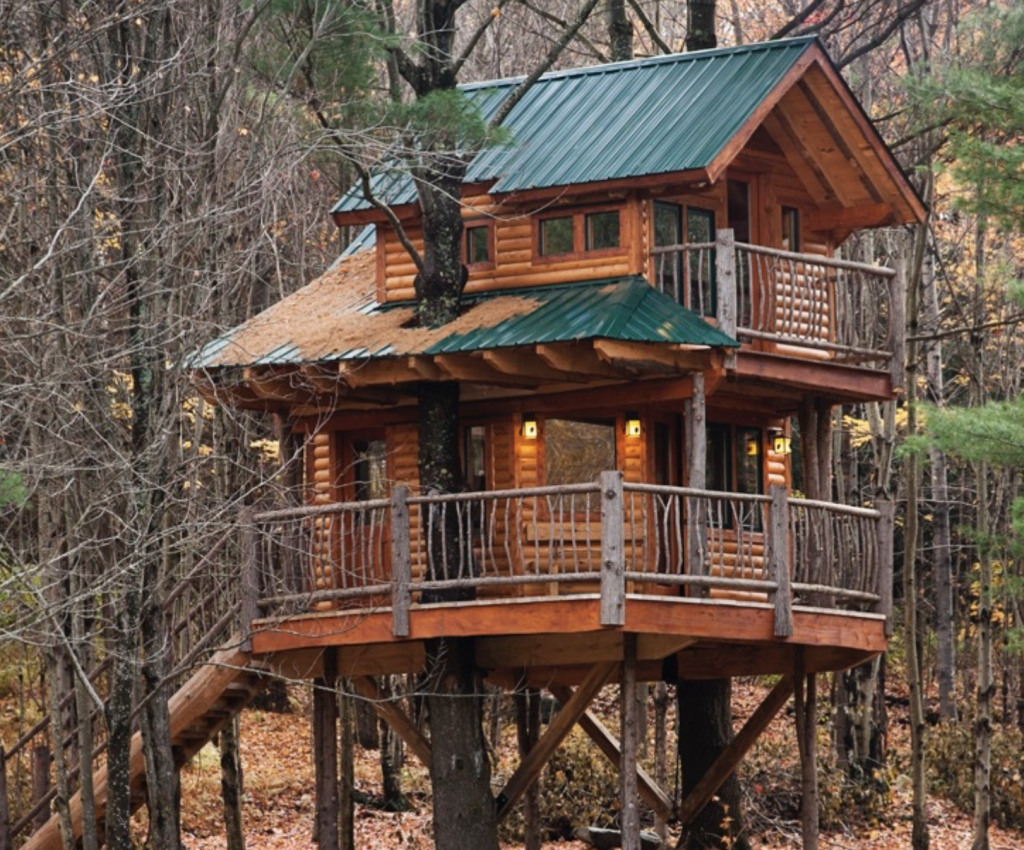 Amenities – Both the main lodge and treehouse are well-appointed. All of the lodge rooms feature their own ensuite bathrooms. Most rooms also have their own balconies. The Creel and Sled rooms are equipped with steam showers. The latter also has a heated floor. The Mountain room boasts a spa-like shower. The treehouse is an absolute work of art and features a loft bedroom as well as its own private bathroom.
Conveniently, no matter where you are glamping in this Vermont resort, room service is absolutely stellar. During the winter, the use of sleds and snowshoes are complimentary. There is a fire pit and an absolutely must-visit mountain-top enclosed gazebo. 
Things To Do – Apart from partaking in skiing, hiking, snowmobiling, or fishing in the nearby Green Mountains and surrounding bodies of water, there are various attractions just a short distance from this superb glamping spot. You can elect to tour the Ben & Jerry's factory and walk away with some yummy ice cream to enjoy for later or go antiquing in the quaint village of Waterbury. Waterbury is also known for its superior craft beer, making it ideal for any malt beverage enthusiast.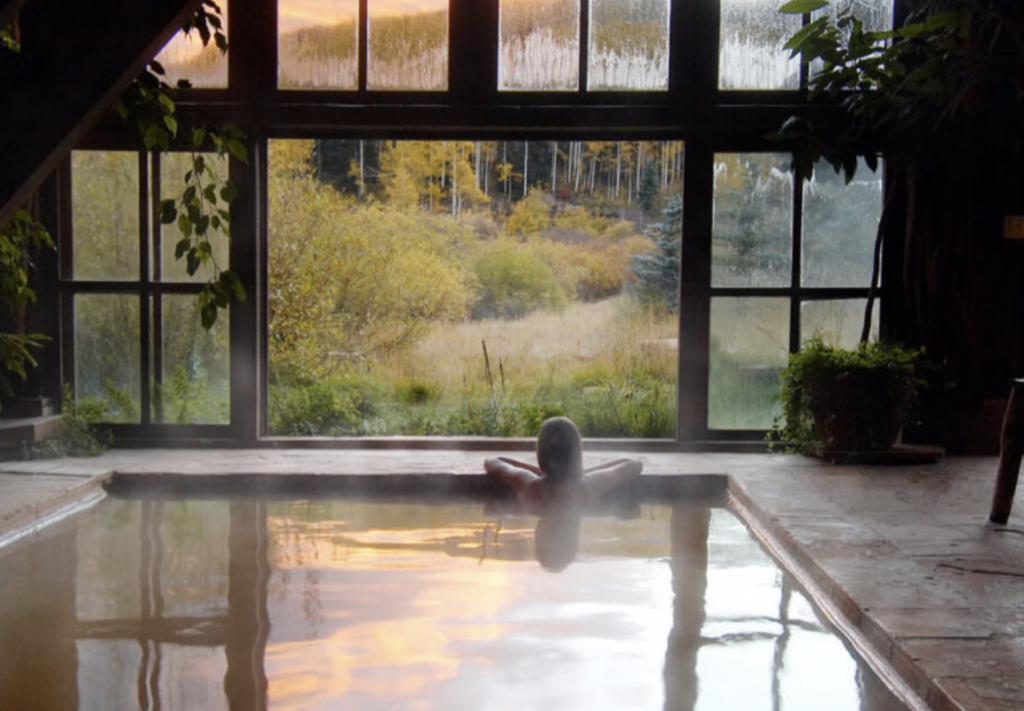 Glamping at Dunton Hot Springs is guaranteed to be one of the most unique and memorable vacations you'll ever embark on. The site is serenely nestled in the sweeping Rocky Mountain San Juan peaks adjacent to the lovely ski slopes of Telluride. Its glamping structures are revivals from remnants left behind by an 1800s ghost town. Glamping at Dunton Hot Springs will make you feel like you've been jolted back to the simpler times of centuries gone by all whilst you relish in modern life's little luxuries. And speaking of going back in time, the Hot Springs themselves are the result of tectonic activity first imbued during the Triassic period after the birth of the Dolores Formation. 
Accommodations – Since Dunton is essentially a revived village, you'll get to choose from an array of uniques cabins for your glamping quarters. There are actually 13 different options from which to pick from. However, staying in Dunton is quite pricey. Nightly rates are currently starting at $1,132, but it is all-inclusive so you won't have to worry about any added expenses while on your glamping excursion. Additionally, all of the cabins have their own private bathrooms, and if you splurge to stay at the General Store cottage you'll even have access to your own soaking pool set underneath the backdrop of the surrounding mountains.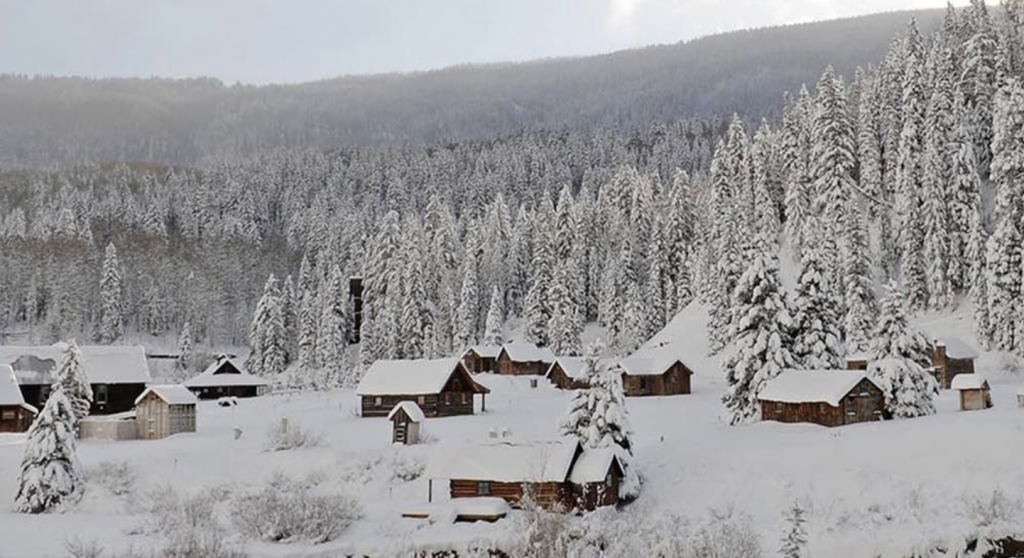 Amenities – Amenities at this glamping spot are plentiful, not only can you bask in the glorious mineral infusions of the hot springs at your leisure but all cabins are equipped with luxurious linens, full kitchens, and Wi-Fi for all your tech-centric needs. There is also a lovely on-site spa to take advantage of. 
Things To Do – We could be here for hours listing all the things to do at Dunton. However, some highlights include horse backing riding, fly fishing, mountaineering, hiking, and rafting. If you visit in the magical time of winter you'll be able to snowshoe, ski, and take horse-drawn sleigh rides in the Nordic High Meadows. 
COLLECTIVE YELLOWSTONE – BIG SKY, MONTANA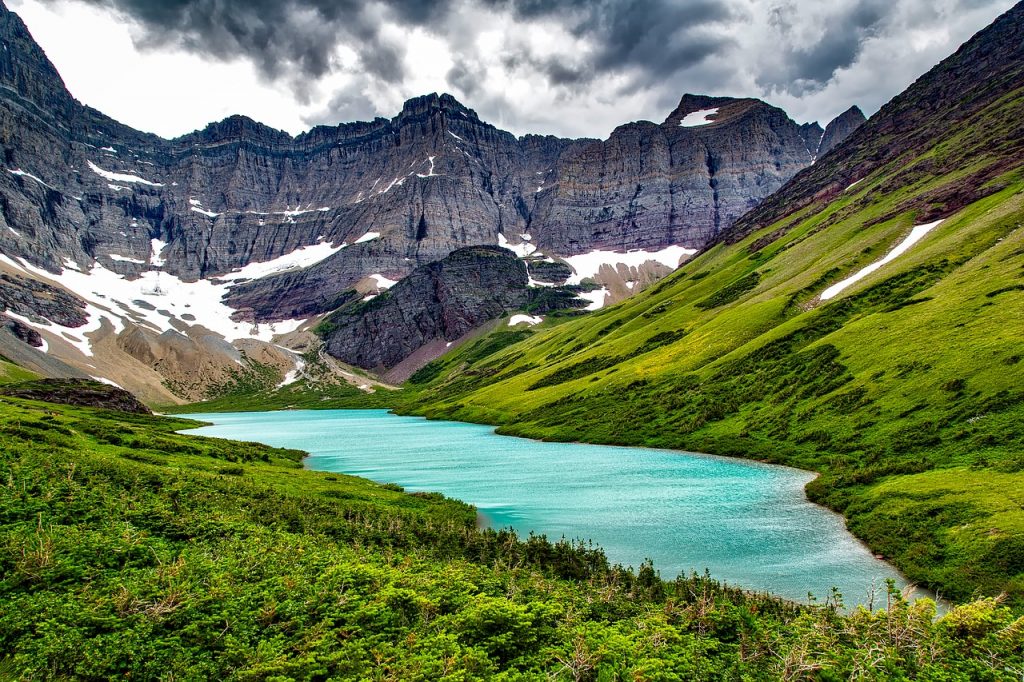 Glamping at Collective Yellowstone is where the best parts of exploring the backcountry mold seamlessly with the finer luxuries of life. The Collective Yellowstone site is situated merely an hour from Montana's claim to the behemoth National Park. You'll rest under the ceiling of Big Sky's Moonlit Basin and be enveloped by vistas that will become permanently imprinted recollections in your mind. 
Accommodations – Collective Yellowstone features a single type of signature tent to serve as your glamping abode. Aptly donned the title of Summit tent as an homage to Montana's spectacular mountain skyscrapers, you'll sleep soundly in a King size bed, have your own bathroom stocked with sustainably sourced toiletries, and a wood-burning stove so you can stay nice and toasty. Unfortunately, right now this stellar glamping site is temporarily closed. However, you can sign up for updates to be notified when it reopens so you can be one of the first to book your tent.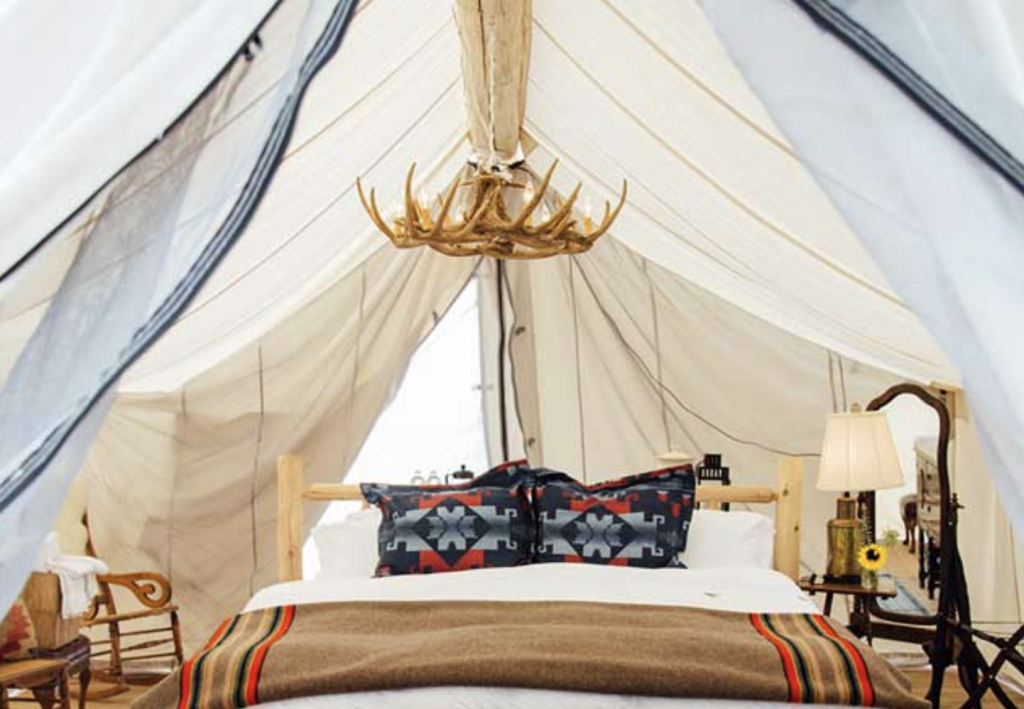 Amenities – Some nice amenities include complimentary breakfast, in-tent massages, unlimited access to hot running water, and linens with a satiny smooth 1,500 thread count. What more, is the food is all farm to table. Hence it changes seasonably and is all locally sourced. 
Things To Do – If you came for the great outdoors, the outdoors is what you will get out of this great glamping spot. You can go fly fishing, hiking, mountain biking, whitewater rafting, horseback riding, and zip-lining. Not to mention with Yellowstone so close by even more nature will be beckoning you to come to explore it.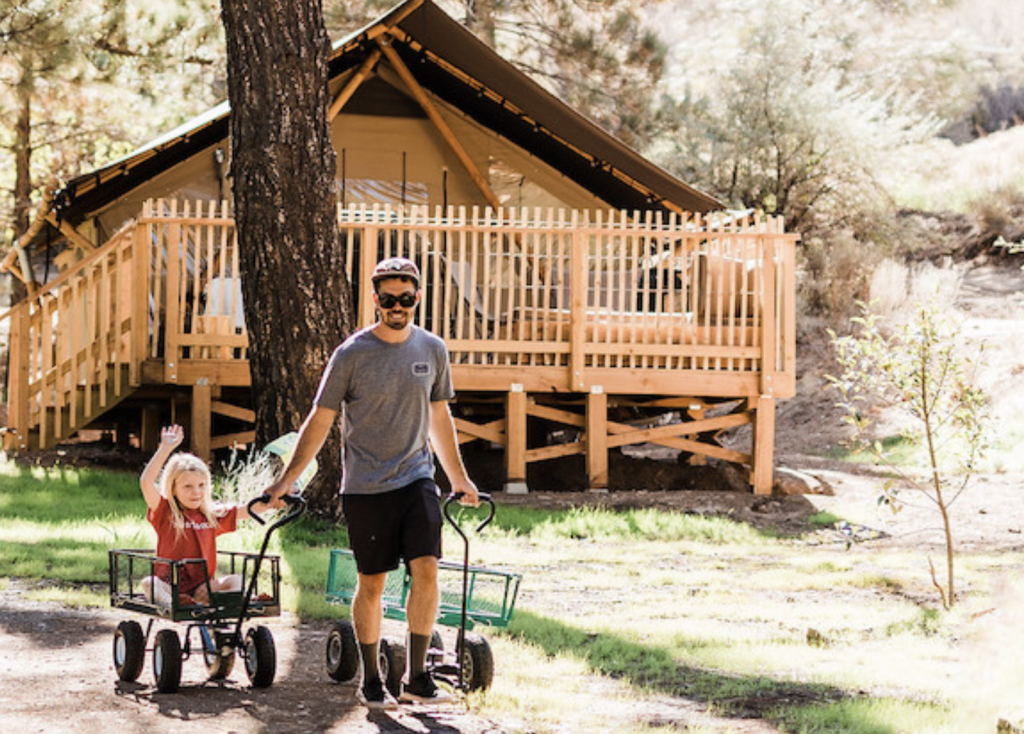 Glamping at Huttopia's Paradise Springs location is one of the premier ways to experience the sheer splendor of California's untouched wilderness. It is situated snugly within the San Gabriel Mountains smack dab in the middle of the Angeles National Forest and has a history that hails back to the stars of Hollywood's golden age in the 1920s. At Paradise Springs you get to soak in the footsteps of where the likes of Humphrey Bogart, Charlie Chaplin, and Clark Gable once vacationed to escape the stresses of A-list fame. 
Accommodations – There are two types of cabins in which to glamp in – the Trappeur Pacific and the Canadienne. Both lodges can accommodate up to 5 people. And each one features its own kitchen, bathroom, deck, and outdoor Bbq. Bookings for glamping at Huttopia's paradise springs location are scheduled to open in Spring of 2022 at which time pricing will be announced.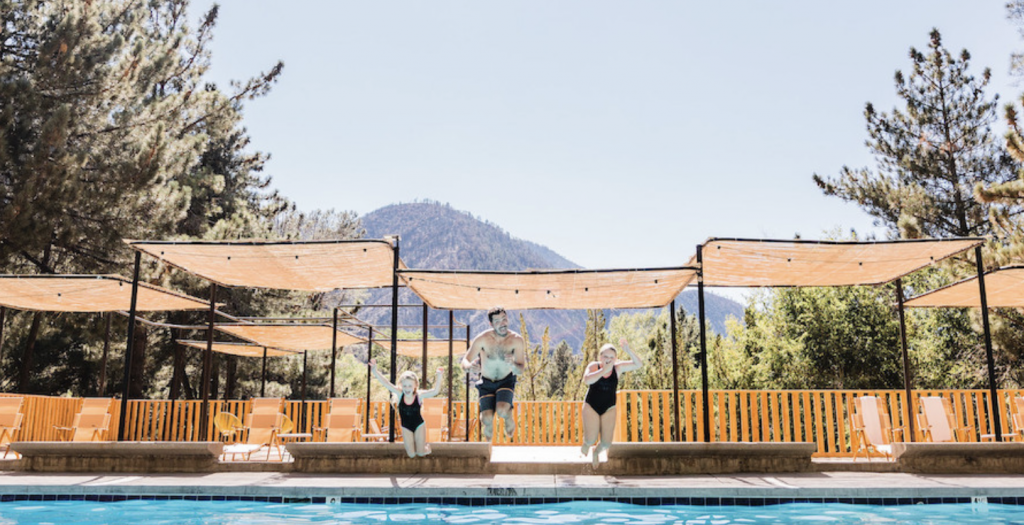 Amenities – Some nice amenities include eco-friendly toiletries, down blankets, and electricity in every cabin. Conveniently, there are baby kits that will be made available if you are traveling with little ones. And you get even to bring your fur babies along if you choose this glamping experience! 
Things To Do – One must-do while glamping at Paradise Springs is to make sure you take a tip in the fresh spring water pool. The pool was restored from the original that was first constructed back in the 1920s! Some leisure activities include foosball, ping pong, and board games galore. You'll also have plenty of opportunities to stargaze and explore the nearby trails. 
THE CONCLUSION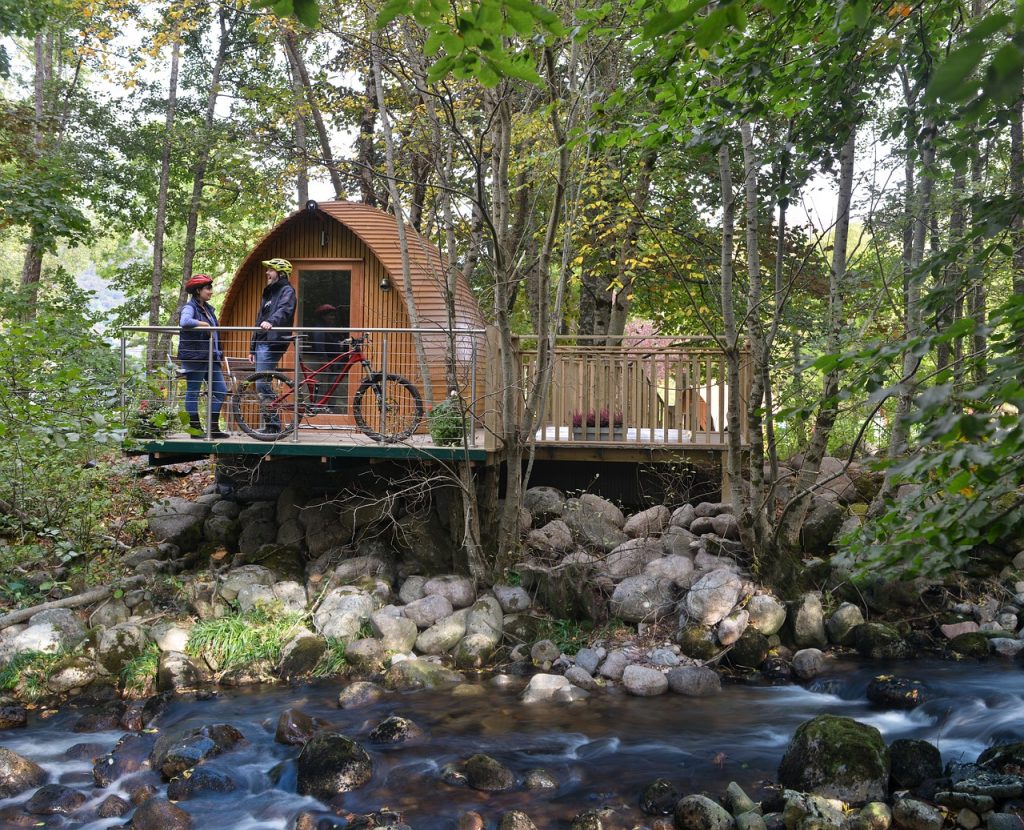 Glamping is the ideal great outdoors experience for those not too keen on pitching a tent or sleeping out in the elements. It is the perfect fusion of modern luxury and unbridled nature. Don't delay in affording yourself the opportunity to soak in some of the most beautiful vistas imaginable whilst enjoying the sumptuous ambiance of the surrounding natural world while cozily nestled in the warm embrace of your well-equipped cabin. We rounded up the best spots for you, so take your pick and get on with glamping!