Best Buy is rolling out an e-waste program that will allow consumers to mail in their unwanted and outdated tech to be responsibly recycled.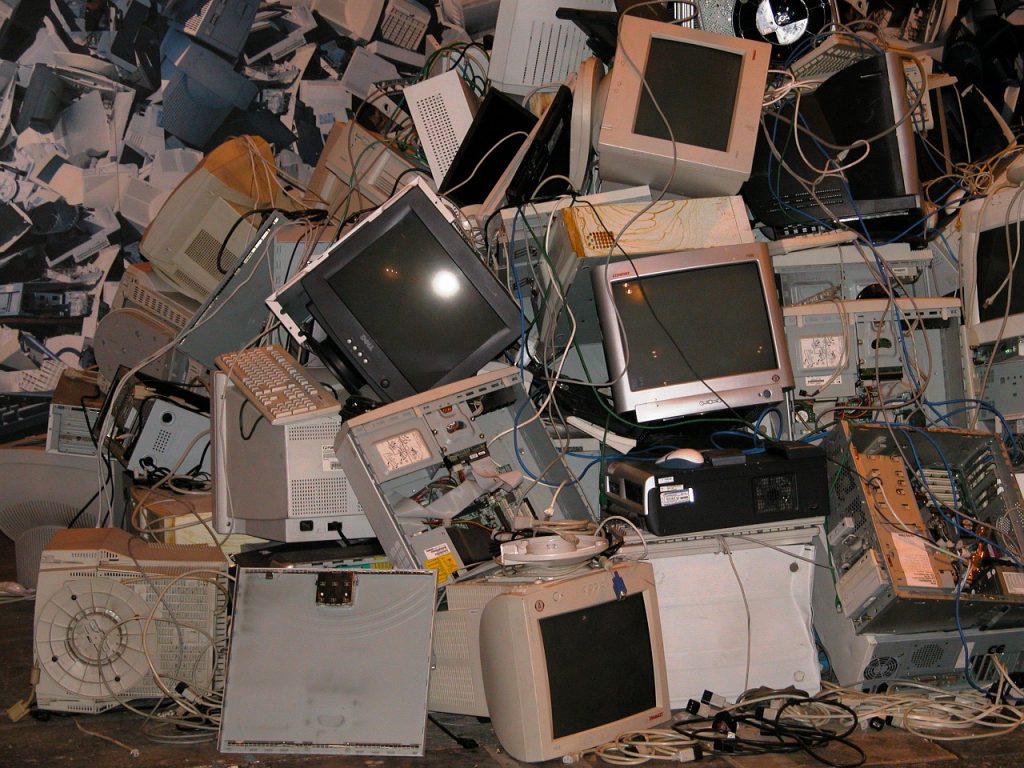 It's a question most of us have pondered after upgrading our phones or tablets: what do we do with our old devices? Recycling outdated tech makes more sense than tossing them into a drawer or closet. Now, it's easier than ever to dispose of electronics, thanks to a new Best Buy "e-waste" recycling service that allows consumers to mail in their old tech devices.
Best Buy is the nation's largest retail collector of e-waste, or discarded products with a battery or electrical plug. So far, the company has recycled 2.7 billion pounds of old electronics and appliances, and the new program is designed to further its environmental efforts. The mail-in disposal service will be available to Best Buy customers nationwide, but it does come with a cost.
According to Retail Dive, a small recycling box measures 9x5x3 inches and costs $22.99. It can carry up to six pounds. A medium recycling box measures 18x14x4 inches and can carry up to 15 pounds for its $29.99 fee.
Consumers can order the prepaid Best Buy Technology Recycling Box from the company's website. After filling the box with old devices and cords—up to the weight limit—simply take it to your nearest UPS store. If that's inconvenient, you can also call UPS to arrange for a pickup.
Best Buy will not accept the boxes at any store locations. But if you live near a store, save your money and take advantage of their free everyday recycling program. Consumers can drop off up to three electronics per household per day at brick-and-mortar Best Buy stores.
Of course, the devices should be cleared of any personal information before recycling. "Best Buy recommends that all customers remove or wipe data from their device before submission. Customers are solely responsible for the removal or wiping of their data at their own discretion prior to shipping the device to be recycled," their website states.
Once Best Buy receives your electronics, a service partner will destroy any remaining data. Then the products will be sustainably recycled into raw materials that can be used to make new electronics. This involves breaking the old devices into different components, such as glass, plastic, and metal, and responsibly removing substances of concern, like lead.
The website includes an extensive list of items that cannot be shipped in the recycling boxes, including loose batteries, smoke detectors, and any devices containing mercury. It also includes some rather humorous items that make you wonder what people have sent in before. For example, glow sticks, lava lamps, gas line trimmers, and trash are specifically prohibited.
Best Buy also offers other options for e-waste recycling. Customers who purchase a new television, major appliance, or piece of fitness equipment from Best Buy can have their old ones hauled away for a small fee. The company also has a standalone pick-up recycling service where non-customers can have up to two large products and certain smaller products hauled away and recycled for $200.
E-waste is the fastest-growing type of solid waste worldwide. The global population generates around 50 million metric tons of e-waste every year, which is the equivalent weight of 5,000 Eiffel Towers. A collaborative report between The Solving the E-waste Problem Initiative, The Sustainable Cycles Programme, and The International Environmental Technology Centre says that number is forecast to double by 2050.
---