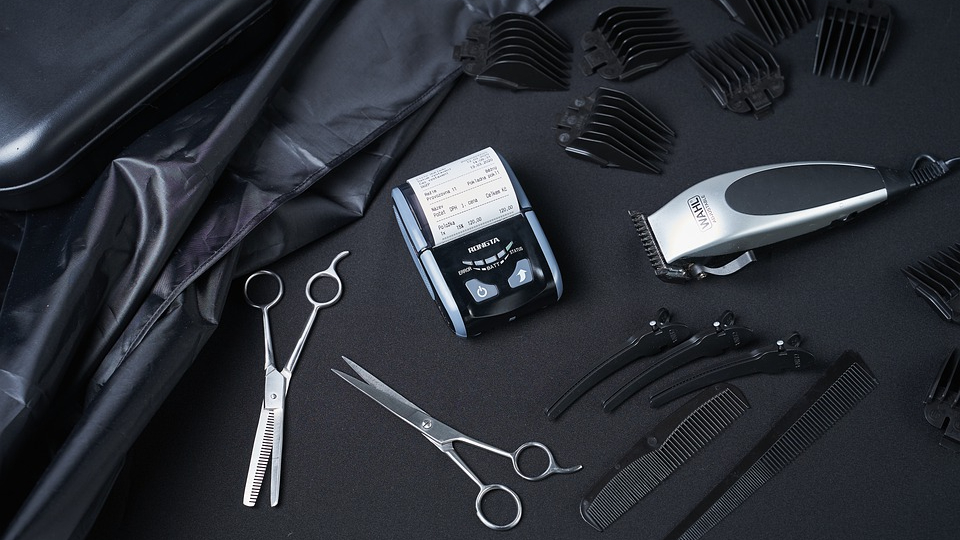 When the COVID pandemic shutdown hit the nation, it forced many of us to completely rearrange our normal way of life. No longer were we able to just casually stroll outside. No longer were we able to just casually stroll into stores or movie theaters. Worst of all no longer were we able to stroll into a beauty salon or barbershop. Many of us were forced to purchase a nice barber kit to keep from donning the shaggy look.
Unless you were a Hollywood starlet or Nancy Pelosi, finding yourself a barber kit to trim your bangs and clean the scruff off your neck turned into an all-important task. True, you weren't allowed to venture out much, but those of us who started working from home had to look somewhat presentable on those Zoom meetings.
A good barber kit will offer potential hairdressers and barbers a variety of cutting attachments to go along with either a corded or rechargeable clipper. It should have various trim lengths and some attachments may even be fading hair combs.
Some barber kits will include different size blades along with trimming tools for the ears and nose. Some will simply include the combs. A solid motor is a key to a good clipper, one that won't clog and one that won't fail you during that key cutting moment.
To help you out, on the possibility we may see ourselves tucked away from the public by way of another pandemically-related shutdown, we have put together a solid list of five of the best barber kits we could find. We've based these on options, reviews, and prices.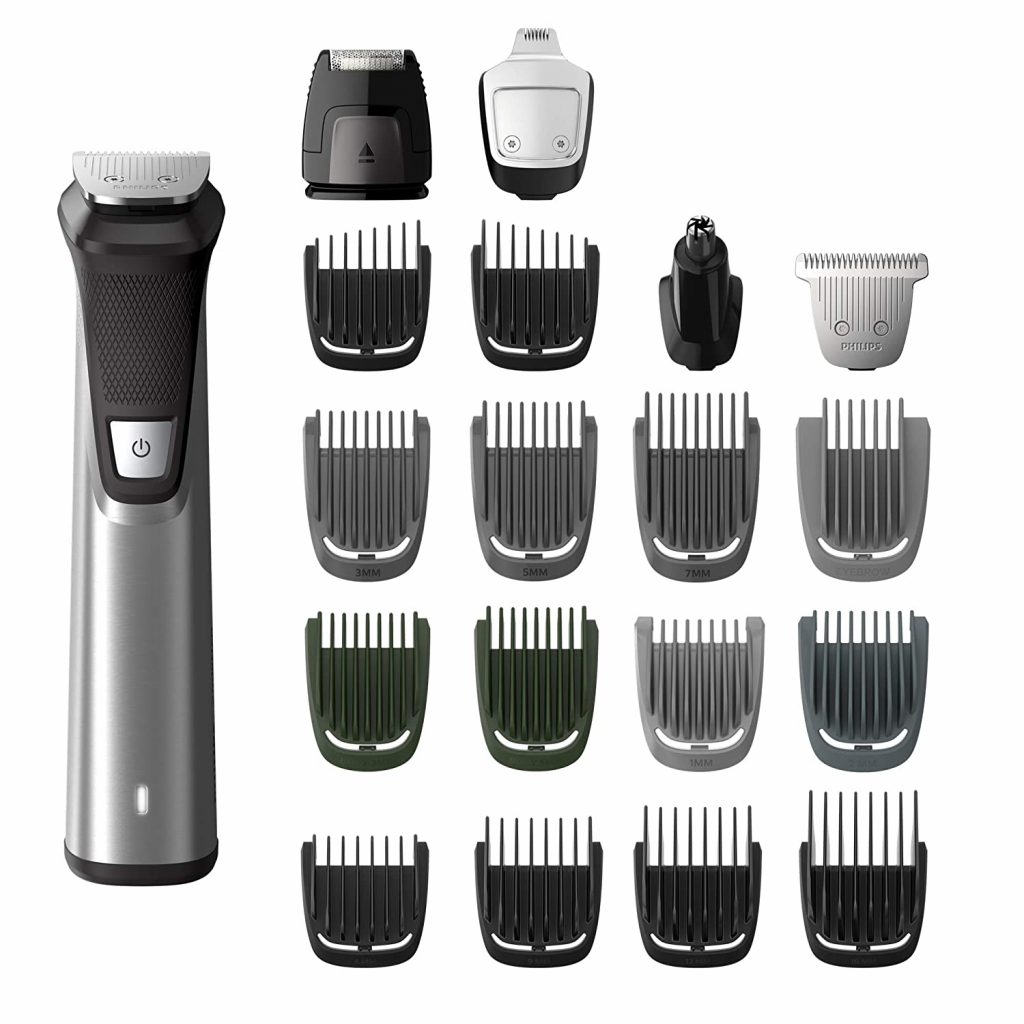 WHAT WE LIKE – When you think barber kit, the Philips Norelco Multigroom Series 7000 should be one of your first thoughts. This is a very popular and solid all-in-one kit that is rechargeable with self-sharpening blades.
The trimmer, which can take care of your head as well as your beard, comes with 19 trimming attachments that include two sizes of blades as well as nose and ear hair trimmers. Of the combs, there are two fading combs as well as combs for your body, combs for your head, and combs that can neatly tailor your beard and sideburns.
The Multigroom Series 7000 also employs a lithium-ion rechargeable battery that can run up to five hours without needing a charge. This clipper is also very easy to clean as it can simply be run under the faucet to wash out the hair.
PRICE – $44.95 on Amazon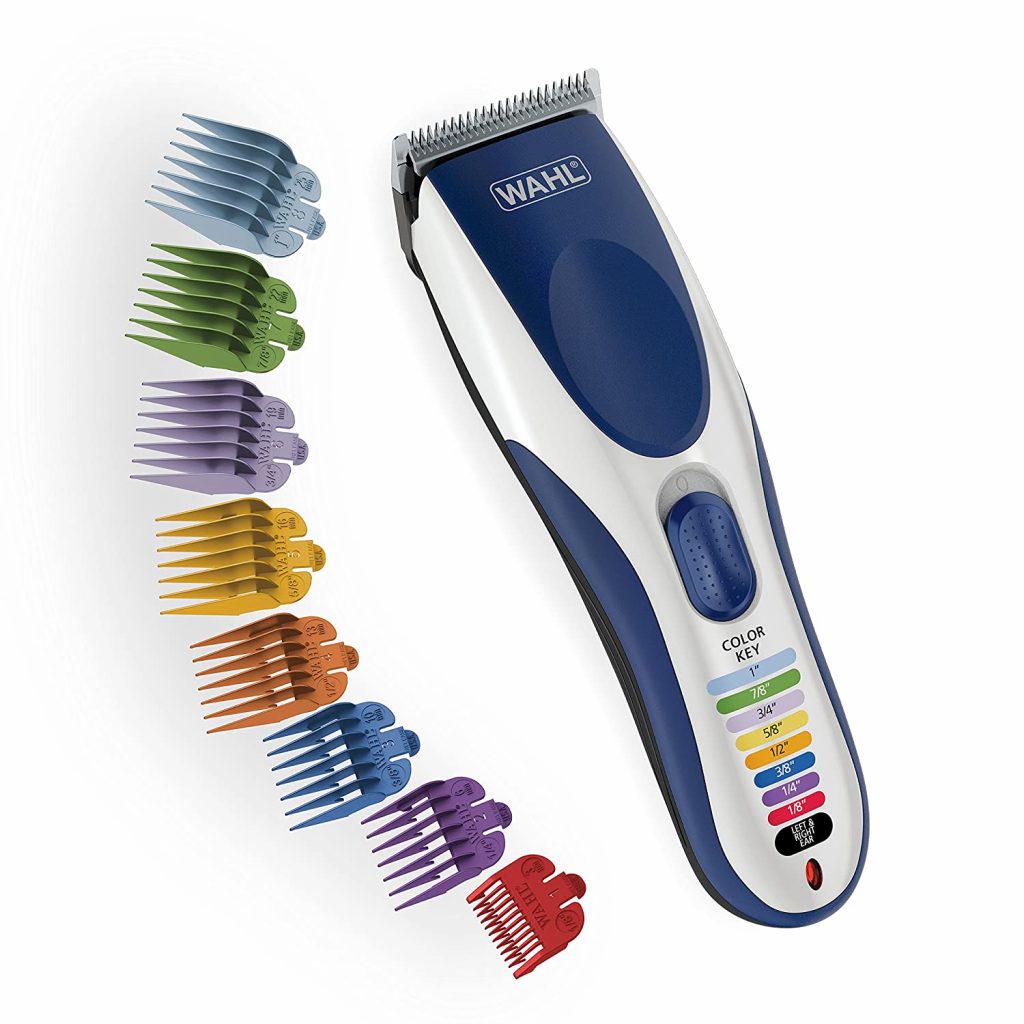 WHAT WE LIKE – There are numerous things to like about the Wahl when considering your purchase of the best barber kit. First off, this device is cordless and offers up to 60 minutes of cut time. This is also a device that you can take anywhere in the world as it offers dual voltage.
What is nice about this Wahl is that all the combs are color-coated. They can be matched up with the color key that is displayed on the cutter's handle, making precise blade lengths a snap.
Article continues below headlines
---
Along with the colored combs, this is a haircutting kit, which means it also comes with a carrying case, regular hair combs, scissors, and a charger. The blades are removable so cleaning the clipper is as easy as rinsing the blades under warm water.
PRICE – $27.43 on Amazon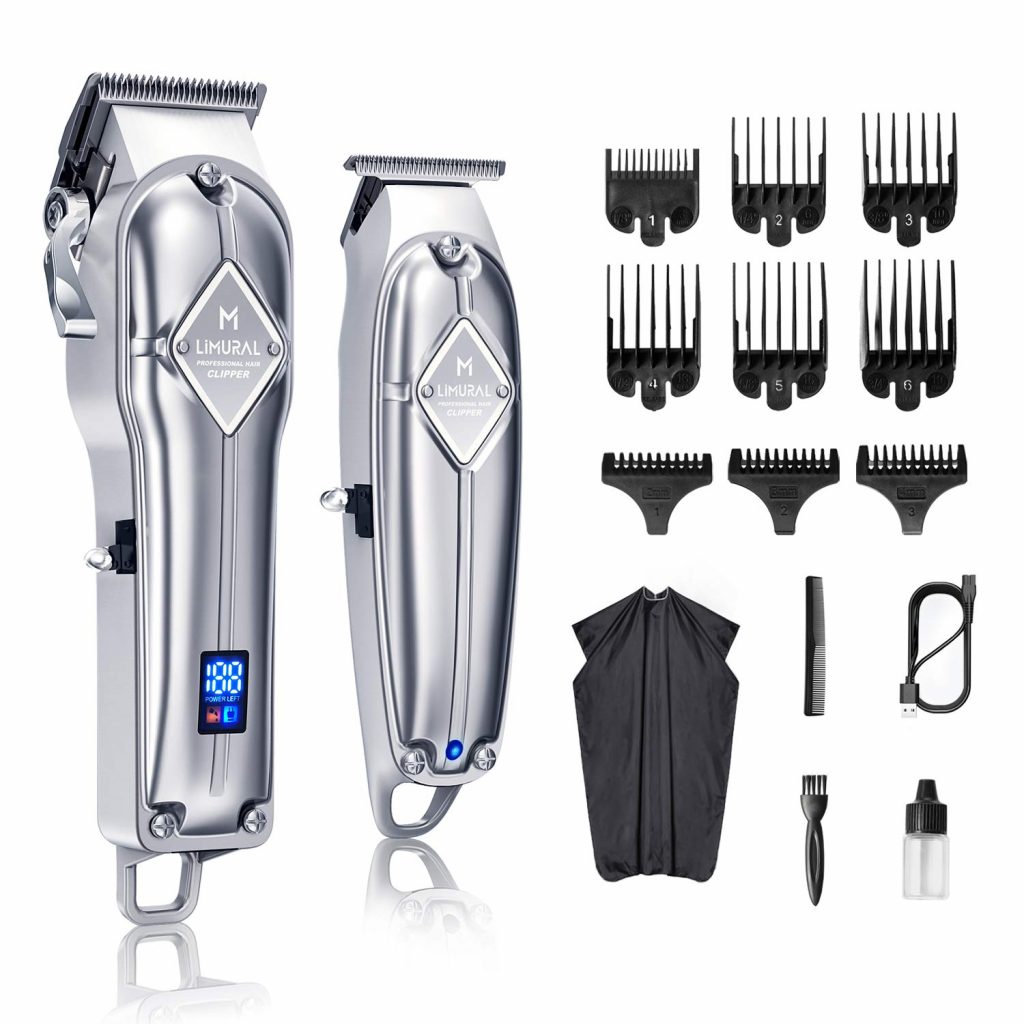 WHAT WE LIKE – This Limural barber kit is what we like to call a two-for-one as it comes with one hair clipper and one hair trimmer. Both devices are cordless rechargeable clippers/trimmers.
With the hair clipper, potential barbers or self-cutters have 9 comb attachments. With the hair trimmer, it comes with 3 comb attachments.
On a three-hour charge, you will get a solid 300 minutes of cut or trimming time and if you are one who travels a lot, even to different countries, the Limural will also charge internationally.
Another great feature for the Limural is the LED display which shows how much battery time you have left on its current charge, so you won't run out of power during your hair-cutting or trimming adventures.
PRICE – $63.36 on Amazon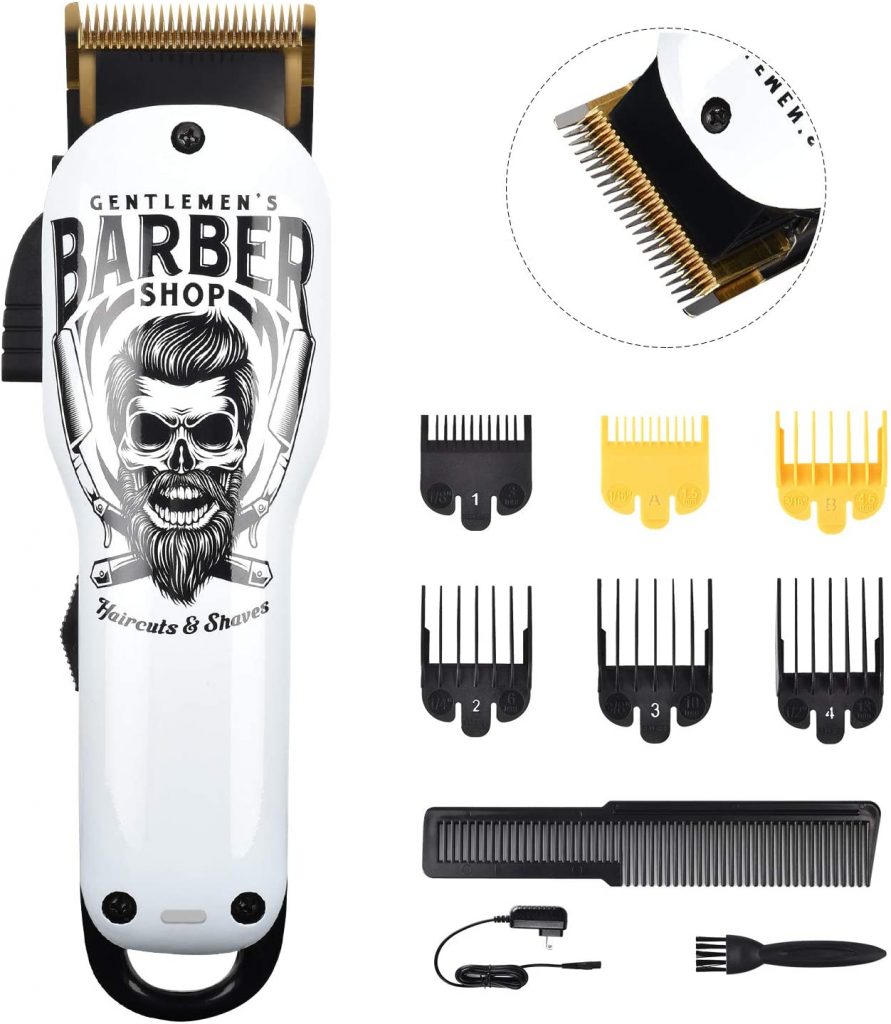 WHAT WE LIKE – The first thing that immediately stands out about this barber kit is the cool-looking design it features on the handle. It's called the Gentlemen's Barber Shop and along with that writing, it also has a hairy skull that is in definite need of a trim.
The device is rechargeable, and its 3-hour charge time will get you up to 240 minutes of work time. For tapering, the clipper has an adjustable taper level. The blades are self-sharpening with a motor that is one of the quietest on the market. The only thing that was even slightly a bummer about this product is that it only offers 6 guide combs for your styling needs.
PRICE – $39.99 on Amazon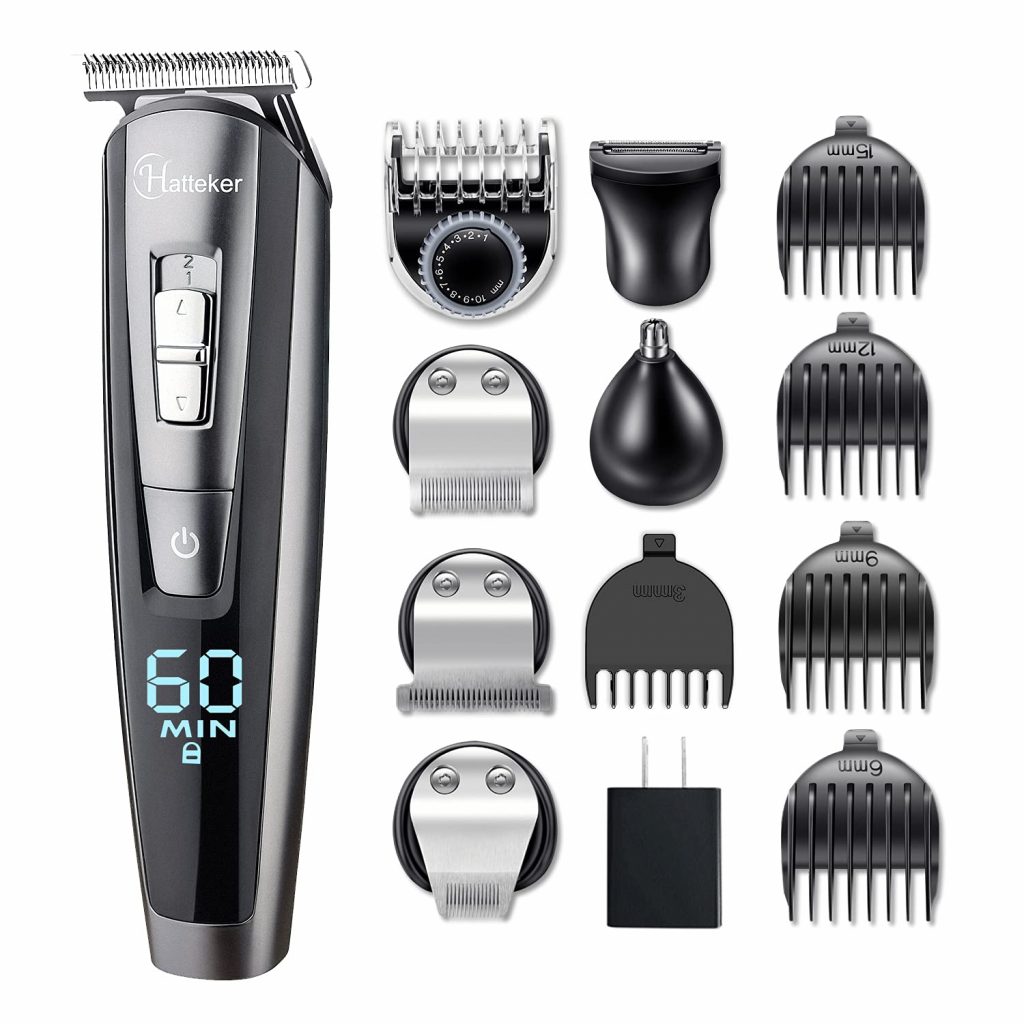 WHAT WE LIKE – Hatteker's all-in-one barber kit is another device that offers users more than just a simple haircut. The rechargeable, waterproof clipper does it all. The clipper comes with 1 adjustable comb that offers 10 different cutting lengths and 4 separate trimming combs. The Hatteker can trim your head, along with your beard and body. There are also attachments that allow you to also trim ear and nose hair.
This device comes with an LED read-out that shows you how much time you have left on your charge. A one-and-a-half-hour charge will get you 60 minutes of uninterrupted cutting. The unit is also easy to clean as you can run it under warm water to clean the blades.
PRICE – $33.99 on Amazon
HAIR TODAY, GONE TOMORROW
It is worth noting that most of the above barber kits are designed with men in mind. But that is not saying ladies, as well as children, wouldn't be able to get some good use out of them. Options are always good to have when it comes to barber kits. Those kits with numerous attachments are very popular and they also offer great prices. None of the above are bad choices but keeping price and attachments in mind, the Philips Norelco Series 7000 looks to be the best deal for its price. Happy trimming.