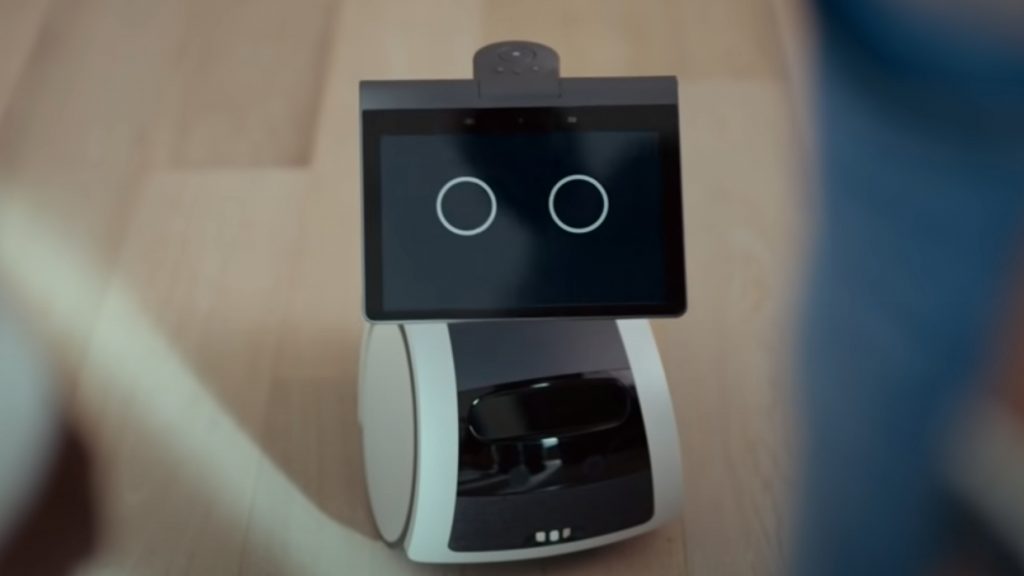 Amazon recently unveiled a number of new products they are getting set to unleash and included in the mix is Astro, a mobile Alexa robot. This Amazon Astro robot has the capability to capture the layout of your home, it can follow you around on video calls, and it can also recognize people's faces.
The Amazon Astro, in theory, would track your household members' behaviors so it can perform its designed surveillance and helper duties. Unfortunately, according to leaked documents and video recordings centered around Astro's software development meetings, it's a system that is heavily flawed.
The leaked documents, which call Astro by its internal codename "Vesta", not only speak of the robot's flaws through its design but also talk about Amazon's philosophy, how Astro can track behavior, it provides flow charts on how it determines who is a "stranger," and if the robot should take any type of "investigation activity" against the possible stranger.
For $999, you can get what Amazon calls "peace of mind." Amazon Astro is a surveillance device that uses machine learning to "proactively patrol your home, investigate activity, and send you notifications when it detects something unusual." The robot allows users to save videos via Ring, Amazon's home surveillance system and Astro even has an extendable periscope for even more "security."
After your purchase is made, you will be asked to enroll your face and voice. If there are others that live in your home, they too will be asked to enroll so the Amazon Astro will know each family member. This already sounds fairly creepy and intrusive.
One leaked file explains "Vesta's" initial directive. "Vesta slowly and intelligently patrols the home when unfamiliar person are around, moving from scan point to scan point (the best location and pose in any given space to look around) looking and listening for unusual activity," it reads via Vice. "Vesta moves to a predetermined scan point and pose to scan any given room, looking past and over obstacles in its way. Vesta completes one complete patrol when it completes scanning all the scan points on the floorplan."
Astro uses Sentry, software, and components aimed to control its security features, which will work with Ring cameras and Amazon's home security service, Alexa Guard.
This software will help Amazon Astro detect things it thinks is out of the ordinary. When this happens, the robot will investigate. As another file reads: "Sentry is required to investigate any unrecognized person detected by it or Audio Event in certain set of conditions are met," one file reads. "Sentry should first try to identify the person if they are not still unrecognized for as long as 30s [seconds]. When the person is identified as unknown or 30s passed, Sentry should start following the person until Sentry Mode is turned off."
This all sounds like a nice, albeit intrusive, setup. But according to a couple of developers working on Amazon Astro, the versions they worked on did not perform well at all.
"Astro is terrible and will almost certainly throw itself down a flight of stairs if presented the opportunity. The person detection is unreliable at best, making the in-home security proposition laughable," said one source who worked on Amazon Astro. "The device feels fragile for something with an absurd cost. The mast has broken on several devices, locking itself in the extended or retracted position, and there's no way to ship it to Amazon when that happens."
For $999 on Amazon, this doesn't sound like a ringing endorsement. Believe it or not, it does get worse.
Article continues below headlines
---
"They're also pushing it as an accessibility device but with the masts breaking and the possibility that at any given moment it'll commit suicide on a flight of stairs, it's, at best, absurdist nonsense and marketing and, at worst, potentially dangerous for anyone who'd actually rely on it for accessibility purposes," this same source revealed.
Another source offered their viewpoint on "Vesta" stating that navigation and privacy were the main concerns. Because of navigation, falling down a flight of stairs is a real possibility, they say. Privacy could also become a nightmare, they feel, as trading privacy for convenience is becoming a societal issue.
Another big concern the unnamed developers had was Amazon Astro's ability to recognize faces. In their testing, they say the facial recognition performed poorly at best, which became a major issue for a robot that is designed to follow people around to determine who is a stranger and who isn't.
To make all of this work, the Amazon Astro is controlled by an app. With this app, users will have the ability to send Astro to check on any room in the house (providing you don't have to send it up or downstairs), any person, or thing that may seem out of place. You can also send it in to check on the family pet.
With the voyeuristic nature of the robot, some people are rightfully so concerned as to what the robot will see and what will actually be recorded on its system for others to see or monitor. Amazon, though, says you can have peace of mind in that users will be able to set out-of-bound zones around the house, for instance, a bedroom or even a bathroom.
With all these document and file leaks about Amazon Astro's deficiencies, Amazon was forced to address them. They responded to a story in The Verge with this statement:
These characterizations of Astro's performance, mast, and safety systems are simply inaccurate. Astro went through rigorous testing on both quality and safety, including tens of thousands of hours of testing with beta participants. This includes comprehensive testing on Astro's advanced safety system, which is designed to avoid objects, detect stairs, and stop the device where and when necessary.
Is it worth it? Are you willing to shell out over a grand on a robot designed to keep you safe but whose developers question the make and privacy issues?
Maybe the Amazon Astro needs a little more work. If you're interested, though, you can check out what Astro is all about below. Maybe that will help you decide.