The pool is a game of fractions and sometimes the eye fatigue can make you bored and not analyze the small fractional mistakes you are occasionally doing. If you are in such a situation then it is now time for change because a fresher look at the balls can help you spot the problems at your game and fix them.
Alternatively, a unique billiard ball set can make you feel good and fresh. Another advantage is that you can keep the fancy set for the guests. You should have a good bool ball set for personal usage and another set that will make your table beautiful and impress your guests or friends.
These balls are more of ornaments and not a reliable set especially if you are looking to play a professional game. However, nothing is certain maybe in the future the trends would change and even the professional players would be playing with these pool balls which also work of art.
Here are our pick of best uniquely designed fancy pool balls which are great for personal use or for gifting to a close friend.
Japer Bees Pool Balls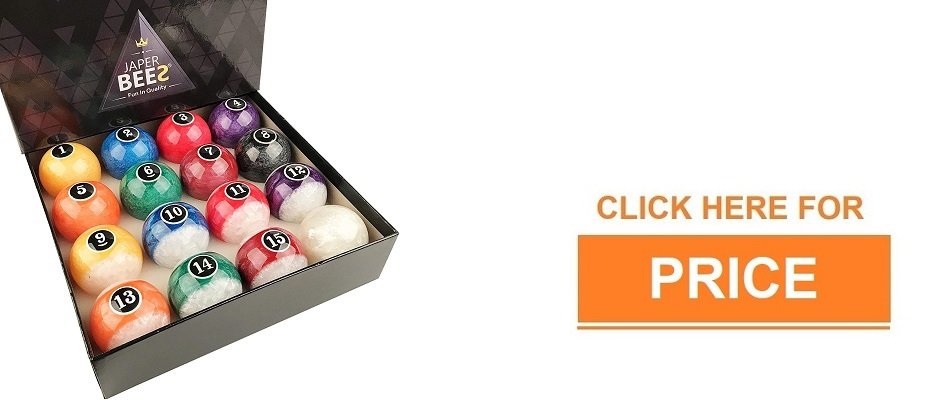 What makes them unique is the glossy wet and frozen look. Yes, it is quite a combination from far away the balls look as if someone took them out after soaking them in water. When viewed closely the interior appears as if it is had liquid inside which was frozen in a hurry.
As mentioned above these are recreation balls do not expect them to level up your game rather expect them to impress your guests or they can offer you a different experience from the usual pool ball set.
The weight of the balls is 75% of the normal pool ball weight. Yes, it can create a difference because pool is a game of linear and angular momentum. The amount of force will decrease when the balls collide with each other as mass is the significant contributor of the force.
McDermott Galaxy Series Pool Balls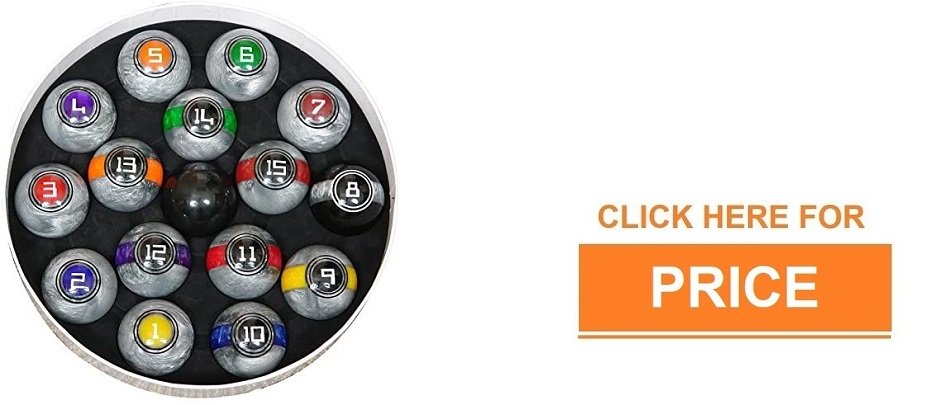 The first impression of these balls seems as if they are metallic but closer inspection really surprised me because they are in fact lunar. McDermott has tried to give the impression as if these balls are crafted from the moon rocks. That sounds really cool! But you would have to educate your guests about them immediately because the first notion is metallic for an average human.
Another thing that makes this billiard set unique is the black color of the cue ball. It can really change the mindset and offer a new look to the game but be careful because it can be a little difficult to hit a black cue ball at the right spot with the cue tip. It is easy to mistake with the black color and investment in a good pool cue can help you get away with occasional miscues.
Unlike the Japer Bees unique billard set these balls are made of regulation weight. You can carry on the same experience as you had with your regular pool ball sets. Although I like the look of the Japer Bees but from experience, these balls won't hurt your muscle memory and I would recommend them over Japer Bees every day.
Epco Clear Rocco Style

Just look at them they are transparent! That has to be unique and make them stand out. You should have a good felt because a dirty or a burnt cloth would mar the beauty of these.
I was very interested to know how they achieved this see-through look, as suspected it turns out they are using a different resin than what is regularly used to make a pool ball. The consequence of using a clear resin is that the density of the material is lesser than bakelite and as a result, these balls cannot be produced in regulation weight with the regulated pool ball size.
They do look great and have the same weight as the Japer Bees. The transparency although is great but I will fancy Japer bees over the Epcos because the look of Japer is still more unique and refreshing the transparent look of the epcos.
Aramith Camouflage

Aramith needs no introduction we have reviewed their pool balls set of different categories in great detail. From premium, premier and tournament balls it is great to see that they are making unique billiard balls set as well.
For those who have a tactical gear the camouflage pool balls set would look great on your table. They are regulation weight and size. Aramith can not do the mistake of making lighter balls. They are champions in making pool balls set for decades.
I am personally not a fan of the look, if I were to invest in regulated unique billiard balls set then I would rather go for the McDermott because they truly feel better and unique in comparison with the Aramith. The debate at the moment is to get a beautiful unique set and I feel Aramith can do better in terms of design
GSE Marble Balls

Unique in terms of look but not as beautiful as other balls set in this review list. They offer the look of finished marbled, finely ground smooth surface like a kitchen top. But I would fancy this billiard ball set only if I were on a budget and needed a set that has regulation weight and size.
So for those on a budget but are looking for a different visual experience then this ball set is a good option. However, do remember that this set may not really give you a unique billiard ball set experience.
Imperial NFL Set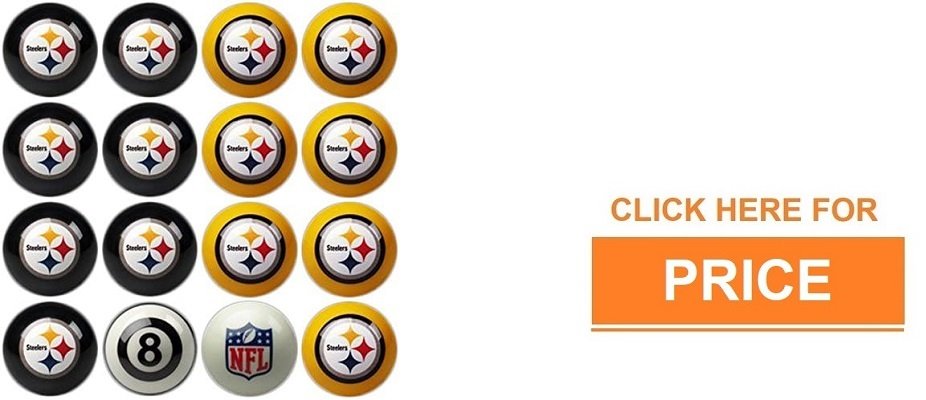 Officially produced by collaboration with the NFL. I found them very clever because they cover almost everybody. Fan of any team can order a custom ball sets whether you are a Steeler, Texan, Vikings etc you can get your favorite team logo printed on the object balls.
The NFL logo would go on the cue ball. So if you are someone who is making his man cave themed around your favorite team then this set would be ideal for you.
They come with regulation size and weight but given the price, I feel they are overcharging for shipping a themed pool ball set. For pure fans, the price may not be a point of concern but what makes me worried is that the balls are not even-numbered. You may get these as ornaments but you will have difficult times playing with them.
For 8 Ball versions, the balls would work fine but for numbered games, I think you will need to find a solution.
Empire Glowing Set

Talking of uniqueness these balls have gone somewhat miles ahead in uniqueness. As the name suggest they glow in the dark like neon signs but the reality is that they will glow under a good setup.
The balls have two part one white part and other darker or colored part. In order to make the balls glow you need to set up hanger lights with right wattage. To make the white part glow you need to set up a black light lamp and for the darker portion place a white light lamp.
With the right amount of light, the balls will appear glowing but it may take some time before the material begins to show its magic. You can also attach neon lights along the rails and bumpers it would give a nice Tronic look but be careful in not permanently gluing on the table.
Iszy Marble Swirl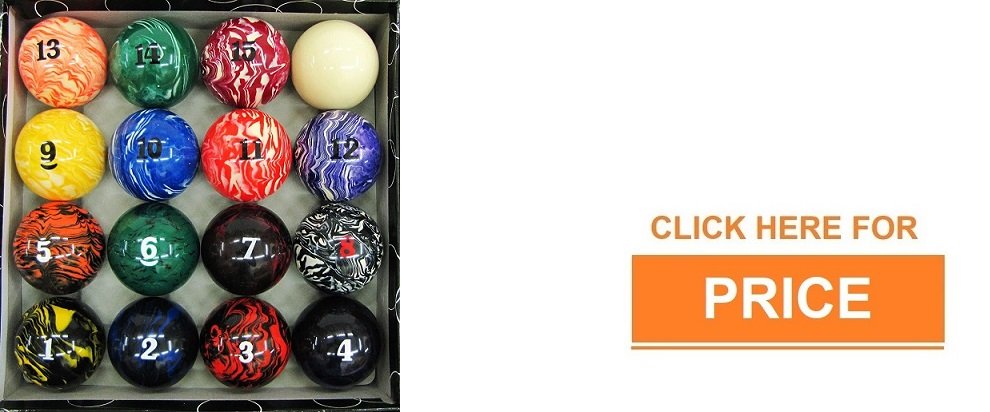 When compared with the GSE marble set I think they are a lot better in terms of the looks. More unique, modern, and stylish. I would say that they are both kinds of same in terms of design and for someone who is into marble finishes then this set would be a better choice in my opinion.
From price point of GSE would be a better option because it is cheaper and still offer the same marbles experience. However, for my personal likings, I would look into some other ball set as I imagine that it would be hard for me to focus where I plan to hit the object ball with this pool ball set.
Harley Davidson Pool Ball Set

Those who are fans of HD and building an entire theme around it I think this set is for you. From the design perspective, I find this pool ball set quite plain frankly. The unique flavor is quite low with this ball set but never the less it is still unique.
Coming in regulation size and weight the set is good for Harley Davidson brand lovers. If I were to compare them with the NFL balls I would prefer them because at least they are numbered. The price is lower than the NFL unique billiard balls set.
D&L Billiards Customized

D&L has thought to go ahead of everybody else giving the buyer the freedom to put whatever they want on the balls. You won't be able to change the material of the balls but you can get them printed with whatever you want.
I would personally think that this set is more of unique billiard set for giving a gift. You can print anything from pictures to words and gift it to your pool enthusiast friend. Even for yourself, if you can print motivational words on the balls it would help you keep your interest in the game and invest more time on the table.
From a price point of view, I think if this set was a little cheaper then it would have made more sense to me but regulation weight and size is what makes these balls worth investing into.