So you are looking for the best pool cues for the money. We are aware that there are different cues available in different ranges. In this post, you will not only find the best pool cues under $700, $300, $200, $150 and under $100 on this list but also get a chance to understand how to choose a pool cue. So this post has cues for top, intermediate and beginner pool players just like the post for the best pool balls and best break cues.
Depending on your budget you can choose, what suits your budget and style of game the most. Attached is an interesting graph about cues. On the X-axis is the money while on the Y-axis is the skill.
You will notice that with the low-end cheap sticks, you will not gain much skill or improve your game. With an intermediate pool stick, under a budget range of $150 to $200, you can get great skill and spend less money.
If you buy a pool over 2000 dollars and then compare it with a 3000 dollar cue, then the difference is very minute. The difference in skill level among such cues can be negligible. At this level, it is more individual expertise than the stick helping you change your game.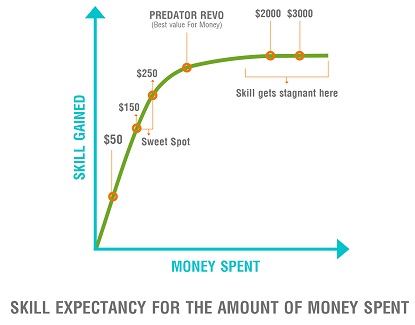 There are two prices: Regular price cues remain in stock almost the whole year. The better deal is the short-lived promotion I try to find regularly. These deals usually go out of stock quickly or the promotion ends quickly. What makes them better is that they contain a case or have a lower price. If the cue is in stock for the better deal I recommend getting it before it goes out of stock.
| Name | Regular Price | Better Deal | Tip | Wrap | Warranty | Weight |
| --- | --- | --- | --- | --- | --- | --- |
| Predator Revo Shaft | Click Here | not avaiable | Soft | Carbon | Lifetime | Adjustable |
| Viper Desperado 58" | Click here | Click here | Hard | Leather | Lifetime Limited | 18-21 oz |
| Champion Spider Cue Stick | Click Here | Click Here | Medium | Snake Skin or Hybrid | Unclear | 18-21 oz |
| Lucasi Custom Super Birds-Eye | Click Here | Click Here | Medium | Wrapless | Lifetime Limited | 18-21 oz |
| Players Technology Series HXT15 | Click Here | Click Here | Super Soft | Irish Linen | Lifetime Limited | 18-20.5 oz |
| Cuetec R360 Edge Series | Click Here | Click Here | Medium | Irish Linen | No Warranty | Adjustable |
| Cuetec Prestige Series 58" | Click Here | Click Here | Medium | Irish Linen | No Warranty | Adjustable |
| Players Classically Pool Cue (C-960) | Click Here | Click Here | Hard | Irish Linen | Lifetime Limited | 18-21 oz |
| Viper Commercial 1-Piece | Click Here | not available | Hard | Wrapless | No Warranty | 15-20 oz |
REVIEWS OF BEST POOL CUES FOR THE MONEY
Below are the extensive reviews of best pool cues under different budgets of under, $700 $300, $200 and $100.
Predator Revo Shaft 

One of the most special shafts ever made by the Predator. Made completely out of carbon fibers weaved layers upon one another, this stick is the pride of Predator's 20 years of Research and development on Cues. It is one of the least deflecting cues ever made by them and assures that there would be very little squirt on the shots. Another cool part of this stick is the carefree mindset it gives you. It is literally indestructible which allows you to focus on your game instead of taking care of the cue. Its the best in this list that is why it is at the top.
Yes, it is expensive but it is totally worth your money. I would place it as the best pool cue for the intermediate player who wants to do a one-time investment for a long time. To give you an insight of its popularity it is usually out of stock on most of the stores. Available in two sizes 12.4 and 12.9. I would recommend getting the 12.4 for the intermediates who have confidence in cue control and 12.9 for those who think that they have just entered intermediate players league. Not just the intermediates, top pool players also have this shaft too. I have reviewed it in detail in another post you may want to check out. For beginners, if you can afford then it's not a bad choice, the reason why experts like it, is because it makes the cue ball go where you want it to go or has very low deflection.
Among the top negatives of this cue is the sound it makes after hitting the cue ball. Predator has designed the cue's carbon structure in such a way that maximum energy gets transferred from the tip to the cue ball. So the cue makes a strange sound quite different from other cues as you play the shot. But this is something you can get used to fairly quickly.
Overall, it's a top stick and offers a frictionless surface that hardly requires maintenance. The low deflection assures that you get the lowest deflection possible and hence with more cue ball control you can dictate the game. If you consider according to the list that this is the best pool cue in the world then yes it would be correct given the value for money it returns. But given that there are cues out there in budget range of more than $3000 the exotic woods used in them can give better feedback than the carbon in revo shafts.
If you are someone who is regular at playing this game, I suggest to save some money and try this shaft. It really is a game-changer and a best pool cue for advanced players.
Viper Desperado 58″

58″ Length
18-21 oz. Weight
2 Piece Cue
Canadian Maple Wood Shaft
Pro Taper
Premium 13mm Le Pro Tip
Stainless Steel Collar & Accent Rings
Genuine Leather Wrap
Intricate Laser Engravings
9 Coats of Varnish
Adjustable Weight System
Removable Tip Scuffer
Lifetime Warranty
Viper 58-inch desperado is one of the best pool cues under 200 dollar budget. It comes in a variety of weights. There are a number of reasons why I selected this cue. It would be unfair to equate it with predator revo shaft, they both belong to total different budget ranges.
It is available in a range of weights from 18 ounces to 21 ounces. I would recommend that you buy a 19-ounce cue version of it. That is a middle spot not too heavy or light. It works for most of the people.
Another cool aspect is that this is a 2 piece cue. Which means that it has higher portability. You can easily join the two parts via a screw joint. What I like is the stainless steel joint build. It is highly durable and it is very unlikely that you will have the trouble of cracks on the shaft.
The shaft is made up of Canadian hardwood maple. It is no surprise, at its current price it should have come up with Maple. The wrap is of leather, which will give a very strong grip and control. What's more encouraging is that they have done 7 coats of varnish on the wood. This means that the ability to absorb the moisture of the stick becomes almost negligible. Therefore, you will not face the problem of warpage.
What I don't like about this cue is its tip. It is made of Le Pro Leather. First, it is the hard tip, I personally recommend a medium tip, which will give both control and speed. Because Le Pro has a hardness index of 88.2, it means that you will get a lot of speed with this speed but will find cue ball control very difficult. Secondly, it is the 13mm tip. The wider the tip lesser is the spin. So you are hit with the loss of cue ball control twice.
Cue ball control depends on your personal game as well. If you have learned the basics of the game, upgrading to this stick won't be much trouble.
But there is a bright side of the Le Pro Leather tip. It is highly durable and will last without much maintenance. The lifetime limited warranty is also an assurance that Viper has a lot of trust on this stick.
Champion Spider Billiards Maple Pool Cue Stick

Under the budget of 150 dollars, this cue has a lot to offer. Starting with the tip, it is available both in 11.75mm and 12mm. What's more great about the tip is that it is Tiger Everest which has a hardness rating of 75.7. It is a perfect blend of the medium cue tip. You will not only get the speed with this cue but also the cue ball control will be a lot easier.
Unlike Viper Desperado, this cue takes the strong lead in terms of cue ball control. However, both are equal in terms of joint. This cue also comes with the stainless steel joint. This automatically means that it is a 2 piece cue and by providing the joint in stainless steel, it will last longer.
Another cool aspect is that the shaft is Rock Maple and is strengthened by the Nelsonite and Epoxy finish. This is a necessity today for all cue sticks. The tendency to minimize moisture-absorbing by Maple is repressed by coating.
What I don't like about this cue, is its wrap variants. Especially, the snakeskin leather wraps although sounds very exotic but in reality, it makes the grip quite difficult. Also, the tip is 13 mm for those variants. I strongly recommend that you stay clear of those variants and strictly order Model SP-G White, hybrid Leather Wrap.
Lastly, it comes with a hard case. This ensures that you cue stays safe after you are done winning with it. Another cool thing is that you will get Gloves with the purchase of the cue. It is really a steal deal if you want to go for it. But beware of the fact that the warranty for this product is quite ambiguous. I am not saying that it is not available, there is no clear answer given by the manufacturer.
Lucasi Custom Super Birds-Eye

If you can afford to go slightly over the budget of 200 for a pool cue then you will find this a true winner. A friend that can help you improve your game quickly. It is a 12.75mm tip with the same Tiger Everest tip. You will get great control and speed with the shot.
It comes with a wide variety of weights. I personally recommend selecting the weight within the range of 19 and 20 ounces. This is the middle spot and will give you both speed and control. Unlike Cuetec, the lifetime limited warranty offered by Lucasi is an assurance that this stick is here to stay for decades.
It comes with uni-loc which is a quick release and attaches method of joining the two parts of this cue. Lucasi has chosen the right maple wood with a coating to ensure warping defects in the long run.
What I don't like about this stick is that it is wrapless. Somehow, that is not cool! Loads of wrap materials are out there, Lucasi should have chosen one, but for minimalistic design lovers and for those who find grip easier without wrap this stick is a great opportunity. Though wrapless but it is made up of solid wood and you should expect it to last for over a decade. I would rate this as among best pool cues for intermediate player or someone who is beginning to get confident on the table.
Players Technology Series HXT15

58″ Length
18-20.5 oz Weight
2 Piece Cue
Birds Eye Maple Forearm & Butt
Premium Grade North American Hard Rock Maple Shaft
12.75mm Low Deflection Shaft
Shaft Treated With Nelsonite
Kamui Black Tip
Proprietary HXT Low Deflection Ferrule
Stainless Steel Joint with 5/16 x 18 Pin
Slimline White Implex Butt Cap
Double Pressed Irish Linen Wrap
Lifetime Warranty
Players are the renowned brand for producing great beginner to intermediate cues. This cue is made up of Hard Maple Wood from North America and comes with a budget of 150 dollars. As a norm these days, its wood has a coating of Nelsonite and Epoxy to suppress the moisture absorbing ability of the wood.
The joint is made up of stainless steel, which is another necessity for a cue stick. Joints made up of other material don't last as long as the stainless steel. The wrap is Irish Linen. This is a matter of personal preference. I like leather more over nylon, but you may find it nylon grip more firm than that of leather.
The product comes with a limited lifetime warranty. You can select various weights it is available in. Once again my personal recommendation is to go for the 19-ounce stick. But because the softer tip is used in this cue, I would like to improvise my suggestion and recommend to go for 19.5 or 20-ounce stick. The reason is the heavier the stick is, the more momentum it possesses that it can pass onto the cue ball. This way you can not only have the cue ball control but can also gain the missing speed.
What I don't like about this cue is the tip. It is made up of Kamui Black Soft. This is softer tip with hardness index of 72.3. Yes! It will give great control for the spin but what about long power shot? This cue will not perform great when you are stuck in a tricky situation where you have to take those long rebound shots. The tip is of 12.75mm which further help in cue control. Players also claim that tip will have strong durability, but that is against the general rule that softer tips require more maintenance and they require quicker replacement.
Cuetec R360 Edge Series

There is so much good about this series. Except for one thing which is my personal preference and has nothing to do with the how good this stick can perform, I can safely say that it lays right in the middle of the sweet spot of best pool cues under 200.
Firstly, it is a Tiger Everest tip, which is a medium hardness tip with an index of 75.7. Right in the sweet middle spot. Another cool thing is the tip radius which is 12.75mm. This means you have a lesser area of contact with the cue. Combine it with the medium tip and you have the perfect blend of cue ball spin and control.
North American maple wood with the coating of moisture suppressor makes this a great stick. You can adjust the weight of the stick to suit your personal preference. What makes this stick great is the further endorsement from Shane Van Boening. The ferrule used has ABS tech used. It means that the vibrations will be suppressed which makes this cue a low deflecting cue.
It is a 2 stick cue, the joint is made up of stainless steel. You can take the bumper off and then either subtract or add in the weights which are sold separately. Flexible weight matters if you experiment. Especially, if you visited a club and observed that you play more confident when you pick certain types of sticks. It is actually the weight of the stick which gives you instant confidence. This stick will help you vary the weight and hence you will know what weight helps you play shots confidently. The weight does matter, it defines how the cue till move on your bridge.
Cuetec does not offer any warranty for their cues but what goes against this odd policy is that the very few cases have been reported for returned cues. Cuetec is a good name and they have to build brand authority. You would have to be very unlucky to get a bad piece.
I would have loved this cue if it had the leather wrap. It comes with nylon wrap. Nylon is not a bad material but the leather feels more professional to me. It is up to your personal preference, you might find nylon more user-friendly than the leather. Leather gives a more strong grip on the cue. Confidence helps to focus on shot. A slippery follow through can change the intended point of contact on the cue ball.
Cuetec Prestige Series 58″ 2-Piece Canadian Maple Billiard/Pool Cue

58″ Length
18-21 oz. Weight
2 Piece Cue
North American Maple Shaft
S.S.T. Pro Taper
Tru Glide Finish
1″ Polycarbonate Ferrule
Multi Layer Tiger Everest Tip
Veltex Grip
Adjustable Weight System
Multiple Color Options
If you feel confident and believe that now is the time to step up your game. It is time to learn how to control the cue ball. This cue stick is capable of giving you more control over the cue ball because of the Tiger Everest Tip. Because of the tip very soft, Cuetec has tried to balance that with a 13mm tip instead of 12.75mm.
Another cool thing is the Veltex Grip used instead of the leather or nylon linen wrap. It will help in taking away the moisture easily. Another cool thing is the ability to customize the weight of the cue stick. You can play with the bolts and adjust the weight according to your requirements. You can add or subtract the weight in the base of this stick.
Available in different colors, I personally like the blue and black look a lot. The hard maple wood looks great with this color combination. Cuetec has used the S.S.T taper technology on this cue which ensures the smooth strokeplay.
Within the budget of the 100 dollars for a pool cue, it is a great choice to have especially if you crave for more cue ball control.
Players Classically Styled Crimson Maple Pool Cue (C-960)

58″ Length
18-21 oz. Weight
2 Piece Cue
Hard Rock Maple Shaft
Pro Taper
High Impact Ferrule
13mm LePro Leather Tip
Shaft Treated With Nelsonite
High Gloss Protective UV Finish
Stainless Joint Collar & Accent Rings
Double Pressed Irish Linen Wrap
Lifetime Warranty
Under the budget of 100 dollars, this pool cue has a lot to offer. It is made of 100 percent North American maple wood which is coated with Nelsonite before bring dried seven times. This is standard practice to ensure that the cue lasts longer.
What I like is that Players have flushed in the Ferrule very nicely, it has the capability to suppress the deflection. Another cool thing is the variety of size this stick is available in. I recommend to go for the 19-oz stick it will balance out the harsh strong nature of the tip used in the cue. Although, Players claim that it will help in ball control but I have doubts about that. A medium or softer tip is meant to give control and a 13mm tip is of no help either.
It is a two piece cue which is joined together via a stainless steel joint. The lower half grip is wrapped with Irish Linen. It will give a good grip if you are comfortable with linen. The warranty is lifetime limited is an assurance that players have a lot of confidence in their product.
Overall, it is a good pool for the money. If you are planning to buy a long lasting break cue then this can be a great choice. But if you are on the limited budget and also on beginner skill level then this cue can be a great friend.
Pros –
Excellent finishing
Low cost
Le Pro Tip is used for low deflection
Crimson hard rock Canadian  maple shaft for durability
Attractive stainless collar stainless steel joint
Perfect length (29-inches)
Cons –
Small bubble close to the grip
Viper Commercial 1-Piece Hardwood Billiard/Pool House Cue

If you can manage the budget of under 50 dollars for a pool cue then this cue can be the best choice for you. Because the price tag is low, therefore, do not expect this cue to do the magic it is not intended for. I would recommend this to beginners who are just about to start off their pool game.
It is made up of hardwood and not maple. This indicates that you need to do extra care with this stick to stretch its life. They have done nine coatings of varnish over the wood to extend its life but still, you need to do extra care at your end as well. You will have a strong grip at the game by the time this stick would have worn out and you will feel comfortable to switch to a better cue.
Very hard, Le Pro tip is used which has the hardness index of 88.2. This makes the cue, great for hitting long straight shots where cue control is not the main issue. In addition, it can be a perfect choice for you to choose this cue as the break cue for your game.
It is available at various length and if you pick up the longer version it can fit perfectly as your breaking cue. As longer the cue, more is the weight, more will be forward momentum passed on to the cue ball, can give you perfect break if practiced properly. The only problem is that it does not offer the low deflection quality which can make breaking difficult.
Lack of warranty will raise some eyebrows on this cue but with the price tag given it is understandable why the Viper has done that so. Another problem is the wrap. It has too toned grain pattern wrap, which means that you can have trouble gripping this stick especially if you are a sweaty player. This is more of a beginner and can not make it among best pool cues for intermediate players.
Under the budget range of 50 dollars for a pool cue, this pool cue features are quite justified. If you look at the graph I provided at the top of this article. You can understand why you should not expect very high performance from this cue. If you can afford then wait a little more, increase your budget and try to aim for the sweet spot as in the graph. However, if you are just starting out and want to get a grip of this game then I would put this stick under the category of best pool cues for beginners.
Buyer's Guide: How To Choose A Pool Cue
Before buying best pool cues for the money, it is necessary that you educate yourself about the various factors which play a pivotal role in understanding on how to choose a pool cue and categorizing an ordinary and special cue within a budget range. It's important to get acquainted with below points and know how to choose a pool cue. Below points may apply differently to best pool cues under 200 or 150 or under 100 dollar budget.
TIP MATERIAL
This is one of the most important parts of the cue and there is no definite answer to what are the best pool cue tips. They come in different degrees of texture. They go from super soft to super hard tips.
You need a softer tip for more control of the cue ball. Because soft tips have higher friction and have more time for impact with the cue ball, this allows more spin to be transferred into the cue ball.
Harder tips, have a low point of contact time and are meant for transferring maximum power onto the ball. This also indicates lower cue ball control.
Ideally, you need something in between, called the medium material. This will give you not only the control but also speed the ball.
TIP DIAMETER
One of the most common questions is what is the best pool cue tip size. They come in a variety of sizes. They are usually of 12.75mm, 13mm or lower. It has a major impact on the "Englishes" you can play. Because 13mm tip is bigger it means that it will be difficult for you to impart spin on to the cue ball. This is because bigger area makes it difficult to hit a lesser area of the cue ball that impart more spin onto the ball. These are usually the low end or starting cues.
If you can find a 12.75mm cue then you should go for that in the same budget. The point we are assuming here is that in between comparison with 2 cues, both are equal it is just the difference between the cue tip. In such a situation go for the smaller diameter, it will raise the bar for your game and you will get used to it in no time.
TAPERING
If you see the diameter of the cue from tip end to the butt end, you will see that the diameter is very small and it increase as you move towards the butt end. On good cues, the increase in diameter is very slow or even no increase till the joint.
Means they usually maintain the diameter as much as they can. These are the high-end cues. You should look for best pool cues for intermediate players in case you are on short budget. If you can find this feature then it would help you out. But do note that you should check the balance of the cue before buying.
JOINT TYPES
There are quite a lot of ways manufacturers join the 2 piece cues together. The best type of joint is called the uni-loc joint. It is the most durable and easiest to use. Back when joints where new there were many complains because the shaft would break or warp at the point of joint.
In the last decade, manufacturers have done tremendous improvement in the field of joints and now it is quite rare to have joints problems reported.
JOINT COLLER
The point where the joint is, you will observe that there is a collar around that point. There are a number of materials this part can be made up of. For example, it can be made up of simplex or stainless steel.
Stainless steel is the premium quality of the joint collar. If you can find one cue in your price range which has a stainless steel collar then you should certainly grab it. In comparison, with the simplex ones, they last much longer.
WRAP
On the lower part of the cue, just above the butt sleeve it the wrap. This is where you hold the cue. This place should help in gripping the cue easily.
The wrap is mostly what you feel comfortable with, it is not related to what is must to have. There are many materials wrap come in most commonly nylon linen, leather or even snakeskin. If you sweat a lot then you should stay away from the leather, but leather gives a grip which nylon won't.
Also the fancier the grip is, it will add to the cost of the cue. So it is better to know what is your personal preference for selecting a cue randomly. You may want to go to your local club and get a feel for different kind of wraps. Once you understand your preference, it is then ideal to order the wrap online.
SHAFT
This is the most important part of the shaft. You should buy a shaft which has low deflection. That means when you are taking those critical spin shots there should be a minimum deflection of the cue.
Shafts are made from a wide variety of wood. You should look for at least a hard maple wood. Another important aspect is that the shaft should be cured. This means that it should not absorb moisture or the cellular structure of the wood should have settled down nicely. Hard rock Maple is the best wood for pool cues.
Some manufacturers cover the wood with certain chemicals. This helps in making the wood resistance to moisture in the air. A good quality shaft will last a lifetime, therefore, it is necessary that you check the track record of the brand you are planning to buy the cue from.
WEIGHT
Most cues are in between the weigh of 17 ounces to 21 ounces. The heavier the cue is easier it is to hit a straight powerful shot. Lighter the cue is, easier it is to control the cue ball.
Ideally, you want to have a mix of both cues that is either 19 ounces or 19.5-ounce cue. This will help you get both control and speed on the cue ball. It might be difficult for you to adjust from a heavier or lighter due to this weight, but sooner or later you will get used to this cue and will end up having the skill of both speed and control.
Most cues have a weight attached to them. You can remove or add weight to forward or rear part. This is a customization part and helps in doing the transition to find what suits your style the most.
BALANCE
Cue has two parts, the shaft, and the butt. Usually, the weight is placed in the butt or lower part of the cue. For taller people, this assembly suits better. However, if you are short, you will find it more comfortable to have a cue which has more weight on the shaft.
It is a personal preference thing and height does play a role in deciding what cues suits you the best.
STRAIGHT AS AN ARROW
There should be no bend or warp on the cue. Cues are mostly made up of wood. Wood has a tendency to absorb moisture. The moisture expands the cue and it contracts after losing moisture. This movement imperfection imparts bends in the cue length.
When you buy a cue, hold it like a rifle and examine it from end to end. There should be no warping. Another way to check in the imperfect cue is to roll it on the table. If you observe any wobbling on the cue its red flag.
STYLE
Cues are designed in many forms. It gives identity to the cue itself. The more exotic material used in the cue, the more expensive it is going to be. It has very less to do with the performance of the cue but it can give the player a boost by knowing the fact that he is holding the attractive cue.