Snow has been completely absent from the usually snowy northeast and mid-Atlantic regions of the United States due to a strong La Niña pattern forcing in warm air from the southern and western parts of the US.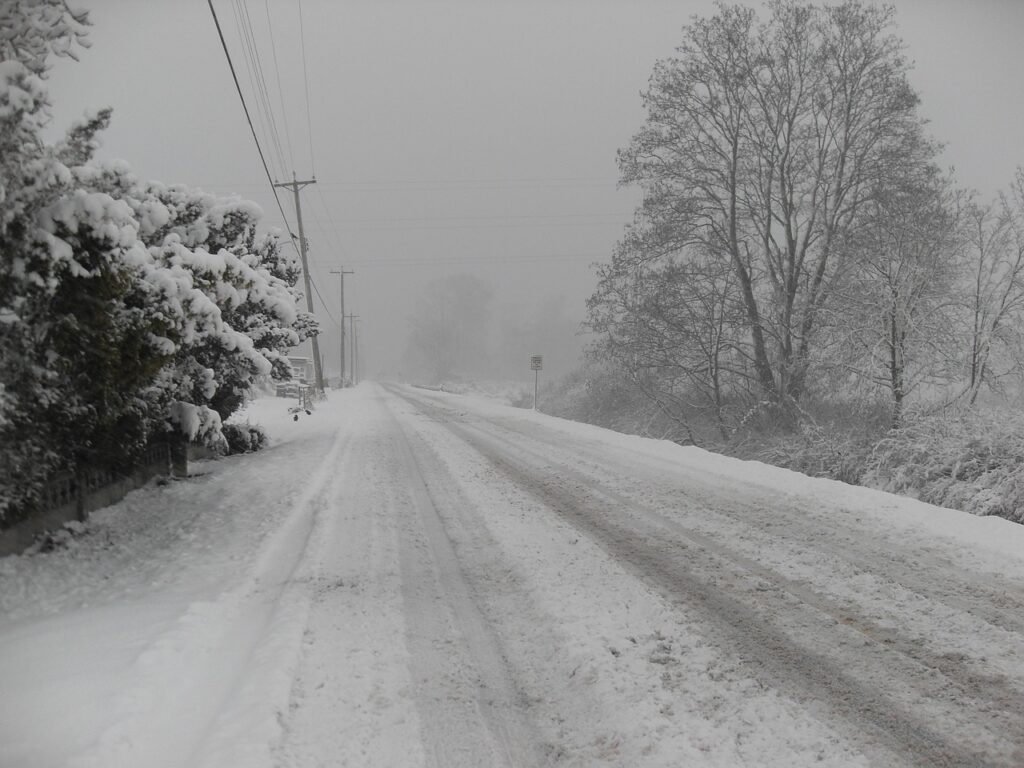 Where is winter? For those on the West Coast, we're quite aware of the cold, snow, and crazy winter weather. For those on the East Coast, where winter is known as a lovely winter wonderland, it's been anything but. For example, this week, it hit the mid-60s in Washington, DC. In Phoenix, AZ, it was 40. This year's weather has been dangerous in the west and, in the east, mild. With wild and mild at opposite ends of the country, what is going on, and when will the snow fall? 
According to ABC 7 NY, the tri-state area of New York, New Jersey, and Connecticut has had about one week of cold weather around Christmas. Since then, it's been a mild and at times, downright delightful winter. According to the meteorologist at that station, the East is on track to have one of the warmest Januarys of all time.
However, according to the meteorologist, there still is a chance for some colder winter days later this month. It hasn't snowed in Central Park, and the inhabitants of New York City are holding their collective breaths for that first snowfall that breathes magic into a city with hard edges and aggressive drivers.
The longest-running streak in winter without snow in Central Park was 332 days in 2020, followed by 320 days in 1973. This is when the climate deniers say "oh, global warming, haha." Well, yeah, global warming. It's real, and it's one of the reasons why we are seeing more and more natural disasters like wildfires, tornadoes, hurricanes, and mudslides.
Climate change is causing a mental health crisis for some and presenting real problems like monetary issues. The recent hurricane in Florida is still being tallied up by insurance companies and is on track to be among the most expensive storms ever. Some places are still digging out boats that have been tossed on land. Most are all but destroyed.
Overall, it's going to be warmer and drier for the rest of the winter, according to the US Department of Commerce. La Niña, a warm airstream, will continue to bring warmer-than-average temperatures for the third year in a row. The department is monitoring this trend because her warmth will bring a summer rife with drought. 
In addition, in the West, historic low water trends are a cause for concern with water tables dipping. The Great Plains will be hard hit this summer which will affect crops and farms. Because of La Nina this year, drought conditions could expand into the Gulf regions.
Below average temps this year have been in the Pacific Northwest, the Western Great Lakes, and Alaska. None of this is a surprise to folks who have been following climate change for years. Over the years, winter is becoming warmer, and summer is getting hotter. However, there are some horrifying storms that are cause for everyone to just stay home.
Back in the east, this year, some folks were stuck on the highway for hours. Strangers exchanged food that they happened to have with them while others passed the time chatting. The backup lasted 27 hours on i95 in Virginia. Many folks ran out of gas, and some with pets or the elderly were extremely worried about surviving. Although this nightmare scenario didn't happen in the tri-state area, it did happen on the East Coast.
Folks were tweeting their experiences and hoping they could survive the night. On the other side of the country, it's been full of flooding and mudslides. California faced one winter storm after another, which brought concern for what will come this summer.
---