Thermal phone cases are perfect if you love the great outdoors, effortlessly protecting your phone from extreme heat, cold, and inclement weather.
For many, having a smartphone is an unbelievable advancement in and of itself. Walking around with a computer in your back pocket is a tremendous feat of science and technology, but phones still lack some necessary qualities. Especially for folks who live outdoor and rugged lifestyles, technology can heat up or shut off from cold temperatures all too easily.
Now the world has Phoozy, a tech company taking spacesuit engineering and applying it to everyday items such as thermoses, phone cases, and laptops. The company was created by Kevin Conway, a former Nascar driver, who knew that thermal phone cases were the inventions of the future. After a successful pitch on the TV show Shark Tank, Conway's Phoozy has become the next big thing for smartphone and tech protection.
So what are thermal phone cases, and how do they work? These phone cases employ spacesuit engineering and technology to prevent liquid, heat, and ice damage from entering the object. Phone cases come with a patented Chromium Thermal Barrier, pioneered by NASA, as well as an antibacterial lining that's ten times more effective than regular coverings at deterring germs.
The thermal barrier is one of the best features of these innovative phone cases. The cover reflects more than 90% of the sun's rays, ensuring that your smartphone inside doesn't overheat. The case is also water and weatherproof, maintaining its battery life in extremely cold temperatures or when dropped in a body of water.
These thermal phone cases also have impressive protection if dropped from up to six feet. The cases are Military-Standard quality and passed the military drop test, ensuring that these protection devices are the real deal. If you're active and always taking your smartphone on the go, then Phoozy cases are the perfect purchase to protect your valuable technology.
Phoozy has plenty to offer tech lovers and connoisseurs. There are specific coverings that protect different smartphone brands, like iPhones, Androids, Google Phones, and Motorola. Phoozy also carries laptop cases and tablet protectors for all Apple and Microsoft products.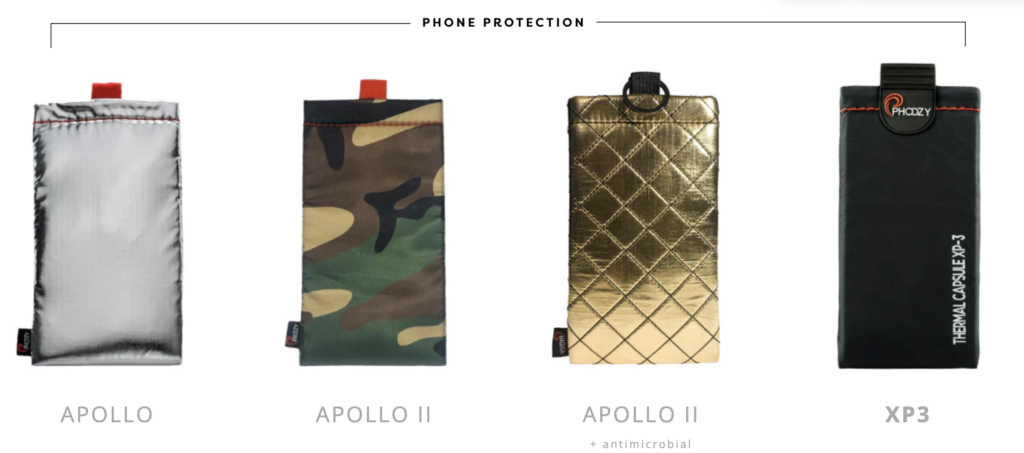 Phoozy doesn't just stop at its original formula but has developed multiple lines for different areas of outdoor protection. The standard Apollo line, popularized on Shark Tank, has the quintessential thermal barrier and the SoftTouch Protective Liner that helps prevent scratches or breaks on the physical touchscreen. The original iPhone Phoozy phone case starts at $29.99 each.
For people who enjoy backpacking, horseback riding, or being involved in muddier outdoor activities, there's a line of antibacterial phone cases that are perfect for eliminating germs. The Apollo II + Antibacterial thermal phone cases have unique technology that handles bacteria before it touches your smartphone. The covering uses antimicrobial technology to destroy microbes while keeping your case significantly cleaner than an average covering would.
The most expensive phone cases Phoozy offers are from its XP3 line. These coverings have "ultra-rugged phone protection" for those who enjoy dangerous and uncompromising outdoor activities. These cases also come with multiple attachment points, making them easier to attach to backpacks and thermoses for easy access on the go.