The best Thanksgiving side dishes include mashed potatoes, stuffing, sweet potatoes, and green bean casserole
Turkey Day is a week away and that means it's time to settle on the Thanksgiving side dishes that will show up on your dinner table this year. Since turkey is such a simple, bland entrée, side dishes get to shine extra bright on this food-centric holiday. Food Network chefs put together a collaboration of their favorite Thanksgiving side dishes, many of which offer creative twists on classic favorites.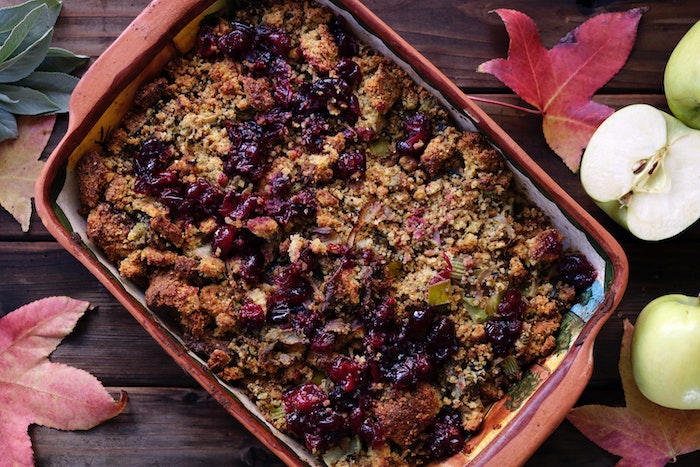 Stuffing—or dressing, depending on how it's made—is often one of the first Thanksgiving side dishes that comes to mind. The primary ingredients for stuffing are basically the same in every recipe: dry bread cubes, broth, melted butter and a beaten egg or two. But chef Giada de Laurentis adds a festive Italian twist to hers, incorporating diced pancetta, broken chestnuts and freshly grated parmesan cheese.
Sweet potatoes were likely at the first Thanksgiving, and remain one of the most popular Thanksgiving side dishes. Whether they appear as slowly caramelized candied yams or mashed into a casserole topped with crunchy pecans, they add sweetness and a ton of Vitamin A to your holiday meal. The Food Network's Instant Pot recipe is sweetened with maple syrup and an optional top swirl of marshmallow crème.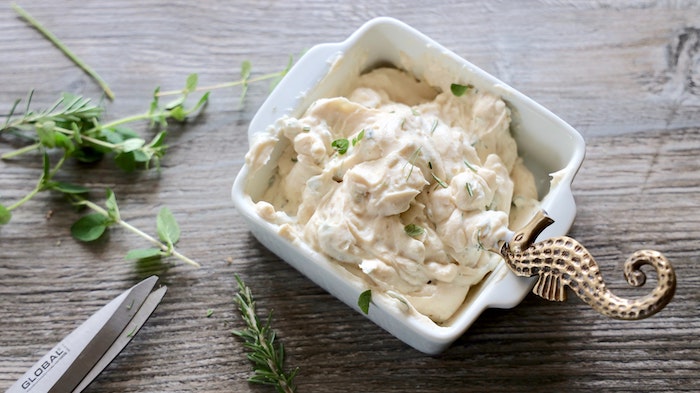 No lineup of Thanksgiving side dishes is complete without mashed potatoes, but ordinary white potatoes can be rather dull without a special touch or two. Fortunately, Pioneer Woman Ree Drummond shares her completely decadent way of making the creamiest mashed potatoes. A calorie counter's nightmare, Drummond's recipe uses ample amounts of butter, cream cheese, half-and-half, and cream.
Her version of classic green bean casserole is also unique in that it doesn't use canned cream of mushroom soup or packaged fried onions like the one so many of us grew up eating. For this Thanksgiving side dish, Drummond's concoction is made with fresh green beans, red bell pepper, and crispy bacon. In lieu of mushroom soup, she makes a simple cheese sauce with flour, butter, milk, and grated sharp cheddar cheese.
Brussels sprouts are a classic addition to holiday meals in the UK and are now just as popular this side of the pond. The Food Network offers a simple yet scrumptious recipe that browns boiled Brussels sprouts in bacon grease and tops them with the crispy bacon bits and a drizzle of tangy apple cider vinegar. If kale is your choice for holiday greens, make Bobby Flay's Creamed Kale with Caramelized Shallots for a dish even picky eaters can enjoy.
While most of us just pop open a can of cranberry sauce to go with our Thanksgiving side dishes, homemade sauce is quite easy to make. Chef Alex Guarnaschelli outlines the simple steps to simmer fresh cranberries, orange juice, orange peel, sugar, and spices into a gourmet cranberry sauce that beats canned any day. Bobby Flay's Parker House Rolls are also more complex than opening a package of dinner rolls, but they are well worth the effort.
If your Turkey Day gathering is smaller than usual this year, this recipe for Five Thanksgiving Sides in One Sheet Pan is a fun twist on presentation. It uses a cross made of canned biscuits to separate a baking sheet into four equal sections. Each section holds one of the most popular Thanksgiving side dishes: sweet potatoes, green bean casserole, scalloped potatoes and green bean casserole.
---