Make your Thanksgiving dinner stress fee by opting to cook everything on one sheet pan with Melissa Clark's sheet pan Thanksgiving dinner recipe.
Thanksgiving is a time when families come together to share memories and spend quality time with one another. One of the main parts of Thanksgiving is food. Not just food, a delicious calorific dinner with all the trimmings.
Thanksgiving dinner is an American tradition that occurs on the last Thursday in November and has been celebrated for over 400 years. Historically, it involved the Plymouth colonists and the Wampanoag Native Indian tribe sharing an autumn feast. This event marked one of the first recorded Thanksgiving. Now in modern times, it involves people making a large dinner and taking a moment in their busy lives to reflect on what they are thankful for.
After the last number of years and the COVID-19 pandemic, having days like Thanksgiving are crucial for people's well-being and mental health. It is good to take time out of our daily lives to be thankful for everything we have and to relax and unwind.
While the food may be mouth-watering, cooking it can be stressful. For most people, catering a large, high-profile dinner like Thanksgiving dinner can cause tension to mount, even for the most confident cooks. If you would like to create a Thanksgiving dinner will very little stress, or if it is your first attempt at being head chef, this recipe for "Sheet Pan Thanksgiving Dinner" by Melissa Clark would be perfect.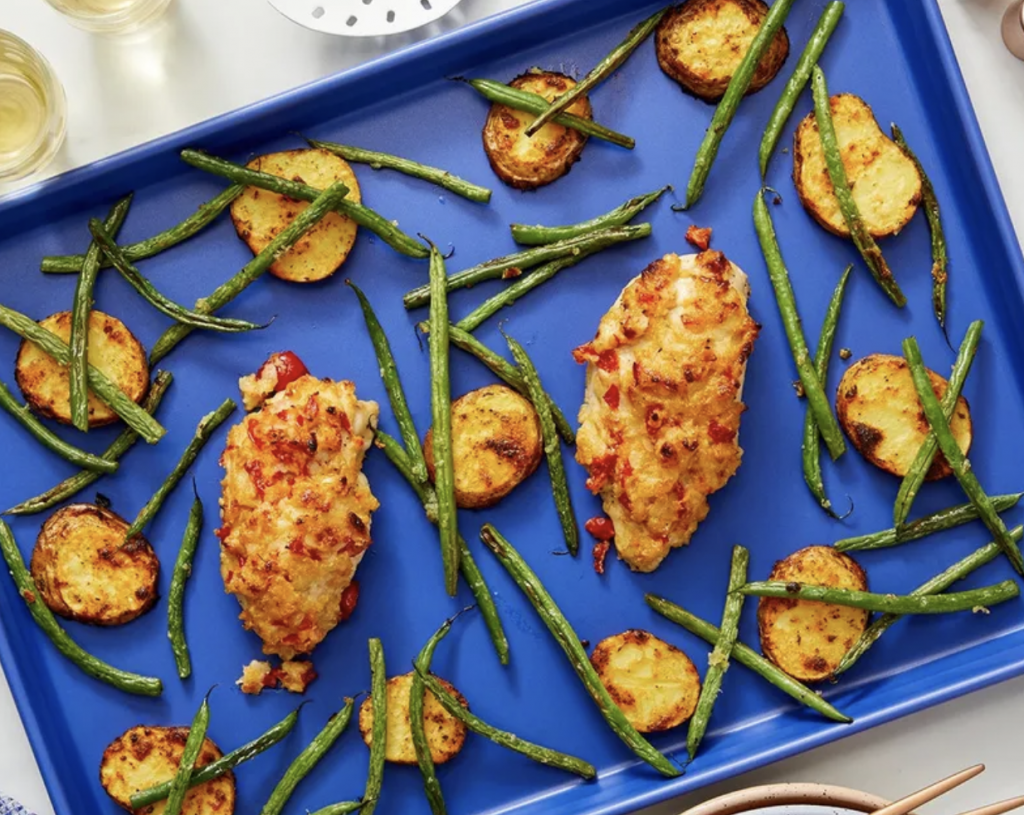 Using a sheet pan is an easy way of preparing a meal that can be cooked and ready to be eaten in a short amount of time. It is the perfect solution for a quick meal or a stress-free evening of cooking. The recipe for Thanksgiving comes from Melissa Clark's new book, "Dinner in One: Exceptional and Easy One-Pan Meals." It includes a selection of recipes that can be prepared in one dish with little preparation time.
Most chefs agree that for any meal to be stress-free, preparation is critical, even if the meal isn't Thanksgiving dinner. For Thanksgiving, anything that can be prepared earlier in advance should be like sauces or pastry. Don't forget with this recipe; any vegetables can be swapped out for your favorites, as sheet-pan recipes are so versatile. Also, when shopping for the ingredients for Thanksgiving dinner, remember to bring a list; it reduces the risk of forgetting an important item or, more importantly, dessert.
Above all, make sure to enjoy the day, whether being the head chef, the sous chef, or a surveyor of all kitchen activities. The essential part of this holiday is having an enjoyable time with the most important people in your life. After the pandemic and being isolated from our families and friends during critical milestones, it has shown how vital being around people and making special memories is for a happy, well-rounded human life.
So whatever you are doing, try to make it a happy, memorable time, and if cooking isn't for you, you always have Melissa's cheat Thanksgiving dinner recipe. Melissa Clark's "Sheet Pan Thanksgiving Dinner" recipe can be found here, and her new recipe book "Dinner in One: Exceptional and Easy One-Pan Meals" can be bought here.
---