SNAP-eligible Target shoppers can now use their EBT cards to pay for qualifying items online, a payment option that was previously unavailable.
People who receive SNAP (Supplemental Nutrition Assistance Program) benefits now have another option for grocery shopping. Target has long accepted SNAP as an in-store payment option for qualifying foods, but now Target's online shoppers can pay with SNAP, too. At the moment, customers paying with SNAP can only perform these transactions on the retailer's website, but the Target app will soon offer the ability to make mobile SNAP payments on digital orders.
This update will allow more customers to take advantage of same-day pickup via Target's Order Pickup and Drive-Up services. Neither of these shopper options carries subscription fees or minimum order requirements. Additionally, SNAP-paying customers can also shop for deals in the store's weekly ads and apply Target Circle discounts to their food orders.
SNAP benefits are used through an EBT (Electronic Benefits Transfer) account card. Customers must log into their Target.com account and then add their EBT card number as a new card under the "Payments" tab. Once they add eligible SNAP items to their online cart, they can choose EBT at checkout and confirm the purchase with their PIN.
In a Bullseye View newsletter, Target's president of financial and retail services, Gemma Kubat, said, "At Target, we aim to make our guests' shopping easier by providing accessibility across all payment types. Guests can now get their grocery shopping done on Target.com using SNAP benefits, sign up for additional perks and savings, and make trips extra convenient using our free, fast and contactless same-day services."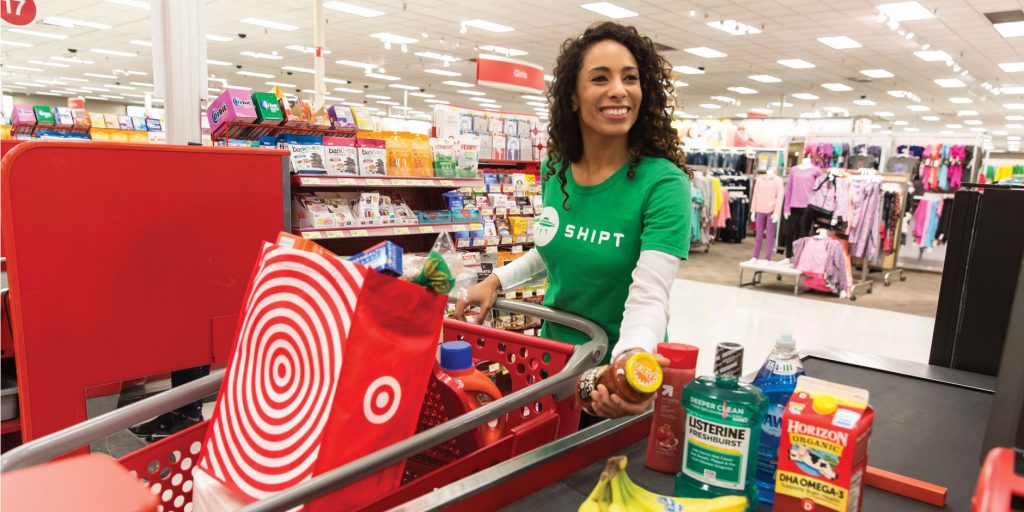 Rick Gomez, Target's chief food and beverage officer, agrees. "Food and beverage is an incredibly important part of our guests' lives, especially as we head into the holiday season," he said. "I'm proud that we're adding new digital payment options for grocery shopping so we can make the entire Target experience more accessible to all families."
Target joins Instacart and other grocery delivery and curbside pick-up services in helping lower-income Americans feed their families. These retailers have explained that after the pandemic, online shopping should no longer be seen as a luxury. It can be a time-saver, especially for people who are working multiple jobs or long hours to make ends meet.
Price-comparing online is another timesaver, one that can allow people to obtain better deals than they would have time for traveling from store to store. However, according to the SNAP website, only eligible food can be bought with SNAP benefits. It cannot be used to pay for delivery fees, tips, or other associated charges.
Target first announced its decision to accept SNAP online last March in a Bullseye View article about changes the store had planned for 2022. It first pilot-tested the option in the company's home state of Minnesota, then expanded the test to several other states, including Florida, Illinois, North Carolina, Ohio, and Texas. Now, the SNAP payment option is available in every state except Alaska.
Other changes mentioned in the newsletter have either been implemented or are scheduled to happen nationwide. Target is planning on opening approximately 30 new stores in previously unserved suburban areas and city centers, and remodeling 200 existing stores. Target will also expand its Ulta Beauty shop-in-shops locations, with plans to build 800 of the beauty centers over time.
Amazon has also recently joined other retailers in making it easier for low-income Americans to access better deals. They launched Amazon Access, a new hub that consolidates information on SNAP EBT payments, layaway options, and other cost-saving options. The hub includes a link to Prime Access, Amazon's new discounted Prime membership for people who receive qualifying government assistance benefits, including SNAP.
---