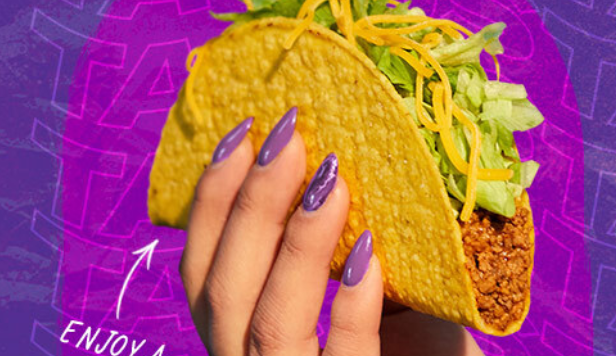 There is no doubt that America loves tacos. We even have a specific day set aside just for taco lovers (hello, Taco Tuesday). One of our country's biggest producers of tacos is banking (literally) on the notion that taco-loving is something which will never wane and now is giving their customers something they hope they'll eat up – Taco Bell is offering a subscription service for tacos.
It's called the Taco Lover's Pass and for now, Taco Bell is testing out their 30-day subscription in Arizona. More specifically, they are introducing it to only 17 locations in the Tucson, Arizona area. Depending on which location, the subscription will cost either $5 or $10 for your 30 days.
Taco Bell, which is owned by Yum! Brands (over 50,000 restaurants and brands that include KFC, Pizza Hut, and Taco Bell), is hoping with their new Taco Lover's Pass that it will bring in the casual customer and turn them into regular customers.
Here's how it works: Purchase your pass on the Taco Bell app. You will need to give out your location, so the app knows just how much to charge you for your 30 days. Once you purchase the pass, a secret Taco Lover's Pass category unlocks on the Taco Bell app's menu. From there, you will see the taco choices offered.
The included tacos that come with your pass are a Crunchy Taco, Crunchy Taco Supreme, Soft Taco, Soft Taco Supreme, Doritos Locos Tacos, Doritos Locos Tacos Supreme, and Spicy Potato Soft Taco.
What does the Taco Lover's Pass give you for $5 or $10 a month? It gives you one taco a day. So, even if you prefer the cheapest taco on the menu ($1.39 for a soft taco or $1.39 for a crispy taco), buying 4 tacos out of your 30-day subscription will save you money (depending on location) or if you're in a location that is charging $10 a month, 8 tacos during that months' time will see you saving some cash. Just think how much you can save if Taco Bell tacos are your thing.
This Taco Lover's Pass idea is not a new one for fast food restaurants. There have been others who have launched similar subscription programs, though their successes have been mixed at best. In 2019, Burger King, owned by Restaurant Brands International, launched a coffee subscription service that set back customers $5 a month if they wanted to join. Burger King was promoting its breakfast menu, hoping to bring more stomachs into their restaurants or drive-throughs. The subscription-only lasted a few months.
The privately-owned Panera Bread also tried out its hand with a subscription service. In 2020, Panera offered its customers a monthly subscription for $8.99 that gave them unlimited coffee or tea. To entice customers, even more, Panera would give those signing up for their service the first three months for free. This one has been very successful for Panera as in less than a year, they already have over half a million paying customers.
With this new Taco Lover's Pass, Taco Bell is hoping to not only draw in more customers but also hope new and regular customers will order more than just their one free item. They are banking on the fact that one taco won't satisfy most customers, so a bigger order is necessary. This also is another way for owners to track customers ordering habits to better offer customized deals.
This Taco Bell Lover's Pass promotion runs from September 9, 2021, through November 24, 2021, during which time the company will decide if it's successful enough to extend or make it permanent.