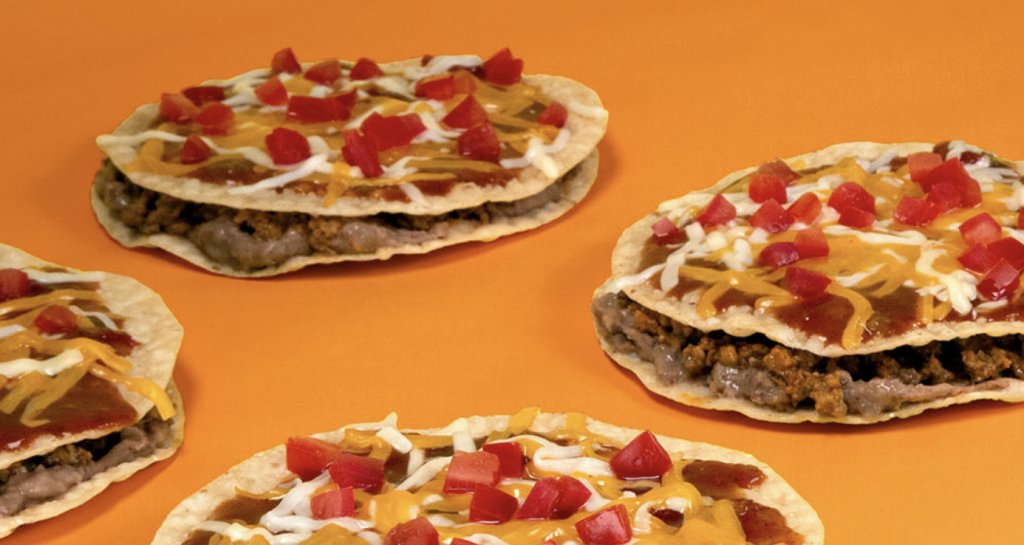 Good news, Mexican Pizza fans! Taco Bell announced two new versions of your favorite treat. But get them while you can – they are rolling out as trials only.
If you have never tried Taco Bell's Mexican Pizza, we'll give you a quick glimpse of what you are missing. The base is a tortilla smothered in pizza sauce and your choice of ground beef or beans. Another tortilla covers it.
Additional sauce, lots of tasty cheese, and diced tomatoes cover the whole thing. It was a popular menu item that the chain cut from its menu. However, during the pandemic, Taco Bell brought the Mexican Pizza back to its menu.
It hit menus as a limited-time offer. However, fans rallied behind one of their favorite meals. The demand was so great that Taco Bell caved and added it as a permanent menu item.
According to CNN, "Taco Bell said that during its initial run, it sold 20 million Mexican Pizzas across the country, and attributed growth in loyalty membership to customers' desire for early access to the product." That success, and a 6% year-over-year bump in sales, may have prompted the new selections. But whatever the reasoning, fans are pleased with the news.
The restaurant chain will launch the Triple Crunch Mexican Pizza in Omaha, Nebraska. This Mexican Pizza version will be a triple-decker, as the name suggests. And the good news is, three layers mean more tasty beans or beef for those extra hungry moments.
Taco Bell describes the Triple Crunch Mexican Pizza as "the 'more to love' version." It will cost $5.99. And customers in the area can get their hands on it starting December 22.
The second new Mexican Pizza will also launch in the midwest. Taco Bell fans in Oklahoma City, Oklahoma, get to bite into the Cheesy Jalapeño Mexican Pizza. A press release for the launch described it as "cheesier and spicier."
Think about those tasty movie theater nachos covered in gooey cheese, and you'll know what's in store for you. The Cheesy Jalapeño Mexican Pizza is slathered in jalapeño and nacho cheese. Pricing will vary based on location.
However, you can expect to pay between $4.99 and $5.49. It will also premiere on December 22. And both new Mexican Pizzas are available for a limited time.
The move is part of Taco Bell's ongoing effort to attract and maintain customers. It is common for restaurants to innovate and add new selections from time to time. Doing so helps keep their brand in the news and at the forefront of customers' minds.
"Taco Bell, in particular, regularly experiments with its menu by adding limited-time offers to stimulate customer interest." Additionally, the fast food chain is responsive to customer requests and inquiries. The company does its best to make adjustments when enough of its customers request something.
This creative drive led to menu adjustments, like offering more meatless and vegan options. It also prompts the brand to develop unique partnerships. And most of the time, the customer ends up benefiting.
---