Are you also a beginner and are planning to get your new club? Then you must definitely be confused about which one to buy, am I right? I myself have also been through this confusing stage yet, I am glad, I figured out the right option. Today's post is especially for you guys who are not sure about their decision. Callaway strata and Wilson ultra are two well-known clubs of all time, yet some don't know which one to buy, so let's have Callaway Strata vs Wilson Ultra comparison.
Callaway Strata
This is an 18-piece set which features 12 clubs with a Driver, a putter, bag, and head-covers.
It is an ultimate set for men and women and an alternative and more affordable model-the Strata Complete for both genders.
Strata ultimate 18-piece/men's complete set
Material
The set is ideal for joining control, feel and distance. It features a driver of full titanium to offer a large and sweet spot. The fair-wood is built to give you long and high-flying shots. It is built of hybrid material to give you effective handling of various shots.
Technology
The iron wedges are built with a high flight technology which makes your set have control and guarantee your shot covers required distances. The putter is for distance control and accuracy to ensure your puts sink in.
Design
The stand bag is made light, durable, cool looking, has easy pockets, tee holders and a nice back strap for carrying.
Strata ultimate 16-piece/ladies complete set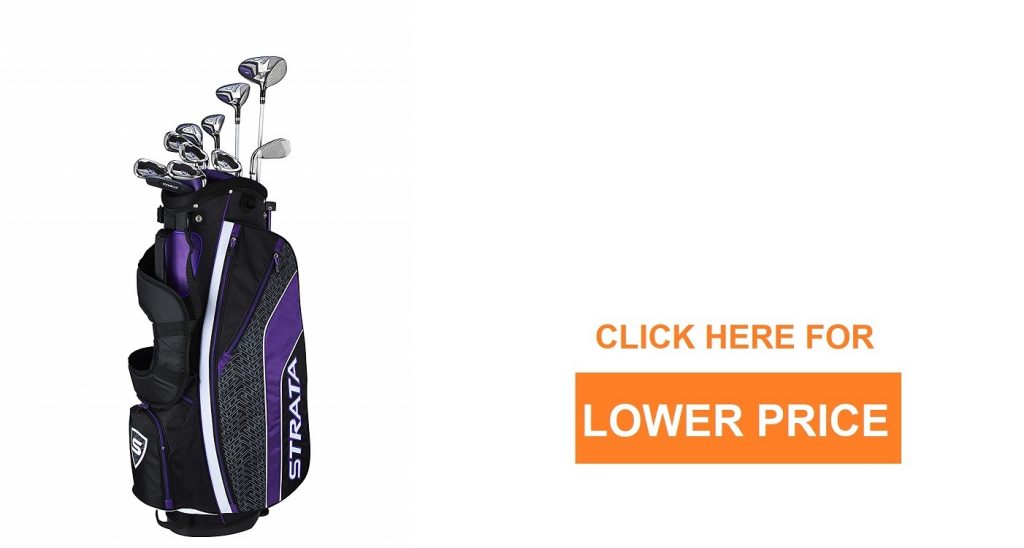 Material
The club set for women has 16 pieces with a titanium driver for large sweet spot plus forgiveness. It is made of 3 fairway wood for high flying and long shots.
Technology
It features hybrids of higher confidence when handling various shots. Iron and wedges for distance, control, and forgiveness. The putter face milling is well designed to offer distance control and accuracy for sinking more putts.
Design
It stands with more beautiful and cool designs, a tee holder and a comfortable back strap.
Strata men's complete/12-piece set
Technology
The 12 piece set has a 460cc forged-driver to give a large sweet spot, more forgiveness to help in ripping off the tee. It is made of a 3 fairway wood and has a head with an aerodynamic head shape feeling, to give high flying and long shots.
Material
It is made of a hybrid material, iron wedges for control and forgiveness. The putter which is a mallet with a T-styled alignment gives you accuracy.
Design
The stand bag is lightweight with 5 pockets, an added cooler pocket, a back strap and a rain hood.
Strata Women's Complete/11-Piece set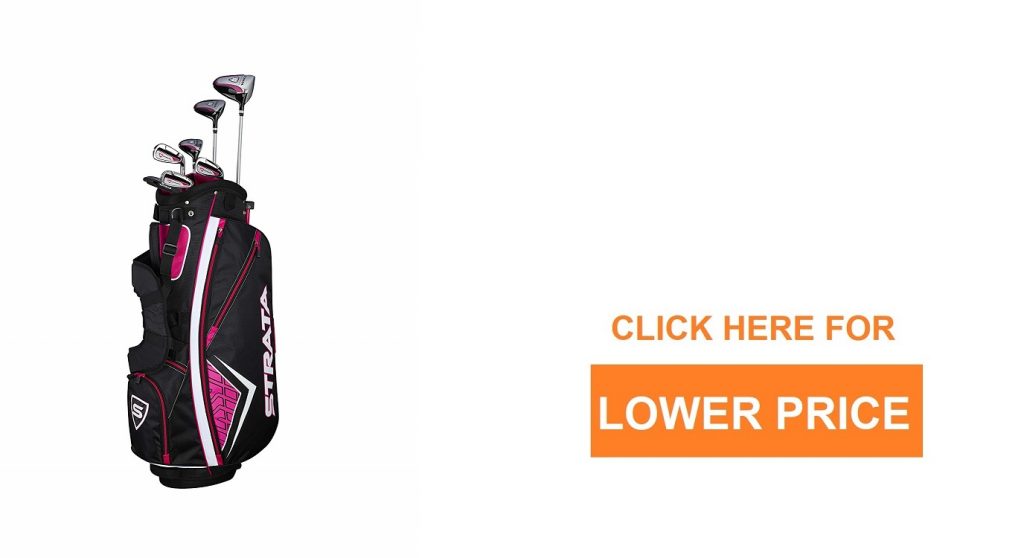 The set is for women who prefer a cool looking product with maximum distance performance.
Technology
This is an 11 piece set, featuring a driver that gives extra forgiveness and has a super light shaft of graphite for faster swings. The set is made of fairway wood for forgiveness and a light shaft for high shots.
Material
The material is hybrid to allow higher confidence when handling various shots. The iron wedges offer control and forgiveness, while the mallet putter with a T-style design will give you high accuracy.
Design
It has a beautiful bag that is light, durable, with 5 pockets, rain hood, an extra cooler pocket and a backpack strap system.
Pros

 
These clubs have some fantastic grips, and so they are very comfortable in the hand.
The drivers are very forgiving, and so they will perform perfectly for a starter.
It is an affordable set, and so a first-time golfer will not have to spend a lot of money.
This set comes with 18 pieces meaning it has all the clubs that a golfer can ever need.
You get better control and also high-flying shots when using these clubs.
The bag has plenty of storage space, and it also looks very stylish.
Cons
The shafts would do with some improvement because they snap easily.
You will need to upgrade the driver after a while meaning you have to spend more money.
It comes with a bag, but it is a little bit flimsy.
Both the bag and clubs do not have a "Callaway" logo, and so it is not possible to differentiate originals from counterfeits.
Now we can see that the strata have a lot of different piece sets for different ranges and stages, let's see what the Wilson ultra holds for us.
Wilson Ultra golf clubs
The Wilson Ultra club sets are cheaper than many other Callaway clubs. They have slightly fewer clubs starting with 9 pieces downwards, but they still offer perfect performance. These are innovatively designed to perform their functions and also to ensure that any new golfer improves his skills within a short time.
Wilson Men's 2015/ Ultra Complete set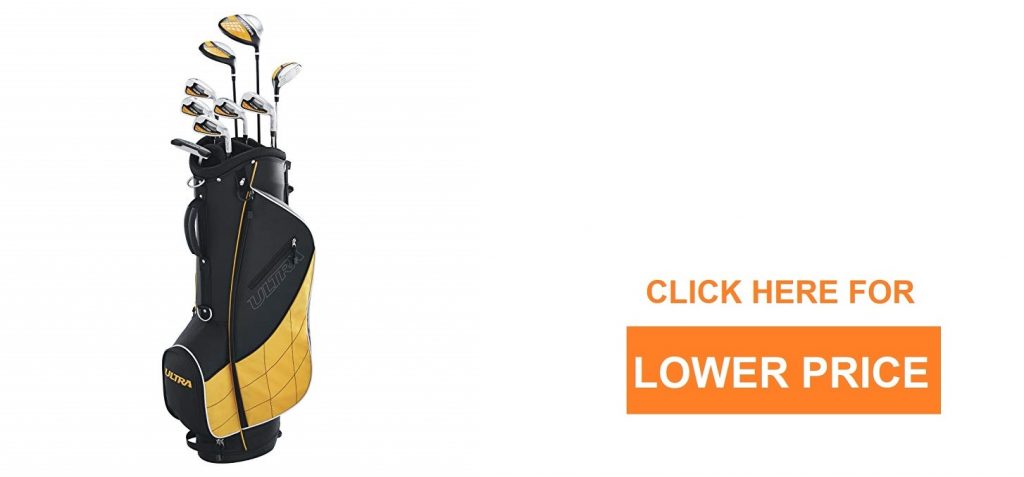 Technology
They come with a simple makeup set with fairway woods and a graphite driver of high quality and durability. They offer accuracy and high launch as the wood has a natural inclination. The clubs offer a typical grip, clear markings to help the player hold them in the right place.
Material
The shaft is made of iron steel to be very hard and unbreakable. The putter is built with a heal toe weighed-alignment to give more accuracy and control. The clubs are made to be suitable for any height from 6 feet and 2 inches downwards.
Design
The sets come with a stylish looking yellow bag with extra storage for any additional things you want to carry.
Pros
It is a complete golf club set, but it is still very affordable for most beginners.
This set comes with three covers that you can use to protect your most valuable clubs.
The clubs swing nicely, and they are also high quality and durable.
Its clubs are standard size, and so they will be comfortable for most men.
Wilson also gives this set a nice bag with a lot of storage space.
The hybrids are fantastic, and every new player will love them.
Cons
Users complain that the driver's head break off within a very short time meaning you have to replace it.
This set does not come with a sand wedge and so you have to shop for one.
It comes in only yellow, and so you don't get an opportunity to choose between various colors.
Conclusion: Callaway Strata vs Wilson Ultra
In terms of performance and reliability, both Callaway and Wilson Ultra are good sets. The Callaway sets have more facilities, the highest being the 18 piece, while Wilson starts at 9 pieces. The prices are the decisive factor in making your choice.