If you have won a voucher at some Golf Charity event or similar event and got a voucher that says you have won a wedge or hybrid then its a scam. There is no such thing as free wedges and hybrids.
Nizzard Web Scam Process
Open Nizzard web and on the landing page it says click on wedge or hybrid and claim your free club. Clicking on either of them will ask to enter coupon code. This is the only point where the scam makes it look as if it is real deal but that is not the case.
This is the only web on the internet where you can enter any coupon code, even an empty box it will get accepted. After any text approval in the coupon box the web tempts to sell three hybrids or wedges for $79.95. Select any of the options and it asks if you right or left handed. In the next step it will ask your gender.
The scam tries to exact more money by offering the graphite shaft for just ~$14.95. In the next step the scam tries you to buy their fictional wedges as well. Click on any of them and it shows the check out page with the ~$30 shipping fee included. This is the minimum money they are trying to earn from the scam.
It is a Sophisticated Scam
Although the web is extremely awful the way Nizzard operates is quite sophisticated. They are able to circulate their vouchers across the US. Lets say in a month they are able to distribute 1000 vouchers in a month and only 5% of them convert with only shipping fee then the scam has made $1500.
The reason why I call it sophisticated is that they have people defending Nizzard on the web. The scammers try to tempt to get more money by offering unreasonably cheap wedges and hybrids along with their free offers. Nizzard is also quite active because many people search for it each month and are probably looking for answers because they have received a voucher as well. Take a look at this search trend, it is quite clear that they are quite active.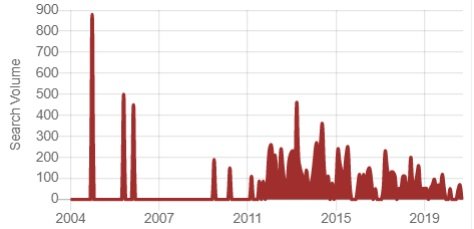 What makes me stunned is the fact that the scammers have gone to the forum and tried to defend the scheme. On the sand trap I came across few comments on a thread related to this scam. The responses were quite long and the way the answer was devised was quite professionally sketched.
The stories they tried to build up to make the scam look legit was actually quite good. It was a clear indication that scammers tried to make few profiles, tried to converse with each other in the thread in favour of the nizzard and made it look legit. But when you look at the profile of the users then they have only few posts live.
These people have nothing to do with hard work. They only exact money from innocent people. If they had created legit profiles at sand trap forum, made a healthy post profile and then started defending their scam then it would have look legit. But they took the easy way and tried to make everybody fool.
Smart regular folks at the sand trap quickly pointed out the shady responses in defence of nizzard.
Bottom Line
Nizzard is a scam, stay 100 miles away. The shipping fee scam is way to common. Often on Facebook, I get ads of an amazing looking watch at a ridiculous price of $10 and that too as only the shipping fee.