Starbucks is launching its Oleato line, featuring a combination of coffee and a serving of extra virgin olive oil, a fusion that is already common in Italy.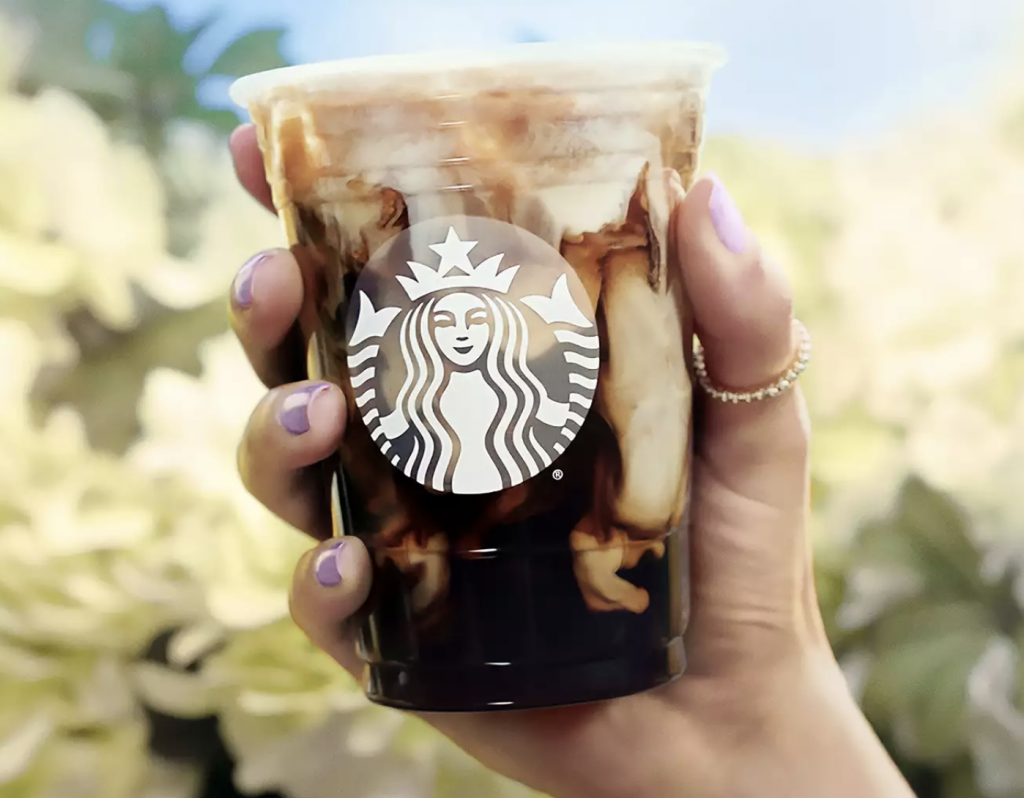 The next shot you ask for at Starbucks won't give you a boost of caffeine, but it might just enhance your overall health. The coffee giant is now offering a shot of extra virgin olive oil in certain beverages, mimicking coffee-drinking habits in Italy. Starbucks has launched its new "Oleato" line in Italy this week, but it will be available in the United States later this spring.
Oleato means "with oil" and is an idea outgoing CEO Howard Schultz had while traveling to Sicily last summer. He saw people drinking olive oil alongside their coffee as a daily health booster and decided to give the practice a try. The next logical step for him was to have Starbucks mix the two antioxidant-rich fluids together.
According to CNBC, Schultz shared his enthusiasm for the new combination on a company earnings call earlier this month. He called the merge of ingredients "alchemy" and a "game-changer" for coffee connoisseurs. Brady Brewer, Starbucks' chief marketing officer said it was definitely a unique kind of new product launch.
"It is one of the biggest launches we've had in decades. Rather than a flavor or a product, it's really a platform," Brewer told CNN. He added that customers will be able to customize their beverages with olive oil if they wish.
People wishing to partake of the Oleato Starbucks offerings should be aware that they are consuming an actual serving of extra virgin olive oil, not just its flavor or essence. The oil shots will add about 120 pure-fat calories to their beverage. Some of the drinks will even have a visible oily sheen on the surface.
Adding fat to coffee is not a new concept. Anyone who's ordered their Starbucks coffee with heavy cream vs. skim milk knows the luxurious mouthfeel the higher-fat dairy product provides. And people following keto diets have long touted the benefits of "bulletproof coffee" infused with MCT oil and grass-fed butter or ghee.
But olive oil offers greater health benefits than cream, butter, or ghee. According to WebMD, the father of medicine, Hippocrates, called it "the great healer." It is a cornerstone of the Mediterranean diet known to promote heart health.
Olive oil is a monounsaturated fatty acid (MUFA) that can lower total cholesterol levels, including the "bad" LDL cholesterol. Olive oil also improves the function of arteries and veins and could offer some protection against cancer and diabetes. It is also a natural anti-inflammatory that helps the brain stay healthy longer, slowing down or preventing the development of mild cognitive impairment.
Starbucks will include Caffe Latte, Iced Shaken Espresso, and golden cold foam in its initial lineup of Oleato beverages. Partanna olive oil will be steamed with oat milk in the latte, shaken with the iced espresso, and infused in vanilla sweet cream foam to create the golden version. A "press" or spoonful of the extra virgin olive oil will also be available in select markets as a drink customizer in any beverage.
Coffee lovers in other parts of the world will have to wait a little longer to try the special Oleato beverages. After its U.S. launch, Starbucks plans to introduce the line in the United Kingdom, Japan, and the Middle East. Starbucks has not announced when or if it will be available in other countries.
---