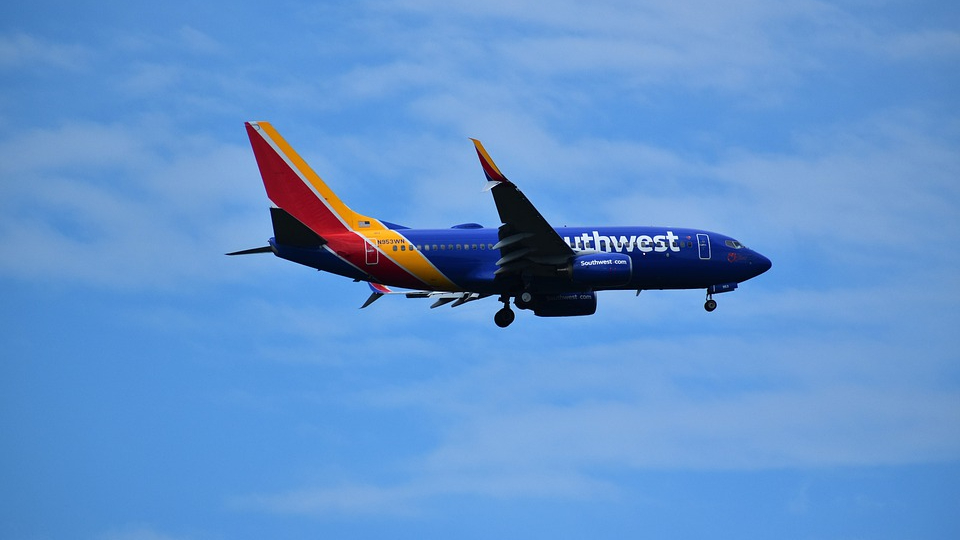 Over this past weekend, Southwest Airlines cancelled over 1,800 flights, stranding thousands of travelers and flight crews as they tried to make it to their final destinations. The airlines said it was a combination of factors that caused the mass cancellations which included bad weather, air traffic control problems, and a shortage of their own available staff.
According to Southwest Airlines, its initial problems were the blame of bad weather and an "FAA-imposed air traffic management program." Alan Kasher, Southwest's executive vice president of daily flight operations, didn't even mention staff shortages in his initial statement, "Although we were staffed for the weekend, we could not anticipate the significant disruption that was created from unexpected ATC issues and bad weather across our Florida stations," said Kasher via CNBC.
The Federal Aviation Administration admitted that Friday afternoon there were a "few hours" of delays based on severe weather and some staffing issues surrounding the Jacksonville Air Route Traffic Control Center. The Jacksonville Center controls the airspace in five parts of Florida, Georgia, Alabama, North Carolina, and South Carolina.
But the FAA wouldn't go so far as to completely back Kasher's claims and other airlines cancelled far fewer flights.
"No FAA air traffic staffing shortages have been reported since Friday," the FAA announced. "Some airlines continue to experience scheduling challenges due to aircraft and crews being out of place. Please contact the airlines for details about current flight schedules."
Southwest Airlines practically fell over itself apologizing to customers and flight staff as the 1,800 cancellations now sit over 2,000 as more flights were cancelled today. Along with the flight cancellations, the long Southwest customer services waits are just as frustrating. The airlines had hoped to resume as close to normal operations as possible by Sunday, but things only got worse.
Denver, Baltimore, Dallas Love Field, and Chicago Midway, Southwest Airlines major destinations, were the hardest hit by Sunday's cancellations.
It's a true mess, one that has also affected flight staff who have been grounded in places they shouldn't have been, leaving many without lodging.
"Right now, our [network operations center] Teams are working to protect our Crew network and prevent misconnects — both for our Crews and Customers — that would cause an even greater impact," Kasher said. "And Teams are working to determine the best course of action to most quickly reset our network."
It's a "reset" that may not come any time soon.
So, if the FAA says weather and air traffic control issues were a "few hours" Friday issue, what has been the cause for the rest of Southwest Airlines' ails? Here's what Senator Ted Cruz (R-TX) tweeted out over the weekend:
Article continues below headlines
---
Clearly, Cruz lays the entire fiasco on Biden and his "illegal" vaccine mandate. And also clearly, by the nearly 24 thousand likes, there are plenty of people thinking along the same lines as Senator Cruz. In fact, there are strong hints that the cancelled flights may have more to do with the "blue flu" than anything Southwest has been stating. Check out this tweet.
True or not, the timing and perception are there. Especially since Southwest Airlines announced last week that it would require all nearly 56,000 employees to be vaccinated by December 8 or that would face termination.
Southwest tried to shoot down this speculation in an email saying, "It's inaccurate. There's a lot of unfounded rumor and speculation circulating."
The disparity between Southwest's cancelled flights and other airlines even had Southwest pilots' union, The Southwest Airlines Pilots Association, defending themselves against the blue flu walkout notion stating via The New York Post, "SWAPA is aware of operational difficulties affecting Southwest Airlines today due to a number of issues, but we can say with confidence that our Pilots are not participating in any official or unofficial job actions."
The Southwest pilot's union instead has laid the blame on Southwest Airlines' poor management and planning. "Our Pilots will continue to overcome SWA management's poor planning, as well as any external operational challenges, and remain the most productive Pilots in the world," it said via CNBC.
While these mass cancellations come to many as a surprise, Southwest has been dealing with issues since the summertime. Staff shortages caused numerous cancellations and delays over the summer, causing Southwest Airlines to trim its summer schedule to avoid any further summer disruptions.
"Although we've made schedule adjustments leading into the fall, our route system has not fully recovered — that will take time," Kasher said.
The pilot's union leaned on Southwest's poor management again in its statement to members, "Make no mistake about it – due to months of staffing issues and inefficient scheduling practices we have been operating at a higher-than-normal operational risk."
While both Southwest Airlines and the Southwest Airlines Pilots Association both claim there is no "blue flu" working here, the labor union did ask a federal court in Dallas (where Southwest is based) to temporarily block implementing Biden's vaccine mandate as well as other COVID policies. Their argument claims that Southwest made unilateral decisions that require the two parties to negotiate.
"All of these challenges have led to an added distraction in the cockpit," said the union at the time. "This week's COVID-19 vaccine mandate announcement by the Company only exacerbates the situation."
As the situation looks to get worse before getting better, we would recommend if you have a flight scheduled on any airline, much less Southwest, to call and confirm that your flight is still a go.