Tommy Bahama beach chairs can be found all over beaches from the east to the west coast. Find out the secret to the brand's immense success.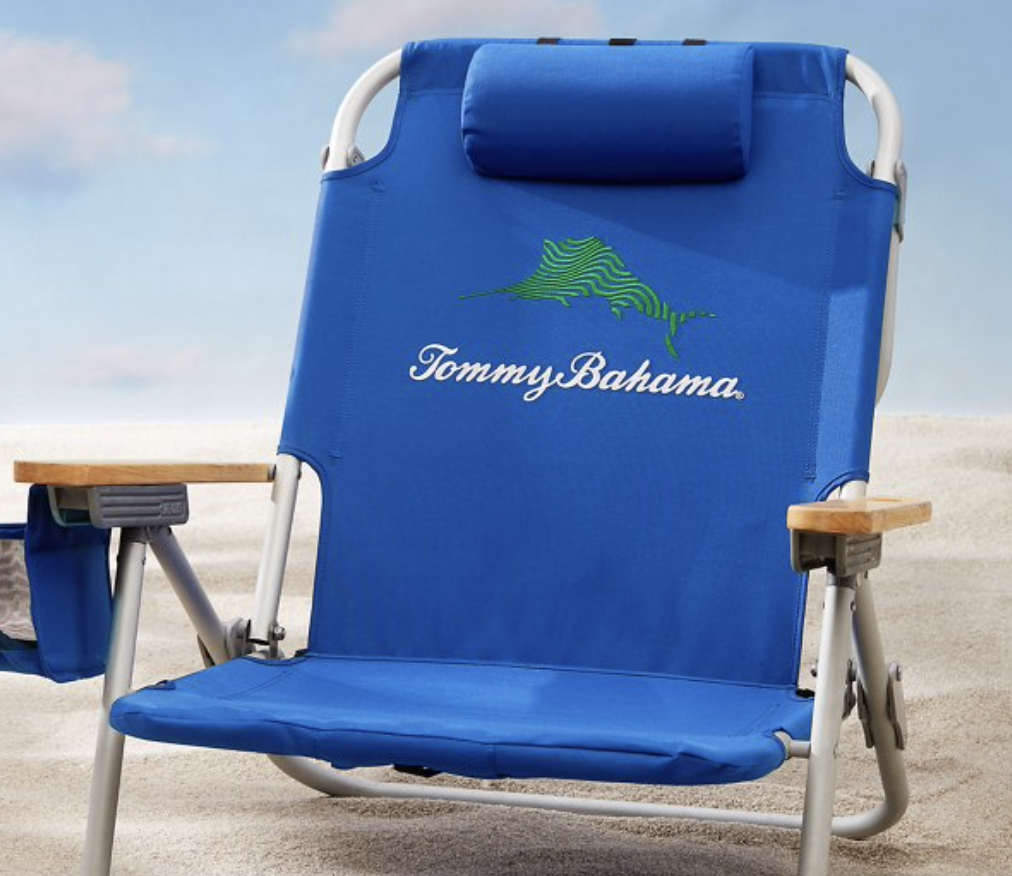 If you're taking a trip to the ocean, beach chairs are perfect for kicking back and relaxing in the sand. But there is one brand that tends to dominate the summery landscape with its folding seats, umbrellas, and other gear. And that's Tommy Bahama. The company was formed by Tony Margolis, Bob Emfield, and their wives who mused about never leaving the beach in the 1980s. This led to the invention of a character that needed to be dressed. As they imagined the details of his life, the quartet unwittingly created the springboard for the Tommy Bahama Group.
In 1991, Tony and Bob discussed their concept with Lucio Dalla Gasperina and the trio envisioned the kind of upscale casual apparel Tommy Bahama (the previously created character) would wear. According to the company website, they came up with printed silk shirts and tailored pants for refined island living. As such, they launched a collection of menswear that transported people to an island state of mind and celebrated the weekend. Since then, the brand has become an island lifestyle experience that includes men's and women's clothing and accessories, food, cocktails, home furnishings, beach gear, and more.
Now, the tropical brand is seen nearly everywhere, from Florida to California to New Jersey. Speaking about their success to CNN Business, retail analyst at Piper Sandler, who covers the brand's parent company Oxford Industries, said Tommy Bahama is a lifestyle brand – and the beach chair helps reinforce that idea of sun and vacation. "You see them all over most major coastal beaches during the summertime," she told explained. These days the brand controls the largest portion of the market for reasonably priced beach chairs.
Tommy Bahama conquered America's waters due to a licensing strategy with a key outdoor goods manufacturer, access to Costco members, and by adding new features to their chairs since debuting the product in 2009. This includes upgrades like backpack straps and extra pockets to hold sunscreen and smart devices. According to Oxford Industries' Thomas Chubb, sales are also getting a boost from the return to vacation travel, a more leisurely lifestyle, and the permanent migration of people to warmer climates during the pandemic.
Interestingly, Tommy Bahama doesn't make its own beach chairs and related products. These are made by a leading outdoor and beach products manufacturer called ShelterLogic Group. Instead, the company licenses its name and design for the items and receives royalties from retail sales. This unique licensing strategy means that the beach ware brand can increase customers' exposure to their products without incurring production or advertising costs. While the beach chairs themselves serve as an incredibly powerful marketing tool.
Although no public market share data on beach chairs exist, the President of ShelterLogic Group, Rob Silinski, estimates that Tommy Bahama controls 80% of the market for beach chairs above $30. It's an unexpected success story, as the company was struggling before creating the product. Moreover, Doug Wood, who oversaw the launch in 2009, never imagined people would buy them. "It's better to be lucky than good," he said. "I had no illusion it would take off like this."
---