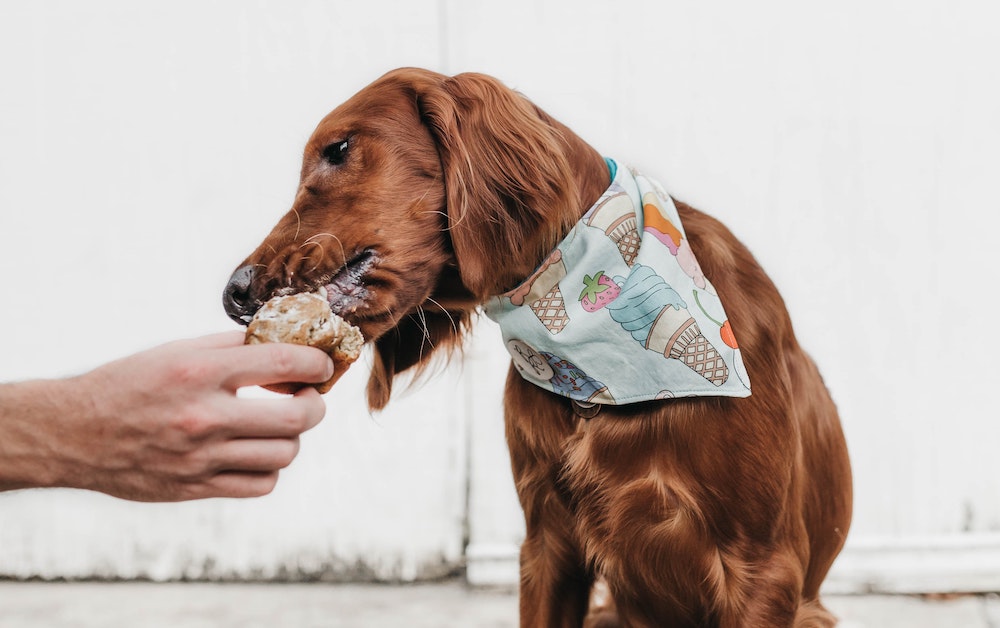 Limited-time additions and unique food combos are all the rage in the restaurant world. But did you know that some eateries have a special dog menu that goes unpublicized? From Starbucks to Dairy Queen popular food outlets put in extra effort to make sure your pet can share something with you while eating out. Some even have designated seating areas so you can enjoy a delicious treat together. If the concept sounds intriguing, check out the following restaurants.
According to Taste of Home, the Starbucks Puppuccino is one of the best-kept secrets at the popular eatery. The special dog menu item is whipped cream served in an espresso or sample-size cold beverage cup. Customers can request it by name or simply ask for whipped cream in a tiny cup. The best part is that it's completely free.
The Dairy Queen Pup Cup is another pet-friendly item. The mini sundae consists of vanilla soft serve and topped with a dog biscuit or two and costs $1.39.
Sprinkles is another destination that offers a special dog menu. The aptly named Pupcake is made with yogurt frosting and only costs $2.50. Sonic is also a pet-friendly restaurant that will often bring you a doggie treat for your pet to enjoy. Known for its frozen custard, Culver's offers milk bone dog biscuits at its drive-thru which are often served with a scoop of vanilla frozen custard.
Some Dunkin' drive-thru locations are famous for keeping dog treats handy, though they're not technically on the menu. But the food outlet does occasionally offer a Cup for Pup latte which is a four-ounce cup of whipped cream without any flavoring or extra additives. Ben & Jerry's is also known for its frozen doggie desserts. The pet-friendly flavors even come in the acclaimed ice cream company's signature pints.
For pet lovers on the East Coast, Shake Shack has a dog menu featuring the Pooch-ini. The custom-made dessert consists of dog biscuits, peanut butter sauce, and vanilla custard. They also offer five Shack Burger dog biscuits, specially made by Bocce's Bakery in New York. Called the Bag O'Bones, the treat comes in a convenient doggie bag. Johnny Rockets offers cut-up burger patties and water to outdoor diners with pets.
Its Victoria Gardens restaurant in Southern California, in partnership with a local dog bakery, also boasts a 20-item dog menu that includes Lickety Split Ice Cream and Pupcakes. In-N-Out also offers a Pup Patty for pets, which is a plain, unseasoned burger patty with no salt. They also serve the Flying Dutchman to furry customers, which is two slices of cheese between two beef patties.
Lazy Dog Cafe encourages pet owners to sit at the outside patio and share people food with their furry best friends. This establishment's dog menu features a five-star meal of cut-up beef and rice. Tim Horton's canine dishes include Timbits for pets in a plain, dog-friendly form. Handel's Homemade Ice Cream & Yogurt offers vet-friendly Dogsters to pets. The ice cream-style treats are available in peanut butter and mint flavors.
While dog menus are an exciting food adventure for pets and their owners, they are meant to be a very occasional treat. So if your furry companion is sensitive to dairy or has other food allergies, it's best to check with your vet before indulging in these new treats.
---