Still haven't made that jump to streaming devices? Now is the best possible time thanks to an incredible deal for a Roku Ultra over on Amazon. Wait, you don't know what a streaming device is? Okay, we'll explain but let us first say, if you are ready to cut the cord after reading this, you may want to jump now.
For those of us not in the know, a streaming device is a small piece of technological heaven that you attach to your nice, big 4K television that allows you to have all your streaming apps in one place and readily available. By streaming apps, we are talking about Netflix, Hulu, Disney+, HBO Max, Prime Video, Paramount+, and Apple TV+ among the many available.
In this instance, the streaming device in question is the Roku Ultra, and do we have a deal for you. Typically, the Roku Ultra would run you around $100 but if you move fast, you can find it on Amazon for the nice price of $69.00, which also comes with free one-day delivery for those who pitch in for Amazon Prime.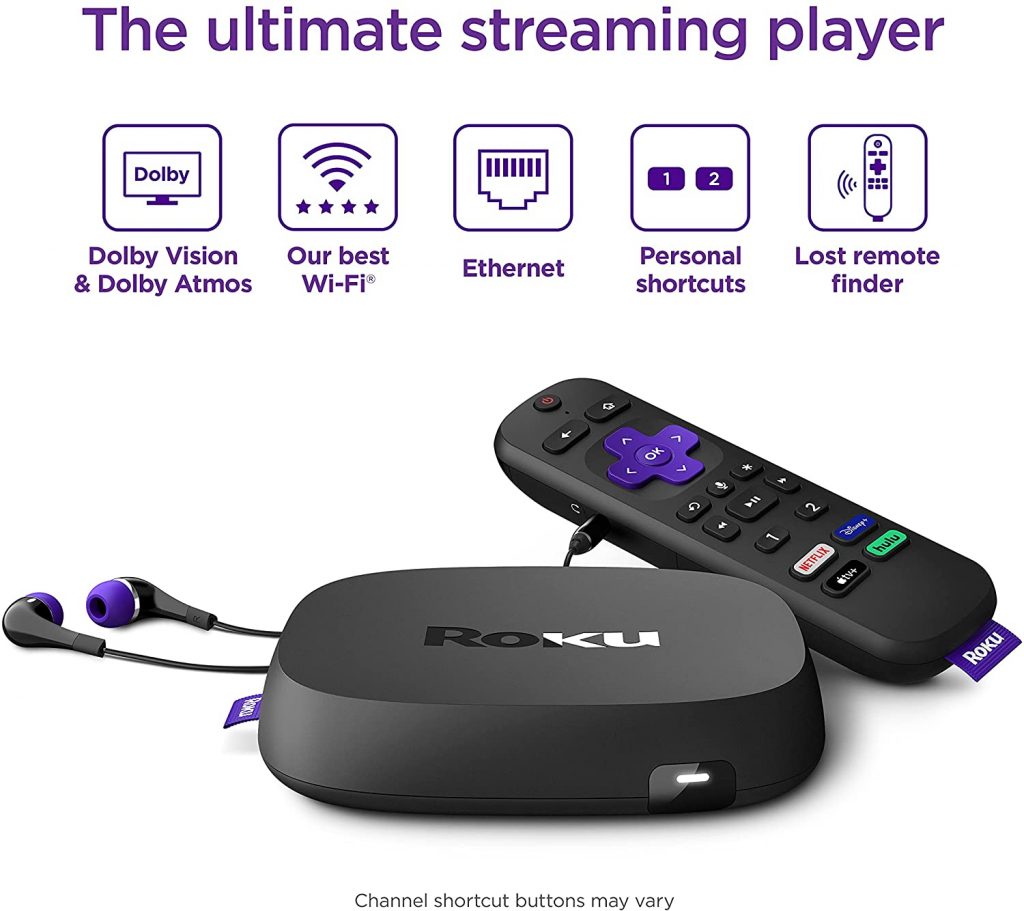 So, besides the price, what makes the Roku Ultra so attractive a buy? This unit is extremely powerful when compared to earlier models or rivals. It has a lightning-fast interface that is simple to use that can launch your favorite app in the blink of an eye. The reason why it's so fast? Roku has built into this Ultra unit their best Wi-Fi feature to date. It offers you smooth streaming in any room of your house or if you prefer to go wired, it has an ethernet port that you can plug into.
Is your television 4K? Well, Roku Ultra is your home theater's centerpiece for a reason. The device allows for eye-popping cinematic streaming, providing your television allows for it. With 4K and Dolby vision, the Roku Ultra will surely suit your viewing needs. If audio is your thing, the Roku Ultra will not disappoint. If your home sound system allows for Dolby Atmos, then the Roku Ultra will let it play. Just crank up the volume. Maybe you're in a household where noise is frowned upon. No worries because the Roku Ultra remote also has a headphone jack so you no longer have to disturb those light sleepers.
If you are like many of us and somehow misplace the remote, fear not. The Roku Ultra device has a button to answer the call. If you don't see your remote and don't wish to spend needless minutes trying to hunt it down, just give the remote finder button on the Ultra a nudge and your remote will start emitting a sound. There it is, stuck between the seat cushions. One cool feature that the remote has is buttons that go directly to your favorite streaming services. The remote has one-button connections for Netflix, Disney+, Hulu, and Apple TV+. Too many remotes? Let the Roku Ultra be your guide to all. From the Roku Ultra remote, you can control your TV's power, adjust its volume, and of course control all your streaming channels.
One thing that can become quite burdensome is searching for that TV show to binge or movie to watch. Many times, you find yourself having to scroll through movies or type them out in what seems like a never-ending process. Well, with the Roku Ultra, you can now just talk to it, and it will help you search for your favorite show or movie.
Convinced yet? We thought you might be. So go ahead and cut that expensive cable cord and hop on over to the world of streaming. The Roku Ultra streaming device is a great way to go. You better hurry though, we are not sure how long the discounted price is going to last on Amazon. Happy streaming.