A red flag warning means that conditions are optimal for wildfires to start and spread, and thus folks are advised to exercise extreme caution when doing anything that involves fires outside.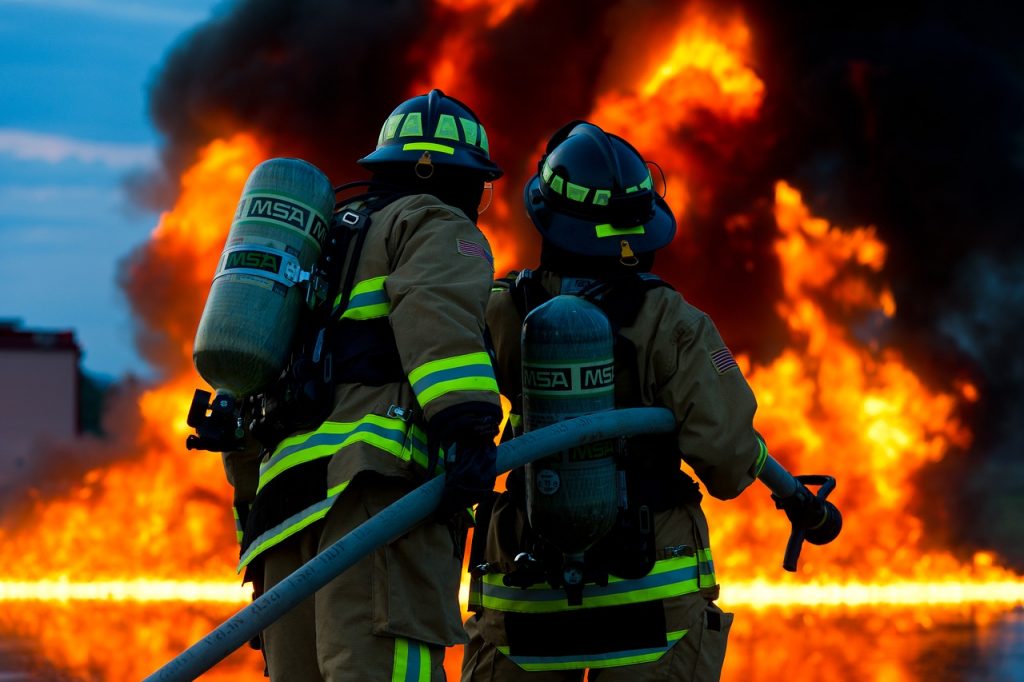 Seeing a red flag warning in your weather app means that conditions are right for wildfires to start and spread. The red flag is more serious than a fire weather watch notice, which only means that fire-favorable conditions might develop within the next 72 hours. A red flag warning indicates that risky conditions are likely to worsen more quickly, within the next 12 to 24 hours.
National Weather Service (NWS) spokesperson and meteorologist John Moore told NPR that NWS issues red flag warnings in conjunction with state and local agencies. "It [a red flag warning] means critical fire weather conditions are occurring now or will be shortly … So we tell people to exercise extreme caution if you're burning … or doing anything with fire outside."
In many parts of the United States, spring weather conditions result in red flag warnings. Last week, people from Maryland to Massachusetts to Minnesota received a red flag warning in their weather apps. A combination of low humidity, strong winds, and warm temperatures combined to create an increased risk of wildfires.
NWS says that humidity and wind are the primary criteria for declaring a red flag warning day. Relative humidity of 15 percent or less is one factor. Sustained surface winds or frequent gusts of 25 mph or higher is the other.
Both low humidity and wind must occur simultaneously or for at least three hours out of a 12-hour timeframe. Dry ground is another contributing factor. However, the NWS, and local and state agencies must also consider the area where these conditions occur.
"For example, 20% humidity in Florida is a very, very different potential fire weather situation than 20% humidity in Nevada," said Tamara Wall, a research professor at the Desert Research Institute in Nevada. "Almost anywhere has the potential for a non-controlled fire." She added that seasonal variations also affect red flag warning conditions, with fire season starting in the southwest around March, but California's not kicking in until fall.
Wall describes a red flag warning as a "heads up" and says the origin of the name is a literal one. Pre-internet, when wildfire conditions developed, local fire stations would raise a red flag on the flagpole. It was an effective signal to the community to be prepared for possible fire outbreaks.
Moore says it's important to practice good fire safety habits year-round because wildfires can break out on days without a red flag warning. Unlike other weather warnings, such as tornado or hurricane, a red flag warning may be issued but nothing ends up happening. That's because even if all the conditions increase the likelihood of wildfires, without an ignition, there's no fire event.
Preparing for a possible ignition in response to a red flag warning means keeping your phone fully charged and nearby. People who live in the warning zone should check on their loved ones, especially the disabled and the elderly, and know how to help them evacuate if necessary. It's also important to have a care plan in place for pets and farm animals.
If you must leave your home on a red flag warning day, make sure your house and car windows are closed. Bring in any flammable rugs or chair cushions. Avoid using power equipment that could cause sparks, and do not park your car on top of dry grass.
Other steps you can take to prepare for a possible wildfire event include removing dead shrubbery or overgrowth that could fuel a fire. Abide by any bans issued by authorities that prohibit campfires, grilling outdoors, or burning trash. And avoid doing anything that could potentially spark a fire, such as tossing a cigarette butt out of your car window.
Moore says it's good that most of us have access to accurate weather information through our phones or social media. "We want more people to pay attention to the weather," he said. "And especially on days that could be impactful to not only yourself but to your community if you're not careful, we want people to be aware of it."
---