Peloton will now sell its bikes, treadmills, and other fitness gear in Dick's Sporting Goods stores.
Peloton, one of the most popular exercise equipment brands, will start to sell its fitness products in Dick's Sporting Goods stores, reports CNBC. Peloton previously only sold its equipment online directly to consumers through its own website, but in an effort to appeal to a wider audience, will make its bikes, treadmills, and other branded products more easily accessible in physical stores. 
This isn't the first time Peloton decided to sell its line outside of its traditional direct-to-consumer style. In August, the company began to offer its products through Amazon. Investors' confidence grew as Peloton stock rose 20% that month after they made the Amazon announcement.  
Peloton caters to those customers who enjoy working out at home, so when the country was on lockdown, there was a surge of gym-goers who opted for Peloton. The company has been struggling ever since the pandemic began to die down as more people have returned to their regular way of exercising at a gym. Now nearly two years later, the company hopes to recover its losses by generating more interest by offering its products to customers in a retail store. 
Peloton will sell its Bike, Bike+, Tread, and Guide, an advanced training system equipped with a motion-tracking camera, bike shoes, and exercise mats at Dick's Sporting Goods. There are over 700 Dick's stores in the United States. Peloton's goal is to have its products at more than 100 Dick's Sporting Goods stores by the time shoppers are ready for the upcoming holiday season.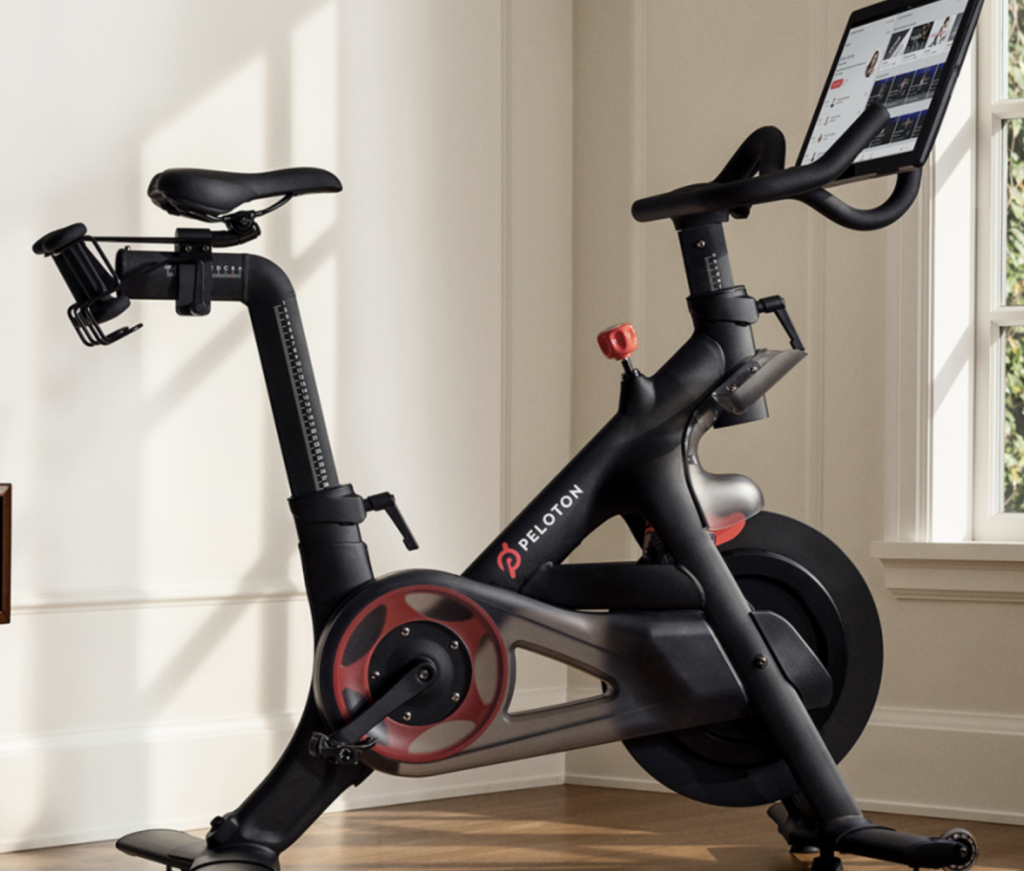 The Peloton equipment setups will have their own displays, and employees at Dick's Sporting Goods will be adequately trained to help customers with questions about the products. Customers will have convenient shopping options since Dick's will allow them to order Peloton products online through their website and have their orders ready for pickup at the store of their choice. Peloton delivery from Dick's Sporting Goods will also be available.
Peloton's product pricing will be the same at Dick's, so customers will know they are getting the same price. However, some items, such as Peloton's $3,195 rowing machine, won't be carried by the sporting goods store. Right now, customers can only preorder the pricey rowing machine through Peloton since it was only recently announced and isn't available to purchase yet.
The newest Peloton CEO, Barry McCarthy, has been looking for new ways to cut costs and increase profits. McCarthy is the CEO who replaced the previous co-founder John Foley in February. Offering Peloton products through Amazon and at Dick's Sporting Goods is part of McCarthy's strategy to get the company back up where it needs to be.
McCarthy joined the company during a harsh time when the company was experiencing layoffs. His efforts to turn the company around have been focused on increasing the number of paid subscribers and developing a nationwide bike rental program. He was also responsible for the push towards Amazon and is even looking into selling certified and pre-owned Peloton equipment. 
Peloton believes that selling its products at Dick's Sporting Goods is a promising strategy. Both companies center themselves around staying active, whether it be by playing basketball or biking on a virtual trail. No official launch date has been released