See Patron the mine-sniffing dog be awarded a medal of honor for singlehandedly saving hundreds of lives in Ukraine.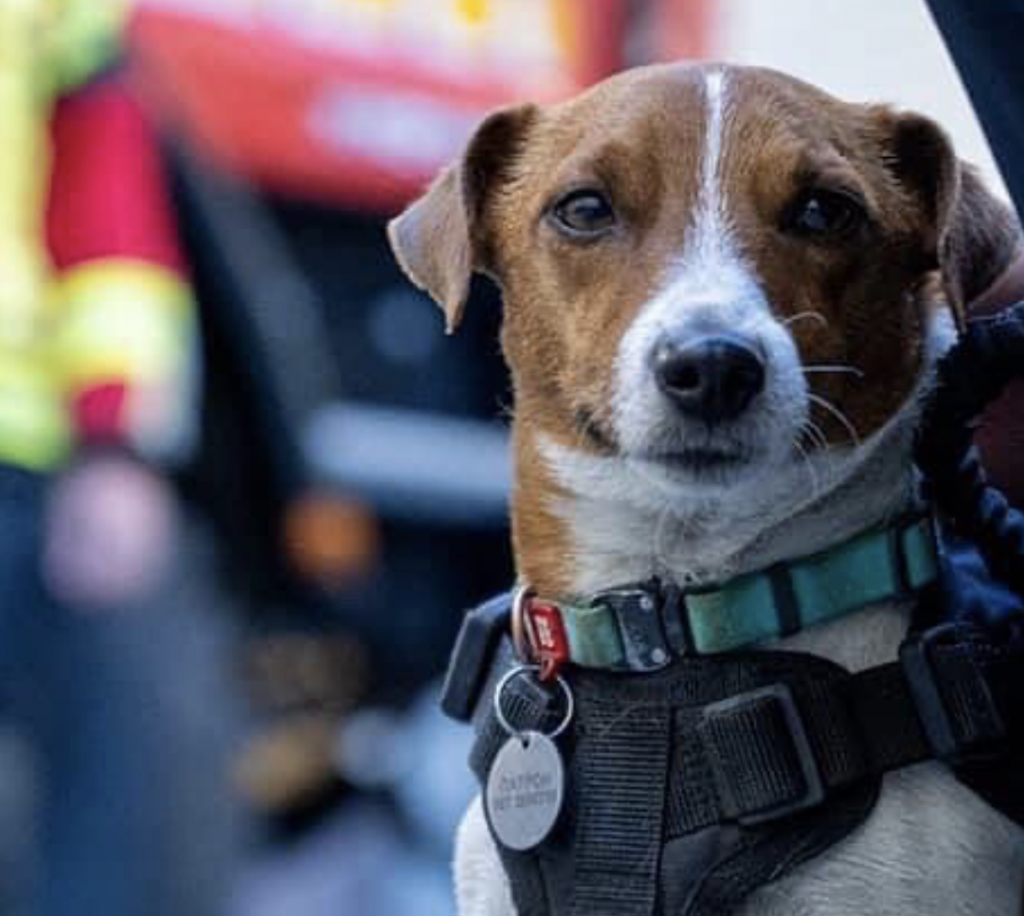 In sweeping acts of heroism, one mine-sniffing dog has been honored for saving lives as the besiegement of Ukraine by Russian advances rages on. Patron, a little Jack Russel terrier, has successfully cleared over 200 deadly mines. He was recently officially recognized and awarded for his valiant and selfless efforts by Ukrainian President Volodymyr Zelenskyy. Take a look at a video of Patron in action below. 
In a ceremony on Sunday, Zelenskyy recognized Patron, whose name aptly means ammo in Ukrainian, and his owner Mykhailo Iliev with a signifying medal of honor. The heartwarming moment was captured on video. Watch below. 
The video depicts a brief moment of levity during such a tumultuous time for Ukraine. Canadian Prime Minister Justin Trudeau was visiting at the time and was there to witness the events. During the ceremony Patron looked over at Trudeau and let out a few "woofs" and "yips" as if to ask for treats. Capitalizing on the moment, Trudeau motioned as if to look for treats but came up empty-handed. His comedic timing sparked a flurry of laughter. It seems like Patron the mine-sniffing dog really knows how to capture a crowd. 
Patron the mine-sniffing dog has developed quite the following as a result of his continued hard work and commitment to helping the people of Ukraine. The adorable pup has his own Instagram handle. His page is flooded with pictures of himself in uniform as he fulfills his duties, but also enjoys some downtime amongst a bed of vibrant tulips.
Mine-sniffing dog Patron's duties extend to aiding the children of Ukraine, too. Patron's owner, Mykhailo Iliev, uses his heroic pup to help teach kids how to stay safe in areas where there is a threat of potential hidden mines. Speaking of Patron, President Zelenskyy asserted just how important the little pup's work is to Ukraine. "A dog who helps clean our land from the traces of the occupiers, and who also helps teach children mine safety. Due to the Russian invaders, this is now one of the most urgent tasks — to teach children to recognize and avoid explosive objects, " said Zelenskyy.
Patron the mine-sniffing dog's dedication and love for children doesn't end with teaching them how to keep themselves safe in the event a mine threat should arise. Patron also uses his adorable puppy prowess to bring smiles to kids' faces at local children's hospitals. Take a look below at a photo of Patron making one little girl's day at a hospital in Kyiv.
Rightfully, so sometimes Patron the mightly mine-sniffing dog gets a bit worn out and catches some shut-eye wherever he can. That even includes during media press conferences. Although considering how hard the little pup works, you can't blame him for wanting to catch some zzzs. Even the most hardened journalists can't resist a sleeping pup.
-The humanitarian efforts of Patron the mine-sniffing dog and his owner, Mykhailo Iliev, are resounding representations of the best of us. In times of great conflict, it becomes more important than ever to be reminded that selfless acts of heroism still do exist. Patron and his owner are the very embodiments of that. 
---