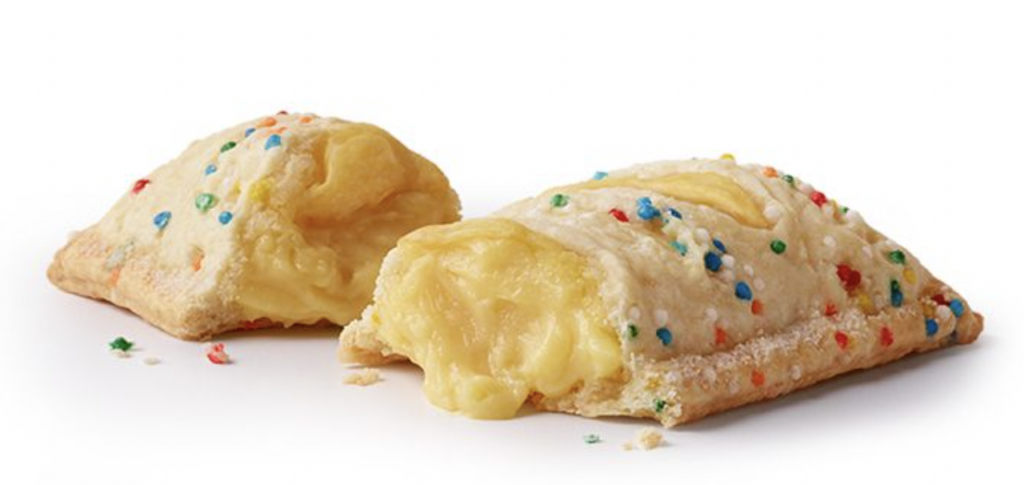 McDonald's Holiday Pie will be available nationwide starting in December. The holiday pie is iconic and was first released in 1999. While a full release will not happen for another few days, some locations in the United States can already purchase the Mcdonald's Holiday Pie.
The first McDonald's Holiday Pie was released in 1999 during the holiday season as a promotion for Toy Story. The pie is actually one of the rarest items the chain has, and it wasn't until 2012 that it became an official item.
If you haven't heard of the pie or have had the pleasure of tasting one before, savor the thought and image. The crust of the pie is flaky, crispy, and buttery, infused with confetti sprinkles and covered in white icing. Inside the delicious crust, you will find a yellow custard that oozes out from three slits in the crust.
Generally, the McDonald's holiday menu is available from some time at the end of November through December to close out the holiday season. In the past, it has only been available in select regions. This year is different as Golden Arches lovers all across the United States will be able to indulge in one of the iconic holiday treats. 
The delicious, buttery, vanilla-flavored dessert has become a holiday staple for many and is highly sought after. McDonald's Holiday Pie is something customers have voiced their opinion about, and McDonald's is making sure customers can enjoy one this holiday season. With over 40 pie flavors from McDonald's, the Holiday Pie has proved to be one of the favorites. 
In addition to the infamous McDonald's Holiday Pie, the fast food favorite has served up many different pied throughout the world and over the years. The classic apple pie has been a long-time favorite and has had a few changes over the years. Don't worry, though, as the McDonald's Holiday Pie remains as it always has been. 
Some other pie flavors you can enjoy alongside the McDonald's Holiday Pie include the classics, lemon, cherry, and chocolate. If you are in a country such as Mexico, Panama, or Costa Rica, you can savor a pie filled with cheese. If you happen to be in Japan, you can get your hands on something like mango-passion fruit or even bacon-potato pie. 
Different countries and groups of people all enjoy different delicacies. Brits even enjoy baked bean pizza and baked beans atop toast. There is no doubt that anyone who bites into McDonald's Holiday Pie will enjoy it and go back for another. 
With the return of favorites like McDonald's Holiday Pie and the beloved Halloween bucket, the company sure does know how to keep their customers engaged and reliving their childhood. If you want to get a McDonald's Holiday Pie this year, be sure to utilize the Mcdonald's app and rack up points that can be used towards free food and other rewards. On Fridays, McDonald's gives free french fries with qualifying purchases and has a great rewards system for their loyal customers.
---