Lindt won a court battle against grocery chain Lidl, Lidl was charged with infringing on Lindt's chocolate bunnies trademark with its own similar version and was ordered to destroy any current stock as a result.
Top chocolate company, Lindt, won a legal battle over a fellow chocolate competitor, Lidl. The Swiss courts ruled that the chocolate bunnies made by Lidl were just too similar to the chocolate bunnies made by Lindt. Because of this copycat issue, all of the current stock of Lidl was ordered to be melted down.
Two chocolate companies, with similar names and similar a product is sure to spark confusion. Attention to detail is essential in cases like these. To the untrained eye, if the products were side by side, they could have very well passed as the same thing. 
The luxury Swiss chocolate company, Lindt & Spruengli's, often referred to as just Lindt, was granted a special trademark for its chocolate bunnies in the year 2000. The company has been in business since 1845 and making its signature chocolate bunnies since 1952. The chocolate bunny is one of the most well-known products produced by Lindt and is sold all over the world.
The signature chocolate bunnies have become an Easter staple for many people throughout the world. Today the company reports that they produce around 150 million of the gold foil-wrapped chocolate bunnies. The signature gold foil and hand-tied ribbon, complete with a bow and a bell has remained a classic and timeless design throughout the years.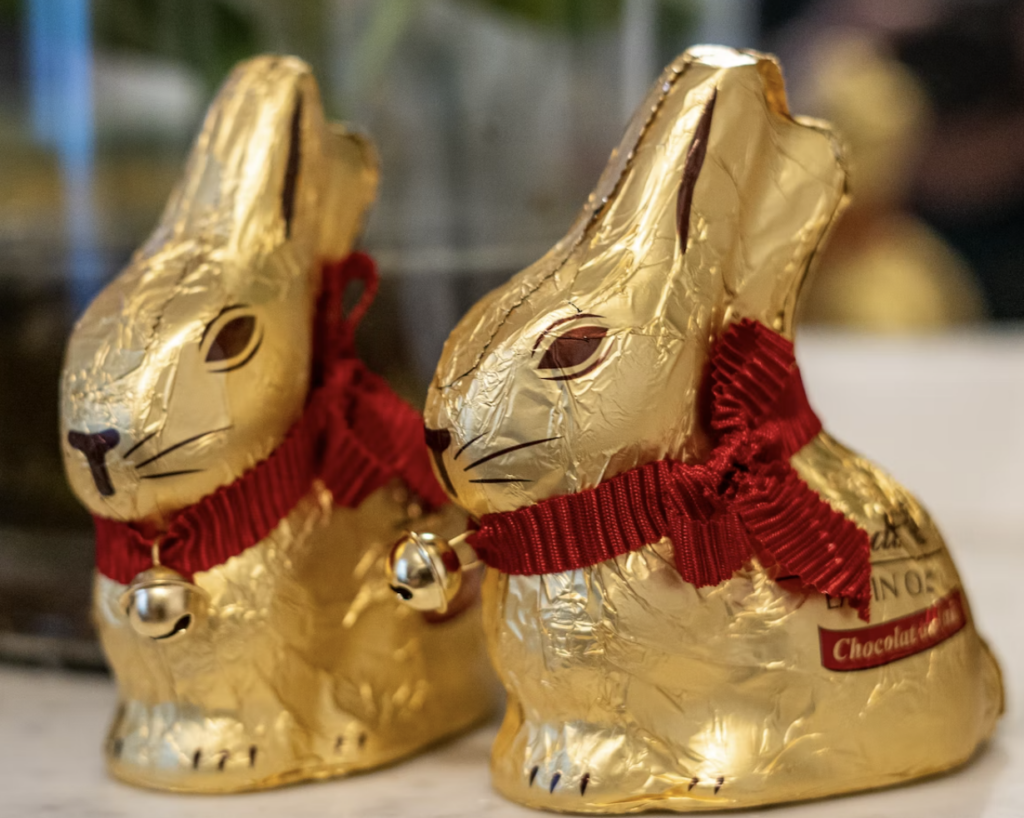 Over the years, Lindt has taken legal action countless times to protect its precious chocolate bunnies. With this product alone selling by the millions, it's no wonder the company fights hard to protect its product. There is no doubt that the company takes great pride in not only the creation of these chocolate bunnies but also in protecting them.
The signature chocolate bunnies we have all come to know and love were inspired by the daughter of Lindt Master Chocolatier. Since its creation, the bunnies have essentially remained the same in design, with a few limited editions being released. The chocolate bunnies are offered in a variety of sizes and though they are an Easter staple, they are suitable for all occasions.
In comparison, Lidl has been around since 1932. The company is not exclusive to just chocolate making or chocolate products. The company is a grocery chain, where it sells its own proprietary brand alongside others, where you can find high-quantity products for a bargain price.
After the ruling made by the high courts in Switzerland, Lidl was ordered to destroy its remaining stock of the chocolate bunnies they produced by melting them down. This ruling seems just and fair in the grand scheme of things. It's also something other companies should consider when even thinking about an attempt at duplicating the signature chocolate bunnies made by Lindt. 
With trademarks in place and a long-standing history, it's a bold move for other companies to attempt to duplicate Lindt's prized chocolate bunnies. In the future, any company that attempts to duplicate the iconic treats is sure to find itself on the losing end of a legal battle. In such a case, it'd be best to think again.
Lindt, the creator of the famous confections, has worked hard over the years to perfect and carefully craft its product. Its master chocolatiers are known for their passion and skill. The expertise has left the company with a reputation that is not only unmatched but worth fighting for.