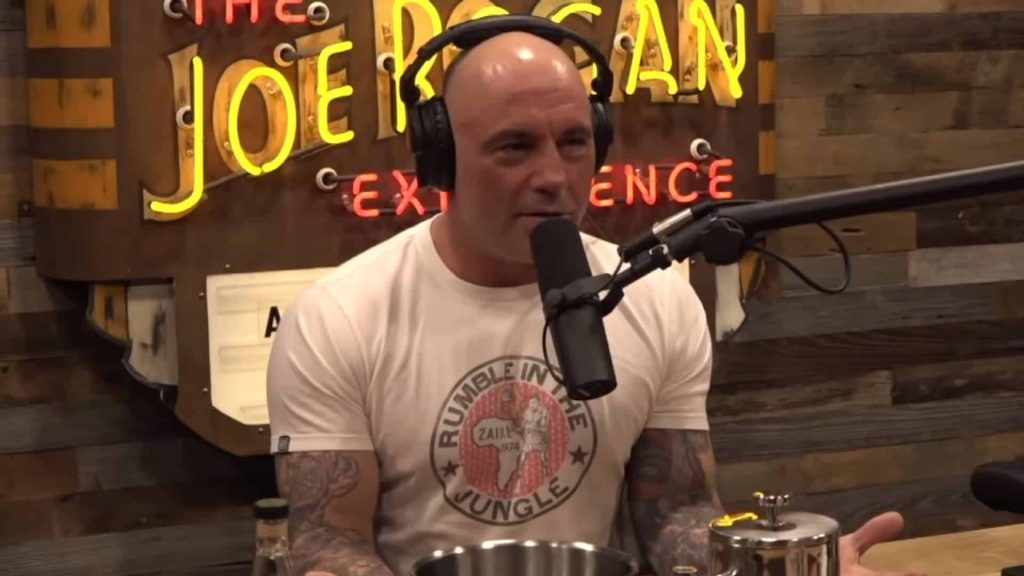 The debate that Joe Rogan started when he announced he was COVID positive and then followed up by informing the world that he was taking Ivermectin to help combat the virus just ramped up a notch. Joe Rogan returned to his podcast, The Joe Rogan Experience and was immediately welcomed by his friend, Tom Segura, who greeted Rogan hilariously with, "Well, well, well. If it isn't old horse worm Rogan."
It was a funny way to get Joe Rogan to quickly jump into the topic at hand – his taking of what the media has taken to calling the "horse deworming" drug Ivermectin.
Joe Rogan, who never shies away from controversy, immediately responded with, "Do I have to sue CNN?" He then went on a very controlled rant saying, "They're making shit up. They keep saying I'm taking horse de-wormer. I literally got it from a doctor." Rogan paused briefly before continuing. "It's an American company. They [Ivermectin maker Merck] won the Nobel Prize in 2015 for use in human beings, and CNN is saying I'm taking horse de-wormer. They must know that's a lie."
Rogan then acknowledged it was fine if the internet was saying it, he could care less. "But CNN is saying it. Like Jim Acosta."
A few moments later, Rogan also spoke about how it wasn't only Ivermectin that helped him recover so quickly from his bout with COVID. Joe Rogan claims to have also taken high doses of Vitamin C, Vitamin D, and Nad. Rogan also says he took "the same shit they gave Trump" – monoclonal antibodies.
What Joe Rogan is referring to in his CNN statement concerns CNN Anchor and Chief Domestic Correspondent Jim Acosta. Acosta went on air during an interview with the director of the National Institute of Allergy and Infectious Diseases and White House chief medical adviser Anthony Fauci, laying claim that Rogan took the "livestock de-wormer Ivermectin" while also stating that the drug "doesn't have any effect on COVID, obviously."
Rogan didn't stop by calling out Acosta and CNN for blasting him for taking Ivermectin. He also speculated on what he feels is going on behind the scenes. Rogan feels one issue revolves around the use of the Emergency Use Authorization, which is what was being used to get the vaccine out to the general public. Joe Rogan states that in order for the government to be able to use an Emergency Use Authorization, there has to be no treatment for a disease. He speculates that because Ivermectin can be used (and shown) to be effective in the battle against COVID, that there is a lot of Big Pharma pushback to make Ivermectin as a potential treatment, false.
Joe Rogan also touched on what he called the "big conspiracy theory" in that all the huge pharmaceutical companies are working together to try to make anyone who decides to take the drug look crazy. He then quickly pointed out, "What's crazy is, look how better I got. I got better pretty quick, bitch."
While true that Ivermectin is used to treat horses for issues such as heartworms and acariasis, as Merck has shown, it is also frequently used in a different form for humans. In the case of humans like Joe Rogan, it's used for those who have forms of parasite or viral infestations such as head lice and scabies. Some now claim it can be used to fight COVID, though most mainstream sources dispute its effectiveness and claim taking it may be dangerous.
Joe Rogan's entire COVID "ordeal" can be learned about by watching the full segment from his show below…
The debate over Ivermectin's effectiveness looks to continue. As always, do not take any drugs without consulting your doctor first.