Instacart is incentivizing employees to sell off company shares to mostly fund the veteran startup's Initial Public Offering.
Instacart is about to go public with its upcoming Initial Public Offering (IPO). However, the veteran startup is planning to leverage a unique strategy when it does. Instead of offering new shares to investors, it's hoping to incentivize its employees to sell off theirs. 
Instacart is going public during a very precarious economic time. The stock market has been especially volatile as fears of a potential recession continue to mount. Hence, the company likely wants to play it as safe as possible, especially since its competitors like DoorDash and Grubhub have been met with less than stellar stock market performance in recent months. 
So how exactly does Instacart plan to rely on its employees to essentially provide the vast majority of shares to be made available at the IPO? According to the Wall Street Journal, most of it will be preplanned. Deals will be made between employees and investors ahead of time, with employees selling a set number of shares off for a pre-agreed upon price to the investors.
Instacart's IPO strategy could prove to be exceedingly advantageous for the decade-old startup. First, arranging share deals ahead of time will likely ensure that their IPO is successful. Second, it allows the company to establish a rapport with both existing and potential employees.
As an existing Instacart employee, selling off some shares at the company's IPO gives them an extra avenue through which to benefit monetarily. Future Instacart employees may take notice of this, too, and look at it as a potential benefit should they ever be given the choice to work for the company. Both scenarios serve to bolster Instacart's overall reputation amongst existing and future employees. 
Meanwhile, with its IPO right around the corner, Instacart is looking ahead. The company recently announced that it plans to add physical stores to its enterprise. Titled Connected Stores, these brick-and-mortar locations will integrate with Instacart's existing app technology to create a uniquely seamless shopping experience that is entirely customer-driven. 
In a recent news release on its website, Instacart touted its Connected Stores as "…a bundle of new and existing Instacart Platform technologies that will help grocers build a unified, seamless, personalized experience both online and in-store." This fusion of online and in-person shopping will feature things like "out-of-stock insights," "Carrot Tags," and "Caper Carts."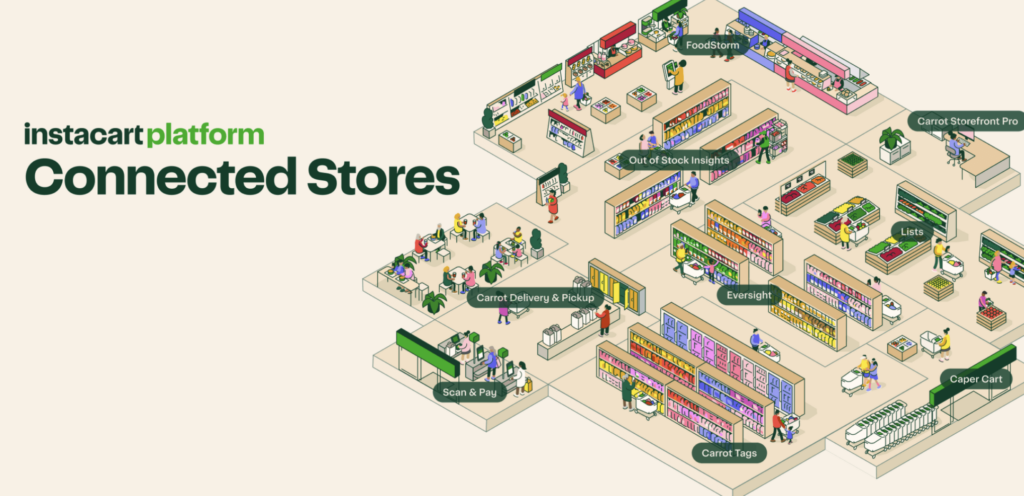 Out-of-stock insights will certainly help to service shoppers by giving them a heads up as to when certain items are or aren't available. This is especially true at a time when both domestic and global supply chains continue to recover from pandemic-induced logistical challenges. Additionally, Instacart's Caper Carts and Carrot Tags are poised to be just as useful. 
Caper Carts are Instacart's version of a smart cart. They will be equipped with scan-free technology so all that shoppers have to do is simply place an item in the cart. When they are ready to check out the cart will already know everything that has been placed inside it, leaving the only thing for the customer to do is pay and be on their way. 
Lastly, Carrot Tags are helpful information stations that can take the place of employees should none be available. For instance, Carrot Tags can let the customer know any pertinent nutritional information like if something is Gluten-Free or if it was made in a facility with nuts. Overall, if Instarcart's Connected Stores prove to be everything that the company is saying these stores will be, they could truly redefine what it means to go grocery shopping.