Manufactured diamonds, a new frontier for the diamond industry, have gained popularity over the past couple of years. Surprisingly enough, the developers at Hidden Valley Ranch decided to monopolize on this growing interest. Over five months, Hidden Valley Ranch made a diamond out of its salad dressing seasoning, perhaps pioneering a future full of salad dressing diamonds.
The laborious process of constructing an artificial salad dressing diamond produced a two-carat gem with an incredibly realistic appearance. Only one of these diamonds was created by Hidden Valley Ranch, which was quickly put up for auction last Friday. Coincidentally, the diamond was offered for sale on National Ranch Day. All the money accumulated by the diamond's auction will go directly to Feeding America's charity. Seeing is believing, so feast your eyes on Hidden Valley's creation below.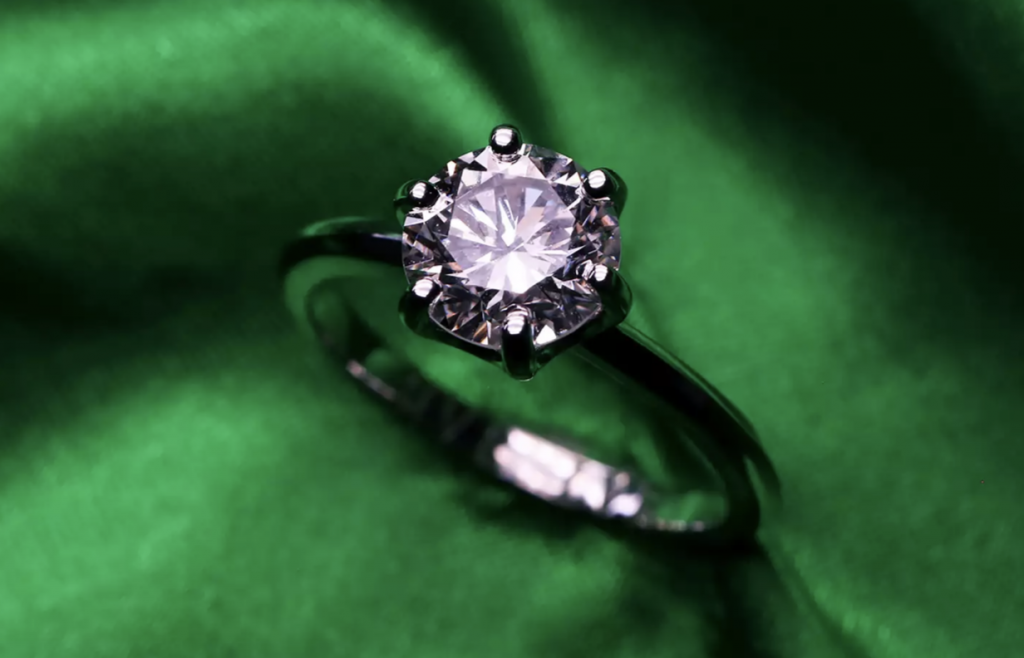 For the dressing company, the artificial manufacturing of a diamond was not an idea to accumulate revenue. The salad dressing diamond was inspired by a Valentine's Day post in 2021, which showcased two lovers using a Ranch bottle for a marriage proposal. This started turning the gears of Hidden Valley Ranch's creative department, wondering what making a romantic, dressing-themed gift would be like. The social media marriage proposal galvanized Hidden Valley Ranch to create this one-of-a-kind diamond.
The question remains: how does dressing turn into a beautiful, timeless gem? The answer to this perplexing question is extreme heat. In the Hidden Valley lab, workers heated Ranch seasoning to 2,500 degrees and pressurized it under 400 tons of weight. For five grueling months, the seasoning formed a compact salad dressing diamond with all of the characteristics of a real one. After being set in a 14k white band, the final touch was added: an engraving of the letters "HVR LVR."
For those who've waited centuries for a Ranch-inspired gemstone, now is your chance to purchase. From now until March 17th, you'll be able to bid on the salad dressing diamond, with the original bid set at $310. After the bidding is completed, Hidden Valley Ranch promises to deliver the diamond by March 20th, National Proposal Day. The ring will be transported in a customized, Hidden Valley Ranch box, perfect for your Ranch-loving partner.
Hidden Valley Ranch has stood the test of time, not just for its delicious dressing but because of its ridiculous PR stunts over the years. Before the salad dressing diamond, there was a mindboggling holiday drink known as RanchNog. RanchNog was an eggnog-inspired cocktail that was released during Christmastime last year. Partnering with the beverage company Whiskey and Rosemary, Hidden Valley decided to make limited RanchNog kits, where consumers could make their own ranch-infused Christmas drink at home.
RanchNog, like the salad dressing diamond, was a hilarious one-off that invited more attention to the company and its novelties. Of course, The Hidden Valley Ranch online store has many hilarious collectibles to offer other than the RanchNog kit. A Hidden Valley traveling kit, which includes sleep masks and pillows, is available for the notable crossover of dressing and camping enthusiasts. Other kits include Ranch pizza kits, a nighttime kit, and even a Yoga-inspired kit.
Ranch products will never die in America, and one of the reasons is the company's insistence on delivering vexing and intriguing novelty items. But compared to other Ranch ventures, the salad dressing diamond is undoubtedly one of Hidden Valley's most beautiful creations.